Kawasaki GTR 1400 Concours 14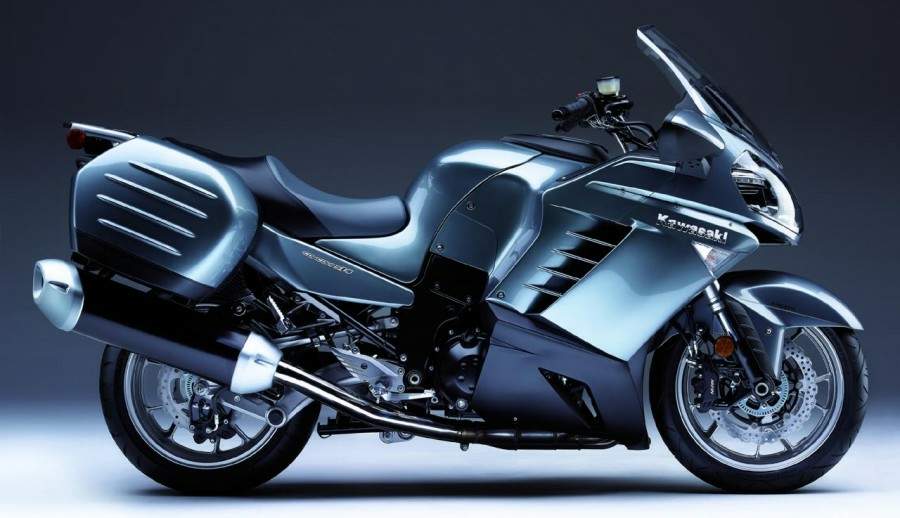 Make Model

Kawasaki GTR 1400 Concours 14

Year

2007 - 08

Engine

Four stroke, transverse four cylinders, DOHC, 4 valves per cylinder

Capacity

1352 cc / 82.5 cu-in

Bore x Stroke

84 x 61 mm
Cooling
Liquid cooled

Compression Ratio

10.7;1

Induction

Fuel injection: ø40 mm x 4
Lubrication
Forced lubrication, wet sump

Ignition

Digital
Starting
Electric

Max Power

114 kW / 155 hp @ 8800 rpm
Max Power Ram Air
118.4 kW /161 hp @ 8800 rpm

Max Torque

136Nm / 102.0 lb/ft / 13.9 kgƒ-m@ 6200 rpm
Clutch
Wet multi-disc manual

Transmission

6 Speed
Final Drive
Shaft
Gear Ratio
1st 3.333 (50/15) 2nd 2.415 (41/17) 3rd 1.900 (38/20) 4th 1.545 (34/22) 5th 1.292 (31/24) 6th 1.074 (29/27)
Frame
Monocoque pressed aluminum

Front Suspension

43 mm inverted fork with adjustable rebound damping and spring preload
Front Wheel Travel
113 mm / 4.4 in

Rear Suspension

Bottom link Unit-Trek with gas charged shock, Tetra lever rebound damping
Rear Wheel Travel
136 mm / 5.4 in

Front Brakes

2X 310mm discs 4 piston calipers

Rear Brakes

Single 270mm disc 2 piston caliper

Front Tyre

120/70- ZR17

Rear Tyre

190/50 -ZR17
Steering Angle, Left / Right
31° / 31°
Rake
26.1°
Trail
112 mm / 4.4 in
Dimensions
Length 2230 mm / 89.4 in.
Width 790 mm / 31.4 in
Height 1345 mm / 50.8 in. - 1465 mm / 31.4 in. (High position)
Wheelbase
1520 mm / 59.8 in
Ground Clearance
125 mm / 4.9 in
Seat Height
815 mm / 32.1 in.

Wet Weight

300 kg / 670.3 lbs - ABS 304 kg / 679.1 lbs

Fuel Capacity

22 Litres / 5.8 US gal

Consumption Average

15.3 km/lit

Standing ¼ Mile

11.2 sec / 202.1.km/h / 125.5 mph
Standing 1000m
20.8 sec / 238.1 km/h / 148 mph

Top Speed

253.6 km/h / 157.5 mph
The new Concours™ 14 and Concours 14 ABS combine breathtaking engine performance, impeccable handling and a comfortable riding position with clean, convenient shaft drive, locking hard luggage, an electrically adjustable windscreen and a host of other features to create the most impressive long-distance, high-speed machine on the market today.
An aluminum monocoque chassis, radial-mount brake calipers, inverted fork, and ram air induction are all features riders expect to find on top-of-the-line supersport machines. However, instead of riding a high-strung racetrack missile, they can enjoy these high-performance features on Kawasaki's new Concours 14 sport touring motorcycles. They are the first representatives of an entirely new genre of high-performance motorcycle: the Transcontinental Supersport Tourer.
Because it's a Kawasaki, the Concours 14 is naturally designed to do much more than just take a rider from point A to point B. Thanks to its sporting heritage, the new Concours 14 is not only an awe-inspiring road burner, it can also carve up mountain roads like a true supersport bike. For those riders who cross state lines the way others cross town, this machine offers more excitement than anything else in its category.
The Concours 14 may be a physically impressive machine, but as soon as riders flip the side stand up, they'll be astonished at the bike's lightweight feel. The confidence-enhancing ABS brake system (Concours™ 14 ABS) features radial-mount front calipers operated by a radial-pump master cylinder, for the superb control and powerful, reliable braking performance that continent-crossing sport riders expect. Belying its tourer-like appearance, the Concours 14's phenomenally responsive handling characteristics make the other bikes in its category seem like transports by comparison. This provides the Concours 14 rider with a feeling of complete control for spirited, confident journeys.
In addition to an incredible level of sporting performance, the new Concours 14 has the functional touches of a Grand Touring machine. Features include KI-PASS (Kawasaki's Intelligent Proximity Activation Start System), the first electronic authorization system in its class, and an accessory power outlet located near the cockpit for powering portable electronics, grip heaters and other accessories. There's also an electrically adjustable windscreen, shaft drive and detachable, locking side cases, so the Concours 14 is always ready for a high-speed ride to the local hangout or that favorite spot… fifteen hundred miles away.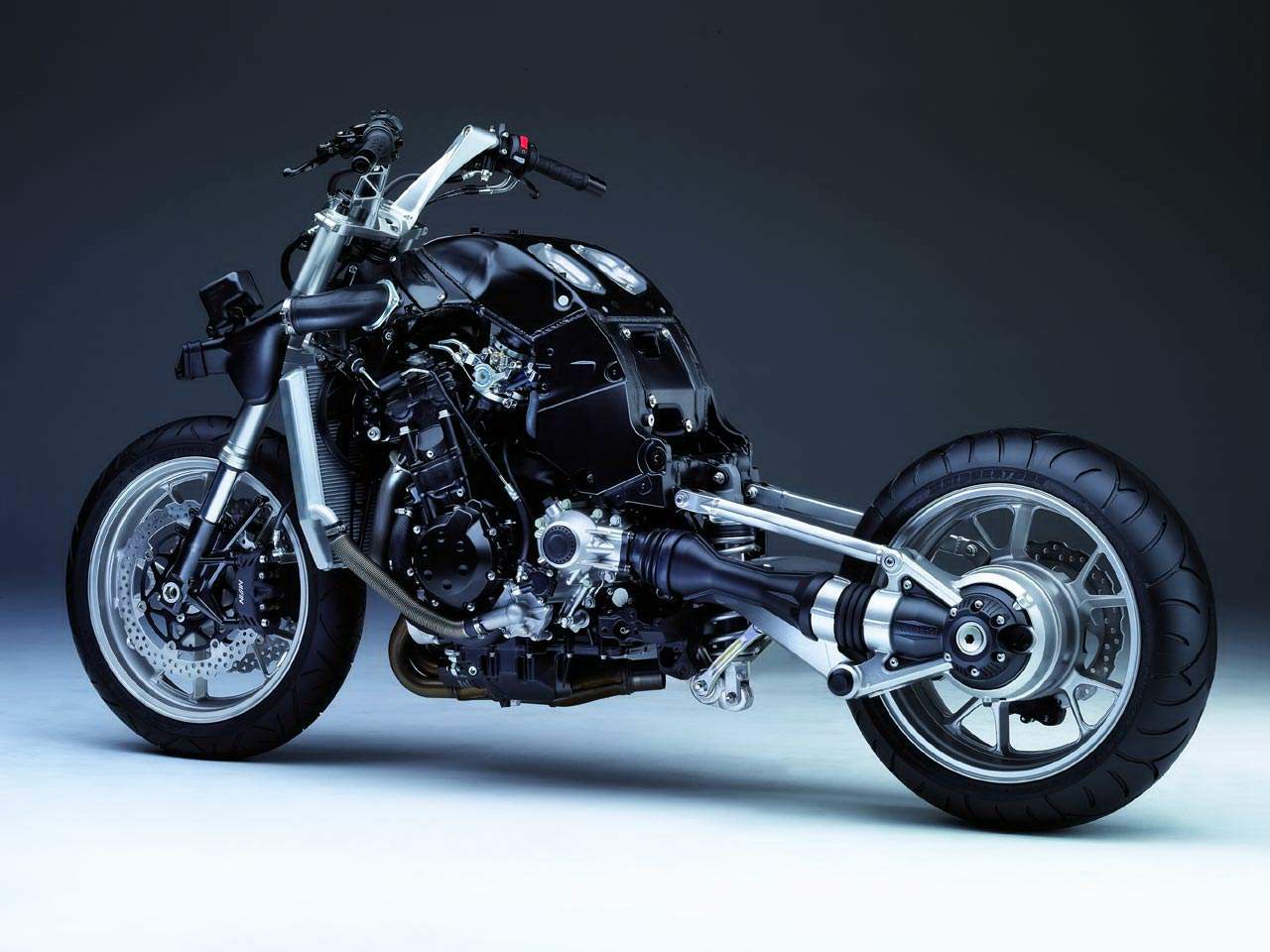 The Concours 14 is much more than a sportbike with tacked-on touring features; it's an integrated high-speed touring system. Wind protection for rider and passenger is based on a supersport-style design philosophy, aerodynamically curving wind around the riders to reduce buffeting that occurs when wind curls around screens that simply "block" the wind. Additionally, maintenance chores on long-distance trips are minimized thanks to quiet and reliable shaft drive. Featuring a special four-link design, the Tetra-Lever shaft drive system significantly reduces driveline lash during sport riding and helps ensure smooth acceleration when exploiting the engine's incredible power output. In fact, power delivery to the rear wheel is so smooth and so direct that it gives the same natural ride quality as a chain.
The Concours 14's touring prowess doesn't stop there. The included hard luggage features a slim, integrated design which mounts the cases closer to the machine's centerline for excellent mass centralization. Sensors in the front and rear wheels monitor tire pressure and display this information on the instrument panel, giving riders peace of mind during two-up high-speed riding or when carving up a mountain road.
With all the equipment needed for safe and exciting long-distance riding mated to a decidedly supersport core, the new Concours 14 amplifies all the best riding features that motorcycling has to offer. Motorcyclists carry a driver's license, but Concours 14 riders should bring their passports, too.
Detail information:
Key Features:
- Most powerful production sport tourer
- Next generation monocoque aluminum frame
- Comfortable long distance riding position
- Low-maintenance shaft drive
1,352cc Four-Cylinder, DOHC Engine with Variable Valve Timing (VVT)
- Tuned to provide smooth power across a wide rev range
- Variable valve timing improves the engine's flexibility and efficiency by altering the camshaft profiles to suit different rpm ranges
- Carefully planned engine design keeps it compact and narrow
- Chrome composite plated aluminum cylinder bores are lightweight, durable, and quickly carry heat away from the combustion chamber and piston for supreme durability under high loads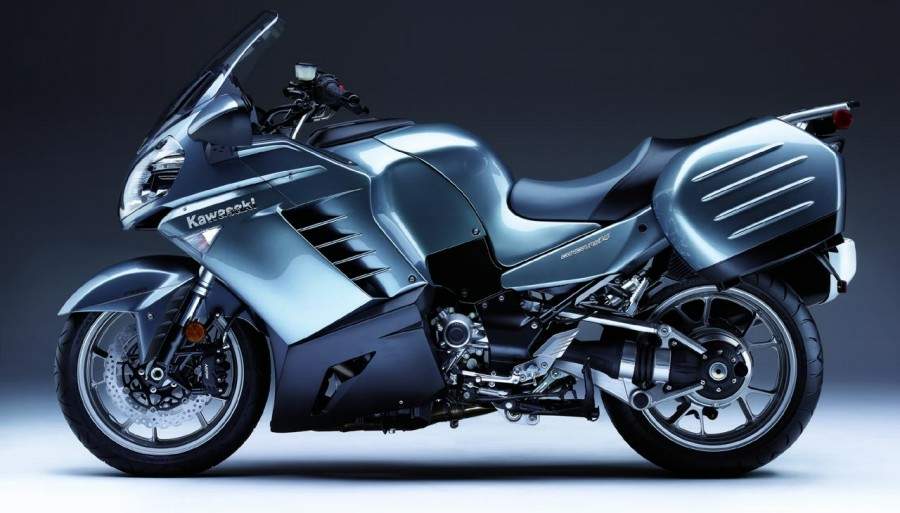 Gear-Driven Dual Engine Balancers
- Already in perfect primary balance, dual secondary balancers virtually eliminate unwanted vibrations for extremely smooth engine operation and enhanced rider comfort
Ram Air Induction
- Ram Air ducts produce a straighter path to the airbox for maximum intake efficiency
- This system takes cooler, high-pressure air, guides it through the air filter and into the engine for maximum power output
Digital Fuel Injection
- Throttle bodies are fitted with sub-throttle valves that are controlled by the ECU to provide smooth, precise response similar to constant velocity carburetors
- 32-bit electronic control unit works with dual throttle valve system to further enhance throttle response and control
- A digital computer feeds the engine exactly the amount of fuel it needs for cleaner emissions and maximum fuel economy
Digital Ignition
- Digital Timing Advance enhances low-and mid-range power
- Four individual spark plug-mounted ignition coils fire each spark plug independently to achieve the optimum timing for that cylinder at that instant
- ECU includes an idle speed control system for easier starting and warm-up
Radial Pump Clutch Master Cylinder
- Hydraulic clutch features a radial-pump clutch master cylinder for smooth and precise clutch engagement
Monocoque Aluminum Frame
- The frame is a hollow aluminum box that arches over the engine from the steering head to the swing arm pivot; it is narrow, strong, rigid and very light
- Engine is rigidly mounted to increase the monocoque's torsional rigidity. Plus using the engine as a stressed frame member decreases the frame's weight by approximately four pounds
- Engine positioned forward in the frame, wheelbase and front/rear weight balance were carefully designed to achieve high-speed stability and responsive handling
- Massive steering head casting contributes to frame rigidity
Radial-mount Petal-type Front Disc Brakes
- Radial mounted four-piston front brake calipers. Instead of mounting the calipers with threaded tabs cast near the top of the caliper, the radial design utilizes integrated mounting points at both the top and bottom of the caliper, with the mounting bolts inserted through the rear of the caliper instead of the side/front. This makes the caliper more rigid, which improves brake feel over a wider range of operation
- A separate brake pad is used for each piston. One large pad can deform with the heat generated by hard braking, resulting in a loss of brake feel at the lever. Individual pads provide increased cooling efficiency and can absorb more heat without deforming so they maintain consistent brake feel under extreme conditions
- Petal design front and rear brake rotors provide enhanced cooling and better warp resistance
- Radial-pump front brake master cylinder improves brake performance and lever feel
Tetra-Lever Shaft Drive
- Unique four-link design significantly reduces driveline lash during sport riding and provides smooth acceleration when exploiting the engine's incredible power output
- Virtually maintenance free, the Tetra Lever system dramatically reduces routine maintenance requirements
Antilock Brake System (Concours™ 14 ABS)
- ABS brakes boost safety and rider confidence in low-traction conditions and may enhance evasive maneuvering in an emergency
Bodywork Optimized for Sport Touring
- Fairing design promotes smooth airflow around the rider and passenger with minimal buffeting
- Integrated, locking hard luggage offers plenty of storage, without disrupting the Concours 14's style or performance
- Electrically adjustable vented windscreen
- Large, comfortable seat offers long-distance comfort for both rider and passenger
- Glove box mounted on the fuel tank cover
Full Instrumentation
- Easy to read speedometer and tachometer
- Multi-function LCD digital display includes an odometer, two trip meters, fuel gauge, gear position indicator and a clock
- A CAN (Controller Area Network) interface between the gauges uses fewer wires while allowing a greater volume of information, such as estimated fuel mileage, to be exchanged
- Kawasaki Electronic Authorization system (KI-PASS)
- Tire pressure sensors
Review
If you've been riding for more than a few years you know that the Kawasaki Concours has been around for what seems like an eternity.

Neither a cover model nor an athlete, the Connie was the studious one. With standard-setting ergos, a large windshield, plenty of practical storage space and a liter-size engine with plenty of performance, this bike quickly became a favorite, achieving cult status over its 21-year life span.

For Kawasaki, the year 2008 could be dubbed the "Year of Change." First, the King of Dualies, the KLR650, received some revisions earlier this year for the first time in about an eon. But even greater anticipation awaits the all-new Concours 14. The ZX-14-based hyper-tourer was unveiled in late 2006 as a '08 model that would be available mid-2007. For Connie loyalists, this bike was the stuff dreams are made of. One thing is for sure: The Concours as we knew it is no more.

In press materials Kawasaki is perfectly clear that they see the Concours 14 as a "top-of-the-line sportbike with touring capabilities." That's a bold statement to make in this day. And they've even gone so far as to rename the category from sport touring to "supersport touring" on their consumer website. Yamaha did the same thing back in '03 for the FJR1300.

The new Connie is, at the heart, a ZX-14. In a brief generalization, the Concours takes from the Ninja ram air, inverted forks, wave brake rotors, radial-mount calipers and master cylinder, aluminum monocoque frame and modified-for-a shaft-drive ZX-14 10-spoke wheels. But some obvious differences exist to make it the bike that it is.

Starting with the Ninja-derived 1,352cc liquid-cooled, DOHC, 16-valve inline-Four powerhouse, we note an additional oil-pressure-controlled cam-chain tensioner that is said to keep tension optimal while reducing engine noise. But most impressive of all is variable valve timing, something Kawi claims as a first in the class. The intake cam is hydraulically advanced or retarded over a 23.8-degree range based on engine RPM and throttle position, with the goal being "high torque output" across the powerband. (It's a clever system that uses few moving parts and only low-pressure oil to govern the cam orientation. -Ed)

Fueling on the Connie is handled by 40mm throttle bodies (the ZX-14 has 44mm units) and new 12-hole injectors. The increased intake velocity and improved atomization is said to offer crisper low- and mid-range throttle response with better control.

Claiming another first-in-class, Kawasaki is proud to present a slipper clutch to the sport-touring market. In case you haven't read about these back-torque limiting wonders, the intended goal is to prevent the rear wheel from "driving" the engine when gear selection and engine speed aren't precisely matched to the bike's road speed. Heretofore, this type of clutch has only been found on high-performance sportbikes.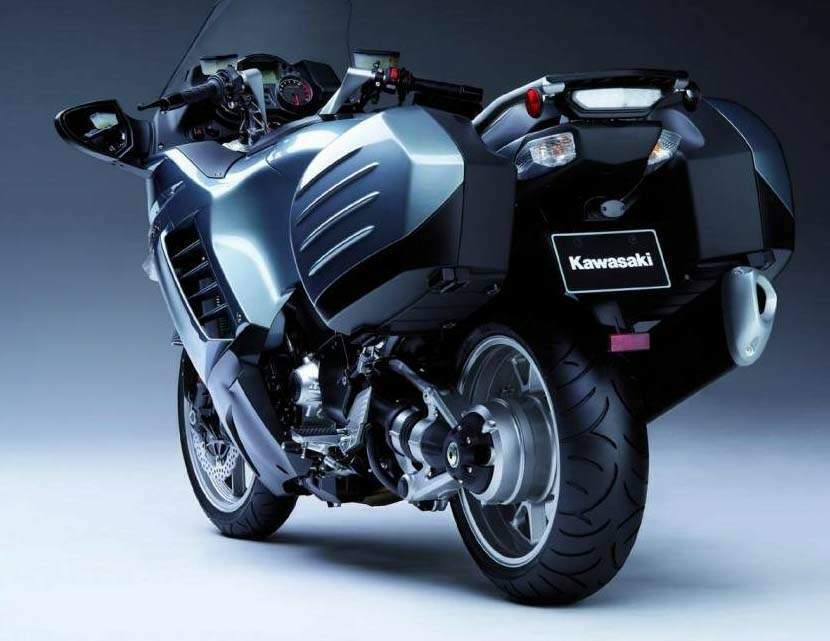 Transmission ratios were altered to suite the torque-biased motor. First through third are lower, fourth is the same as the ZX-14 while fifth is a touch higher and sixth gear has become a true overdrive.

The exhaust system changes from the one found on the biggest of the Ninjas. Instead of a twin-can unit, the Concours utilizes a 4-2-1 system sans exhaust valve. But it does have two catalytic converters; one can be found mid-pipe whilst the second is directly in the bazooka-size single can. It's worth noting the U.S. spec'd bikes will not have O2 sensors.

The next major functional change to take place was in the monocoque aluminum frame. As a direct result of the switch to shaft drive, the bulky hunchback-looking frame needed some redesign. The area around the countershaft was reinforced and altered to allow the shaft-drive system to fit, among several other structural modifications. Two pieces of the lower frame that are made of plastic on the ZX-14 have now been replaced with identical die-cast aluminum bits, and the very top portion of the frame that hunkers over the airbox has increased wall thickness. That's a whole lot of adding, moving and shaking just to bring in a shaft drive.

"Perhaps the boldest claim from Team Green is that this system will emulate a chain-smooth ride."

All this talk of shaft drive has got me itching to get to one of my favorite aspects of this land-rocket-cum-sport tourer. Calling it the Tetra-Lever Shaft Drive System, Kawi engineers have created a 4-link swingarm that they claim reduces all the bad things about a shafty, such as the seemingly ubiquitous shaft-jacking that occurs during large throttle inputs or during quick closing of the throttle.

Perhaps the boldest claim from Team Green is that this system will emulate a chain-smooth ride. Who the heck do they think they are? Normally I would wait to give my impression of things like drive-line lash in the, well, impressions area, but I can't wait. In my not-so-humble opinion, there is no better shaft-drive system available today. There, I said it. Try as I might I could not get the rear end to hop around like a bronco. I really couldn't even detect much lash or delay from throttle input to the rear wheel. The final drive on this motorcycle is exceptionally smooth and sets the bar very high for any company building a bike with a shaft-drive system. Very well done, Kawasaki.

Suspension is a little less trick but is good nonetheless. The 43mm inverted front fork is preload- and rebound-damping adjustable. The rear Uni-Track shock is a bottom-link design with stepless rebound adjustment and a handy hydraulic preload adjusting knob that sticks out unobtrusively behind the rider's left leg. Less is more with this adjustment, as I only needed a quarter turn toward "Hard" from where it was set to make a noticeable improvement in the handling. Please leave all innuendos about "hard" settings in your bedroom and out of my review. Thank you.

Braking on the new Concours 14 is partly the job of standard petal-shaped rotors. The twin floating 310mm set up front are mercilessly pinched by a pair of four-piston, four-pad radial-mount calipers when you apply pressure at the radial master cylinder. The 270mm rear single petal rotor is a full 20mm larger than that of the ZX-14.

As you might have guessed, ABS is an option. The non-linked independent system is purported to offer a "natural" feel to the braking experience. Unfortunately, the Connie's ABS is not switchable like on some BMW models.

As you might have guessed, ABS is an option. The non-linked independent system is purported to offer a "natural" feel to the braking experience.

Because it does have touring tendencies, this bike is dimensionally a bit more relaxed than a true sportbike. Steering angle is increased over the ZX from 23 degrees to 26.1 degrees (nearly identical to the Yamaha FJR1300.). The front axle moved forward 30mm while the rear axle moved back 30mm as a result of a longer swingarm for a sum total increase of 60mm for a wheelbase of 59.8-inches (an inch shorter than the FJR's. -Ed)

All told, Kawi says all the revisions to the chassis result in 20% more torsional rigidity, a narrow and compact riding position and improved stability and handling.

The ergos haven't been left out of the redesign, and most certainly favor a comfy environment for the rider. The handlebars are not only 5.9 inches taller, they've also moved 3.8 inches closer to the rider. The footpegs are placed further forward and are 1.2 inches lower. The 32.1-inch saddle is actually 0.6 inch taller than the Ninja.

Here's the standard screen in its highest position.

Here's the standard screen in its highest position.
Traffic looks heavy on the 405 this afternoon.

Traffic looks heavy on the 405 this afternoon.

So now that we've discussed all the things that make the Concours go, let's cover some things that make it want to tour. Let's kick it off with what is a must these days: an electrically adjustable windshield. A larger and higher windshield is optional. A standard rear rack is ready for an accessory rear trunk that will probably match just peachy with the standard quick-release and reasonably roomy hard saddlebags. If you're tired of mashing your insurance card and bike title in your wallet, you'll be relieved to know that on the fuel tank is a smartly-integrated, slick-looking storage compartment. And I'd be remiss if I didn't mention the power socket located on the right side of the cockpit.

A blending of traditional analog speedo and tach works well with an LCD info display. The multi-function meter provides a host of data for you while on the fly. All the usuals like fuel, odometer, dual tripmeters and a clock are present. Also on the menu is fuel range, fuel consumption (current and average), battery voltage and a gear-position indicator. But in what we can only assume is note-taking from a certain other sport touring manufacturer (okay, it's BMW), the Concours is also able to display tire pressure. I wasn't able to speak for accuracy, but I can say over the course of two days it read consistent. Through a sensor in each wheel pressure is transmitted to the KIPASS (more on that later) ECU and displayed on the LCD, and it will warn you if it's too low, but only after reaching 12.5 mph or higher.

I can hear the Scooby-style grunt of confusion now, so I'll attempt an explanation in less than 900 words (but it's best to see it demonstrated in the accompanying video).

Claiming another first-in-class (even if a similar system is optional on most 2007-2008 H-Ds.), Kawasaki has graced the Concours 14 with a nifty anti-theft ignition disablement system. With a key that looks like it was designed by infants for ease of handling, the ignition can only be switched to On, Off, FSS (Fuel-Seat-Storage) and Steering lock when the matching key fob is no more than 5.25 feet from the bike. Without the money-clip-sized matching fob very near by, you simply cannot turn the ignition switch. Part of the beauty of this system is that you can leave the key in the ignition (though it looks a little big on top, the key is crafted from a traditional blank).

If your memory is working normally and you have the fob, the next step is to push the key straight down to get the system to recognize that you want to take some action. Once you hear a little click and see an icon on the LCD, you can turn the key to any of the positions listed above. Should you absent-mindedly leave the fob somewhere (say, the top of the gas pump) you may well get down the road, but not without an electronic scolding. After you reach 12.5 miles per hour, the KIPASS ECU (separate from the bike's main ECU) will recognize that the blessed fob is missing. At that point instead of seeing the normal tire pressure or mpg display on the LCD what you'll see is a red warning light and a flashing "NO TRANSPONDER." The bike will operate normally without the fob until you pull another bonehead move, like turning the bike off. Should you foolishly shut the bike down under these circumstances you'll have precisely 10 seconds to restart; otherwise, you're dead in the water. And so is any unsuspecting turd who tries to steal your bike without the fob aboard. Simply punching the ignition with a hammer and screwdriver won't cut it with this tech-laden bike.

The trick is to keep the fob on the SOB (I had to slip that joke in there somewhere) and all is well. Each bike comes with two transponders that have a unique ID registered to the KIPASS ECU. Should you want a few more, you're allowed up to six separate fobs. Lastly, tucked secretly in the bottom of each fob is a plain ol' spare key.

Kawasaki chose the areas surrounding Santa Rosa and points further west as the proving grounds for us to see if the Concours 14 was really the sport-touring machine it claims it is. With enough tight first-gear turns shrouded in shade to make you think you were aboard an Imperial speeder bike, the chosen roads ran the gamut and put virtually every performance aspect to the test.

Climbing aboard the beast, I couldn't help but think that someone at Kawi was really thinking about rider ergos. Like the '08 Z1000, the rider triangle is very upright without sacrificing your ability to manipulate steering. The instrument cluster is easy to scan at a glance, and the windshield did an excellent job of deflecting wind from my 5'8" torso with minimal buffeting. Some taller journos complained that with the screen in the highest position there was just enough buffeting across their helmet to be bothersome. Maybe that larger, optional windscreen would do the trick.

With two counter-balancers, the motor is very smooth and virtually vibe-free, regardless of engine speed. It's a great match to that ultra-smooth shaft drive. Fueling is trouble-free and precise, and there's bottomless power on tap from as low as what I estimated to be 2700 rpm (as evidenced by first gear power wheelies). Power builds swiftly and smoothly all the way to the 10,500-rpm redline.

Keeping all that power accessible is the job of the transparent transmission and clutch. Considering the claimed dry weight of 615-pounds and all the thrust that's propelling that heft, a back-torque limiting clutch makes a lot of sense and is appreciated.

The saddle has dual density foam. Firmer for the rider and slightly softer for the passenger. I wouldn't hesitate to ride from L.A. to San Fran on this bike, something I don't care to do too often these days.

When we weren't blitzing down the freeway in sixth gear overdrive, we were hustling this silver bullet through some pretty tight terrain. The weight of the bike prevents it from being classified as flickable, but transitional movements come with just a small amount of effort at the high bars. Mid-corner stability was never in question under any circumstance as the stout but light chassis was always composed.

Suspension, although not perfect upon receipt, was more than up to the task of handling the oft times decaying, uneven roads that are starting to suffer from the many large trees that have lined the roads in NorCal for nearly a century. A quick twist at the remote rear preload adjuster helped balance the chassis. All in all, the Connie's springy bits are plenty adequate.

Braking, on the other hand, wasn't quite what I had hoped for. The fact that it is a non-linked ABS system is a bonus, but there's something that needs to be sorted out. The sensation was that the ABS was, perhaps, a bit too eager to activate. The brakes themselves are outstanding, but on a least two occasions I had made a rapid lever input that was rewarded with a numb or wooden feeling that, although only lasting a fraction of a second in reality, was a bit disconcerting at speed. Within the blink of an eye a more natural feel came back and all was well. Were it only those two instances, I would've simply discounted the incident. But feel at the rear pedal wasn't much better. It often had a resistance to the initial application and then it would relent to the point of feeling a tad mushy. I must note that at no time did I ever feel in jeopardy. The brakes work very well and have good feel. It's just that I would choose the non-ABS model for myself.

The other nominal complaint I came up with was the rather annoying amount of engine heat that made its way out of the cowlings from behind twin fans. As with any bike that produces big power, including the Ninja ZX-14, the new Connie has a tough time shedding engine heat. The C14 is fitted with a rider-adjustable air management system in which removable fairing deflectors are designed to disperse high temperatures. Removing the deflectors allows more heat to reach the rider, so I can't imagine riding without them in any condition other than the coldest Midwestern nights.

With over 400 miles in two days we had plenty of opportunity to refill the 5.8-gallon fuel tank. The 26 mpg I calculated at the pump was a bit disappointing, but maybe that doesn't say as much about the bike's fuel efficiency as it does the ridiculous way I was riding. Others were reporting closer to 30 mpg.

Riding bikes like these are really starting to make my job easy... Or hard if you're a glass half-empty type. They do so much so well in their intended category that searching out flaws can be a great expenditure of time and energy. Is the new Connie without any real competitors as some Kawasaki staff implied? It's a damn fine bike, but I'm not sure I'm ready to discount the FJR1300 just yet.

And BMW's K1200GT is a formidable competitor, and who knows what Honda will do in the future along the lines of the ST1300. So, what's all this going to cost a prospective purchaser of a 2008 Kawasaki Concours 14? First of all you'll get one color, Neutron Silver, and like it. After that the only decision is to ABS or not to ABS. The former will set you back $13,799 (the same as the FJR1300 with its standard ABS), while the latter is $12,899. A 36-month warranty should allow some peace of mind on your interstate journeys. They're ready and waiting in dealers now.