Harley Davidson FXDX/I Dyna Super Glide Sport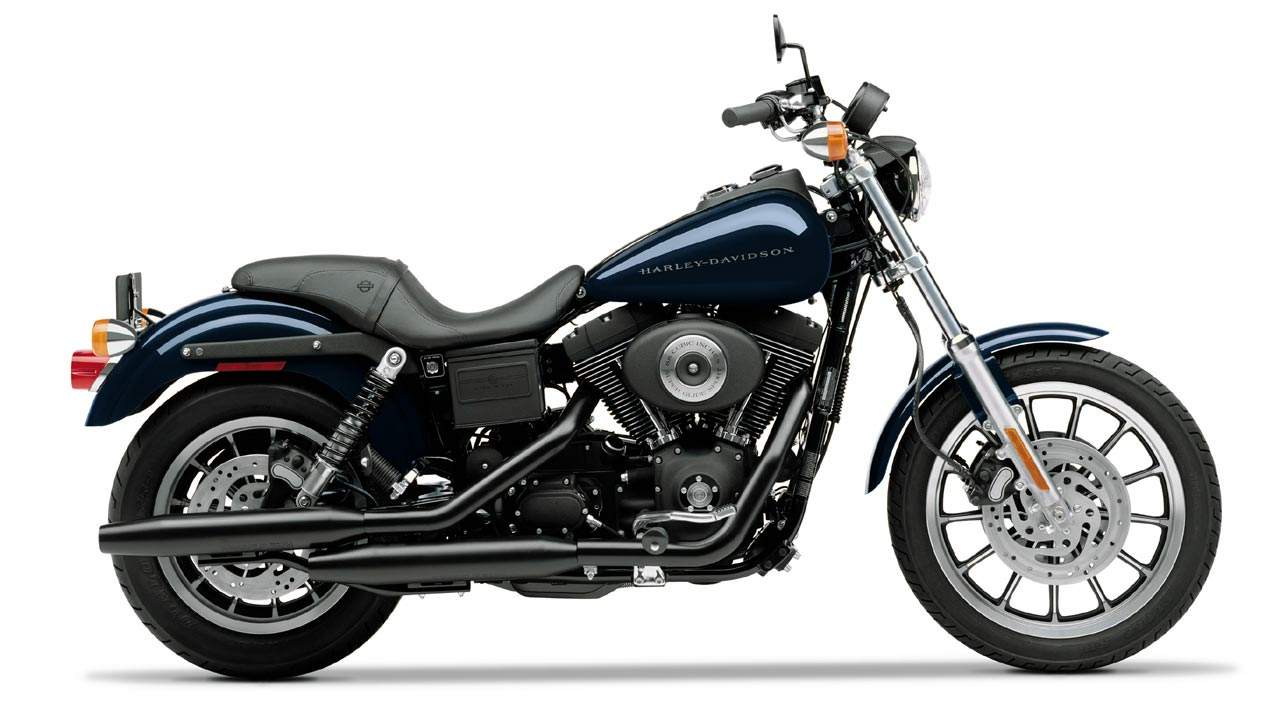 Make Model

Harley Davidson FXDX/I Dyna Super Glide Sport

Year

1999 - 01

Engine

Four stroke, 45° V-Twin, Twin Cam 88® vibration isolation-mounted Valves Pushrod-operated overhead valves; w/ hydraulic self-adjusting lifters; two valves per cylinder

Capacity

1449 cc / 88.4 cu-in

Bore x Stroke

95.3 x 101.6 mm
Cooling System
Air cooled

Compression Ratio

8.9:1
Lubrication
Dry sump, internally mounted, crank driven gerotor pressure and dual scavenge pump with spin on 10ì pressurized oil filter

Induction

Carburetion 40 mm constant velocity with enrichener and accelerator pump
ESPFI 38 mm throttle bore electronic sequential port fuel injection

Ignition

Single-fire, non-wasted, map-controlled spark ignition
Starting
Electric

Max Power

67 hp / 48.8 kW @ 5200 rpm

Max Torque

116.6 Nm / 86 lb-ft @ 3500rpm
Clutch
Wet 9-plate

Transmission

5 Speed
Final Drive
Belt
Gear Ratio
1st 10.110
2nd 6.958
3rd 4.953
4th 3.862
5th 3.15
Frame
Mild steel, rectangular section backbone with twin down-tubes Swing Arm Mild steel, rectangular section

Front Suspension

Fork Premium, 39mm sport forks with polished aluminum fork triple clamp, adjustable compression and rebound damping and dual-rate springs with externally adjustable preload

Rear Suspension

Premiu sport shocks with adjustable rebound damping and blacked-out, dual-rate springs with externally adjustable preload

Front Brakes

2x 292mm discs 4 piston caliper

Rear Brakes

Single 292mm disc 4 piston caliper
Wheels
13-spoke black/silver cast aluminum alloy (laced option)

Front Tyre

100/90-19 51V

Rear Tyre

150/8016 71V
Rake
28°
Trail
104 mm / 4.1 in
Dimensions
Length 2319.2 mm / 91.4 in
Wheelbase
1603.5 mm / 63.2 in
Seat Height
laden 691.6 mm / 27.2 in
Unladen 710.6 mm /

27.9 in

Ground Clearance
150 mm / 5.9 in

Dry Weight

281 kg / 619.0 lbs

Fuel Capacity

18.5 Litres / 4.9 US gal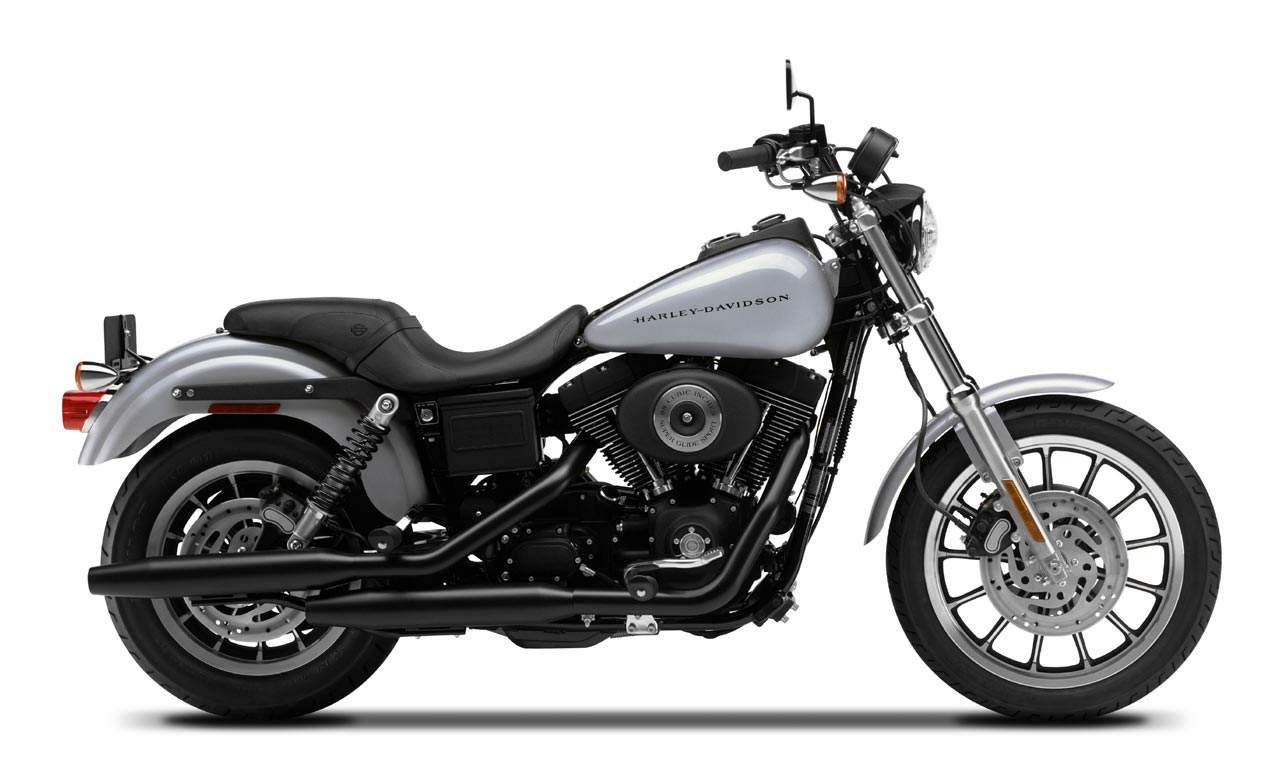 Review
Sick of blending into the crowd? How about a hotted-up Hog with nearly twice the grunt of a Suzuki GSX-R1000 at 3700rpm! We're talking serious pulling power...
I was honestly shocked. Probably not as shocked as the poor geriatric behind me - whose falsies would have damn near been shaken out by the thunderous roar of my steed's Screamin' Eagle pipe - but shocked never-the-less.
I'd just hopped aboard Harley-Davidson's FXDX, known less formerly as a Dyna Super Glide Sport, and I was ready for a fairly relaxed cruise back to office - after a quick hard start from the first red light, mind you, just to see hat parameters I had here to work with.
What I wasn't ready for was my neck snapping backWards, a deep V-twin bellow threatening to set off every car alarm within a kilometre radius and having to hang on with white-knuckled determination to prevent a rapid (and thoroughly embarrassing) departure off the back of the seat. Nope, all was not what it seemed with this particular Hog.
And unlike those who find nasty, loud motorcycles irritating, I was grinning from ear to ear.
As it turns out, this FXDX is cosmetically stock, but more than a couple of things have been tinkered with in the nuts and bolts department.
Firstly, the stock exhaust has been junked in favour of a $563 Screamin' Eagle two-into one unit - perfect for annoying the crap out of the neighbours, not so good for undercover surveillance work. Then again, nothing about this bike is good for undercover surveillance work - and that, my friends, gives it its own particular sense of appeal.
A Screamin' Eagle high-flow airfilter kit ($362) has been thrown in to get the best out of the freer-breathing pipe, and then we come to the engine.
The standard Twin Cam 88 powerplant (1450cc) found across the majority of the H-D range was a bit of a blank canvass for this particular FXDX, and heading the list of upgrades is a 95-cubic inch big-bore kit ($300 for the pistons, $815 for the barrels). That translates to over 1550cc, some 100cc up on the stock donk, and no doubt does its piece in the extra ponies campaign.
Add to this modified heads, including hot cams, adjustable pushrods, a massive 45mm Mikuni carb and a 7000rpm ignition module, and you've got one Hog that can hustle - and let the whole world know about it.
The dealership this testbike hails from is Peter Stevens Motorcycles' Ringwood branch, in Melbourne's eastern suburbs, and they'll put together your own FXDX rocket for an extra seven big ones over the stock FXDX's $24,995 pricetag.
That's not to be sniffed at, but then if you're after some serious performance for your Hog, this package well and truly delivers.
From a standing start, this bike thunders off the line like no other Harley I've ever ridden, its rear Dunlop scrabbling for grip as the tacho streaks to its seven grand redline in one helluva rush. Hook second via the smooth and positive five-speed gearbox (that's right - I said smooth and positive) and get set to do it all again. Repeat the process in third and lookout, that thundering exhaust note will do slightly less than bugger-all to conceal the fact you're risking an extended stay with the local lock-up's Gimp...
The Harley's mumbo rolls over you like a tidal wave from as low as 1500rpm, but really warps things through its meaty midrange, courtesy of a whopping 12.4kgf-m of torque availing itself around the 3700rpm mark. By way of comparison, a 996 Duke is pumping out just 7.2kgf-m at the same revs, and a GSX-R1000 just a mere 6.5kgf-m. We are talking serious usable grunt.
Peak power of a shade over 87ps at the rear wheel comes in at just over 7000rpm, without any significant dips anywhere in the rev-range. Incidentally, don't get too concerned about the multitude of tiny peaks and troughs shown on the dyno chart - PTR's Phil Tainton reckons they're merely a by-product of the adjustment and wear of our FXDX's belt final drive.
There's a fair old gap between gear ratios, especially in the upper end of the 'box (not that it matters with all that grunt!), and fifth gear will quickly have you cruising around the 140km/h-mark if you don't keep a wary eye on the speedo - okay if you like being a human windsock or a revenue source for the Highway Patrol.
To give you an idea, rolling along at 100km/h in top sees just 2800rpm on the tacho, where the FXDX will happily rumble along all day.
Throttle response is crisp, and a crack of the wrist won't see any hesitation no matter where the tacho needle's pointing - just massive dollops of grunt, on call, whenever you want.
Due to the thoroughly addictive nature of the total sensory experience which greeted me when I did give it a bit, I quickly found myself winding it on at every available opportunity - and surprising the odd Jap sportsbike rider along the way!
Which brings me to another aspect of this Hog which impressed - its handling. Yep, you read right - this baby actually handles, despite the extra oomph it's received, and even more impressively, despite being a cruiser.
Now I'm still talking relatively here folks - it is a cruiser after all - but the FXDX was pretty stable through the bends, with minimal wallowing for what essentially is a heavy, claimed 281kg (dry) mutha of a motorcycle.
That skinny 150-section rear Dunlop breaks traction pretty easily, but the relaxed and rangy steering geometry meant it was never a drama. On the contrary, in fact - slinging the back out sideways was bloody good fun!
And that's what it's all about, in my books. Although cruisers have never been up the top of the Chapman Christmas wish-list, I can't deny riding this example was a hoot.
It's got a couple of foibles, I'll grant you that, but they're pretty minor, and ultimately simply a matter of getting used to. Firstly, you need a compass and map to find the ignition - it's positioned underneath your right buttock, slightly recessed beneath the seat. If you like sitting on your bike before you put the key in, you'll have to change your ways.
Secondly, the sidestand's a little tricky to hook with your foot while sitting on the bike. Finally, you've really got to watch that pipe in wet weather - it'll turn your plastic wet weather pants into plastic wet weather shorts in the blink of an eye...
The brakes are okay - standard fare for a machine of this nature - but I'd still like more power and feel, from both the twin-disc front and the rear. Call me fussy.
On the other hand, ground clearance - surprisingly - is excellent. I wouldn't go deliberately trying to deck the pegs though, as you'll soon find yourself with two tiny stubs of rubber instead of footpegs!
The remainder of the details are all positive - good horn, easy to read clocks (although the idiot lights are a little dull in full sun), and a top-quality finish.
The FXDX is human-friendly too, at least for those a little on the tall side. I found the ride position perfect, its forward-set highway pegs, low seat and 'bars just allowing me to stretch out my 190cm frame in comfort. The seat was good, well-shaped and supportive, although pillions don't get quite as good a deal.
I must admit, I wasn't expecting anything particularly exceptional when he who must be obeyed despatched me to pick up the FXDX. One week down the track, and around Horror HQ it's hard to pry the key loose from the hands of whoever had it the night before.
Around here, that's as telling about a bike's credentials as anything. As for me, I'm off to rattle some more dentures...