Make Model.

Harley Davidson FLT 1340 / FLT-80 Tour Glide

Year

1981

Engine

Four stroke, 45° V-Twin, OHV, 2 valves per cylinder.

Capacity

1338 cc / 81.6 cu in

Bore x Stroke

88.8 x 108 mm

Compression Ratio

7.4:1

Co

oling System
Air cooled
Exhaust
Two-into-two, chrome

Induction

One butterfly valve Keihin carburetor

Ignition

Electronic

Starting

Electric

Max Power

52.2 kW / 70 hp @ 5800 rpm

Max Torque

93.5 Nm / 9.53 kgf/m / 69 ft-lb @ 3000 rpm

Transmission

5 Speed

Final Drive

Chain
Gear Ratio
1st 10.89 / 2nd 7.43 / 3rd 5.38 / 4th 4.13 / 5th 3.36:1
Frame
Duplex cradle type.

Front Suspension

Gas telescopic forks

Rear Suspension

Dual shocks preload adjustable.

Front Brakes

2 x Ĝ292 mm disc, 1 piston caliper

Rear Brakes

Single Ĝ292 mm disc, 1 piston caliper.

Front Tyre

140/90-16

Rear Tyre

140/90-16

Dry Weight

328 kg / 725 lbs

Wet Weight

358 kg / 789 lbs

GVWR

535 kg / 1180 lbs

Fuel Capacity

20 L / 5.3 US gal
Photos
Courtesy: Don Kennelly
The entire line of Harley motorcycles, including the new FLT, received an improved electronic ignition. The big twin model was built on an all-new frame that included compressible motor mounts to reduce vibration felt by the rider. A frame-mounted fairing held a pair of round headlights behind the domed cover. The new FLT weighed in at 725 pounds before fluids were added.
In 1981, the Motor Company was sold back to those who truly cared about the product, not just producing as many units as possible. Not only did the management team remove AMF from the letterhead, but also pulled the 74 inch Shovelhead motor from the option sheet.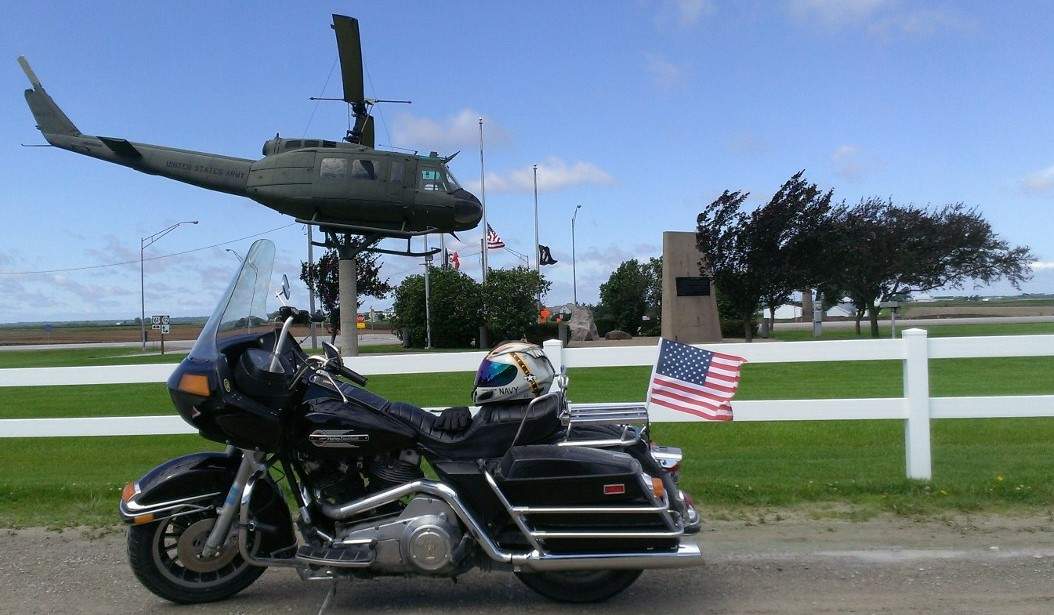 It is almost impossible to rationalise thoughts on the two-wheeled anachronisms called Harley-Davidson. Whenever I have ridden one of these great vibrating masses of two-wheeled antiquity they have always left me experiencing the vividly opposing emotions of both love and hate. And there is nothing about the FLT80, the world's heaviest production roadster, which can untangle my opinions on what must be one of the motor-cycle world's greatest provocateurs of emotions.
Even though Harleys, and the image they project, offer a great deal to a small and vociferously partisan body of two-wheeled enthusiasts it is almost too easy to criticise them. If you subscribe to the purists' opinion that motor cycles should be cheap, efficient and fast, light and nimble with excellent handling, then most Harleys and the FLT in particular, have got to be the world's all-time greatest two-wheeled disasters.
But if you are thinking along those lines then you have completely missed the point. It is just not possible to use normal road testing parameters to assess a Harley. They simply defy conventional thought processes to the extent that when riding a Harley it is best to banish all other motor cycling experiences from the mind.
This way, views on the Harley-Davidson's particular individual style of travel will not be at all clouded by other feelings not related to the big American vee-twin. And that gets you some way to understanding a Harley.
What is certain is that the FLT80 is about as subtle as an atomic explosion. To say it is large is an understatement. It is brash, vulgar, monstrous and shocking. It demands, and gets, the attention of all road users and pedestrians; it makes its rider the centre of attraction wherever he and the Harley travel.
At a quick glance, the FLT could probably be dismissed as just another Harley. But a closer look reveals that Harley-Davidson have made several important modifications and improvements over the cheaper FLH Classic and much less expensive FLH 1200.
Vibration has always been one of the worst features of the big American vees. With H-D sales continuing to suffer under the relentless Japanese onslaught in America it is not so surprising that they should now deal with the problem. H-D engineers have not so much solved the problem as circumnavigated it. They have fitted a series of rose-jointed rods both in front of the motor and between the vee and have allowed the gearbox to pivot on the same axis as the swinging arm; this allows the motor a certain degree of latitude in which to vibrate in isolation without loosening the fillings of its rider. The movement is no more than fractions of an inch,
which does not appear to adversely affect the machine's handling. Interestingly, the front forks on the FLT are actually behind the steering head axis. This reduces the amount of trail, therefore improving low speed handling at the expense of higher speed stability.
Harley have forsaken their tank-top instrument panel syndrome on the FLT by installing a speedo and rev-counter in a conventionally mounted console. The fuel tank has been redesigned, they have added a twin headlamp fairing with luggage space and the gearbox has sprouted, somewhat unnecessarily, a fifth ratio.
But such modifications are only comparatively minor concessions to latest motor cycling technology and do not alter the flavour of transport offered by the FLT.
The sheer size of the machine is awe-inspiring. It weighs 789 lb with a gallon of fuel and the handbook permits an all-up operating limit in excess of half a ton, 1,180 lb in fact. Which means that even experienced Harleyists are going to have their share of embarrassing moments when moving the machine within the confined space of a parking lot or attempting a three-point turn.
But once it is moving at more than a few mph the sheer lazy, easy-going effortlessness of the whole device becomes apparent. While it is not a machine a dispatch rider would choose for his London work, it is surprisingly agile considering its bulk. Perhaps the worst evidence of the FLT's weight appears when coming to rest, for example at traffic lights. Over those few feet before coming to a halt the steering feels really heavy and the impression is that the machine just wants to turn in its front wheel and collapse in a heap.
Obviously a machine of such gross proportions needs an equally muscular motor. In the FLT's case, 80 cubic inches, or the combined forces of a pair of 669 cc singles provide a fairly modest 60 bhp, but with the kind of stump-pulling torque you expect in a tractor.
This 1,338 cc twin was first used in 1979 and was a direct response to Kawasaki's Zl 300 threat to knock H-D from top of the capacity tree. They just had to be biggest, and this massive unit with 50 and 45 mm inlet and exhaust valves was the result.
Those huge exhaust pipes emit a dull flat duflf-duff-duff note indicating a far lower compression ratio than the FLT's 8 to 1 and later models did in fact have a lower ratio of 7.4 to 1. At the legal British 70 mph limit in top gear the motor turns only 3,300 times a minute, and it does not take long to realise that the machine's ultimate performance is only on a par with a quick Japanese 250.
Fifth gear, which proved a useful overdrive for motorway cruising was too high for the MIRA test track. The FLT only revved to 4,400 rpm, 1,100 revs below the redline in top gear during our speed tests. Harleys take a notoriously long time to bed in and the speeds could be improved once that FLT had been ridden over 1,600 miles.
But nobody buys a Harley for sheer speed. The impression is that the Harley is capable of loafing along at a lunging 70-80 mph almost non-stop for weeks.
Both rider and pillion do not so much sit on the bike as inside it; they're surrounded by luggage space - 55 lb of carrying capacity at the rear with room for smaller items in a pair of small compartments in the fairing.
The wide, flat screen, which is a speed reducer, is also a boon once out on the open highway where the Harley really belongs. It isolates both rider and pillion from the battering elements of wind and rain. Once you've settled into the somewhat alien feet-forward riding position with your backside moulding with the touring orientated contours of the caressing seat and grabbing those huge pull back cowhorn style handlebars you begin to get 'into' the Harley. There is one aspect of the human make-up to which the FLT cannot fail to appeal; the ego.
There may be many niggling faults like a heavy clutch, a crunchy and clumsy gearchange and individual indicator buttons which are difficult to operate. The whole contraption may creak, groan and squeak over bad road surfaces, and predictably enough it still vibrates (although much less than expected). But all this pales into insignificance once you notice the heads begin to turn in your direction. People gaze at the Harley with wide-eyed expressions of disbelief, astonishment, awe. Most cannot even comprehend that a device which is so large runs on only two wheels.
When it comes to halting this behemoth you discover the FLT's major fault. Harley brakes are historically bad but on the third of a ton FLT even the triple discs are a couple of notches the wrong side of poor. Obviously, it is easy to drive accordingly - for example, to leave a bigger gap to the vehicle ahead, but the brakes are not really up to dealing with those occasional emergency stops with the rapidity taken for granted on countless lighter machines.
One of the FLT's most surprising aspects is its willingness to be thrown around on twistier terrain. Limitations in Ground Clearance due to its width prevent really hard riding, but the machine requires surprisingly little physical effort to sweep through the turns.
On those long motorway curves, however, the FLT develops a slight weave around 75-80 mph. This particular brand of jiving never threw the machine into anything approaching a terminal tank slapper but it was consistently present. So much so that like the machine's many other idiosyncrasies you simply learn to ignore just another quirk.
A thoroughly practical means of transport the FLT is not. There are several directly comparable machines which can perform the same tasks more efficiently. But none can approach the unique appeal afforded by the legendary name Harley-Davidson.
The FLT80 as a model was short-lived, being launched in a barrage of publicity and becoming a machine of the past inside a year, for British bikers at least. Harley-Davidson may continue with their bewildering annual change in model designation but the FLT has left a large unmistakable stamp on the face of contemporary motor cycling.