Ducati 900 Monster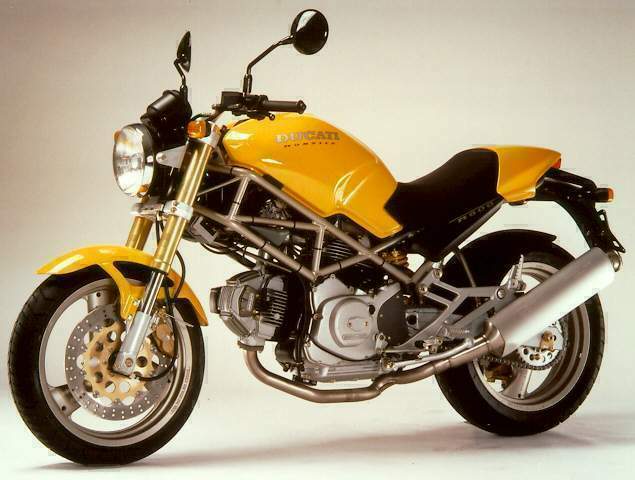 Make Model.

Ducati 900 Monster

Year

1993 - 94

Engine

Four stroke, 90°"L" twin cylinder, SOHC desmodromic 2 valve per cylinder.

Capacity

904 cc / 55.2 cu in

Bore x Stroke

92 x 68 mm

Compression Ratio

9.2:1

Co

oling System
Air cooled

Induction

2 x 38 mm Mikuni BDST 38-B129 carburetors

Spark Plugs

Champion RA6HC

Ignition

Kokusan electronic inductive discharge

Battery

12V 16Ah

Starting

Electric

Max Power

58.8 kW /

80 hp @ 7000 rpm

Max Power (at rear wheel)

53.7 kW / 73 hp @ 7000 rpm

Max Torque

76 Nm / 7.75 kgf-m / @ 6000 rpm

Clutch

Dry multiplate

Transmission

6 Speed

Primary Drive Ratio

2.000:1 (31/62)

Gear Ratios

1st 2.466 / 2nd 1.764 / 3rd 1.350 / 4th 1.091 / 5th 0.958 / 6th 0.857:1

Final Drive Ratio

2.6:1 (15/39)

Final Drive

Chain
Frame
Tubular steel trellis

Front Suspension

Showa GD 41, inverted type, adjustable, 41 mm stanchions

Front Wheel Travel

120 mm / 4.7 in

Rear Suspension

Boge progressive type with adjustable monoshock

Rear Wheel Travel

144 mm / 5.7 in

Front Brakes

2 x 320 mm Discs, 4 piston calipers

Rear Brakes

Single 220 mm disc, 2 piston caliper

Front Tyre

120/70-17

Rear Tyre

170/60-17

Dimensions

Length: 2090 mm / 82.3 in
Width: 770 mm / 30.3 in
Height: 1060 mm / 41.7 in

Wheelbase

1430 mm / 56.3 in

Seat Height

770 mm / 30.3 in

Dry Weight

184 kg / 405 lbs

Wet Weight

194 kg / 428 lbs

Fuel Capacity

16 L / 4.2 US gal / 3.5 Imp gal

Consumption Average

5.8 L/100 km / 17.1 km/l / 40.2 US mpg / 48.3 Imp mpg

Braking 60 km/h - 0

12.6 m / 41.3 ft

Braking 100 km/h - 0

36.4 m / 119.4 ft

Standing ¼ Mile

11.6 sec / 184.8 km/h / 114.8 mph

Top Speed

190 km/h / 118 mph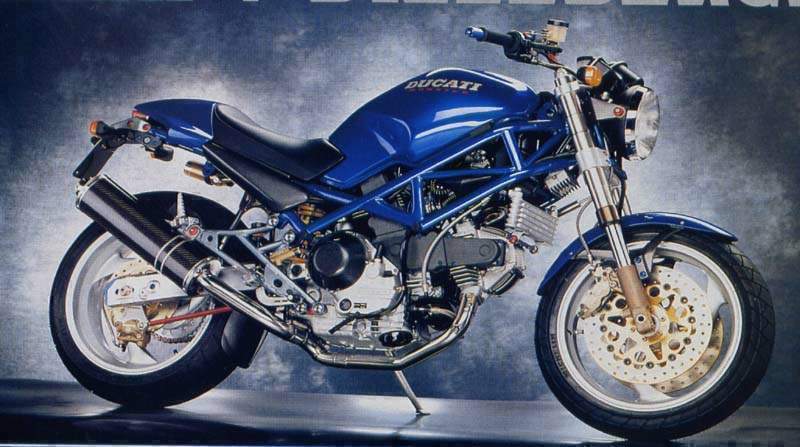 MORE THAN ANYTHING, the Monster is for showing off on. Piddle down the High Street and people look. Bounce a few RRHHHUUMM-MMMBAAs off small children and people look. Munch up cars coming out of favourite roundabouts, and people look. Sometimes the desired effect is achieved and sultry, leggy beauties rather than pissed-off grannies turn to look too. But there aren't many of them so you need something more.
And it's 'something more' when things get a little tricky...
Wheelies. Monster controlled wheelies. I don't care what your name is, how responsible you say you are or what sort of bizarre rituals you get up to in the privacy of your own home. Get on a Monster and before you can say Richard Almet you'll be attempting wheelies. Get it right and whole streets will smile, flocks of pretty girls will throw their telephone numbers at you and you'll make the And Finally... spot on News At Ten. Perhaps. But get it wrong and you'll look about as cool as Robbie Coltrane in a sauna. Or worse. And it's 50 yards into a bleary-eyed Sunday morning, after an evening of Heineken, Jacobs Creek and Courvoisier, following days of weedy 250 customs (see p28) when you most emphatically get it wrong.
Green light, she's looking and I'm cookin' - let's dump it. Yay-hey-hey (nicely crossed-up) ooo-err (veering towards the dual carriageway central reservation). Oops. (Help.)
I drop the front (bang), my left hand comes off the bar and I'm swerving straight for the reservation's kerb at 45mph. At this moment I sadly note the
Monster is not a trail bike. I'm done for. It'll never get over. (I'm about to trash a Ducati and someone will murder me.) Wallop, boing - and over! Amazing. I made it. And... Arrgghhh! I'm going the wrong way up the fast lane of the dual carriageway and three lanes of cars are coming towards me. Eeek!
Oh well, at least she was still looking. And I think she was impressed...
When you're on a machine with the show-off potential of the Monster, a bike that, effectively, is a huge willy on two wheels (if that fat red tank jutting out of your groin isn't a you-know-what then I'm Mary Whitehouse), it's this sort of behaviour, or preferably, more successful versions of this sort of behaviour, that's what it's all about. You're simply kidding yourself if you think any different.
Different is what Ducati designers built the Monster to be. They made it, or rather, they dEVOted a whole production line to it and made 5000 of them, to diversify the Ducati range and attract buyers who want something other than a sportster. They've more than succeeded. The Monster was the crowd puller at last year's Cologne Show (shame it never made it to the NEC); in the UK it's now virtually sold out despite two extra orders from the importers, and worldwide it's proved so popular that Ducati plans to follow it up big time in '94. There'll be an all-new 600 Monster (in, get this, yellow), an all-black version of the 900 and a full range of factory accessories made to suit, including bikini fairings, different pipes and, for all I know, huge French ticklers to wrap around the tank. In short, the Monster is here to stay.
Just why it's hit such a nerve is plain simple - literally. In an age when motorcycling seems to have gone all muggy, clouded by irrelevent jargon, petty distinctions and downright boring crap about whether a bike's a sportster, a sport-tourer or a vacuum cleaner and desires to have this year's model simply because it's got different stickers, the basic, uncluttered Monster is a huge breath of fresh air.
This is no retro. A Zephyr is a styling gimmick, a bare bones bike tainted by nostalgia. Nor is the Monster a no-compromise sportster (that only comes into its own above 130mph clothed in expensive plastic). No, the Monster is a modern, raunchy street bike, pure and simple. There's no pretence, no waste and no messing. It's pure, concentrated essence of motorcycling fun and it's got bags of character without any surplus baggage. And if you can't get your head around that, you're missing out.
Despite what you might have heard elsewhere, the Monster isn't a Ducati parts bin special. The lattice-work, tubular steel frame complete with rising rate monoshock rear may look like that of the 888 Strada (the SS series has cantilever rear suspension) but is unique to the Monster with revised shock mounts, a different, slimmer rear subframe for the stumpy Monster seat and, most importantly, a more kicked-out Steering Head Angle to slow the steering. The shock is a yellow-painted, German-made Boge item adjustable for preload and rebound with, at the pointy end, beefy but non-adjustable Showa upside-downies.
Everything about it is hard and stiff. With the engine as a stressed member there's no hint of flex whatever idiocy (including kerbs) you throw at it. The rear shock is able and compliant but the front forks are on the overdamped side of stiff. Wheelie landings jar, potholes clank, crappy surfaces at speed can sometimes knock things out of kilter and wrists get a hard time. Shame they're non-adjustable. If it was mine I'd seriously consider making tracks to the Maxton emporium.
Steering too is surprisingly heavy -despite the leverage of the wide bars. With the forks kicked out a reported five degrees over the 900SS's 25, the Monster is certainly no razor. Tight bends need elbows, hanging off and readiness to stop the slightly low exhausts grounding out; delicate corrections need a little wrench. But thanks to its light and low weight, wide bars and short and stumpy size, it's never likely to carry on through fields like, say, a GSX1100G is.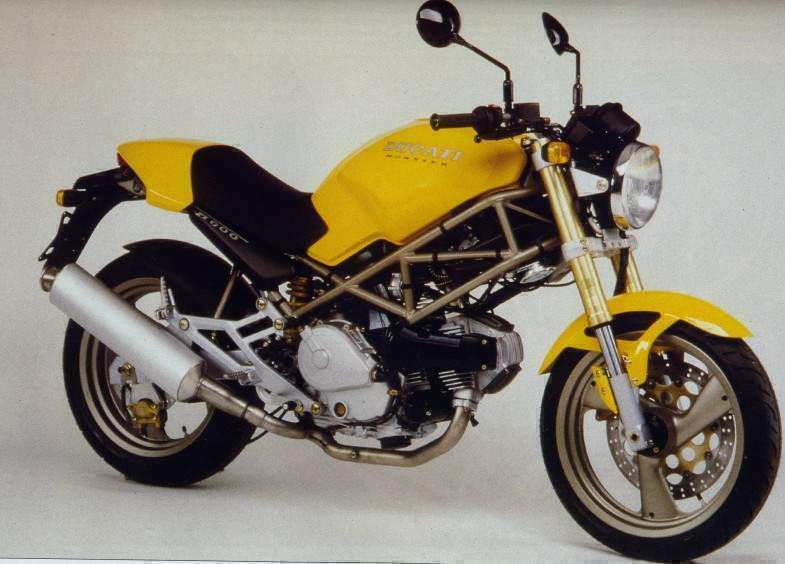 In town, through traffic, it's a wig-gleable delight. Balance is superb. You can coast to a standstill and earn extra coolness brownie points by keeping your feet up, trials bike style, for that vital split second longer than the girlie alongside expects you to. Only then, just before the lights change, do you cast that slow, black visored glance across, snick it into first and wheelie away all in one slick movement. You know it makes sense.
The engine is basically stock 900SS. Ducati's air and oil-cooled belt-driven desmo two-valver which stomps out gobs of throaty drive from around 3000rpm before ending up with a respectable if hardly earth shattering 73 horsepower at a claimed 7000rpm. I use the words 'around' and 'claimed' here because seeing as the bare bones Monster hasn't got a tacho (and, to be honest, it doesn't really need one), you'll just have to take Ducati's word for it.
All that oomph gets relayed to the rear Michelin through a hydraulically operated (but still grabby and heavy) dry clutch and neat six speed gearbox. On the whole the box was a delight - light and positive. But, being a Ducati, it's still easy to find neutrals between virtually all the gears and top, sixth, is mostly redundant. Where the 900SS is capable of 140mph on a good day, the naked Monster, all upright and blunt and with two extra teeth on the rear sprocket, was struggling to pull top and 120 and its rider was struggling to hang on to the bars.
The task of hauling the beast down to more legal speeds is taken care of by a collection of Brembo's finest wares: huge twin 320mm floating discs up front gripped by four-pot Goldline calipers with a single disc rear. Seriously OTT kit, yes, but not as seriously OTT braking as you might expect. Although powerful, the sensation at the lever is dull and wooden - exacerbated further by the dim feedback from the front Mich A59 through the overdamped forks. It'll stop you alright. It's just that you get very little idea about how hard to squeeze the lever until the decision is made for you.
Even at standstill the Monster is hunched and menacing. The huge red tank bulges from your groin, your biceps stretch to wide, flat bars that can require the grip of an orangutang, and the pegs are slightly rear-set. This is a hard-arsed bike and it takes a little getting used to.
From the low and comfortable saddle the view is as basic and meaty as motorcycles get. The red tank is huge, the console, with just a speedo and a block of idiot lights, is minimal and the bars are plain. Even starting it takes a little initiation. The key switch is mounted behind the headstock at the very front of the tank - neat and distinctive, but fiddly if you're carrying a tank bag. The choke is way down between the frame latticework on the left and there's no fuel tap on reserve, but there is a low fuel light.
None of which is that much of a problem. The idiot lights annoy slightly, with the 'lights on' one proving an unnecessarily bright distraction. The fuel warning light is a worry, considering that it's electric and Italian and there's no way of knowing the bulb's gone before it's too late (ours blew). The mirrors blurs to the point of uselessness most of the time and the springy side-stand (no centre-stand) needs care to get safely down.
But in the grand scheme of things, such irritations do little to diminish the Monster's appeal. Despite the lack of grabrail it takes a pillion in reasonable comfort. Despite the lack of fairing, 85mph motorway cruising is hampered more by slight bar and peg vibes than windblast. And through it all, the Monster is damn good fun and an absolutely unequalled pose. Whatever you think of its looks - some don't like the hugger rear guard, the carbon fibre side panels brought a mixed response and the duck bill sticking out the back is distinctly weird - it's impossible to deny that this is probably the most distinctive, most startling and most crowd-pulling bike of recent times. That it's also a Ducati (and therefore handles), an absolute blast to ride and pretty good value to boot, make it an almost impossible dream. The Monster may not be that practical, but it's not totally impractical either. It may have a couple of slightly rough edges but if it was too polished it wouldn't have the same bristly character. And character and fun and style is what the Monster has in bundles. I can't even imagine a bike that could come close.
Source Bike Magazine 1993