Ducati 996 Biposto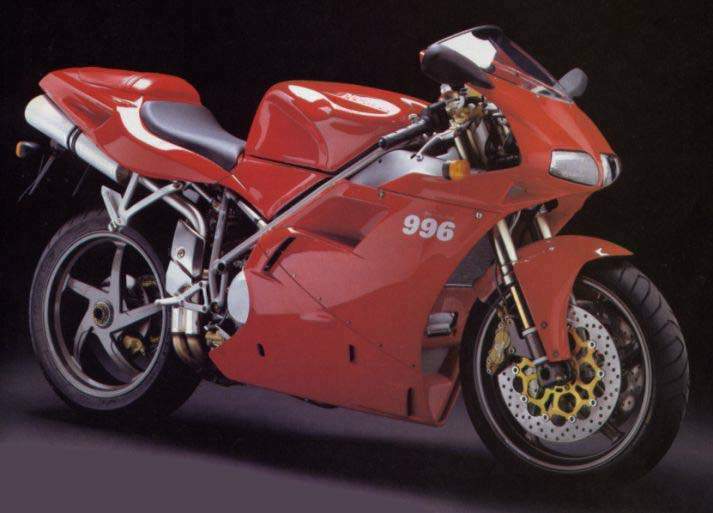 Make Model.

Ducati 996 Biposto

Year

1999

Engine

Four stroke, 90°"L"twin cylinder, DOHC, desmodromic 4 valve per cylinder.

Capacity

996 cc / 60.8 cu in

Bore x Stroke

98 x 66 mm
Cooling System
Liquid cooled

Compression Ratio

11.5:1
Lubrication
Wet sump
Engine Oil
Synthetic, 15W-50

Induction

Weber I.A.W. CPU 1.6 fuel injection

Spark Plugs

Champion RA59GC

Ignition

Digital CDI
Battery
12V, 16AH
Starting
Electric

Max Power

82 kW / 112 hp @ 8500 rpm

Max Torque

93 Nm / 9.5 kgf-m / 68.6 ft-lb @ 8000 rpm
Clutch
Hydraulically activated dry clutch

Transmission

6 Speed

Primary Drive Ratio

1.84:1 (32/59)
Gear Ratios
1st 2.466 / 2nd 1.765 / 3rd 1.350 / 4th 1.091 / 5th 0.958 / 6th 0.857:1
Final Drive Ratio
2.4:1 (15/36)
Final Drive
Chain

Front Suspension

43 mm Showa shock, adjustable for compression and rebound damping

Front Wheel Travel
127 mm / 4.9 in

Rear Suspension

Showa mono shock, rising rate, adjustable for compression and rebound damping
Rear Wheel Travel
130 mm / 5.1 in

Front Brakes

2x 320 mm Discs, 4 piston calipers

Rear Brakes

Single 220 disc, 2 piston caliper
Front Wheel
Alloy, 3.50 X 17 in.
Rear Wheel
Alloy, 5.50 X 17 in.

Front Tyre

120/70 ZR17

Rear Tyre

190/50 ZR17

Dimensions

Length 2095 mm / 79.1 in

Width 690 mm / 27.2 in

Height 1090 mm / 42.9 in

Wheelbase

1410

mm / 55.5 in

Seat Height

790

mm / 31.1 in

Dry Weight

198 kg / 437 lbs

Fuel Capacity

17 Litres / 4.5 US gal / 3.7 Imp gal

Consumption Average

5.5 L/100 km / 18.2 km/l / 42.8 US mpg / 51.4 Imp mpg

Standing ¼ Mile

10.7 sec

Top Speed

259 km/h / 161 mph
Reviews
Motocorse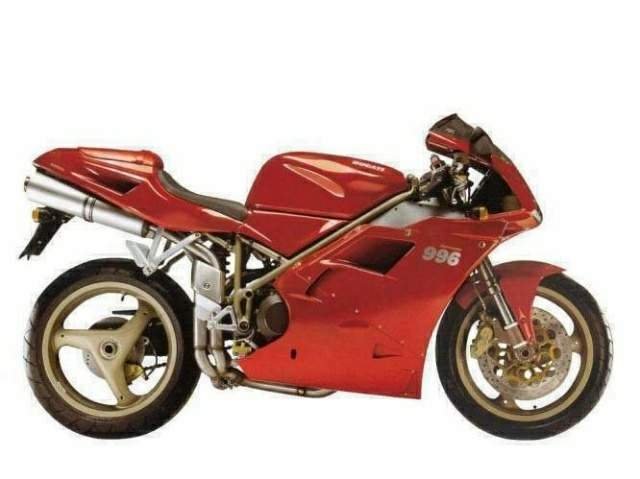 After six years of watching the svelte, familiar form of Ducati 916/955/996s storming to victory in races around the world, I finally got the opportunity to live with one for a couple of weeks.
Of course, I rode a mere street bike instead of race bike. I think. I'd swear there were lights on the thing, along with a license plate, and the exhaust was reasonable subdued. Also, I don't recall seeing a numberplate on either the front or the side, and it was equipped with a sidestand (that thankfully didn't retract on its own when weight comes off it like previous Ducati moto-props).

But with the possible exception of Suzuki's incredible GSX-R750, there aren't a lot of bikes out there that are as close to being a full-on Superbike right out of the crate as the 996. The version I experienced, a 2000 996 Biposto, is what one would consider the "base" model in that it had a Showa suspension front and back as opposed to an Öhlins-shock-equipped "S" model (which also has lighter wheels) or an "SPS" edition which is tricked out even more and ain't street-legal. But this standard version is still one high-performance Italian starlet that is built for business, and let's you know from the moment you climb aboard her.
I've been reading for years about how small the 916/996/748 feels when you sit on it and I to be honest it didn't seem that way to me at all. I think people think this because the 996's riding position is so extreme and forward-biased that you really don't have much motorcycle in front of you; it's all out back. It's almost as if you're on a ocean liner where the wheelhouse was moved to the front of the bow (where you're king of the world) as opposed to the usual position further back.

I'm exaggerating a bit (a first), but there is no question that the ergonomics of this bike are a tool to help get some of the machine's weight bias up front where it belongs. Your wrists bear the burden of this forward cant, and the pegs and seat are quite high which let's you know this is a take-no-prisoners competition motorcycle.

Because of this, the Biposto is a bike that will make you curse straight stretches of highway (which isn't necessarily a bad thing). The tall first gear and limited steering lock also drives home the point that this ain't no city bike. Paradoxically, the Biposto's glorious 996cc liquid-cooled 90-degree V-twin is the model of civility in the flat, stop and go world of urban warfare. It makes smooth, tractable power from as low as 3,000 RPM to just shy of its 10,000 RPM (unindicated) redline.

But enough of this congested roadway crap. Few race tracks resemble your average turnpike, and therefore the 996 will discipline you physically if you spend to much time away from the tasty, curvaceous pavement it likes to call home. Once into the bendy bits, this gorgeous Ducati reveals its mission in life, although not without showing you a different way of doing things. The extreme riding position combines with surprisingly slow steering to make the bike feel awkWard at first, but this impression quickly passes once you start learning how to make these components work for you instead of against you. The fully adjustable Showa suspension delivers a stiff ride until you get going fast enough to make things work, and then all is control and composure as you rocket around bumpy corners and transitions. The top-drawer Brembos do the business on the stopping front, and while the front four-piston stoppers offer great feel and power the rear is a trifle woody and tricky to modulate.

And, too, enough of this slowing-down stuff; let's talk motor. As much as I was impressed with the 996's chassis, it's those big, angry pistons that make this legendary motorcycle such a moving experience. The two injectors per cylinder meter out fuel in such a wonderfully controlled way that even though you have tons of torque and horsepower on tap it's always up to you when (and how) it gets to the massive 190-series Pirelli Dragon behind you. No wild hits or on/off nastiness takes place when you roll on the throttle coming out of a corner, and the complex shock linkage helps keep things stable out back when the power comes on. Even with all that weight up front it's easy to loft the front tire on corner exit, and if you land off-center a steering damper is there for you. Gearing is spot-on with shifting that is smooth and precise, although gear selection is not as critical as some high-performance machines thanks to the broad spread of good 'ol Italian grunt.

Overall, it's easy to see how years of development on the track has refined this beast into such a user-friendly mount on so many levels, and a joyous backroad companion that reinforces what sporting motorcycles are really all about. Even the aural part of the equation is exquisite fun; a splendid blend of the desmo valve train, dry clutch and booming exhaust that gets under your skin in the best way. Then, there's the whole aesthetics/serviceability/build quality thing. Even after all these years the 996 is still a striking piece of work, and unique in the Superbike world with its trellis frame, single-sided swingarm and desmodromic valve actuation. Getting to things to tweak and service as a snap, as the bodywork comes off quickly and easily and the seat/tail assembly hinges at the base of the tank for easy access to things.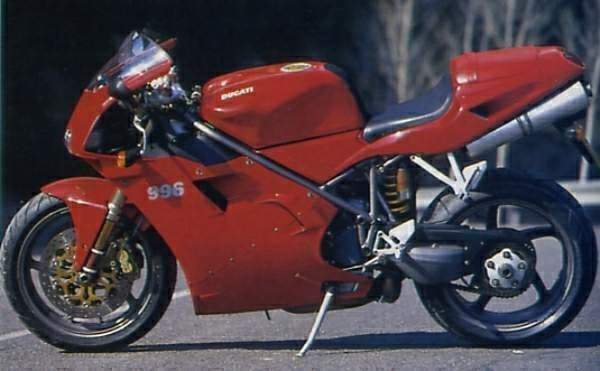 Fit and finish is top-notch, right down to the color-matched pillion seat that is a tad too cramped to really promote taxi duty.

After spending quality time on Ducati's world-beater in stock form, it's not hard to see what these things have been so successful and have a legendary following. This is a very special machine that rewards the rider with joyous motion every time you assume the position. Uncomfortable? Yes. Very. Worth it? absolutely. If I had the money, I think I'd have to own one. In fact, if there's any rich industrialist out there who wants to make sure Ducati's latest (and possibly final version) of the 916 pedigree gets a good home where it will be truly appreciated and looked after, I'm here for you.

Which brings us to an interesting question: when will Ducati grace us with a new platform for their Superbike, anyway? The rumor mill has been churning over this issue forever, it seems. It's really hard to say. The bike is still doing the business on the racing front, as long as there's a rider in the saddle who can deal with its behavior at the limit. For 2001, the 996 tested here gets a sealed-for-life battery, silver engine and cam-belt covers, and an Öhlins rear shock for the Biposto (only the Monoposto had one this year). The price will increase by $300, which, I'm told, is the first real price increase in quite some time.

And for 2002? As we say around here with nauseating regularity, watch this space.
By Bill Heald Superbike Planet