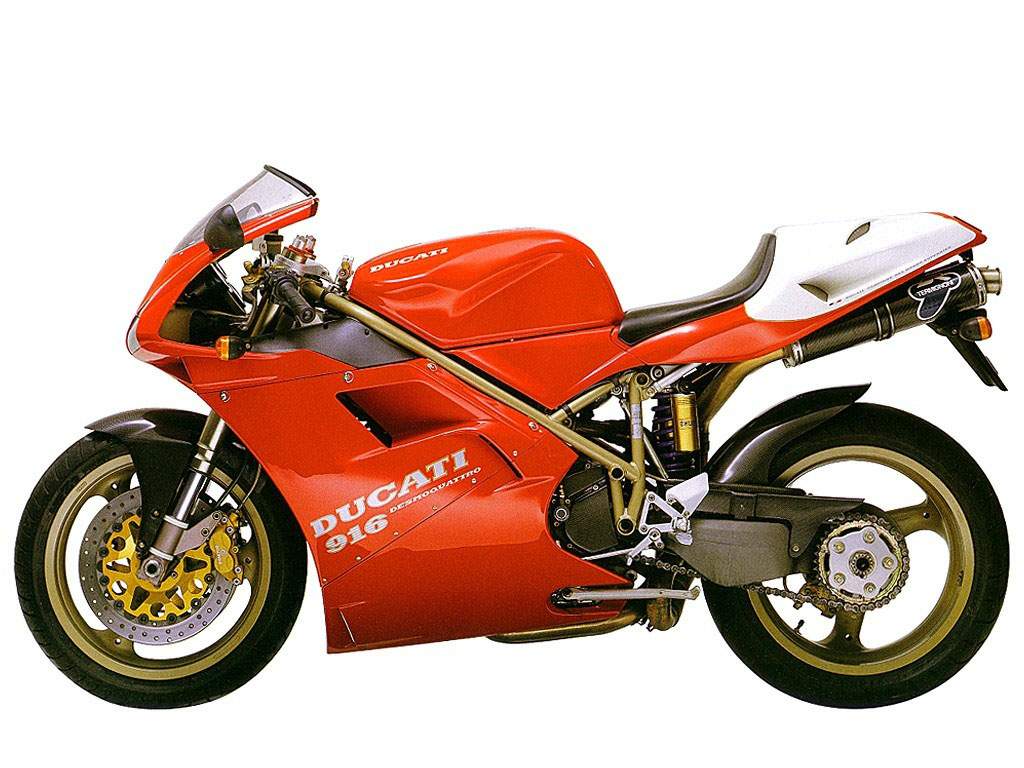 As such the SPS got a reputation as a thundering, maniacal motor that felt way stronger than the dyno numbers would suggest, with a barely-contained fury at lower speeds that made it a bear to ride in slow traffic. Every review reported stalling at idle. Just like any good 916, then. If you meet a 916 owner who claims they are smooth at low speed and easy to ride in traffic, they are either lying or in the process of having a stroke.
To reduce strain on the primary gears a new lower ratio gear set was introduced. Transmission was now a close-ratio box, shared with the smaller 748. First and second were the same as a 916, but third though sixth were lower – so much so that 6th on the close ratio was the equivalent of 5th on the standard box.
Reviews were stellar. While the SP was a bit disappointing to testers when they weighed the extra cost against the standard 916, the SPS was clearly a winner and worth the extra investment – if you could afford it, or even get your name on the waiting list. Price tag was around $24000 USD (1998), a healthy premium over the $16500 Biposto and nearly double the price of a 748, both of which were already expensive propositions. Regardless of the price tag, there was a lot of demand for the SPS. 404 examples were built in 1997, some being squirreled away by collectors without ever turning a wheel in anger.
Power claims were, as per tradition, all over the place. Ducati initially claimed the SPS made 134hp (with the "illegal" pipes that came with it), then later revised it to 123. Or maybe that was 120? No wait, this source says 121. But wait, it couldn't be down on power compared to the 916cc SP, could it? Dyno sheets proved the mettle of the new engine by showing a nearly 20 horsepower boost over a standard 916, which was a 5-10 hp boost over a SP – provided you had installed those slip-ons and the accompanying EPROM chip, and then promised not to ride it on the street.
More important was that the torque was up significantly across the board, so the SPS wasn't as gutless in the lower revs as the SP was. Some independent testers were able to crack 170 miles per hour with the Termi kit fitted, a stunning speed for a twin with "only" 120-odd horsepower at the wheel on a good day. All that and it sounded apocalyptic.
Testers waxed lyrical about ridiculous shunt at any revs and second gear power wheelies, and a ferocious character that demanded and commanded respect. That merciless power delivery and snappy torque was enough to push the limits of the chassis and scare a few testers straight. 916s in general do not respond well to ham-fisted riding. With a violent motor and instant tire-shredding torque, SPSs are downright murderous if you don't treat them with the necessary respect. You have been warned.
Despite being down on power compared to pretty much all the competition it felt stronger and faster than anything else on the road. It was the ultimate Desmoquattro and the best Ducati you could buy until they shoved a hot Testastretta motor in for the 2001 996R.
Source Odd Bike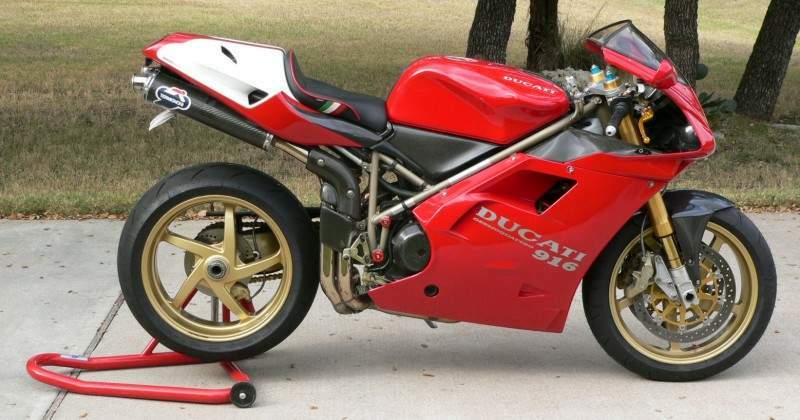 Review
First there was the 916. Then the 916 Biposto and 916SP. Now there's the 916SPS, except it's not a 916 at all — it's a 996. Confused? Don't worry — at £18,400 it's a problem none of us mere mortals are likely to face. Simon rides the beastie and fills out his lottery card...
There comes a time in every man's life where he has to hold up his hands and say, 7 was wrong'. It may be the first time you cheated on your girlfriend and got found out. It might be when you had a few too many at a party and decided you were sober enough to drive home. Or howabout when you were 18 and you swapped that 125 you were riding for a nice little Escort coz you thought it was better for pulling the birds, except you failed to realise in 15 years time you'd have missed out on some of the finest thrills money can buy (and you never got a decent shag in the car anyway)?
We've all been there, done that, seen the film, etc.
I had one the other day. I slung a lower limb over a red bike parked in a pitlane and thought to myself, 'Here we go again. Another over-priced, unreliable piece of Italian perversity which requires the riding style and physique of a lemur to get the best from...'
I was not a Ducati fan. Never have been. Used to read the euphoric road tests and dream about them before I got to ride one, but I can still remember the acute sense of disappointment when I tried a Bologna twin (a 900 Superlight, it was) for the first time. Yes, it was torquey, yes it went fast, and yes it handled. But it did none of the things I'd spent a lifetime expecting from a bike. It didn't scream when you revved it. It was too narrow. It vibrated. It sounded like it would explode at any moment. It was awkward to ride slowly, as the lumping pistons clattered the transmission to death. And when you did get going it turned so quickly and easily the kerbs kept rushing up on wrong-line-city.
I sought refuge in Japanese fours and kept Ducatis at a distance after that, despite one Mark Forsyth's continual urging and one Carl Fogarty's continual winning.
And so here I am, in Goodwood pitlane on a Fontiers track day, sat on a Ducati worth 18 grand — a Ducati which, from the crate, finished ninth and set fastest lap in the hands of racer Ian Cobby at the Donington Proddy race four days previously. Not only that, but I'm under the sceptical scrutiny of the bike's owner, Jack Gratton. This is a man who's dealt with enough journos to know what treacherous bastards they are, who races himself and knows a crap rider from a good one, and about whom it would be not be possible to say has more money than sense because the reason he has money in the first place is he used his sense to get it.
Oh well. Press the button, hear the twin lump into life, wobble out onto the track. | Usual Goodwood rules apply — five riders, five laps, then into the pits and join the back of the queue. Don't they know i need about a million laps to get used to riding these things?
First lap is a mild surprise. Either this Ducati feels Japanese, or it's different from every other Duke I've ridden, including the 916 we had at Paul Ricard last month. There's something more natural about the way suspension and the chassis gels... the way it doesn't feel like it's about to be skittered off line by a series of bumps... Next lap is more of the same... what an astounding piece of kit. Massive, dolloping gobs of fuck-off drive from every last rpm of the rev range, a cacophonous bellowing from the mighty Termignonis poking out of my bottom, Dunlop D207s gripping the tarmac like a pair of black, circular magnets, four-pot Brembo calipers grasping at 320mm Brembo discs, and susupension caressing away the bumps like a Thai' masseur who's just seen the size of your wallet.
The rest of the day was spent wallowing in the reflected glory of the 916SPS. There was no way i was going to even get close to its limits on the track — that's what people like Mr Cobby are for. Get on the gas as early and hard as you dare, feel the big motor thumping through the back tyre, and think, 'could have gone harder there...'. Brake like mad for the chicane off the back straight from around 150mph, and think, 'shoulda braked later there...' as you peel in. Sweep through the 130mph right kink with the tarmac eating into your slider like it was made of butter, and think, 'another Wmph, easy, next lap...'. The SPS doesn't just redefine your riding ability it takes the piss.
So what is this thing, where does it fit in the Ducati scheme of things, and why does it cost 18 fatties?
The WSB race motors started life at 916cc — as twins, they can run to lOOOcc. Gradually the competition increased, and to keep ahead of the game Ducati opened up the bores, and each time they did they had to build a number of bikes for sale as homologation models. This is the latest (and last?) version. And it costs £5600 more than a stock 916 because it's got a top-flight Öhlins shock instead of the 916's Showa unit, re-valved Showa forks and the latest fully-floating Brembo discs, calipers and pads with braided hoses. The motor gets two injectors per cylinder (like the SR.. err... confused yet?), bigger valves and downpipes, as well as 4mm on the bores and 10mm more stroke (new, lighter crank). And the cases and barrels are stronger. And the SPS has an upgraded EPROM chip, and you get a set of carbon Termignonis in the crate with the bike.
The result of all this is some 20bhp over the 916, more top end, more midrange and low down, better handling and more stopping power. Of course. It makes the standard 916 feel like a bus.
Certain Italian foibles remain. A blanking bolt in the downpipe (where the factory shove the mixture probe) fell out. Not a problem, apart from the system drawing air in, backfiring, and blowing the packing out of the cans unless you plug it. They all do that, sir. And they all come with self-retracting sidestands, too.
On the road the SPS is as deeply stimulating as it is on the track — more so. It's completely composed over the shittiest tracks, and when you get on fast, open A roads the way it howls along at improbable speeds while you drift around on the seat guiding it this way and t'other... sod the police — you just ride it flat everywhere. They'd never catch you anyway...
And, let's face it, they'd be so impressed with the SPS they'd probably forget to book you. And as for the reactions of that little blonde number in the white Escort at the filling station... doesn't matter what grim fizzog is lurking beneath your helmet — you can afford an SPS, you can afford the plastic surgery to go with it...
Wot a bike.
Source Trevor Franklin