Ducati 916SPS

Make Model

Ducati 9

1

6SPS

Year

199

7

Engine

Liquid cooled, four stroke, 90°"L"twin cylinder, DOHC, desmodromic 4 valve per cylinder.

Capacity

996

Bore x Stroke

98 x 66 mm

Compression Ratio

11

.

5

:1

Induction

Marelli electronic injection

Ignition / Starting

- / electric

Max Power

134 hp @ 10500 rpm

Max Torque

Transmission / Drive

6 Speed / chain

Front Suspension

43mm

Showa with TiN upside-down fork fully adjustable. 127mm front wheel travel

Rear Suspension

Öhlins progressive cantilever linkage with adjustable monoshock. 130mm rear wheel travel.

Front Brakes

2x 320mm discs 4 piston calipers.

Rear Brakes

Single 220 disc 2 piston caliper

Front Tyre

120/70 ZR17

Rear Tyre

190/50 ZR17

Dry-Weight / Wet-Weight

1

92

kg / 212kg

Fuel Capacity (res)

17 Litres (4L)

Consumption average

16.9 lm/lit

Standing ¼ Mile

10.3 sec

Top Speed

269.3 km/h

The SPS was released to homologate the new 996cc engine for Superbike competition. The previous 916 crankcases had been maxed out at 955cc, and had problems with cracking and stress fractures under racing conditions. New reinforced crankcases were needed, and to accommodate a displacement closer to the 1000cc limit for twins in Superbike the case mouths needed wider openings and wider stud spacing to match. Thus the barrels and heads were new, made wider to match the new cylinder stud spacing. Bore was now up to 98mm, with the same 66mm stroke as before. The heads had larger combustion chambers and bigger valves. Compression ratio was now 11.5:1. Inside you a lighter crankshaft with tungsten plug balancing. The high-pressure double injector fuel setup with P8 ECU was carried over from the SP.

A new set of camshafts was introduced, using principles learned from racing Desmoquattros. They had nearly the same lift as the G inlet cam (and more than the A exhaust cam) but with much shorter duration. The new motor retained the frantic, free revving character of the 916 and SP, but with a stout midrange punch. They were still high lift cams in the end, though, and low speed running, idling, and clean emissions were not the motor's forte. Especially when you factor in the much lighter internal parts and their momentum. Lighter crank and rods makes for a motor that spins easily and builds revs faster, but with the lessened flywheel effect it won't idle particularly well.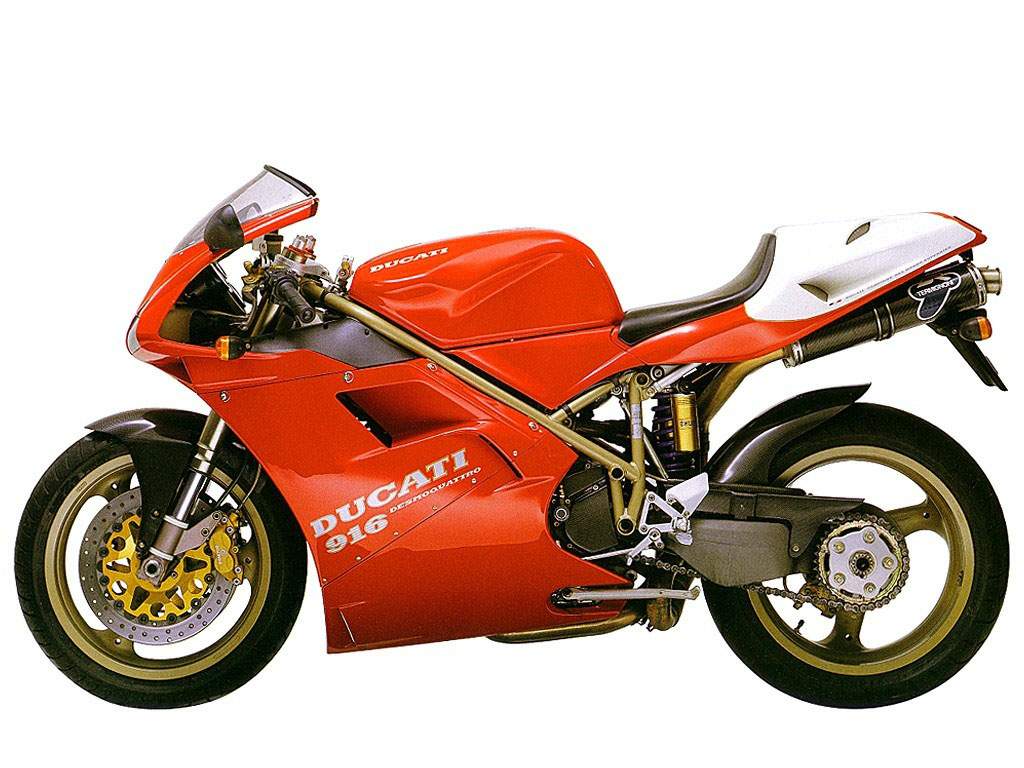 As such the SPS got a reputation as a thundering, maniacal motor that felt way stronger than the dyno numbers would suggest, with a barely-contained fury at lower speeds that made it a bear to ride in slow traffic. Every review reported stalling at idle. Just like any good 916, then. If you meet a 916 owner who claims they are smooth at low speed and easy to ride in traffic, they are either lying or in the process of having a stroke.

To reduce strain on the primary gears a new lower ratio gear set was introduced. Transmission was now a close-ratio box, shared with the smaller 748. First and second were the same as a 916, but third though sixth were lower – so much so that 6
th
on the close ratio was the equivalent of 5
th
on the standard box.
Reviews were stellar. While the SP was a bit disappointing to testers when they weighed the extra cost against the standard 916, the SPS was clearly a winner and worth the extra investment – if you could afford it, or even get your name on the waiting list. Price tag was around $24000 USD (1998), a healthy premium over the $16500 Biposto and nearly double the price of a 748, both of which were already expensive propositions. Regardless of the price tag, there was a lot of demand for the SPS. 404 examples were built in 1997, some being squirreled away by collectors without ever turning a wheel in anger.

Power claims were, as per tradition, all over the place. Ducati initially claimed the SPS made 134hp (with the "illegal" pipes that came with it), then later revised it to 123. Or maybe that was 120? No wait, this source says 121. But wait, it couldn't be down on power compared to the 916cc SP, could it? Dyno sheets proved the mettle of the new engine by showing a nearly 20 horsepower boost over a standard 916, which was a 5-10 hp boost over a SP – provided you had installed those slip-ons and the accompanying EPROM chip, and then promised not to ride it on the street.

More important was that the torque was up significantly across the board, so the SPS wasn't as gutless in the lower revs as the SP was. Some independent testers were able to crack 170 miles per hour with the Termi kit fitted, a stunning speed for a twin with "only" 120-odd horsepower at the wheel on a good day. All that and it sounded apocalyptic.
Testers waxed lyrical about ridiculous shunt at any revs and second gear power wheelies, and a ferocious character that demanded and commanded respect. That merciless power delivery and snappy torque was enough to push the limits of the chassis and scare a few testers straight. 916s in general do not respond well to ham-fisted riding. With a violent motor and instant tire-shredding torque, SPSs are downright murderous if you don't treat them with the necessary respect. You have been warned.

Despite being down on power compared to pretty much all the competition it felt stronger and faster than anything else on the road. It was the ultimate Desmoquattro and the best Ducati you could buy until they shoved a hot Testastretta motor in for the 2001 996R.
Source Odd Bike