Rarely has a motorcycle combined style and speed to such devastating effect as Ducati's 916. The Italian V-twin's blend of breathtaking beauty, thunderous engine performance and sublime handling made it an instant hit on the bike's launch in 1994. By the end of the decade. 916-based machines had won a string of World Superbike titles. Meanwhile the roadster went from strength to strength, its engine enlarged but its look proudly intact. The 916 was a development of the liquid-cooled, eight-valve desmodromic V-twin line that stretched back to the 851 of 1988. More than simply aerodynamic, designer Massimo Tamburini's creation was inspired. The fairing's sharp nose held aggressive twin headlights. Elegant scarlet shapes were everywhere in the fuel tank and fairing.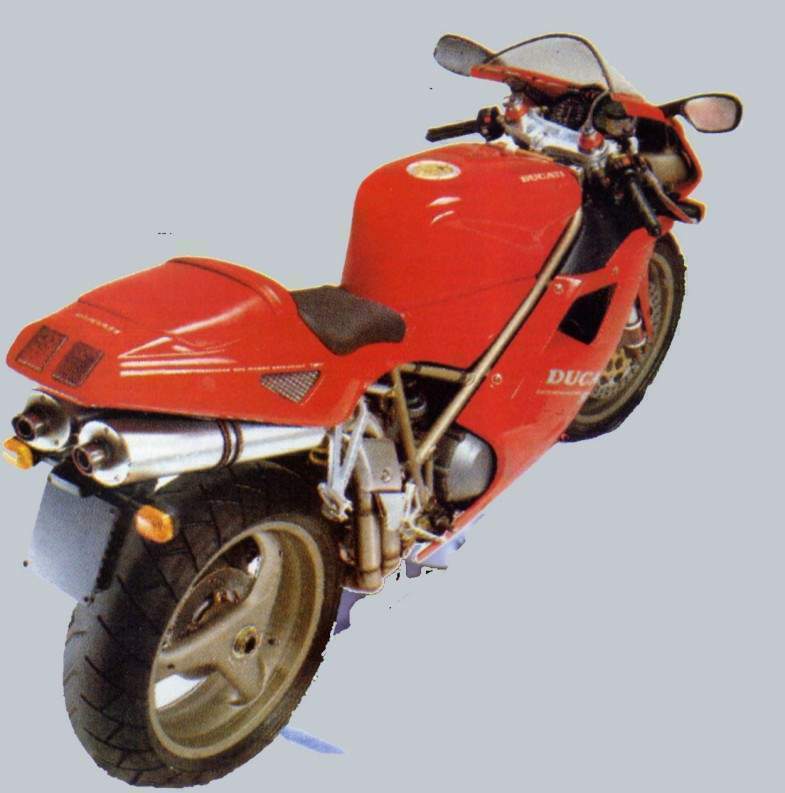 The rear end. with its diminutive tailpiece, high-level silencers and single-sided swingarm, was equally dramatic. Ducati's 916cc motor was a bored-out version of the unit from the previous 888 model. Other changes included a revised Weber fuel-injection system plus the addition of a larger, curved radiator. Breathing was uprated with a large airbox fed by intakes running back from the fairing nose. In combination with a new exhaust system, this raised the eight-valve motor's peak output by a few horsepower to 114bhp at 9000rpm.
Chassis design combined Ducati's traditional steel ladder frame with a tubular aluminium rear subframe. The 916 differed from the 888 by using a second rear engine mount for extra rigidity. There was nothing traditional about the aluminium swingarm that curved round the huge 190-section rear tyre before swooping back to anchor the three-spoke wheel. Tamburini admitted that this was not the purest engineering solution, but considered the compromise worthwhile for the boost ii brought to the bike's high-tech image.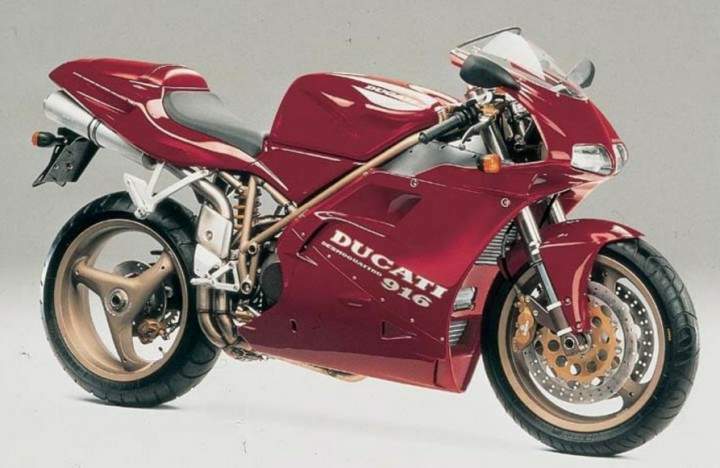 Neat engineering
There was more neat engineering a( the steering head, which featured adjustable geometry plus a horizontally mounted steering damper. More conventionally, the swingarm worked a vertical. multi-adjustable Showa shock. The Japanese firm also provided the 43mm upside-down forks, which held a 17-inch from wheel. Braking was by Brembo. Ducati's eight-valve engine had long been a torquey, charismatic powcrplanl. and the 916 unit was the best yet. Its mid-range response was majestic, sending the bike rocketing out of corners from as low as 5000rpm to the accompaniment of a spine-tingling exhaust growl. High-rev acceleration was smooth and strong, too. sending the 916 to a top speed of I60mph (257km/h). Handling was superb, justifying Ducati's decision to slick with a steel frame, after considering a switch to aluminium. At 4291b (195kg) the 916 was light, its frame was rigid, and its suspension of high quality. Although the Ducati was not the quickest-Steering of superbikes. it had a confidence-inspiring blend of stability and neutral cornering feel.
This most purposeful of Italian sportsters was not always an easy companion, especially in town, where its racy riding position, firm suspension and snatchy power delivery made life unpleasant. On the right road, though, the 916 was simply magical: one of those rare machines that left all those who rode it stunned by its unmatched combination of beauty, character and performance. Ducati's Superbike Dominance The roadgoing 916 was a hit in the showrooms, and Ducati's factory racebike of the same name was even more successful in the World Superbike championship. The red V-twins were the dominant force in the most prestigious four-stroke racing series, notably with Carl Fogarty. The British rider won in 1994 and again a year later. Australian ace Troy Corser retained the crown for Ducati in 1996 before Fogarty, who had left for Honda, returned to regain the title in 1998. His fourth championship, in 1999, made it five in six years for the Italian V-twin.
Source of review: Fast Bikes by Roland Brown