Ducati 400 Monster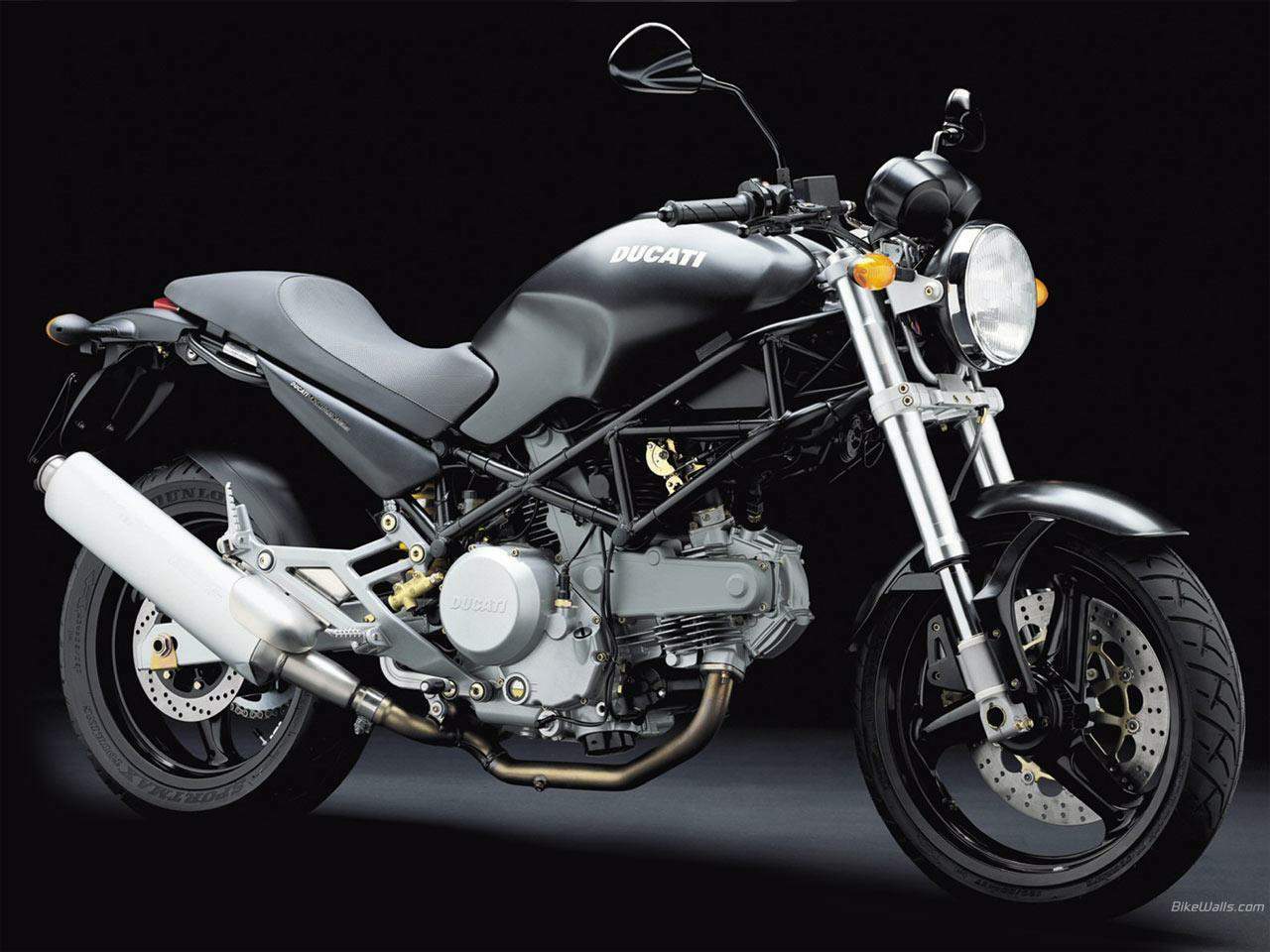 Make Model.

Ducati Monster 400

Year

2000 - 03

Engine

Four stroke, 90°"L"twin cylinder, SOHC, desmodromic 2 valves per cylinder, belt driven

Capacity

398 cc / 24.3 cu in

Bore x Stroke

70.5 x 51 mm

Compression Ratio

10.0:1

Co

oling System

Air cooled

Induction

2 x Mikuni BDST 38 CV carburetors

Spark Plugs

RA4HC

Ignition

Electronic

Battery

12V 10Ah

Starting

Electric
Clutch
Hydraulically actuated wet multi-plate

Max Power

31.3 kW / 43 hp @ 10500 rpm

Max Torque

33 Nm / 3.37 kgf-m / 24.3 ft-lb @ 7500 rpm

Transmission

5 Speed

Primary Drive Ratio

2.28:1 (32/73)

Gear Ratios

1st 2.500 / 2nd 1.714 / 3rd 1.333 / 4th 1.074 / 5th 0.966:1

Final Drive Ratio

2.6:1 (15/39)

Final Drive

Chain

Front Suspension

43 mm Showa upside-down cartridge forks, adjustable for compression damping.

Rear Suspension

Boge rising rate monoshock, adjustable for preload and compression damping.

Front Brakes

Single 320 mm disc, 4 piston caliper

Rear Brakes

Single 245 mm disc, 2 piston caliper

Front Tyre

120/60 VR 17

Rear Tyre

160/60 VR-17
Dimensions
Length: 2090 mm / 82.3 in
Width: 770 mm / 30.3 in
Height: 1060 mm / 41.7 in
Wheelbase
1440 mm / 56.7 in
Seat Height
770 mm / 30.3 in

Dry Weight

174 kg / 383 lbs

Fuel Capacity

16

L / 4.2 US gal / 3.5 Imp gal

Top Speed

175 km/h / 109 mph

Colours

Red, Yellow, Black, Silver gray
In the early 1990s Ducati set the biking establishment on its collective ear by combining the torquey 900SS motor with the world-class 888 suspension package in a naked, upright, in-your-face styling package to produce the aptly named Monster.

It was the first streetfighter-styled machine from a European marque and from its inception the factory had only one problem - making enough of them. The M900 become one of their biggest sellers and generated a whole family of siblings using smaller versions of the air-cooled desmo powerplant. The subject of this test uses the 400cc flavour developed specifically for the Japanese market with the 600SS running gear to produce a thoroughly streetwise little Monster.

The 398cc L-twin engine was originally designed for the 400SS, which was never available outside Japan. Its 70.5mm pistons run on a radically short stroke of 51mm and it produces its 32 kW at a heady 10,500 rpm, just five hundred shy of the redline at 11,000, breathing through cavernous 38mm Mikunis, which should theoretically make it very lumpy at low revs and reluctant to idle. Surprisingly, the motor will pull smoothly anywhere from about one-third throttle without complaint and idles lazily and absolutely evenly at around 800 rpm, once it's warm.

However it's a little bloody-minded when cold, like me, and refuses to idle until the choke has been dispensed with, which on a chilly winter's morning can be several minutes. Ducati don't quote any torque figures for the four hundred and it's definitely not in the stump-pulling class of its bigger brothers but it's got a lot more mid-range grunt than the four-cylinder offerings in its capacity class.

Twist its tail and it will accelerate from standstill to its favourite cruising speed of around 110 km/h quickly enough to catch the riders of bigger sportbikes off guard, but be ready to have then come howling past you once they get into their stride. The M400's performance flattens out above 135 and in high-speed testing top whack was just over 160 km/h (with the speedo on 152 - this is one of the few bikes I've tested which underestimates its own velocity). Even that was achieved by dint of the rider draping himself over the tank like melted cheese.

The clutch is hydraulic, which is unusual on a small capacity powerplant, very positive, and predictable hot or cold. It also has a very slight judder on take-up, which we adduced to a slightly warped steel plate somewhere in the pack. However, during the course of the test this symptom disappeared almost entirely, so more likely it was due to nothing more than glazed friction plates. Certainly, once home the clutch showed no signs of slippage.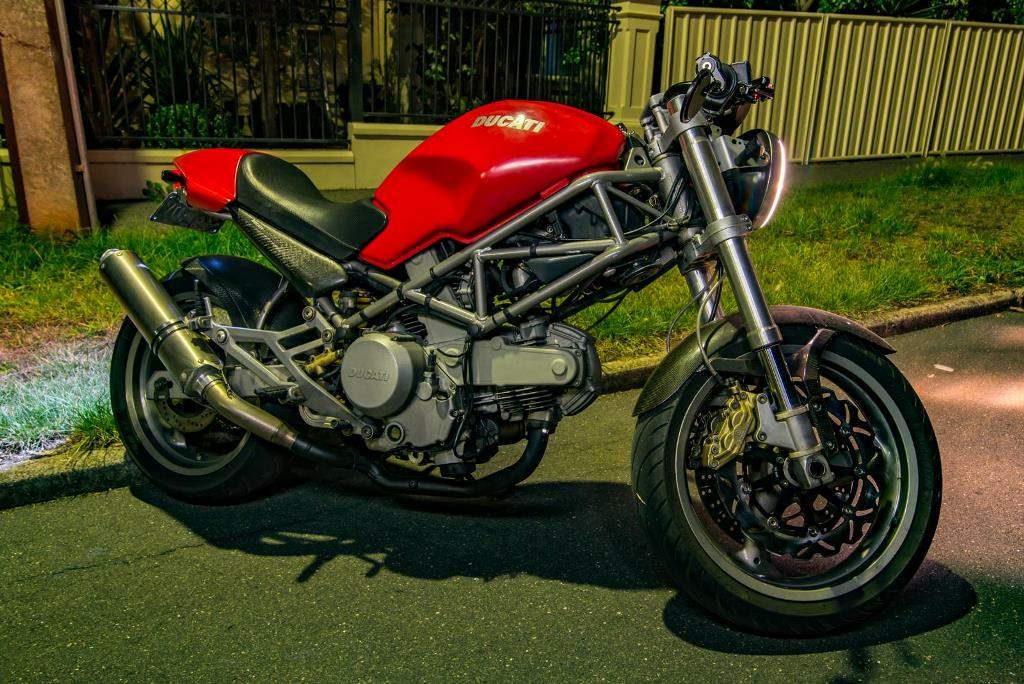 The five-speed transmission is one of the slickest I've ever tested, sliding lightly and smoothly between cogs with no notches or resistance whatsoever, although the lever movement is a little too long for comfort. The gearbox does however suffer from that most typical of Ducati problems, a narrow and elusive neutral position, coupled to a neutral light which lies like a politician.

Let the clutch out slowly, no matter what it says. Due to the space requirements of the monoshock linkage, the 520 final drive chain is rather long, with an ineffectual cush drive and there is a faint but definite clonk on take-off, as well as a slight snatching on the transition on and off the throttle.

The tubular steel frame follows Verlicchi's tried and tested trellis layout, dating from the late seventies and still in use by Suzuki among others, on their latest SV 650. Identical to the M600 chassis, it's probably a lot stiffer than the smaller version requires, but it contributes not a little to the Monster's surefooted roadholding. Completely exposed on this naked streetbike, the frame becomes an element in the styling package; the long rectangular-section swingarm is pivoted on the back of the gearbox, so all the frame members lie above the powerplant, throwing strong emphasis on the beautifully styled motor.

Styled as a streetfighter it may be, but the M400 is still a Ducati and the suspension package is top-drawer; the forks are 40mm upsidedownies sourced from Marzocchi, adjustable for preload and damping, while the rear monoshock is by Boge, on the up-and-over linkage which is standard on all air-cooled Dukes, and also tuneable through all three parameters. Given the quality of the running gear it should come as no surprise that the little Monster is as surefooted and agile as a cat, with razor-sharp steering - in fact you don't steer a Ducati at all, Cyril, where you look is where you go.

Despite the bike's light weight, the worst bumps don't upset its composure; it refuses to shake its head and never once went off line during the duration of the test.

Braking is provided by Brembo; also sourced from the M600, once again it's almost too much. At low speeds two fingers on the lever are enough to elicit protests from the front tire. With careful choice of rear master cylinder, the footbrake is a little less oversensitive and the instant response makes it easy to hammer up to a corner with the throttle nailed against the stop, hit the anchors and turn the bike on its ear. The upright seating position and relatively wide handlebars add to the agility of the Monster, although it becomes a little sensitive to sidewinds, simply because the buffeting of the rider's shoulders is transmitted to the 'bars.

Ducati's baby Monster is a little too slow to mix it on the mountain passes, despite its superb chassis, but its light weight and agility help it cut through traffic with aristocratic authority in spite of a somewhat limited turning circle. The upright seating position is absolutely right in an urban setting and the truly unique styling makes it a commuter with class.

On Sunday, everything will pass you on the straights, but look for the twistiest backroads - there you'll surprise everyone, including yourself.

Source Motoring.co.za