Cagiva 125 Super City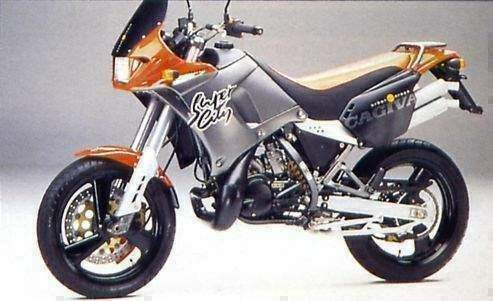 Make Model

Cagiva 125 Super City

Year

1992

Engine

Liquid cooled, two stroke, single cylinder,

Capacity

125

Bore x Stroke

56 x 50.6 mm

Compression Ratio

7.6:1

Induction

34mm Dell'Orto carb

Ignition / Starting

- / electric

Max Power

34 hp @ 10400 rpm

Max Torque

2.1 kgf-m @ 10200 rpm

Transmission / Drive

7 Speed / chain

Front Suspension

40mm Inverted telescopic

upside-down

forks

Rear Suspension

Soft Damp single shock preload adjustment.

Front Brakes

Single 320mm disc 2 piston caliper

Rear Brakes

Single 230mm disc

Front Tyre

110/70-17

Rear Tyre

150/60-17

Dry Weight

125 kg

Fuel Capacity

14 Litres

Consumption average

17.7 km/lit

Braking 60 - 0 / 100 - 0

13.2 m / 37.7 m

Standing ¼ Mile

14.8 sec / 140.4 km/h

Top Speed

142.0 km/h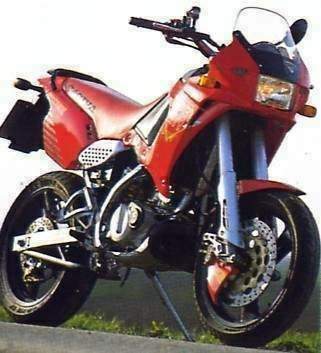 Yamaha TDR 125 vs Cagiva 125 Super City vs Aprilia 125 Pagaso
IF YOU CAN'T HAVE A BALL on these bikes, you're dead. If you've never pulled a stoppie before, here's where you find out. And if you're not that kind of chap, 'absolutely dreadful behaviour.... shouldn't be allowed... gives motorcycling a bad name... rhubarb... rhubarb...' I suggest you complain to Mssrs Cagiva, Yamaha and Aprilia first. Cos there ain't no way these bikes were meant for anything less.
These are the new mini-motards. Eighth-litre strokers with a devil-child attitude borne from an unholy marriage of motocrossers and road race scratchers. Lucifer lightweights with big fun extras: extra flash (for posing); extra brakes (for stoppies) and extra wring-ding for street-cross crazies keen to impress young ladies. For flush learners (they're not cheap) wanting a beastie, but surprisingly practical alternative to racer-reps, they're the biz. And for irresponsible adults, they're more lascivious fun than Luncheon Vouchers at Lindi St Clair's.
The basic ingredients are simple: MX-derived chassis, single-cylinder motors, well-wicked styling and the hottest, grab-biest and stickiest brakes, tyres and wheels you can imagine. The inspiration comes from super motard races like the annual Guidon d'Or (Golden Handlebar) at Circuit Carole, near Paris which pits the world's best road racers (Rainey, Lawson, Kocinski, Mamola etc) against top off-roaders and MX-ers around a half dirt, half tarmac track on what are, essentially, 500cc motocrossers with, yes, you've guessed, smaller, wider wheels, road race tyres and beefed-up brakes. Mad as un peche.
Cagiva was the first to enter the fray when it unleashed the 125 Super City at the NEC Bike Show the year before last. It looked so hot then in its lime green and black paint, agape onlookers contracted melanomas. Its 150-section Pirelli MP7 rear tyre, huge Brembo full-floater front disc, upside-down front forks and claimed 30bhp scared small children and seduced the hooligan psyche out of bigger ones. Aprilia's more trail-orientated 125 Pegaso followed at the end of last year and was rumoured to be even faster. And now, as if to confirm the creation of a fully-fledged new class, Yamaha has become the first of the big four Japanese manufacturers to build its own mini-motard. Enter the TDR.
All three of these bikes have dual personalities. Each can be had in either learner-restricted 12bhp spec or, with Yamaha now too deciding to import its derestricted version of the TDR, as a full 30-horse screamer fit to terrorise any neighbourhood. Both the Aprilia and Cagiva, as tested, were full-power. But with the 28bhp version of the TDR not available until May, we were left with a be-learnered version of the Yamaha. That said, it still impressed massively. And wheelied too... just.
WRINGING 30 HORSES or so from a piddly 125 is a take-no-prisoners, no-compromise affair. Its all or nothing, on pipe or off— and it doesn't half make itself felt. With the tight, pokey Super City, playing-out time is strictly between nine and half past, between which this little buzz bomb is the noisiest brat in town: screaming and flying and with your left foot tapping faster than Lionel Blair. And, two rpm below nine, dying.
This isn't so much Super City as serious power band city. 'Peaky' isn't the half of it and God only knows what it'd be like without its supposedly midrange-boosting exhaust powervalve. And life with the Cagiva, bumbling around with about 10bhp up to 9000rpm (well, it feels like it), sounding like a tin of marbles before suddenly screeching forward to the the rev-limiter at ten-five, is sometimes fraught, sometimes annoying but usually crazily addictive.
Getting a decent launch means frantic clutch-slipping, not just in first but in second too. The gearbox has seven ultraclose ratio speeds but feels like it either needs nine or, on mushy downshifts, preferably as few as possible. The clutch is snatchy and, with the abuse asked of it by the engine's peakiness, you could do with a ready spare. Yet all of it is delivered in such a crisp, tight, parp-parp way that, for most of the time, you forgive its singlemindedness. And then you wring it some more.
All this considered, we expected the Cagiva to be the quickest too. But we wuz wrong. After the crisp but still slightly tight, fresh-out-of-the-crate Super City, the more secondhand Pegaso came over as sloppy. The gearchange rattled, the throttle was light and loose and its revs flew up and down as freely as leaves on an autumn wind. All of which managed to disguise how fast (for a 125) the thing was actually going.
Ninety-eight mph fast. And that, from a 125, from an unfaired, sit-up-and-beg 125 (even if, at the time, I was more tightly tucked-in than a hospital bed) is fantastically impressive. Like the Aprilia Sport-Pro is to the Cagiva Mito, the Pegaso's mill is chalk to the Super City's gorgonzola. Where everything is focussed, crisp and black or white-exact on the Cagiva — it's either on or it's not on — the Aprilia is looser all-round; greyer, mushier and, because of it, more flexible, more day-to-day usable, and it seemed quite happy to run fluidly right through into the red.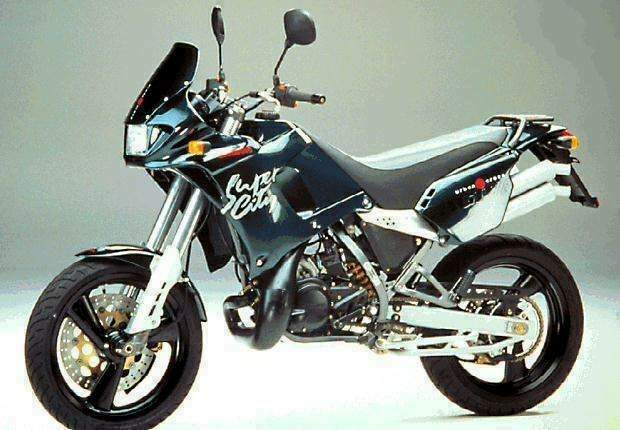 Until it seized, that is. Yes, oops, hur-rumph. It sounded ominous, it could have been extremely nasty (outside lane of the M6, 80mph, traffic, around 8000rpm and it locked absolutely solid) but BIKE has been assured it was a total one-off attributable to an earlier crash. On examination, Aprilia UK found a previously unnoticed hairline crack in the cases which let air be sucked through at sustained high speed so leaning off the mixture and causing the seizure. Still shat me pants though.
No such worries for the Yamaha. With its easy, assured air of Japanese build quality and just 12bhp to barely ripple its pond, the bland, strangled, understressed TDR is about as likely to go pop as a morning after, half-empty bottle of Coke. It might be an unfair comparison in this context, but even making ocean-sized allowances for the power differential, the catalyzer-equipped Yam (the first small bike in the UK so-equipped, incidentally) doesn't come over as all it should be. Solid and trustworthy and learner-adequate it is, but excitement is strictly restricted to low-speed torn foolery. It won't rev as freely as the Aprilia yet fails to compensate with any noticeable mid range drive. In short it's as if more power is channelled through the monstrous twin beam headlight than through the drivechain and as such it's either 8000rpm and frantic, with typical Yam clunky gearshifts, or it's a funky moped.
Everything else though about it is fantastic. If the engine's a little sad, the chassis is superb. Its spec sheet may not bristle with as much alloy or high tech goodies as the Cagiva, but what it has works, gels and inspires confidence and, a little while later, lots of larking about.
What's most in the Yam's favour is its size and proportions. It's noticeably larger than both the Aprilia and rather titchy Super City. The riding position is spacious and comfy rather than small and slightly cramped like the two Ital-jets. And the TDR comes over as a full-sized, 'proper' motorcycle (even if it is powered by an elastic band) — no-one would ever guess it's just a 125 and, if you're around six-foot or so, that's important.
What's more, despite its steel frame and cheapish tyres, brakes and suspension (at least in comparison to the superbly-kitted Cagiva), the TDR handles beautifully. The steering, balance and feedback from the slightly squidgy brakes and suspension is such that, engine aside, this is probably the easiest bike to get on with I've ever ridden. Seriously. You could ride this thing in your sleep. And with that engine, you'll probably have to. And it's that which makes it so much fun.
The Super C, on the other hand, is an entirely different prospect. This is serious kit. Hard, racer-ey suspension, sharp steering, fierce brakes, outrageously sticky tyres and ultra-light weight asks for experience. Snap the Cagiva and it bites back; kick the gear lever too hard and the thing's so light you'll almost kick yourself into a bus queue. But get it right; point it, squirt it, scream it and slide it, and it's a microcosm of marvellousness. It's light, it's skittish and it's a helluva lot of fun. But, like the engine, there's no compromise: you're either living on the edge, having a blast or — b-burr-burr, b-burr-burr — pottering unhappily, uneasily. And, pardon me, but that's no way to pull the crumpet.
Which leaves the Aprilia somewhere between the two. Of these three the Pegaso was always the trickiest to suss out. The fastest, most fluid engine in a chassis that seemed unsure of what it was trying to be. The others? Easy. The Cagiva's there to be flash and fast and pull birds; the TDR's the sensible, soft, starter bike with big image and big fun. But the Pegaso, with its nasty chrome wire wheels and street knobblies doesn't seem to know if it's a trail bike or not.
And that's how it behaves. The front disc, like the Yam's, is strong but squidgy, the suspension is slightly wallowy after the diamond Cagiva, and its MT50s are simply destroyed by the leech-like MP7s of the Super C. Overall, though lighter and more nimble than the TDR, the Pegaso is loose and ragged and you find yourself being vaguer, working harder, using more of the road and riding around touches of wallow, smatterings of weave and hints of flex where the Super C was the rock steady crew. But the Peg's still impressively quick.
Ultimately, with these three it probably boils down to matters of taste and value for your money. And with the Cagiva you get an awful lot: looks to die for (even if my six-foot looked like Geoff Capes on a Blackpool donkey); top-notch brakes, wheels, tyres and suspension and enough rave-generation stickers such as 'City Sports Concept' and 'Enjoying New Riding Experiences' to keep you in chat-up lines outside McDonalds for a month of Sundays.
But being Italian, of course, what you also get is a headlight that illuminates more of the inner fairing than the road (useful, though, if you want to read Smash Hits while you're zapping along); floppy mirrors, an awkWardly-placed choke lever and dim idiot lights which incorporate a bag-full of false neutrals.
And though the Pegaso shares many of the Cagiva's Italianisms (its switchgear is identical, for example, and just as easy to turn off the lights when hunting for dip as it is on the Super C), neither it nor the disturbingly pricey TDR can quite match the Super City's flair. If the Pegaso looks slightly old-fashioned that's because, though new to the UK, it's been around in Italy for four years. If the black TDR looks a little dazzled by the Super City it's because, one, it's Japanese, and two, it's really the only practical learner-bike of the three. The TDR has a phenomenal headlamp and the only fairing here that does anything more than cover the wiring. It is solid and sturdy where the Italians are delicate and pernickity and, though it might not quite match the Cagiva for pose, it is delicious from its TDM-style fairing down to its hugger rear guard (although I don't rate the turquoise and orange paint option).
And that, for me, is enough to rate the TDR joint-tops with the Cagiva. If I was 17 I'd want a TDR, and if I was a 17-year-old's dad I'd want him to have one too — though I still have trouble justifying its high price. But if I was 17, under 5ftl0, already a half-decent rider and the type of git who breaks most of his chrissie pressies before the Queen's speech without getting told off, it'd be the Super City, no question.
Meantimes I'm 28, wondering why hardly anyone bought the old TDR250 before it was deleted last year and thinking it's about time Cagiva got round to building something bigger than a 125 for people other than Chandler and Mladin. Surely it's not that difficult?
Source Bike Magazine 1993