Bimota YB6 Tuatara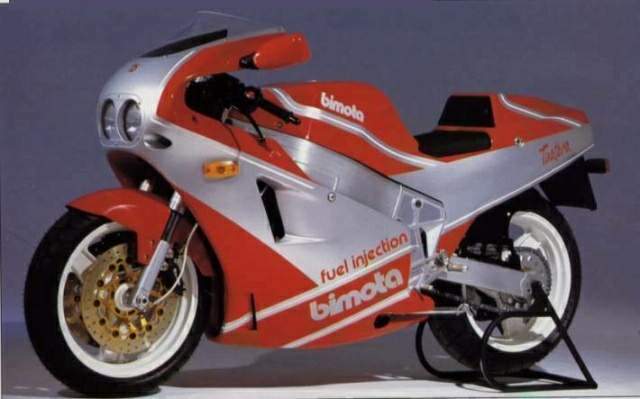 Make Model

Bimota YB6 Tuatara

Year

1990
Production
60 units

Engine

Four stroke, transverse four cylinder, DOHC, 5 valves per cylinder.

Capacity

1002 cc / 61.1 cub. in.

Bore x Stroke

75.5

x

56

mm

Cooling System
Liquid

cooled

Compression Ratio

12.0:1

Induction

Weber-Marelli Fuel injection

Ignition

Digital
Starting
Electric

Max Power

145 hp @ 10500 rpm

Max Power Rear Tyre

127.3 hp @ 10600 rpm

Max Torque

94.1 Nm / 9.6 kg-m / 69.4 lb/ft.@ 9000 rpm

Transmission

5 Speed

Final Drive

Chain
Frame
Two diagonal beams in section bar made of aluminium with internal ribbing. The cylinders are supported by plates bolted to the beams and the swing arm is made of aluminium

Front Suspension

Marzocchi inverted telescopic forks, 3-way adjustable compression and rebound damping

Rear Suspension

Marzocchi monoshock, adjustable compression and rebound damping

Front Brakes

2X 320mm discs

Rear Brakes

Single 230mm disc

Front Tyre

120/70 ZR17

Rear Tyre

180/55 ZR17

Dry Weight

168 kg / 370.4 lbs.

Fuel Capacity

20 Litres / 5.3 US gal

Consumption Average

16.5 l/100km / 36 mpg

Braking 60 - 0 / 100 - 0

13.3 m / 35.9 m 43.6 ft. / 117.8 ft.

Standing ¼ Mile

10.4 sec / 213.1 km/h / 132.4 mph

Top Speed

279.4 km/h / 173.6 mph
The Tuatara is a special version of the YB6. It differs chiefly by the introduction of fuel injection rather than carburettors. The name Tuatara comes from the name of a reptile in New Zealand, which moves exceptionally slowly.
Bimota's Tuatara is easily the most expensive and exclusive production motorcycle. It's also arguably the fastest. Production at the small Bimota factory in Rimini was limited to just 60 examples. These were built in response to customer demand for a bike with performance 'superior to a World Superbike racer.' Bimota already had a stable of pretty quick and rare machinery to choose from - like the YB4 racer that had won the 1987 Formula-One World Championship and is easily capable of 160mph plus. Then there was the YB8, a Yamaha FZR1000 Exup-based street bike, normally carbureted, making and 170mph. But no, these rich customers wanted something more, something faster still. Bimota looked at their dyno figures and concluded it was possible. They would build 60 ultimate road bikes selling them at a price befitting their exclusive status.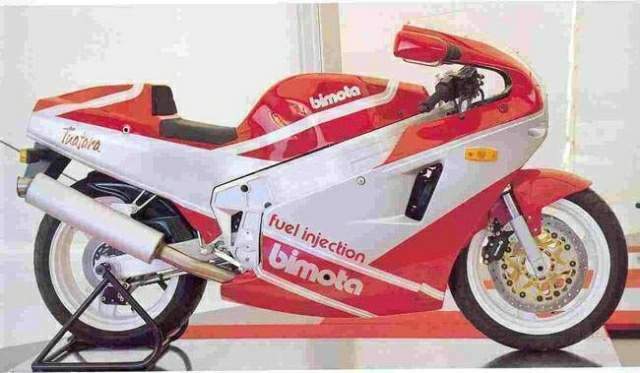 They chose as a suitable powertrain for the world's fastest motorcycle Yamaha's original FZR1000 - the 989cc unit that preceded the increased bore FZR1000 Exup version of 1003cc. Remarkably, Bimota did little to liberate a big increase in horsepower from the stock engine. They merely fuel-injected it, and fitted their own less restrictive and lightweight stainless steel exhaust. By concentrating solely on efficient induction and exhaust scavenging, Bimota's engine tuners were rewarded with a peak of 152hp at 9500rpm.
The motor's top end grunt was simply enormous. Meanwhile the chassis engineers worked wonders in wedging a large engine into a frame and running gear no larger than that used on a 600cc bike. Indeed, the l000 cc Tuatara weighs only 3kg more than Bimota's 600cc Bellaria. The weight saving exercise begins with a twin-spar aluminium frame, and continues with lightened inverted Marzocchi forks hand-laid carbon-fibre and fibreglass bodywork right through to the magnesium alloy wheels. To save weight around the steering head they replaced the traditional instrument cluster with a slim, electronic digital panel. The wheelbase is a tight 56in. The power-to-weight ratio is as keen as anything on two wheels, racers included.
Beautifully finished and styled and well up to Bimota's usual high standards of quality, the story goes that the factory test rider, Giancarlo Falappa, took the bike speed testing along a deserted Bologna-Ancona motorway at 5am one bright morning. On perfect gearing and after some fine-tuning of the fuel injection system, the factory bike was timed at 300kph or 187mph - which makes it the fastest production road bike in the world - bar none. Attempts to duplicate that speed on the few models made available for testing have proved impossible. Although all 60 Tuataras made were hand-assembled, the factory bike does seem to have been a bit special. A top speed of 175mph appears nearer the mark for the 60 that were released.
At 175 or 187mph there's no denying the Tuatara is indecently quick. It gets its name from an exotic greenish-grey lizard found only on small islands around New Zealand. They have been around for 225 million years, when the pace of life was definitely a little slower.
Source: The worlds fastest motorcycles by John Cutts & Michael Scott