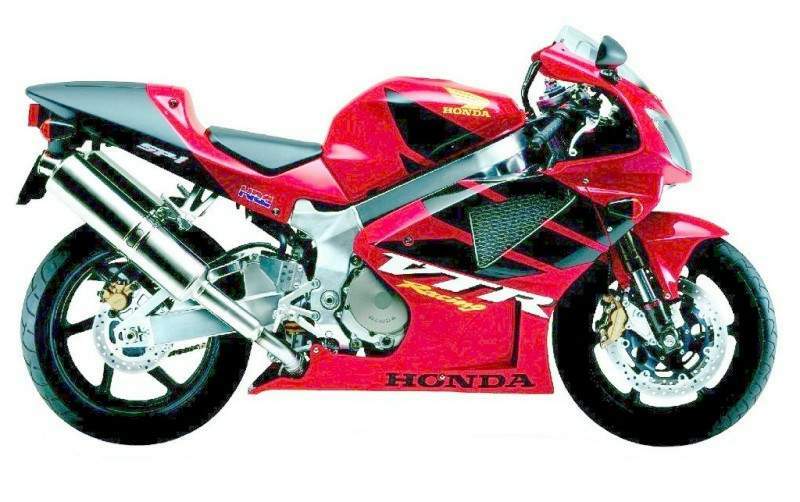 Exclusive Features
· The RC51 ram-air engine is engineered to dominate Superbike competition.
· Prodigious power is produced across a broad engine-rpm band, peaking with 130 bhp at 9500 rpm and 71 lb./ft. of torque at 8000 rpm in street-legal trim.
· Completely new twin-spar extruded aluminum frame features a modified Pro Frame™ design utilizing a combined swingarm pivot that incorporates both engine-crankcase and frame-mounted swingarm pivot points.
· Advanced, high-pressure programmed fuel injection (PGM-FI) with two injectors per cylinder and electronic digital ignition maximize power output and offer immediate throttle response in any gear.
· Distinctive bodywork features a dual-headlight design, a narrow-profile fuel tank and a single-piece tail section.
· Three optional HRC Racing Kits upgrade the RC51 engine and suspension for race track competition.
Engine
· 999cc DOHC eight-valve 90-degree V-twin engine is specially designed to withstand the rigors of Superbike competition.
· Centrally mounted ram-air intake duct routes cool, pressurized air directly through the frame's steering head structure to the 10-liter airbox, improving intake efficiency while slimming the aerodynamic profile. The ram-air duct doubles as a front cowl stay, shaving 12 ounces off of a conventional mounting system.
· Each cylinder head features large, 40mm intake and 34mm exhaust valves with a 24-degree included valve angle. This provides a short, direct path for the air/fuel charge entering the combustion chamber and results in high power output.
· Gear-driven camshafts utilize three-axis drive gears to maintain accurate valve timing and durability at sustained high engine speeds.
· Innovative head gaskets minimize distortion caused by head bolt tightening, improving sealing performance and maintaining combustion pressure for consistent high power output in competition conditions.
· Direct shim-under-bucket valve actuation system ensures high-rpm durability, and allows 16,000-mile valve maintenance intervals.
· High-pressure programmed fuel injection (PGM-FI) delivers fuel at 50 psi to two injectors per cylinder, mounted opposite each other in huge, 54mm throttle bodies. Fuel is delivered through four nozzle tips in each injector, producing a very fine spray and a highly combustible air/fuel charge for maximum combustion efficiency and power output.
· Cast aluminum pistons are screen-printed with solid LUB-Coat finish to minimize friction between the piston and cylinder wall.
· RC45™-inspired aluminum composite cylinder sleeves are high-pressure-formed from sintered aluminum powder impregnated with ceramic and graphite. The lightweight composite sleeves provide better wear resistance and superior heat dissipation compared to conventional sleeves.
· Nutless connecting rods feature bolts threaded directly into tapped holes in rods. Design is lighter than conventional bolt-and-nut combination. Carburized rods provide strength and durability under high loads.
· Crankshaft center lubrication system carries oil to main and connecting rod bearings through passages in the crankshaft as well as conventional journals, allowing lower main gallery oil pressure and a smaller oil pump design, consuming less horsepower at high engine speeds.
· Electronic CPU provides digital 3-D fuel injection and ignition maps for each cylinder, creating ideal fuel mixture and spark advance settings for maximum power and throttle response.
· Iridium-tipped spark plugs require less voltage and maintain ignition performance in demanding conditions.
· Side-mounted dual radiators utilize low pressure of airflow passing over outer surface of cowling to draw air through from the inside. Side positioning allows optimal placement of engine for low center of gravity and superb handling and permits flow of air to reach cylinders and exhaust pipes for enhanced cooling efficiency.
· Aluminum water pump.
· Air-cooled aluminum oil cooler.
· Magnesium head cover, clutch cover and left rear sprocket cover.
· All-stainless two-into-one-into-two exhaust system with two 5.3-liter canister-style mufflers featuring a buffed finish.
· New seven-plate clutch design is compact and tough, featuring durable friction plate material.
· Smooth-shifting close-ratio six-speed transmission features ratios carefully matched to the engine's power band.
· Durable #530 O-ring-sealed drive chain.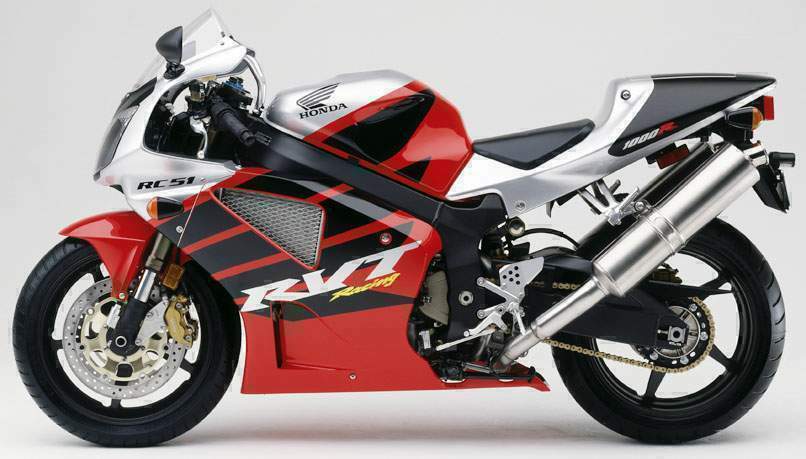 Chassis/Suspension
· Totally new, twin-spar extruded aluminum frame weighs 25.8 pounds and features a modified Pro Frame design utilizing a swingarm pivot that incorporates both engine-crankcase and frame-mounted pivot points. The frame sideplates extend underneath the swingarm and join to form a D-shaped swingarm mounting enclosure. This combination provides an extremely rigid chassis while offering excellent road feel.
· Tapered and braced box-section swingarm provides exceptional lateral and torsional rigidity.
· New 43mm inverted aluminum-slider Honda Multi-Action System (HMAS™) cartridge fork features spring preload, rebound and compression damping adjustability, and offers precise action and superb rigidity.
· Pro-Link™ rear suspension features a high-quality 40mm HMAS shock with integrally cast damper reservoir. Spring preload, rebound and compression damping adjustability produce superior rear wheel control.
· Braking system features 320mm front discs floating on seven stainless steel pins with four-piston calipers, and a 220mm rear disc with a single-piston caliper for exceptional stopping power.
· Lightweight aluminum-alloy wheels have six U-shaped HRC-style spokes and feature race-spec 3.5-17-inch front and 6.0-17-inch rear dimensions.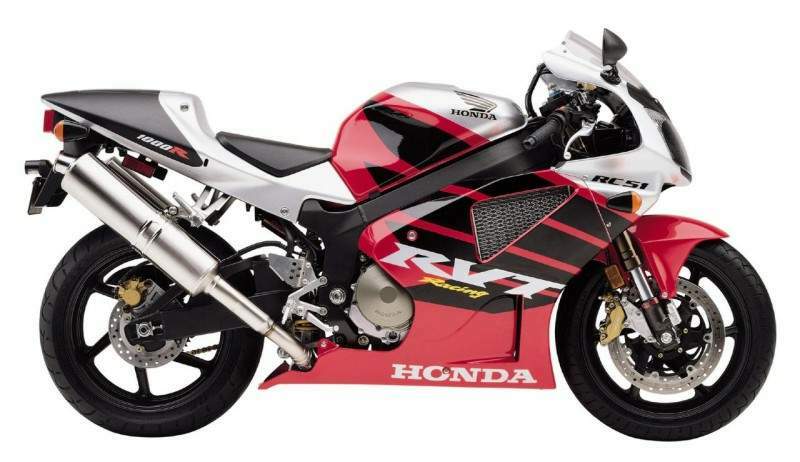 Additional Features
· Removable aluminum rear subframe.
· Fuel tank designed with sculpted indents for knees, arms and handlebars.
· Unique bank-angle sensor shuts off fuel supply to PGM-FI system if the motorcycle tips over, but is unaffected by bumps and vibration during normal operation.
· High-output, 448-watt AC generator.
· Smaller, lighter and electrically quieter regulator/rectifier eliminates interference with sophisticated PGM-FI and ignition circuitry.
· Improved battery design is lighter, yet maintains output capacity for a longer period when inactive.
· Dual-headlight features computer-designed multi-reflectors and two 55W H7 bulbs behind clear plastic lenses, providing a broad lighting pattern and superb illumination.
· Lightweight instrument display includes electronic LCD tachometer and speedometer, LED low fuel indicator, odometer, tripmeter and temperature gauge.
· Redesigned front brake lever has a new compact adjuster design and incorporates the return spring in the master cylinder, reducing overall weight by 5 ounces.
· Convenient ignition switch/fork lock for added security.
· Lightweight, recyclable oil filter cartridge.
· Transferable one-year unlimited-mileage limited warranty.
Available Accessories
· Tank pad.
· Magnetic tank bag.
· Cycle cover.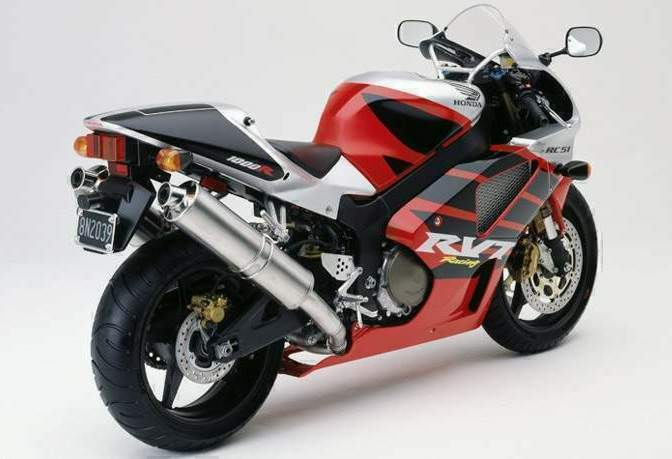 Review
The SP-1 is good,
and set to get better

By Richard Fairbairn and
Kei Nashimoto
HONDA?S all-new SP-1 is as sweet-handling as a 250 GP bike, as torquey as an RC45 World Superbike and so rider-friendly you can crack the throttle open mid-corner with little fear of it spitting you off.
But this isn?t the verdict of Honda?s top riders, Aaron Slight and Colin Edwards, who are contracted not to say a bad word against the firm.
No, that?s the verdict of one of the first independent testers to ride the 1000cc V-twin.
Japanese domestic series superbike rider Kei Nashimoto who, like Slight and Edwards rode a RC45 this year, is also a journalist, and he?s given us a fascinating insight into the most eagerly awaited bike of 2000 after he rode one in Japan last week.
Nashimoto?s comments coincide with recent Honda tests at Phillip Island in Australia, where Slight and Edwards put a revised version of the bike they will use in WSB next year through its paces. It features a host of changes over the "stock" bike which will used by every team other than Castrol Honda. But even in its standard trim, Nashimoto said the SP-1 is already way ahead of the RC45, especially in the handling department and at giving feedback from the front tyre.
He said: "What surprised me most about the SP-1 is how light it feels compared to a four-cylinder machine, despite being the same weight (Honda is still in the process of cutting weight).
"The whole chassis is so well balanced that it handles like a 250 GP bike. It?s more comfortable to ride than the RC45, and even on my first time out I felt completely at home.
"The SP-1 is totally dependent on the front tyre when it comes to cornering. It feels like a very "front-end" type of bike. This means that it turns very sharply and naturally, almost without any effort from the rider. Some people won?t like this, but I think it is very positive.
"This also means you get a large amount of feedback, which was very helpful for me when I rode in the wet. It actually made riding in the rain fun, because it was so confidence-inspiring. The Showa suspension fitted to the bike I rode wasn?t as good as the set-up which will be used on the factory racers, but it still gave me a lot of information about what was happening under the tyres."
Nashimoto is also one of the few men on the planet who can compare the new VTR1000 SP-1 with a race-spec version of the FireStorm.
He said: "I rode a VTR built just for racing by Moriwaki, and I can tell you the new bike is in a different league. The FireStorm had a very harsh throttle response which was sometimes too abrupt to handle, but the SP-1 is nothing like that.
The fuel injection system is very smooth and you don?t get any of the sharp pitching forwards and backwards when you open and shut the throttle like you did on the old VTR.
"It means there?s little to fear when you open the throttle. You know the back tyre wants to push you forwards, not snap sideways. The bike feels very torquey compared to four-cylinder bikes, so when you open the throttle at low revs it really wants to accelerate. There is no delay in acceleration waiting for revs to rise like there would be on a four."
Though Nashimoto says it?s a big improvement over the RC45, he still thinks it could be better.
He said: "There are negative aspects to the new bike. Because it?s a twin, it feels like it runs out of power much earlier than a four. The initial huge surge of acceleration tails off as the revs rise. Also, the clutch is not so good. It feels like it has far too much play in it, and it feels a little vague under engine braking. This needs to be modified because the engine braking is far stronger than on a four. Even if this was a road bike, the clutch would feel bad. But these are minor faults and I think the VTR will be very competitive against the fours."
Slight and Edwards? bikes are likely to have more power because they will be in a higher state of tune. Their bikes will also get power-boosting and weight-reducing parts from the factory before any other team, and many of these are still being developed. A Honda spokesman said: "The test went well, but there is still a lot to do. We are working hard to get more power from the bike, and also to cut weight. It is about 4kg over the 162kg limit right now."
Nashimoto?s assessment will be music to Honda?s ears. This is the machine which will race in Britain next year, as well as many of the other domestic superbike championships.
But that hasn?t stopped HRC, the racing arm of the factory, changing several aspects of the bike to ensure it?s more than a match for Ducati?s dominant 996 in the world series.
The bike has already been fitted with an all-new exhaust system which sees both pipes exit on the right. On the standard bike, there?s a can on either side. The exhaust has been swopped to allow the fitment of a different swingarm, which appears far more substantial than the one it replaces.
HRC has also ditched the Brembo brake calipers which are fitted to the standard SP-1 in favour of six-piston Nissin items identical to those used by Yamaha rider Noriyuki Haga. Both Edwards and Slight didn?t get on with Brembos last season.
The brakes are attached to 47mm Showa forks, which are heavily revised internally from those which will be use on the British superbikes, as is the rear shock and the linkage. This has been done as much out of Edwards? and Slight?s personal preferences as anything else.
Edwards? best time at the test was an impressive 1:33.6, just 0.6s outside Troy Corser?s lap record from this year?s Australian WSB round, despite the surface being dusty and lacking in grip. It was also nearly a second quicker than his best time in early tests of the bike at the same track last year. Edwards crashed twice because of the conditions, but escaped injury. Slight was marginally slower.
The pair were also able to compare how fast their bikes were next to some of the machines they?ll line up against next season. Haga was also at Phillip Island, and his R7 was faster than the Honda.
This shows just how different the V-twin SP-1 is from the old V4 RC45, and how Edwards and Slight will have to ride it differently. From riding a bike which was regularly the fastest in a straight line but not the quickest on lap times, the pair now have a bike which may lack outright top speed, but puts in fast laps - like Ducati?s 996. If during the winter Honda can get more than the 170bhp which the bike is said to be making at the crank now, Ducati should start worrying.
Courtesy Motorcycle News