Honda VTR 1000 RC51 SP1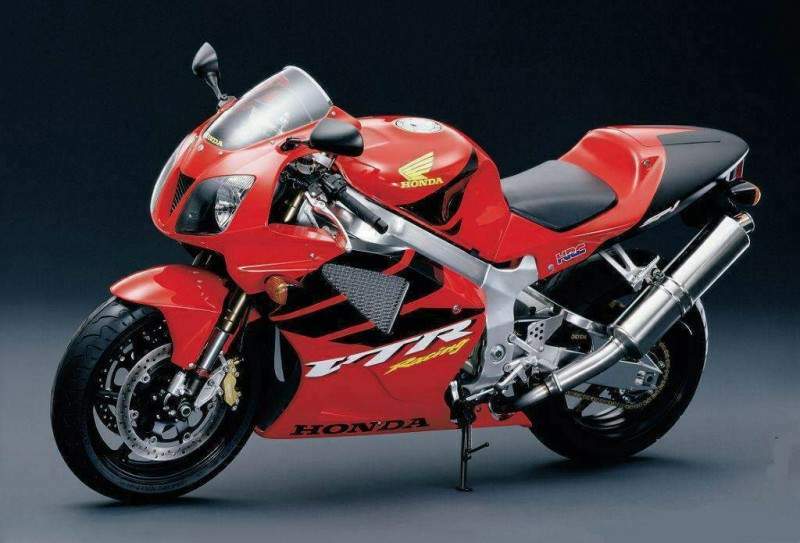 Make Model

Honda VTR 1000 RC51 SP1

Year

2000

Engine

Four stroke, 90°V-twin cylinder, DOHC, 4 valve per cylinder.

Capacity

996 cc / 60.8 cu-in

Bore x Stroke

100 x 63.6 mm

Compression Ratio

10.8:1
Cooling System
Liquid cooled
Lubrication
Wet sump

Induction

Electronic fuel injection PGM-FI with two injectors per cylinder

Ignition

Computer-controlled digital transistorized

Starting
Electric

Max Power

136 hp / 100 kW @ 9500 rpm

Max Torque

10.7 kgf-m / 105 Nm @ 8000 rpm

Clutch
Hydraulic clutch

Transmission

6 Speed

Final Drive
Chain
Frame
Aluminium, twin spar

Front Suspension

43mm inverted cartridge-type fork with adjustable spring preload, and compression and rebound damping,

Front Wheel Travel
130 mm / 5.1 in

Rear Suspension

Pro-Link with gas-charged integrated remote reservoir damper offering adjustable preload, and compression and rebound damping,

Rear Wheel Travel
120 mm / 4.7 in

Front Brakes

2x 320mm discs 4 piston calipers

Rear Brakes

Single 220mm disc 2 piston caliper

Front Tyre

120/70 ZR17

Rear Tyre

190/50 ZR17

Wheelbase

1409

mm / 55.5 in

Seat Height
813 mm / 32.0 jn

Dry Weight

196 kg. / 432 lbs

Fuel Capacity

18 Litres / 3.8 gal

Consumption Average

17.5 km/lit

Standing ¼ Mile

10.7 sec / 210 mph

Top Speed

275 km/h
While Honda's VTR1000 Firestorm was a success on the road, it didn't have (and wasn't intended to have) the track ability required for Honda to beat Ducati in the world of racing. Ducati's 916 and 996 were dominating World Superbike, and Honda's V-4 RC45 was ageing fast. Honda had already decided to build a racing V-twin to beat Ducati at its own game.
The result, launched in 2000, was the VTR 1000 SP-1. The 999cc V-twin engine owed little to the Firestorm's design, and featured an oversquare bore and stroke achitecture of 100 x 63.6mm (3.9 x 2.5in). An all-new PGM-F1 fuel-injection system replaced the carburettors of the older bike, and the four camshafts were driven by accurate gear drive, rather than less-precise chains.
But it was the chassis which received most attention. Honda's racing division, HRC, provided the know-how to develop a new ultra-rigid aluminium twin-spar frame, using the engine as an extra load-bearing member within the frame. The frame also incorporates a cunning air inlet design: the distinctive front ram-air scoop between the fox-eye headlights runs straight through the cast aluminium steering head. This provides a direct path into the airbox for high-pressure air from the front fairing when the VTR is travelling at high racing speeds.
Showa fully adjustable suspension was among the highest quality fitted to any road bike, and four-piston Nissin calipers with large 320mm (12.6in) discs provided ample stopping power, although Honda freely admitted it expected most racers to replace them with higher-spec racing parts.
The Honda SP-1 won the 2000 World Superbike championship first season out, with Colin Edwards riding, but Ducati retook the title in 2001. Honda therefore took the lessons learned in the SP-l's first season, producing the SP-2 for 2002. A stronger, more rigid frame and swingarm are identical to the WSB race bike parts, and a host of engine modifications boosted peak power by 3kW (4bhp), and cut weight by 5kg (1 lib).
The 2000 Honda RC51 is destined to dominate Superbike racing the world over. This incredible V-twin introduces a new chapter in Honda's storied racing legacy. Now, affordable world-class racing performance is available to enthusiasts seeking the most powerful, best-handling production-based Superbike.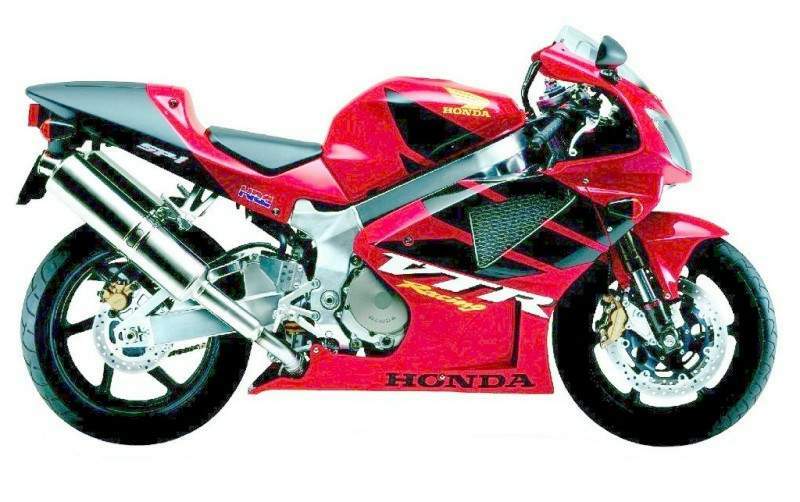 Exclusive Features
· The RC51 ram-air engine is engineered to dominate Superbike competition.
· Prodigious power is produced across a broad engine-rpm band, peaking with 130 bhp at 9500 rpm and 71 lb./ft. of torque at 8000 rpm in street-legal trim.
· Completely new twin-spar extruded aluminum frame features a modified Pro Frame™ design utilizing a combined swingarm pivot that incorporates both engine-crankcase and frame-mounted swingarm pivot points.
· Advanced, high-pressure programmed fuel injection (PGM-FI) with two injectors per cylinder and electronic digital ignition maximize power output and offer immediate throttle response in any gear.
· Distinctive bodywork features a dual-headlight design, a narrow-profile fuel tank and a single-piece tail section.
· Three optional HRC Racing Kits upgrade the RC51 engine and suspension for race track competition.
Engine
· 999cc DOHC eight-valve 90-degree V-twin engine is specially designed to withstand the rigors of Superbike competition.
· Centrally mounted ram-air intake duct routes cool, pressurized air directly through the frame's steering head structure to the 10-liter airbox, improving intake efficiency while slimming the aerodynamic profile. The ram-air duct doubles as a front cowl stay, shaving 12 ounces off of a conventional mounting system.
· Each cylinder head features large, 40mm intake and 34mm exhaust valves with a 24-degree included valve angle. This provides a short, direct path for the air/fuel charge entering the combustion chamber and results in high power output.
· Gear-driven camshafts utilize three-axis drive gears to maintain accurate valve timing and durability at sustained high engine speeds.
· Innovative head gaskets minimize distortion caused by head bolt tightening, improving sealing performance and maintaining combustion pressure for consistent high power output in competition conditions.
· Direct shim-under-bucket valve actuation system ensures high-rpm durability, and allows 16,000-mile valve maintenance intervals.
· High-pressure programmed fuel injection (PGM-FI) delivers fuel at 50 psi to two injectors per cylinder, mounted opposite each other in huge, 54mm throttle bodies. Fuel is delivered through four nozzle tips in each injector, producing a very fine spray and a highly combustible air/fuel charge for maximum combustion efficiency and power output.
· Cast aluminum pistons are screen-printed with solid LUB-Coat finish to minimize friction between the piston and cylinder wall.
· RC45™-inspired aluminum composite cylinder sleeves are high-pressure-formed from sintered aluminum powder impregnated with ceramic and graphite. The lightweight composite sleeves provide better wear resistance and superior heat dissipation compared to conventional sleeves.
· Nutless connecting rods feature bolts threaded directly into tapped holes in rods. Design is lighter than conventional bolt-and-nut combination. Carburized rods provide strength and durability under high loads.
· Crankshaft center lubrication system carries oil to main and connecting rod bearings through passages in the crankshaft as well as conventional journals, allowing lower main gallery oil pressure and a smaller oil pump design, consuming less horsepower at high engine speeds.
· Electronic CPU provides digital 3-D fuel injection and ignition maps for each cylinder, creating ideal fuel mixture and spark advance settings for maximum power and throttle response.
· Iridium-tipped spark plugs require less voltage and maintain ignition performance in demanding conditions.
· Side-mounted dual radiators utilize low pressure of airflow passing over outer surface of cowling to draw air through from the inside. Side positioning allows optimal placement of engine for low center of gravity and superb handling and permits flow of air to reach cylinders and exhaust pipes for enhanced cooling efficiency.
· Aluminum water pump.
· Air-cooled aluminum oil cooler.
· Magnesium head cover, clutch cover and left rear sprocket cover.
· All-stainless two-into-one-into-two exhaust system with two 5.3-liter canister-style mufflers featuring a buffed finish.
· New seven-plate clutch design is compact and tough, featuring durable friction plate material.
· Smooth-shifting close-ratio six-speed transmission features ratios carefully matched to the engine's power band.
· Durable #530 O-ring-sealed drive chain.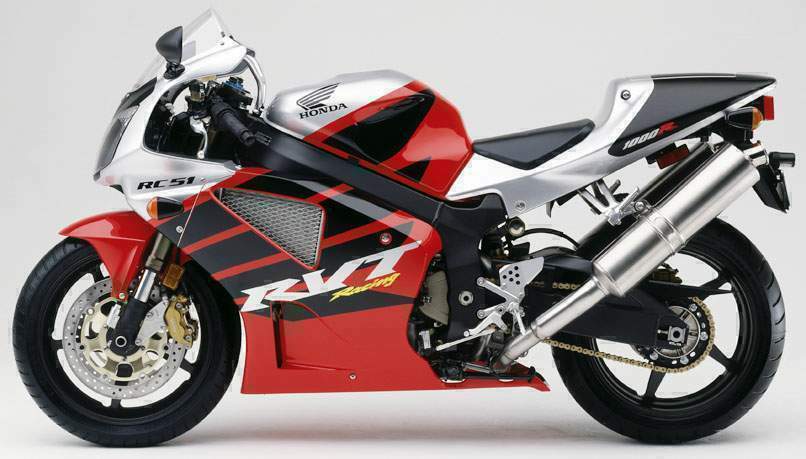 Chassis/Suspension
· Totally new, twin-spar extruded aluminum frame weighs 25.8 pounds and features a modified Pro Frame design utilizing a swingarm pivot that incorporates both engine-crankcase and frame-mounted pivot points. The frame sideplates extend underneath the swingarm and join to form a D-shaped swingarm mounting enclosure. This combination provides an extremely rigid chassis while offering excellent road feel.
· Tapered and braced box-section swingarm provides exceptional lateral and torsional rigidity.
· New 43mm inverted aluminum-slider Honda Multi-Action System (HMAS™) cartridge fork features spring preload, rebound and compression damping adjustability, and offers precise action and superb rigidity.
· Pro-Link™ rear suspension features a high-quality 40mm HMAS shock with integrally cast damper reservoir. Spring preload, rebound and compression damping adjustability produce superior rear wheel control.
· Braking system features 320mm front discs floating on seven stainless steel pins with four-piston calipers, and a 220mm rear disc with a single-piston caliper for exceptional stopping power.
· Lightweight aluminum-alloy wheels have six U-shaped HRC-style spokes and feature race-spec 3.5-17-inch front and 6.0-17-inch rear dimensions.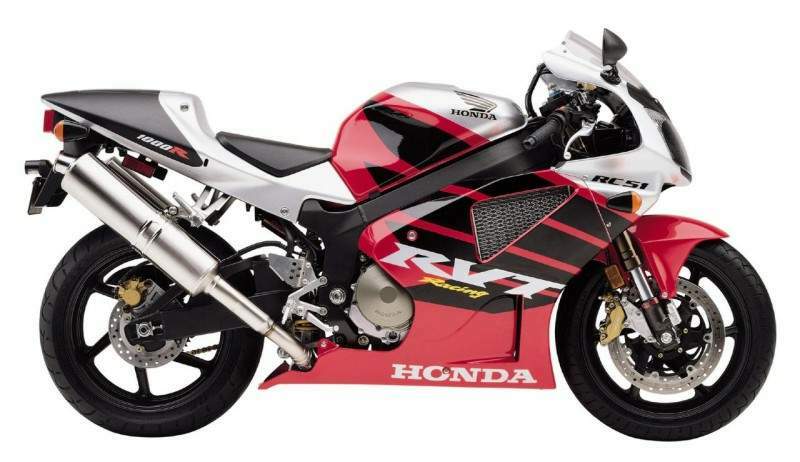 Additional Features
· Removable aluminum rear subframe.
· Fuel tank designed with sculpted indents for knees, arms and handlebars.
· Unique bank-angle sensor shuts off fuel supply to PGM-FI system if the motorcycle tips over, but is unaffected by bumps and vibration during normal operation.
· High-output, 448-watt AC generator.
· Smaller, lighter and electrically quieter regulator/rectifier eliminates interference with sophisticated PGM-FI and ignition circuitry.
· Improved battery design is lighter, yet maintains output capacity for a longer period when inactive.
· Dual-headlight features computer-designed multi-reflectors and two 55W H7 bulbs behind clear plastic lenses, providing a broad lighting pattern and superb illumination.
· Lightweight instrument display includes electronic LCD tachometer and speedometer, LED low fuel indicator, odometer, tripmeter and temperature gauge.
· Redesigned front brake lever has a new compact adjuster design and incorporates the return spring in the master cylinder, reducing overall weight by 5 ounces.
· Convenient ignition switch/fork lock for added security.
· Lightweight, recyclable oil filter cartridge.
· Transferable one-year unlimited-mileage limited warranty.
Available Accessories
· Tank pad.
· Magnetic tank bag.
· Cycle cover.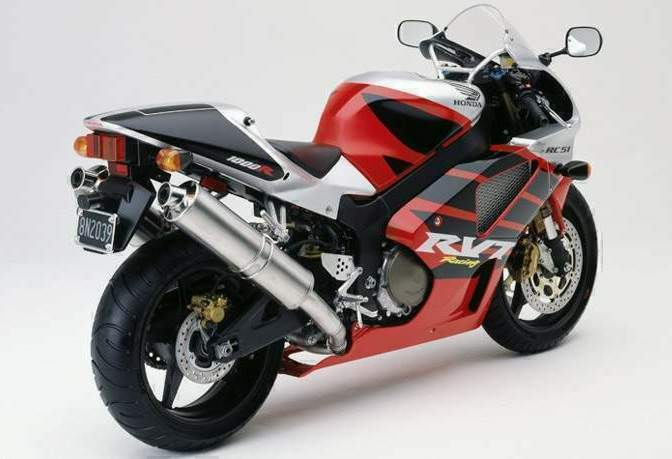 Review
The SP-1 is good,
and set to get better

By Richard Fairbairn and
Kei Nashimoto
HONDA?S all-new SP-1 is as sweet-handling as a 250 GP bike, as torquey as an RC45 World Superbike and so rider-friendly you can crack the throttle open mid-corner with little fear of it spitting you off.
But this isn?t the verdict of Honda?s top riders, Aaron Slight and Colin Edwards, who are contracted not to say a bad word against the firm.
No, that?s the verdict of one of the first independent testers to ride the 1000cc V-twin.
Japanese domestic series superbike rider Kei Nashimoto who, like Slight and Edwards rode a RC45 this year, is also a journalist, and he?s given us a fascinating insight into the most eagerly awaited bike of 2000 after he rode one in Japan last week.
Nashimoto?s comments coincide with recent Honda tests at Phillip Island in Australia, where Slight and Edwards put a revised version of the bike they will use in WSB next year through its paces. It features a host of changes over the "stock" bike which will used by every team other than Castrol Honda. But even in its standard trim, Nashimoto said the SP-1 is already way ahead of the RC45, especially in the handling department and at giving feedback from the front tyre.
He said: "What surprised me most about the SP-1 is how light it feels compared to a four-cylinder machine, despite being the same weight (Honda is still in the process of cutting weight).
"The whole chassis is so well balanced that it handles like a 250 GP bike. It?s more comfortable to ride than the RC45, and even on my first time out I felt completely at home.
"The SP-1 is totally dependent on the front tyre when it comes to cornering. It feels like a very "front-end" type of bike. This means that it turns very sharply and naturally, almost without any effort from the rider. Some people won?t like this, but I think it is very positive.
"This also means you get a large amount of feedback, which was very helpful for me when I rode in the wet. It actually made riding in the rain fun, because it was so confidence-inspiring. The Showa suspension fitted to the bike I rode wasn?t as good as the set-up which will be used on the factory racers, but it still gave me a lot of information about what was happening under the tyres."
Nashimoto is also one of the few men on the planet who can compare the new VTR1000 SP-1 with a race-spec version of the FireStorm.
He said: "I rode a VTR built just for racing by Moriwaki, and I can tell you the new bike is in a different league. The FireStorm had a very harsh throttle response which was sometimes too abrupt to handle, but the SP-1 is nothing like that.
The fuel injection system is very smooth and you don?t get any of the sharp pitching forwards and backWards when you open and shut the throttle like you did on the old VTR.
"It means there?s little to fear when you open the throttle. You know the back tyre wants to push you forwards, not snap sideways. The bike feels very torquey compared to four-cylinder bikes, so when you open the throttle at low revs it really wants to accelerate. There is no delay in acceleration waiting for revs to rise like there would be on a four."
Though Nashimoto says it?s a big improvement over the RC45, he still thinks it could be better.
He said: "There are negative aspects to the new bike. Because it?s a twin, it feels like it runs out of power much earlier than a four. The initial huge surge of acceleration tails off as the revs rise. Also, the clutch is not so good. It feels like it has far too much play in it, and it feels a little vague under engine braking. This needs to be modified because the engine braking is far stronger than on a four. Even if this was a road bike, the clutch would feel bad. But these are minor faults and I think the VTR will be very competitive against the fours."
Slight and Edwards? bikes are likely to have more power because they will be in a higher state of tune. Their bikes will also get power-boosting and weight-reducing parts from the factory before any other team, and many of these are still being developed. A Honda spokesman said: "The test went well, but there is still a lot to do. We are working hard to get more power from the bike, and also to cut weight. It is about 4kg over the 162kg limit right now."
Nashimoto?s assessment will be music to Honda?s ears. This is the machine which will race in Britain next year, as well as many of the other domestic superbike championships.
But that hasn?t stopped HRC, the racing arm of the factory, changing several aspects of the bike to ensure it?s more than a match for Ducati?s dominant 996 in the world series.
The bike has already been fitted with an all-new exhaust system which sees both pipes exit on the right. On the standard bike, there?s a can on either side. The exhaust has been swopped to allow the fitment of a different swingarm, which appears far more substantial than the one it replaces.
HRC has also ditched the Brembo brake calipers which are fitted to the standard SP-1 in favour of six-piston Nissin items identical to those used by Yamaha rider Noriyuki Haga. Both Edwards and Slight didn?t get on with Brembos last season.
The brakes are attached to 47mm Showa forks, which are heavily revised internally from those which will be use on the British superbikes, as is the rear shock and the linkage. This has been done as much out of Edwards? and Slight?s personal preferences as anything else.
Edwards? best time at the test was an impressive 1:33.6, just 0.6s outside Troy Corser?s lap record from this year?s Australian WSB round, despite the surface being dusty and lacking in grip. It was also nearly a second quicker than his best time in early tests of the bike at the same track last year. Edwards crashed twice because of the conditions, but escaped injury. Slight was marginally slower.
The pair were also able to compare how fast their bikes were next to some of the machines they?ll line up against next season. Haga was also at Phillip Island, and his R7 was faster than the Honda.
This shows just how different the V-twin SP-1 is from the old V4 RC45, and how Edwards and Slight will have to ride it differently. From riding a bike which was regularly the fastest in a straight line but not the quickest on lap times, the pair now have a bike which may lack outright top speed, but puts in fast laps - like Ducati?s 996. If during the winter Honda can get more than the 170bhp which the bike is said to be making at the crank now, Ducati should start worrying.
Courtesy Motorcycle News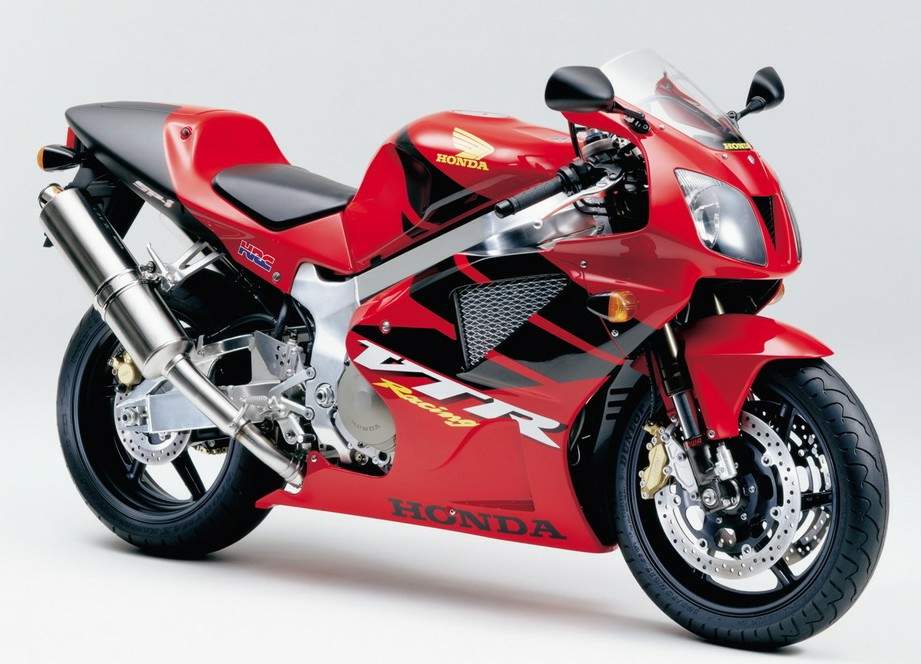 Sports Rider Review


With the homologation approval period for its limited-production RC45 coming to an end in '99, Honda surprisingly announced that it would be introducing a new liter-size V-twin superbike in its upcoming 2000 model lineup to run alongside the then-new CBR929RR inline-four superbike. With four-cylinder machines still limited to 750cc in superbike racing, it was an obvious sign that Honda was dumping the multi-cylinder route and looking to take on Ducati at its own twin-cylinder game. HRC (Honda Racing Corporation, the racing arm of Honda Japan) played a major role in the design of the new twin, which was designated the VTR1000 SP1 everywhere in the world except the U.S., where it was known as the RC51 (even though its actual model designation was RVT1000R).

In its first year, the Honda RC51 proved its performance potential by winning the '00 World Superbike title with Colin Edwards aboard. Meanwhile in the AMA Superbike series, a young Nicky Hayden just missed out on the title to Mat Mladin by a slim five points. Edwards grabbed another world title in '02, and Hayden would pick up a win in the Daytona 200 in his march to the '02 AMA Superbike championship.

The bike was an instant hit with sportbike fans. The RC51's booming exhaust note had a sound different than the Ducati twins, and surely unlike any other Japanese bike in production. The bike's HRC heritage could be seen throughout its design and was proudly displayed on the engine cases. And not only did Honda make a works racing replica machine, they offered it at a very affordable $9999. Compared to the very limited production RC45 ($27,000), this Honda was a bargain and they were snatched up across the country. Although import quantities couldn't quite be considered production-level, it's rumored that about 2000 were brought into the U.S.A. in the first year.

The aforementioned HRC design influence is reflected in the RC51 engine's architecture. As with the RC45 V-four before it, the 90-degree V-twin boasted gear-driven camshafts, an arrangement that provides more precise cam timing for better horsepower but is also very expensive to produce. Bore and stroke measurements were a then-very oversquare 100mm x 63.6mm configuration, although curiously with a relatively low compression ratio of only 10.8:1 (the Ducati 996 was pushing 11.5:1, while the Aprilia RSV Mille was at 11.4:1, and even the Suzuki TL1000R was bumping 11.7:1). With such a large bore, big valves could be installed, and Honda obliged with 40mm intakes and 34mm exhausts (for comparison, the Ducati 996 only had 36mm intakes/30mm exhausts). Even the engine fueling system was racing-spec; the Honda PGM-FI used a pair of 54mm throttle bodies-all of its twin-cylinder competition at the time of its introduction used smaller units-with 2 injectors per cylinder (all the others only had a single injector per jug). Due to the long-term reliability concerns of extended high-rpm running with a big V-twin (the cases undergo tremendous stress at five-figure rpm levels), the RC51 was saddled with a relatively low 10,000-rpm redline, with the rev-limiter stopping the party shortly thereafter at 10,200 rpm. In addition to the restrictive stock mufflers, the artificial rpm limitation kept the bike in showroom form down to about 118 horsepower at the rear tire.

The frame was built to withstand the rigors of Superbike racing so its construction was quite beefy and stiff right from the factory, though it was a bit heavy. With 24.5 degrees of rake and 100.5mm (3.96 inches) of trail, the steering geometry was obviously aimed at stability over agility when combined with the short 55.5-inch wheelbase. Honda claimed a dry weight of 432 pounds, but after filling it up with gas, it was more like 489 pounds, making it quite a bit heavier than you'd envision a sportbike to be. Nonetheless, it was competitive with the Aprilia RSV and the Ducati 996, its primary competition at the time (although it was about 50 pounds heavier than Honda's CBR929RR). The 999cc engine was rather thirsty, and its low 28-mpg average meant that even the 4.8-gallon fuel tank only guaranteed a 140-mile range at the most. Throttle response was not quite up to Honda standards on the 2000-01 models, with an abrupt response off closed throttle that would upset handling midcorner.

In '02, Honda released a new SP2 model that featured a host of upgrades, most of them directly from the race kit for the SP1 model. It made about five more horsepower, much of that due to the larger 62mm throttle bodies and redesigned cylinder head porting. Remapped fuel injection curves and finer 12-jet injectors helped eliminate the previous throttle response problem. Other major changes included sharper steering geometry, with the rake pulled back to 23.5 degrees and trail shortened to 94.6mm (3.7 inches), and each side radiator equipped with its own fan to address the overheating issues that plagued the SP1. The new swingarm was basically the SP1 race kit model, stretching the wheelbase by 16mm while adding rigidity and cutting weight in the process. The SP2 model had a taller (1.2 inches) windscreen developed from Colin Edwards' World Superbike mount, as well as redesigned mufflers for less weight. All told, the SP2 dropped about eight pounds in the process

Those who spent time on both the SP1 and SP2 report that the differences were noticeable, with the sharper handling and better fueling the most apparent. While the Honda may not have been the sexiest bike ever produced, it does exude a certain purposeful look. Without trying too hard it looks like a race bike should.

The $9999 retail price only lasted one year and by the time the 2001 models were released, the price had already bumped up to $10,999. In 2004 the price increased to $11,599 and then to $11,999 in 2006. In looking at the current NADA retail prices, one might notice that the RC has done better than the Honda one-liter CBRs. Currently the original SP1 models are showing a retail of $4500 moving up to $5260 for the '02 SP2. The last year of production (2006) shows a current retail of $8825.

Since the annual production of this bike was fairly low, it did not attract the typical aftermarket supplier's attention when it came to go-fast goodies. This is where Dan Kyle of Kyle Racing (www.kyleusa.com) stepped into the RC51 aftermarket parts arena in a big way. Kyle has been around motorcycles and motorcycle racing since 1973 (those of you long-time motorcycle racing fans may recall Kyle being heavily involved with both Two Brothers Racing and Erion Racing in the AMA Superbike series), and was quick to see this need, establishing himself as a major supplier for the new Honda superbike.

Dan admits that the "RC51 may not be the fastest bike around the track, but the owner usually finishes the day with the biggest smile." We asked Dan about the popular modifications for the Honda and he stated that one of the first parts normally added to the bike is an aftermarket exhaust and a Power Commander. On the SP1, the fuel injection needed some help to smooth out the throttle response and the PC went a long way toward correcting that issue.

As for the exhaust system, Kyle says their extensive in-house testing has shown that very few if any of the full exhaust systems make any more power than the dual slip-ons offered by Sato and Moriwaki and each saves a total of 10-11 pounds. Other popular choices among riders include Erion, Jardine, and Akrapovic. While most of the 2-into-1 exhaust systems do offer slightly higher top end power, it comes at the expense of the midrange that v-twin riders enjoy. The use of high mount exhausts means the removal of the passenger pegs, so choose the correct setup based on your intended use of the bike.

Most tuners opted to leave the stock air filter but disconnected the internal "flapper valve" in the airbox, which was there for EPA noise emission reasons. By simply disconnecting the vacuum line feeding the flapper, it is left in the open position which helps remove a dip in the power curve at the 4500-5500 rpm range. Another popular trick is to defeat the factory "soft rev-limiter". In stock form, the soft limiter kicks in at 9000 rpm and then the hard limiter waits until 10,200 rpm. By allowing the bike to rev freely all the way to the hard limiter, the combined result of the exhaust and EFI tuning nets a nice 8-10 horsepower gain on top.

Perhaps the biggest improvements on the bike come in the suspension department. Although the bike came with a nice setup, according to Kyle it is a big compromise. Due to the fact that street bikes are set up for solo and dual riders, the suspension is quite progressive. If you are willing to set up your bike for one weight range, it allows you to optimize a suspension system that is much more linear. The most popular change is to add an Öhlins fork kit. Since the RC shares the same basic fork as the CBRs internally, there is a lot of data and parts available to set it up for most any rider. The Öhlins kit includes springs and internal re-valving and goes for about $650 from Kyle Racing.

On the rear, one of the least expensive fixes ($349) is to simply change the rear suspension link with one that is less progressive. Kyle Racing makes their own link and not only does it address the progressive nature of the suspension but it also raises the rear slightly which helps the RC turn a little better. Out of the box, the RC51 is very stable, but it also steers a little slow. An advantage of this design is that a steering damper is not an absolute requirement. Some riders have it but they do so mostly as an insurance policy, not a necessity.

Unfortunately the rear shock itself isn't the greatest (even the upgraded SP2 unit), with overly stiff high-speed compression damping rates that can't be adjusted out externally, and delving into the internals is a major hassle. Kyle says the only real solution is to replace the stocker completely with a full Öhlins rear shock or similar quality aftermarket unit. It is a big expense but one that riders never regret after doing it.

For rider comfort and increased ground clearance, rearsets are also common for the RC. Popular brands include Sato, Vortex, Gilles and Arata. The installation of new clip-ons can slightly raise the bar height and take some weight off the arms and wrists, which often helps a lot over the course of a day. For those riders trying to shave off as much weight as possible, aftermarket wheels are a great place to shed some unwanted pounds. BST and Dymag have carbon fiber wheels available if you have the bucks. For slightly less weight loss and a lower cost alternative, others opted for forged magnesium. Common brands we found include Marchesini, Marvic and Dymag.

Another upgrade is to replace the sprockets due to the tall gearing. As supplied from Honda, top speed can almost be reached in fifth gear because the bike will not pull redline in sixth. Changing the sprockets from the factory 16-tooth front and 40-tooth rear to a lower 15/41 setup will usually maintain the same top speed and increase drive out of corners too.

The stock braking system is more than adequate for most owners and even some track day enthusiasts, and most riders choose to leave it as is. But for those that can't leave it alone you may want to look at simply fitting HRC pads and call it a day because they are that good.

One of the strengths of the RC51 is that it is a well-built and trouble-free bike. There are no particular mechanical issues to watch out for and the mechanics we spoke to said that even during the 16,000-mile valve adjustments, they are often found to be in spec. Those that replaced their cams with aftermarket units in hopes of more power found that they were inferior to the OEM billet pieces and failed in about 20 percent of the bikes that used them.

We spoke to Garry Griffith of Southern Honda Powersports in Chattanooga, Tennessee, (the largest volume Honda dealer in the country) about the bike and he said it was a trouble free and rider friendly bike. Griffith is a former roadracer who actually won the 250cc national race at Mid Ohio in 1986 against several riders that would later become world champions. He has spent his entire life around Honda sportbikes, and said the RC51 is easy on tires and the narrow profile of the V-Twin made it a great platform for the AMA Superbike rules at the time. He also said that the relatively low rpms of the bike in race form allowed it to run longer between rebuilds than the typical inline four cylinders on the grid.

Owners of the RC51 are fiercely loyal to the bike and cling to them today even though they have been out of production for 3 years. If you overlooked this bike, it is not too late to scoop one up and enjoy one of the few purpose-built, somewhat readily available superbike platforms that ever sat on the floor of a Honda dealer.
Source Sports rIDER