Honda NX 250 Dominator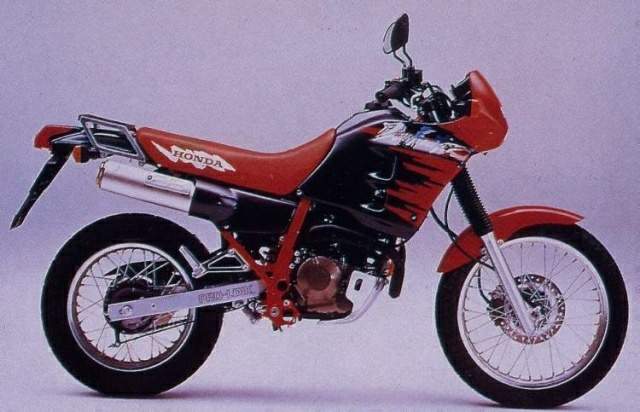 | | |
| --- | --- |
| Make Model | Honda NX 250 Dominator |
| Year | 1993- |
| Engine | Liquid cooled, single cylinder, four stroke, DOHC, 4 valve per cylinder |
| Capacity | 249 |
| Bore x Stroke | 70.0 x 64.8 mm |
| Compression Ratio | 11.0:1 |
| Induction | |
| Ignition / Starting | |
| Max Power | 26 hp 19 kW @ 8500 rpm |
| Max Torque | |
| Transmission / Drive | 6 Speed / chain |
| Front Suspension | |
| Rear Suspension | |
| Front Brakes | Single disc |
| Rear Brakes | Drum |
| Front Tyre | 100/90-19 |
| Rear Tyre | 120/90-16 |
| Dry Weight / Wet-Weight | 118 kg / 133.0 kg |
| Fuel Capacity | 9 Litres |
| Manual | |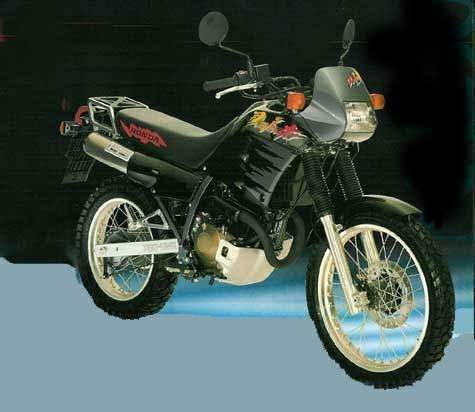 DOMINATOR MINOR HAS QUITE a reputation to live up to. Big bro is still sitting pretty at the top of the big single chart, and identity sharing is a risky business. How many times do you hear the sharp intake of breath followed by, "oooh, you should have got the big one"?
Sportsters, Zephyrs and ZZ-Rs all benefit from extra cubes; it's only in the trailie world that the reverse holds true. But can a bike giving away 400cc to the supremely successful Dominator cut it in the metropolis?
The engine isn't lifted from the highly-rated, but strictly off-road, XR250; it's a watercooled, electric-started jobbie which is alto-getheranore suited to the big smoke. Kickstarting little singles isn't hard, but it's certainly boring if you just want to get home. And tootling through traffic isn't the best environment for small air-cooled engines. The radiator is very tidily hidden under the Alienesque snout (and is such a good fit it makes me wonder whether water-cooling's on the cards for the biggy).
The NX leaps away from the lights with cheerful abandon thanks to reasonable, if slightly stuttery, low-down tug which turns into a most unsingular zip. The ratios are more carefully thought out than the streetwise trailie norm and keep the motor spinning at about the right speed for further progress (ie 4500rpm and above). The redline is set at 8000 but doesn't need chasing too hard; tangible power sits between five and seven thou and'll keep you ahead of the taxis.
Work up an enthusiasm with gas and gearbox and 70mph turns up before you'd imagine. There isn't too much more on offer without a goodly run up, but since bigger trailies spend forever getting beyond 80 this is no criticism.
So up to this point everything's going fine. We like the engine. There are good things to come about the rest of the bike. However, in between the engine and the rest of the bike is the paragraph marked "gearbox". I honestly can't remember a bloody thing about the gearbox. Six speed? My dictaphone says so. It also says, in a very cross voice, that the gearbox is "shit". I have no idea why. Maybe it didn't work. I'm sorry, I really can't remember. You'll just have to take it from my dictaphone that the NX250 gearbox is, for reason or reasons unknown, shit.
Otherwise the bike works perfectly well, with the suspension earning an honourable mention for being so fiendishly good at absorbing London. The MX-like lightweight disc is grabbed smartly by the twin-pot caliper; used with the drum rear brake (wot dat?) the anorexic NX pulls up suspiciously quickly. Suspiciously? Trail tyres aren't supposed to let you brake like that, but the Dunlop Trailmaxes must be special on this bike because they're in 19 and 16in sizes. So Dunlop know darned well they're never going off road and can pour some more glue into the mould.
That little front wheel, coupled with steep (25.5°) rake and 87mm of trail, lets the NX jink like a startled rabbit if it needs to. Low speed stability is helped by chopping off the lower frame rails and using the engine as a stressed member, thus keeping the centre of gravity as low as it'll go. Combine all that with a dry weight of 2661b, and turning around on full lock whilst hopping up a kerb holding an ice cream becomes a way of life for the dedicated NX commuter.
That's the thing about this bike. Everything is easy. Even getting on it, which isn't a forte usually associated with ten inches of ground clearance, is ridiculously simple because somehow Honda sneaked the design past the off-road division without them writing "37in" in the seat height box. Unfortunately a slighted member of the dirt squad made it past the urbanites and wrote "make it extremely uncomfortable" by the seat spec, which the dutiful Japs achieved with ease.
Nerdy
Peeping closely at the NX250 rewards with cleverness and oddness in equal measure. For every nice touch like the half-a-Domi-system silencer, there's a nerdy plastic bash plate. To counter cunning design like the 24,000 mile valve check interval there's a nine litre petrol tank to make sure you stop every 70 of those miles. The plastic-coated rack, easy-access fuse box and trick lightweight battery sit at odds with the cheapo fasteners, flimsy gear-shifter and gawky mirrors.
But then, the NX250 is primarily aimed at the Italian market, and they aren't happy unless a couple of bits fall off. It's clear why the lovable Mediterranean buys this bike; it's utterly suited to chuffing around their hideously congested cities without overheating or shattering the rider's bone structure.
Over here in dismal Britain the nearest thing to it is the far more lunatic TDR250. The NX doesn't deliver anything like the fun factor, but it's a lot more practical. Since Yamaha aren't making TDRs anymore, you'd think there was a gap in the market but Honda say no.
Which is where R. A.P steps in. As with an increasing number of importers, R.A.P has service manuals and commonly used parts for all imported bikes, and claims a four day delivery time for bigger items.
Maybe Honda are right not to bring in the NX250. Commuters are famously staid, which is why we have such aesthetic delights as the GN250 and CB Two Fifty. It would probably be another great non-seller alongside the Transalps of our time. Shame that, because with its effortlessness and style it has to be one of the best city bikes around. Against the Dominator? In town, no contest. The lightweight takes it. □
Source Bike 1992