Honda GL 1100 Gold Wing Interstate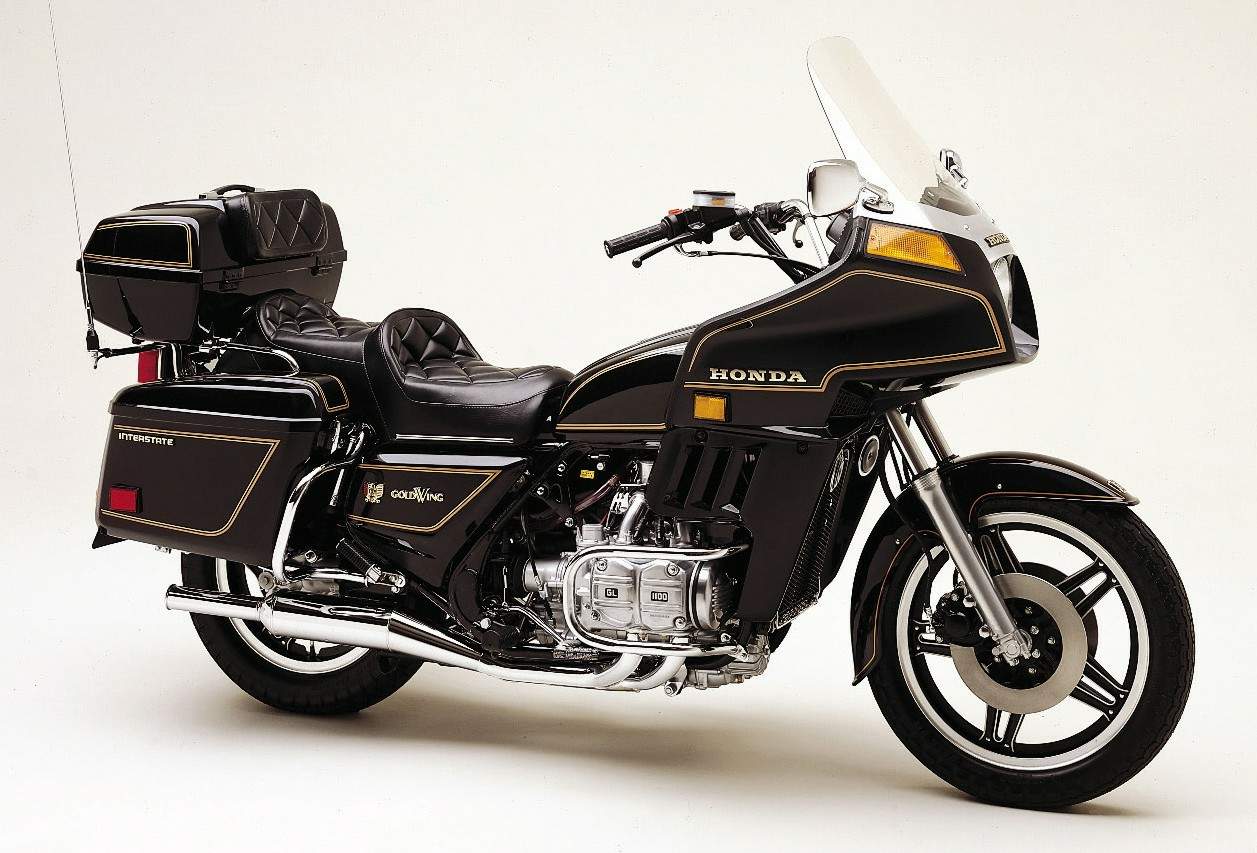 | | |
| --- | --- |
| Make Model | Honda GL 1100 Gold Wing Interstate |
| Year | 1980 - 81 |
| Engine | Four stroke, opposed boxer four cylinders, SOHC, 2 valves per cylinder |
| Capacity | 1085 / 66.2 cub in. |
| Bore x Stroke | 76 x 61.4 mm |
| Compression Ratio | 9.2:1 |
| Cooling System | Liquid cooled |
| Induction | 4 x 30 mm Keihin carbs. |
| Ignition | Electronic |
| Starting | Electric |
| Max Power | 59 kW / 81 hp @ 7000 rpm |
| Max Torque | 88 Nm / 9.0 kgf-m / 64.9 lb-ft. @ 5500 rpm |
| Transmission | 5 Speed |
| Final Drive | Shaft |
| Rake | 29.2° |
| Trail | 132 mm / 5.2 in. |
| Front Suspension | Adjustable telehydraulic fork. |
| Front Wheel Travel | 148 mm / 5.8 in. |
| Rear Suspension | Swinging arm with adjustable shocks absorbers. |
| Rear Wheel Travel | 80 mm / 3.1 in. |
| Front Brakes | 2 x 232 mm discs, 2 piston calipers |
| Rear Brakes | Single 250 mm disc ,1 piston caliper |
| Front Tyre | 110/90-19 |
| Rear Tyre | 130/90-17 |
| Frame | Steel, full duplex cradle |
| Dimensions | Length: 2340 mm / 92 in. |
| Wheelbase | 1605 mm / 63.2 in. |
| Seat Height | 795 mm / 31.3 in. |
| Dry Weight | 310 kg / 683 lbs |
| Wet Weight | 347 kg / 764 lbs |
| Fuel Capacity | 20 Litres / 5.3 US gal |
| Consumption average | 6.0 L/100 km / 16.8 km/l / 39.4 mpg |
| Standing ¼ Mile | 12.9 sec / 153.9 km/h / 95.6 mph |
| Top Speed | 215.6 km/h / 134 mph |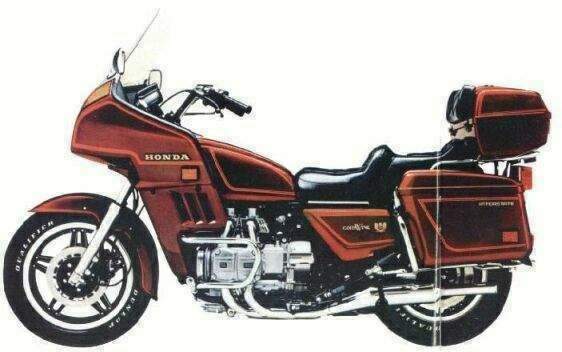 Ordinary touring on today's large-displacement street bikes allows you to relax in relative comfort, while options-to-the-hilt touring defies you to find need in your complacent surroundings. In any event, Honda knows both types of touring, and the company figured the luxury touring market was sizable in America—a land of broad, fine highways, no displacement limits and (relatively) cheap gasoline. They decided to offer a definitive luxury-touring motorcycle: their newly redesigned GL1100 Gold Wing, wrapped to the steering head in comfort items.
Developed in Japan, the Interstate was designed from the bottom up to have Honda-made and Honda-installed accessory components. The reasons were simple—to obtain the most integrated look possible, and to control quality. We suspect that potential profits-by-manufacturing didn't slow company planning executives down too much either.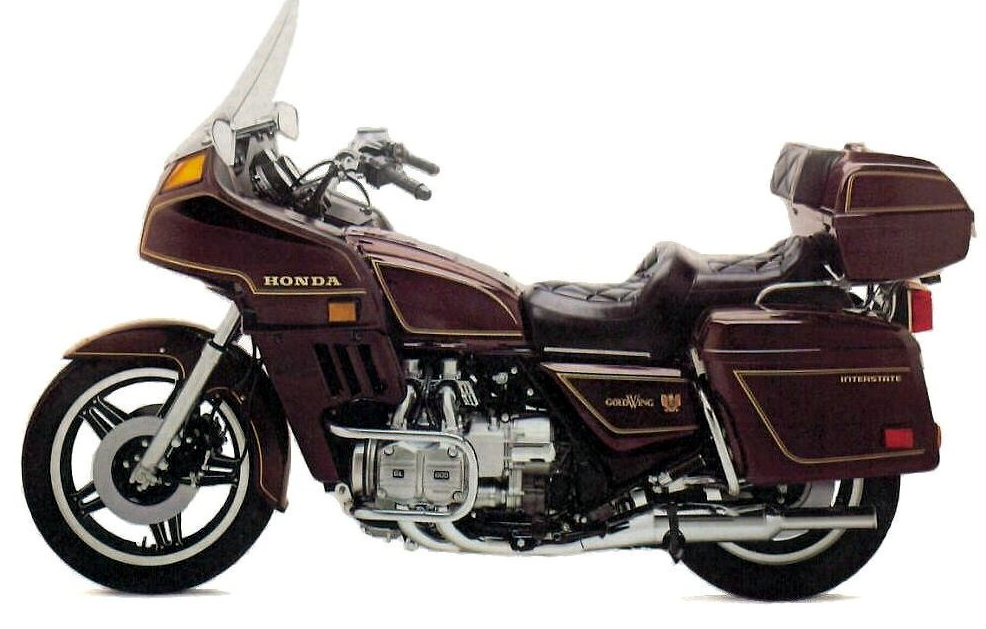 Bear in mind, however, that riding a GL1100 Interstate to the store on an errand is not unlike piloting a twin-engine cabin cruiser across the marina for a social visit. The Interstate is most at home on long, straight highways, dotted with few corkscrew turns and gravelly intersections. For flicking through the forests or buzzing over to the library, try another motorcycle—a smaller one.
But if touring is your game, and you like up-to-the-minute gadgetry and don't care about cornering clearance or sticker prices, climb aboard: the 1980 Honda Gold Wing Interstate is one of the most captivating touring bikes we've ridden.
Since Gold Wing Interstates are assembled at the factory, you don't have too much choice about what comes on one: either you want an Interstate or you don't. Here's what the Interstate includes, above and beyond the standard GL1100: a fairing with "lowers," a custom-painted "shelter," a rack and travel trunk, saddlebags, and engine and saddlebag guards. Optional but not included with the factory Interstate are an AM/FM radio and a gauge console. All of the Interstate body pieces are injection-molded plastic, painted to match. Two tones are available black, and a color Honda calls Candy Burgundy.
The fairing is actually assembled from two separately molded inner and outer sections. It's frame-mounted, so the GL's headlight remains stationary when the handlebar turns. The light is the same unit as found on the standard Gold Wing, but to aim it you turn a plastic screw-knob located inside the fairing. For convenience, the fairing has two easy-access pockets one is lockable, the other isn't. The right-hand, lockable pocket is 11 inches deep, and it has a removable plastic cover. The seven-inch-deep, left-side pocket has a vinyl snap-on cover that can be lifted up while you're riding. Racket depth is limited by the area reserved for the optional radio.
Lexan is used for the fairing windshield; although it isn't more scratch-resistant than ordinary plexiglass, Lexan doesn't impact-shatter. Windshield height can be altered one inch by loosening the windshield's mounting screws and sliding the shield up or down. One inch isn't much adjustment considering all human sizes, so Honda offers another windshield that's a full two inches higher.
Though not detachable (for maximum component integration), each saddlebag contains a lightweight travel bag, fitted to its interior. The bags look like oversized airline flight bags, and they have zippers across their tops. The saddlebag tops pop off for loading or unloading—each is held in by two lockable latches.
The rear trunk is removable, and rt mounts on a chromed-steel rack, suitable for carrying more awkward objects. The travel trunk's lid hinges at its front, and has a passenger backrest and a carrying handle attached.
For those fascinated with locks, the Interstate has enough to satisfy. How many? Twelve, if you include the one that allows removing the optional radio console. The travel trunk and its attachment points account for four; four are for the saddlebags; and one each serve the frame-mounted helmet holder, "shelter" lids, ignition/fork lock, and radio.
The Interstate's turn signals are different from the standard GL1100's; in front, the lamps are fairing-mounted much like the Vetter Windjammer's, but higher—and the rear signals are mounted in the saddlebags. For rear-viewing, the fairing carries large outboard mirrors, and they do excellent service, even if they are harder to adjust than conventional mirrors.
If you go hog-wild on accessories, you'll be captivated by the Interstate's optional-extra gadgets. Though designed specifically for the Interstate, these require dealer-or owner-installation. Honda assumes not everybody will want the "extras," so they aren't attached in Japan.
An accessory gauge panel mounts above the standard gauge set on the fairing dashboard. You can fill the panel with your own instruments or use Honda's: a voltmeter, air temperature gauge, altimeter, and clock. The gauge panel has pop-out holes, so you can mount any number of gauges up to four.
A sealed air temperature sensor is located directly below the headlamp. The altimeter has an adjustment ring you can set it on zero, for example, then note your altitude gain or loss from that point. But to calibrate the pointer to show correct altitude, you must knowyour altitude—try calling the nearest airport. Each accessory gauge is lighted, but the two center gauges are somewhat dimly lit, because their bulbs are shrouded by the gauges' innards.
The most interesting electrical accessory is the Clarion radio. Designed and built for Honda, this solid-state unit has light-emitting-diode readouts. In addition to its AM/FM functions, the radio has four "programmable" push-button memories for each band, so you can call up any one of eight stations.
To change frequencies manually, use either of the "up-down" buttons. Hold one in for up to a second and the readout will change one digit. Over one second, the frequency selection keeps changing until you let go; then the next station will be chosen. How soon the signal seeker "stops" depends on how strong the signal source is, and its frequency. If you're in the middle of Nevada or down visiting the Florida Keys, you may want to set the radio on its "high" setting, for extra sensitivity. In the city.
"low" range helps keep out static and "overlapping" stations. A built-in noise limi-er helps cut out bothersome interference.
The radio has an optional amplifier for use with speakers; otherwise you can only use it through helmet-headset assemblies, which Honda plans to market. Our test bike had the amplifier and speakers but no headsets. The sets will supposedly allow the use of helmet speakers and microphones for rider-passenger communication. We don't know how well these work since they were unavailable for our test; in fact they may be permanently unavailable in some states where there are laws prohibiting the wearing of headsets while operating a motor vehicle.
Stereo speakers mount on both sides of the dashboard, flanking the accessory instrument panel. They're moderately good speakers and though sound resolution is testedt when the radio's gain knob is turned past halfway, the speakers provide enough quality volume for happy listening even when you're wearing hearing protectors and a full-coverage helmet.
The radio "face" can be easily read except when in direct sunlight, and the radio pushbuttons can be used with thick or thin gloves, although winter gloves do hamper easy use of the dial knobs. Given the location of the face, the readout numbers are great. A normal bar-type tuner face would be extremely difficult to read at a single downward glance. This cleverness from Clarion must be protected, as is. The Interstate's radio control box has a separately numbered key which locks it into place on the fairing or releases it for stowage in a fairing pocket, or your pocket.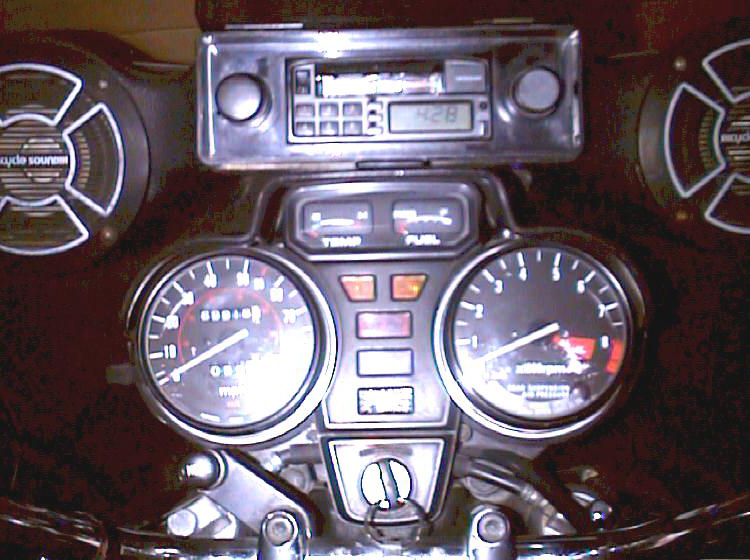 There are no official provisions for wiring up electric clothing, but these units may be hooked directly to the Honda's battery. A separate five-amp accessory terminal would be better used for a trouble light or CB radio since electric suits can draw considerably more than five amps. No cigarette lighter is provided, but not because Honda discourages smoking. They claim accessory manufacturers can under price them here, and so they leave this option for consumers to add on.
Fortunately, the 1980 Gold Wing was designed with a higher gross vehicle weight rating (GVWR) than previous 'Wings. The 1100's GVWR is 1105 pounds, and that means the 636-pound standard GL1100 can carry 469 pounds of luggage and passengers without being technically overloaded. The 739-pound Interstate can only, by virtue of its accessory equipment weight, carry 366 pounds.
Each saddlebag, and the travel trunk, is "allowed" a 20-pound load. The fairing pockets may carry five pounds apiece, according to Honda. This means you and your passenger may total 296 pounds before your loaded-to-the-maximum Interstate exceeds the manufacturer's suggested limits.
There's plenty of room inside the Honda's compartments for camping gear, sleeping bags, food and clean clothes. Two full-coverage helmets fit inside the travel trunk, although little else will with them. We found the trunk's inside tie-down straps will tear if pulled too hard; evidently they are intended for light-duty tasks.
When riding the Interstate, you receive little sensation of speed. Wind noise is reduced, you can see less roadway, and you aren't subjected to much air-buffeting. The GL1100 engine is so quiet during normal operation, you practically feel as if you're inside the motorcycle instead of on top of it.
A pair of adjustable vents are provided to duct air through the fairing and onto your midsection, but not all Cycle staff members thought the vents worked well. Air heated by the engine is swept over you; to supplement the meager duct-controlled fresh air on warm days you must stick your elbows and knees into the air stream. On cooler days, that engine heat feels good, and it's mighty welcome.
Riders taller than about five-ten will experience some wind turbulence at their heads with the stock windscreen, but shorter riders will be completely free of it. Most of Cycle's testers (ranging from five-eight to six-one) thought the GL's handlebar was a suitable height, if not a little too high. Seat height was never a problem, even for the five-eight rider; he was able to touch the ground securely with both feet— barely. Like the standard GL1100, the Interstate's saddle is adjustable 0.8-inch fore and aft of a center position—enough to properly place most riders. We still found that large hump between the rider and passenger sections to be uncomfortable, and a hindrance to adjusting our riding posture.
The Interstate is much more relaxing to ride than the already tranquilizing standard Gold Wing because the accessories reduce wind noise and turbulence. Interestingly, the Honda's front tire howls lightly at 40-45 miles per hour; this noise is probably evident only because the fairing eliminates a lot of the wind noise; it may also funnel sounds toward you.
Since the Interstate weighs a hundred pounds more than the standard GL1100, it requires a little more care in traffic and parking lots; and if you're jockeying the bike around with your feet down, you may bang your shins on the engine guards. Once moving quickly, stability is excellent, thanks to the Honda's steering and frame geometry, weight placement and perhaps one other feature: a six-pound iron weight attached in between the fork tubes. This weight, in theory, adds inertia to the steering assembly—wheel, fork and clamps— thus making the chassis more resistant to speed wobbles when its overall weight is rearward-biased. We did find that our Interstate would shake its handlebar (on trailing throttle, 40 to 20 mph) if we only held onto it lightly.
If the standard GL1100 was reluctant to negotiate corners, the Interstate is even more so. Its additional weight, unless countered by stiffer air-suspension settings, allows the bike less cornering clearance. While the gap is adequate for leisurely riding, an average rider will have the Honda's footrest "warning" knobs grinding if he corners his heavily laden Interstate a bit too smartly.
There's a warning sticker on the windshield advising not to exceed 80 miles per hour. Although that's 25 mph higher than our maximum speed limit, Honda must figure some owners will take their Interstates across national boundaries or ignore the double-nickel barrier at home. In these cases, the speed warning is to maintain motorcycle stability, not to ward off wind-broken windshields.
Both the side and centerstands support the Interstate nicely on hard ground, but stiff breezes and soft soil mean you'll be better off using the centerstand. Placing a loaded Gold Wing on its stand may take some doing, too, if you're slight of build and muscle.
We found our Interstate provided as smooth a ride as the standard GL1100 we tested in January 1980, but more suspension system air pressure was needed to gain a happy compromise. The "standard" GL rode its best, we thought, with 17 pounds per square inch pressure in its fork; 35 psi in the shocks. Around 19-20 psi was best for the Interstate fork, and 40 psi shock pressure worked well for heavy loads. The Interstate allows an almost mirror-smooth ride under a variety of conditions; this happy circumstance is due greatly to correct damping, adjustable "spring" rates and a stiction-free fork and shock absorbers.
On a mountain pass, you'll notice weight additions, yet the GL still has enough torque to keep you safely ahead of all but the most obnoxious seven-liter tailgaters. For normal riding, the Interstate's weighty additions don't detract much from its passing abilities. But, perhaps due to the noise-funneling properties of the fairing, we noticed more trailing-throttle primary-chain noise than that made by our standard GL1100. At first the noise and its accompanying vibration was alarming; with accumulating mileage the noise diminished, though it remained evident.
Due to the sedate nature of our Interstate test, the bike recorded better fuel mileage than our standard GL1100; the Interstate averaged 41.3 miles per gallon, while the plain-Jane version obtained just 37.5 mpg. Our best tankful on the Interstate was 45.7 mpg. A docile rider carrying a light load certainly would be able to sneak 50 mpg out of the Interstate, enough to let him travel well over 200 miles before refilling the 5.3-gallon fuel tank.
Both the saddlebags and the travel trunk seal with a reassuring "whoosh," indicating they are nearly watertight. And even if a little water does leak past the lids, the removable liners are very water-resistant, although not waterproof. Each fairing pocket lid seal is water-resistant too, although neither would survive a dip in a creek without leaking.
Honda makes no claims concerning the radio components' water-resistance except that they're "sealed to prevent moisture damage," and "designed for outdoor use." We suspect the speakers will stand up to anything short of a tsunami, since they are placed nearly vertical under the windscreen and protected by grills and a felt-like covering.
The radio unit is more exposed, but it too will withstand a minor bath. A major soaking will allow water to enter the removable radio unit; ours trapped moisture under its readout face. And water trapped in the multi-connector box mounted on the fairing will interfere with sound clarity. We tried displacing the water with an aerosol contact cleaner and, to our horror, saw the plastic plug base start to dissolve. A better cure for wet connections would be to blow them dry.
What happens if you drop your gear laden Gold Wing? The first items to touch ground, besides the footrests and stands, are the engine and saddlebag guards. The engine bars bend under the GL's weight, but they and the saddlebag guards will adequately protect the Interstate in a light fall. In heavier-duty crashes, the bike may roll more on its side, scraping the mirrors, fairing and saddlebags. The mirrors can swing out of the way, so they may remain altogether undamaged.
With an Interstate, maintenance costs should not rise over those for a normal GL1100, since all normal servicing can be done without disturbing the accessories. The only exception is removing the rear wheel, which is tucked away under the saddlebags and their brackets: for this service, the fee may be higher.
An Interstate, minus the optional instrument panel and gauges, radio /intercom, speakers and antenna, costs $4898. The extras, to make your Interstate fully loaded, will set you back an additional $574.60, pushing the package total to $5472.60; that's $1672.60 more than the standard Gold Wing. This may be somewhat mild in comparison to the "standard" Harley-Davidson Tour Glide and BMW R100RT ($6013 and $7195 respectively), yet it still represents a remarkable number of loan payments or traded-in silver dollar collections.
Since the Interstate costs nearly $5500, Honda dealers probably won't be overwhelmed with cash-and-carry customers. But when the serious buyers do start coming around, they won't have to stand in line; the Interstate is not a limited-edition model, and Honda feels there should be enough to go around.
You could build an Interstate using a standard GL1100 as a base, yet the best move would be to purchase an Interstate new. Building one will cost several hundred dollars more, labor not included.
What will future model years hold for the Interstate? According to sources at American Honda, you can expect to see more gadgets—gauges, perhaps a citizen's band radio and /or a tape player... Honda may as well load the Interstates up— they're strong enough to handle the hardware, so long as your pocketbook is.
Like the standard GL 1100, the Interstate offers a silky ride, abundant powerband, decent fuel economy and good supra-legal-speed stability. The Interstate fairing even helps you make the best of a tall handlebar, and allows comfortable seating in a luxurious open cockpit.
You could tour across the country on a 100cc dual-purpose bike and have fun. You could do it on a 350,550, or on a 750, though you might arrive home a little cramped or windblown. The Honda Gold Wing Interstate is made for people who take their comfort seriously, and are willing to pay for it. For long passages on gracious roads served by pleasant radio stations, we can't think of anything more splendid on two wheels.
Source Cycle 1980