Honda CBX 250 Twister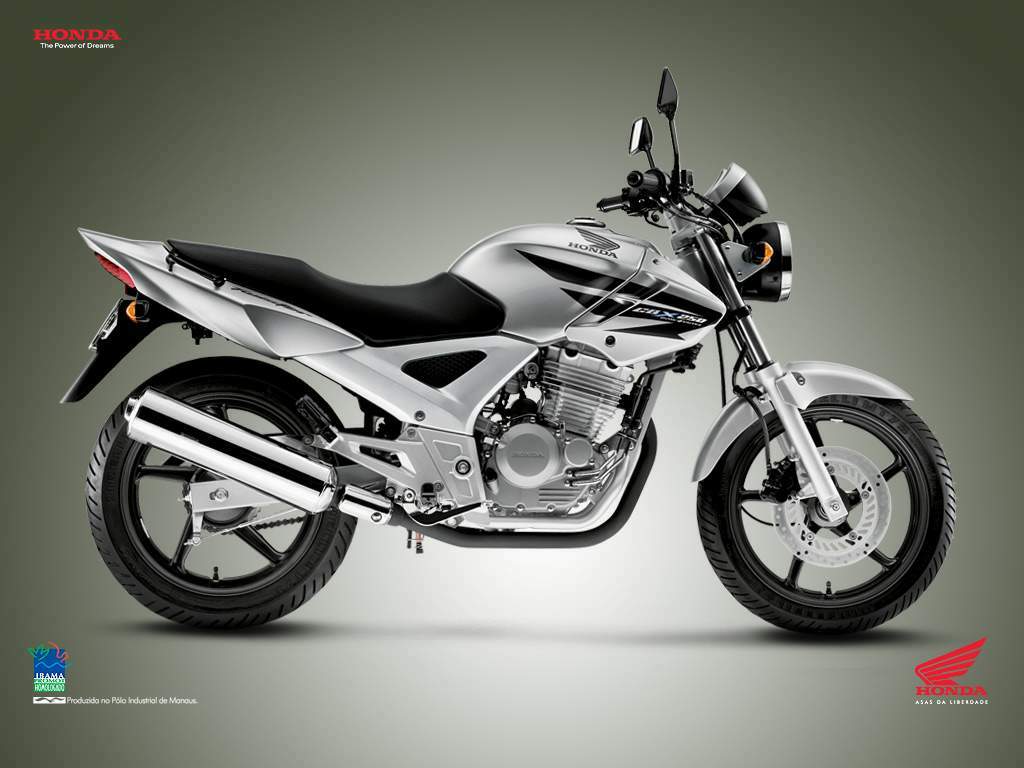 | | |
| --- | --- |
| Make Model | Honda CBX 250 Twister |
| Year | 1997- |
| Engine | Four stroke, single cylinder,, DOHC, 4 valve |
| Capacity | 249 cc / 15.2 cu-in |
| Bore x Stroke | 75 x 56.5mm |
| Cooling System | Air / oil cooled |
| Compression Ratio | 9.3:1 |
| Induction | Carburettor |
| Ignition | CDI |
| Starting | Electric |
| Max Power | 24 hp / 17.5 kW @ 8000 |
| Max Torque | 24 Nm / 17.7 lb-ft @ 6000 rpm |
| Transmission | 6 Speed |
| Final Drive | Chain |
| Front Suspension | Telescopic forks |
| Rear Suspension | Monoshock |
| Front Brakes | Single 276mm disc 2 piston caliper |
| Rear Brakes | 180mm drum |
| Front Tyre | 100/80-17 M/C 52S |
| Rear Tyre | 130/70-17 M/C 62S |
| Trail | 100 mm / 3.9 in |
| Swat Height | 760 mm / 29.9 in |
| Dry Weight | 139.7 kg / 308 lbs |
| Fuel Capacity | 16.6 Litres / 4.3 US gal |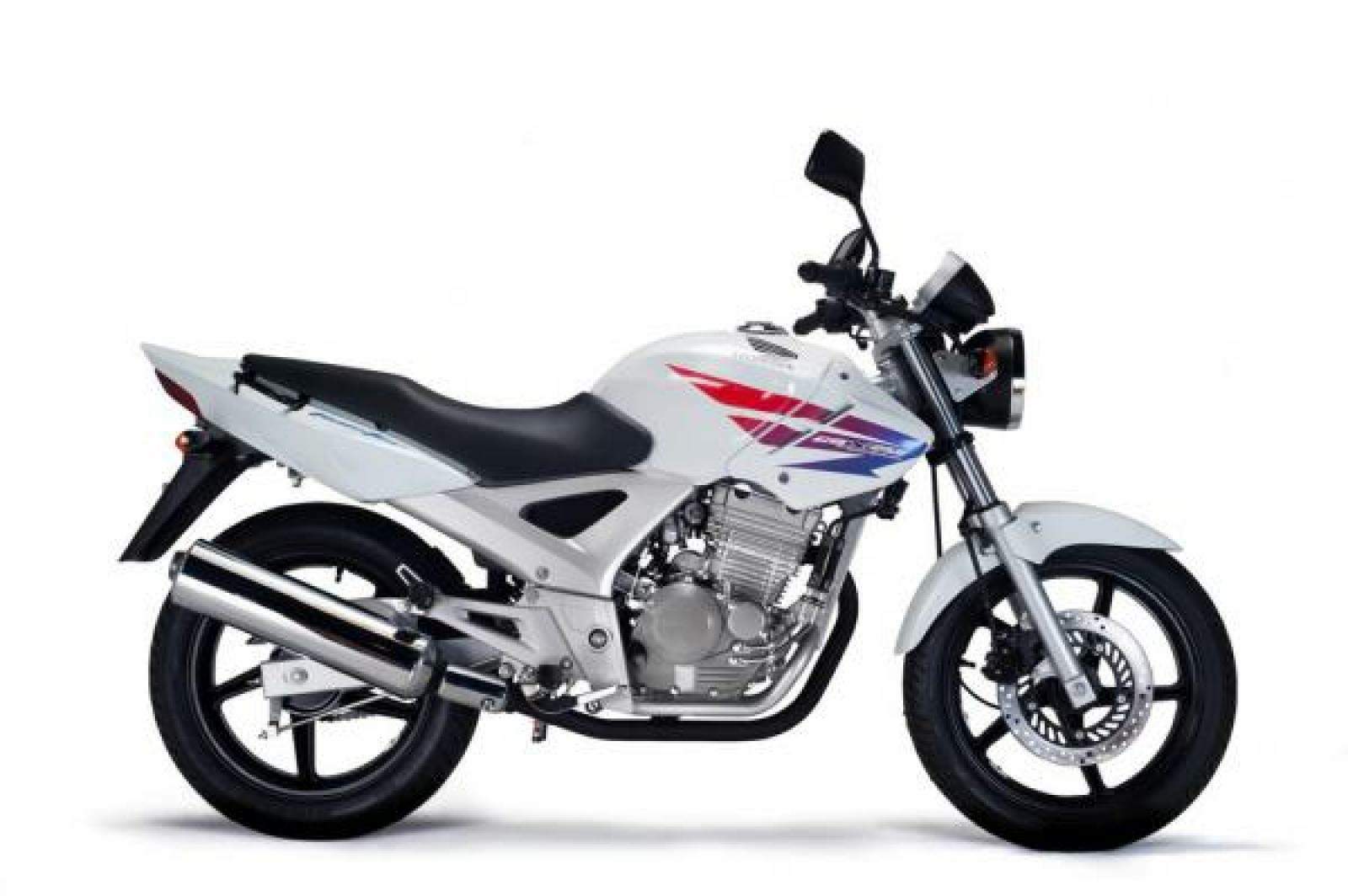 The Honda CBX 250 Twister is branded as a commuter bike, but I think it can be much more than that if you let it take you in to itís unique and special character.
However, youíll find that somewhat hard to do if youíre used to more powerful bikes because at the end of the day, it is a 250cc. For a 250cc single cylinder, performance is actually quite good, this four valve, DOHC, air & oil cooled motor as it produces 17.5kW of power at 8000rpm and 24Nm of torque at 6000rpm, surprising considering that the compression ratio is fairly low at 9.3 : 1.
The speedometer stops at Hondaís claimed top end of 160km/h but the actual GPS measured top end is 145km/h. This means that you could take it on the highway, but itís not advisable due to the sluggish acceleration above Ī 110km/h and the lack of any form of wind deflector. Thankfully the 0-100km/h is quite decent with a claimed 8.5 seconds, although Iíve noticed that from 80-100 the acceleration slows a little.
It comes with many features that some smaller bikes donít come with, such as an electric starter, a semi-digital instrument panel, and a 2 piston 240mm disc on the front. The back is stopped by a somewhat antiquated drum, but it provides enough stopping power. Optional extras can include a centre stand and heated handgrips. Technologically there is a mix of old and new, with a rear monoshock, aluminium frame, and the other aforementioned items accounting for the new; a drum brake and carburettor accounting for the old.
These features will definitely appeal to the CBXís primary market, which as said before, are mostly commuters. Although I believe there are two other categories of riders who would love this bike; newer riders, and riders who canít afford a bigger bike. Once again these extras will surely be welcome additions to such riders.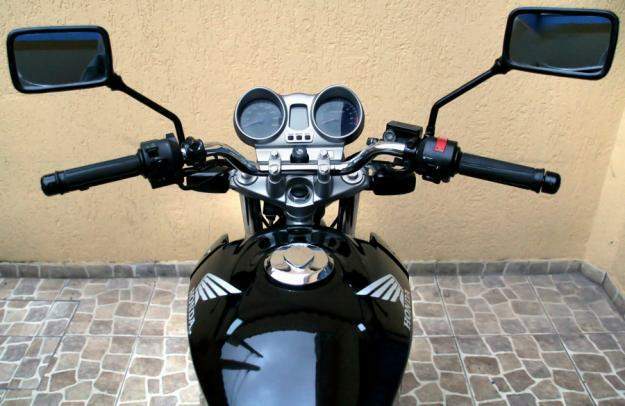 The design is that of a typical standard or naked form, without any front panels or plastic. On the sides of the tank there are small hard plastic fairings which add to the aesthetic appeal of the Honda. The seat is a single moulded piece and is quite comfortable, but it tends to make the rider sit just a bit too far forward, meaning one must make a conscious effort to sit a bit back as itís more comfortable that way. The back end is quite stunning and flows beautifully, itís a pity they didnít style the front with the same flair.
In practicality terms there are two minor issues, the first being that the side mirrors are a bit too small and sometimes require the rider to tuck in his arms in order to see properly, the other is that the seat does become uncomfortable after 50-60km of riding. Thankfully you only require a two or three minute break and you should be able to carry on.
reasonable person tries to avoid like the plague. The reason the CBX 250 is so great in these areas is due to itís naked design and 140kg weight, itís extremely narrow and on many occasions I have found myself able to lane-split between cars that many other riders had to wait for due to the tightness being like a nunís chastityÖ Okay, bad analogy but you get the point, it was tight.
This is a real traffic beater, and certainly much cheaper than armouring a bull dozer to take out your frustrations. Admittedly you end up feeling a bit smug as you ride past all the standstill traffic, but thereís one more reason why you should be; the cost. The Honda CBX 250 Twister is actually quite affordable, with low mileage 2nd hand models going for around R20 000 and you can expect to fork out R33 000 for a new one, available in either red or silver. (2010 pricing & colours)
Youíll save again in the fuel economy section because the CBX 250 is very light on fuel even if youíre having quite a bit of speedy fun when you ride. Take it easy and you can expect at best about 25-30 km/l.
I really like this bike a lot, itís nippy in traffic, light on fuel, affordable, styling is good especially around the back, and maintenance is easy. It comes with great features to make your life easier, it isnít intimidating to new riders but at the same time even more experienced riders will be able to have some fun with it.
I truly believe that anyone will be satisfied with this fantastic little bike, especially if you manage to pick one up in good nick for a bargain.
Source launchcontrol.co.za