Ossa Yankee 500Z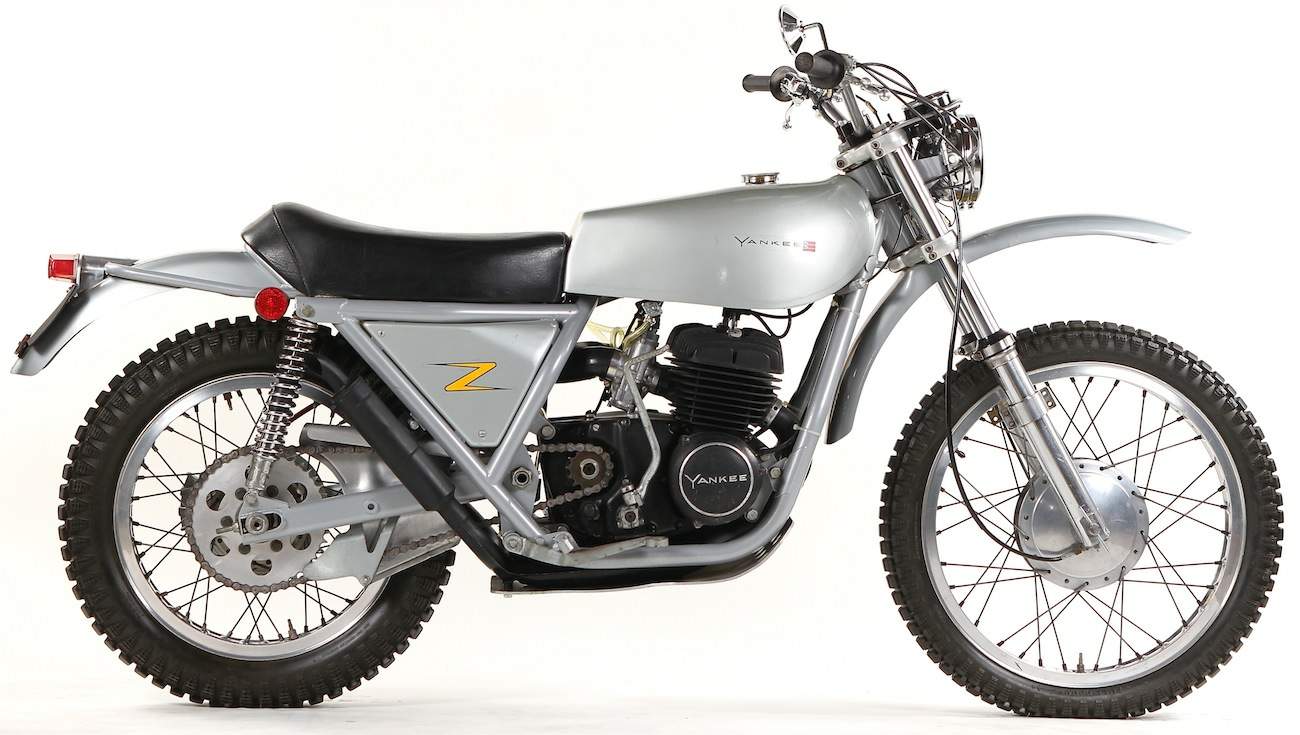 | | |
| --- | --- |
| Make Model | Ossa Yankee 500Z |
| Year | 1971 |
| Engine | Air cooled, two stroke, parallel twin, |
| Capacity | 488 |
| Bore x Stroke | 72 x 60 mm |
| Compression Ratio | 8.0:1 |
| Induction | 2x IRZ 24mm |
| Ignition / Starting | Motoplat electronic / kick |
| Max Power | 58 hp @ 7500 rpm |
| Max Torque | |
| Transmission / Drive | 6 Speed / chain |
| Front Suspension | |
| Rear Suspension | |
| Front Brakes | Single disc |
| Rear Brakes | Single disc |
| Front Tyre | 3.15 x 21 |
| Rear Tyre | 4.20 x 18 |
| Dry Weight | 158 Kg |
| Fuel Capacity | 18 Litres |
In the 1960's, John Taylor of Schenectady, New York decided to begin building in the United States, a dual-purpose motorcycle, that would not only compete with European enduro-type motorcycles, but excel by being more powerful, better built, more reliable, and faster. There were only about 760 of this model built by Yankee Motor Company back in the early '70's.
The concept for the engine had been designed by Eduardo Giró of the OSSA factory in Barcelona, Spain. The engine was actually a joining of two single-cylinder, 2 cycle, air-cooled engines into one torquey twin with a common crankshaft and cases. Although the engine was designed primarily for the roadrace courses of Europe, Eduardo wanted this engine to offer versatility for both road and dirt use. The engine could be made to fire with both pistons together, as a large single cylinder engine would and, with a relatively easy method, be made to fire with each piston taking its turn at the top of the stroke, as most twin-cylinder engines of the time did. Originally, it began with the OSSA 230 cc. engine cylinders, pistons, and crankshafts, but by the time the motorcycles were actually produced, the OSSA became a 250 cc, and therefore, the Yankee became a full 500 cc twin.
This was 1969 and OSSA was a growing force in the off-road motorcycle market. Yankee Motor Company imported the OSSA moto-cross and enduro models, seeing great growth in those years, 1968-71. With the help of dirt-track expert, Dick Mann, the OSSA's were more than competitive in the 1/4 mile short track races of the time. This success spawned the production of the DMR, the Dick Mann Replica, a highly tuned 250 cc OSSA engine set in a special frame totally manufactured in the Schenectady facility. This run of 250's was a trial for the soon-to-be 500 cc Yankee Z motorcycle.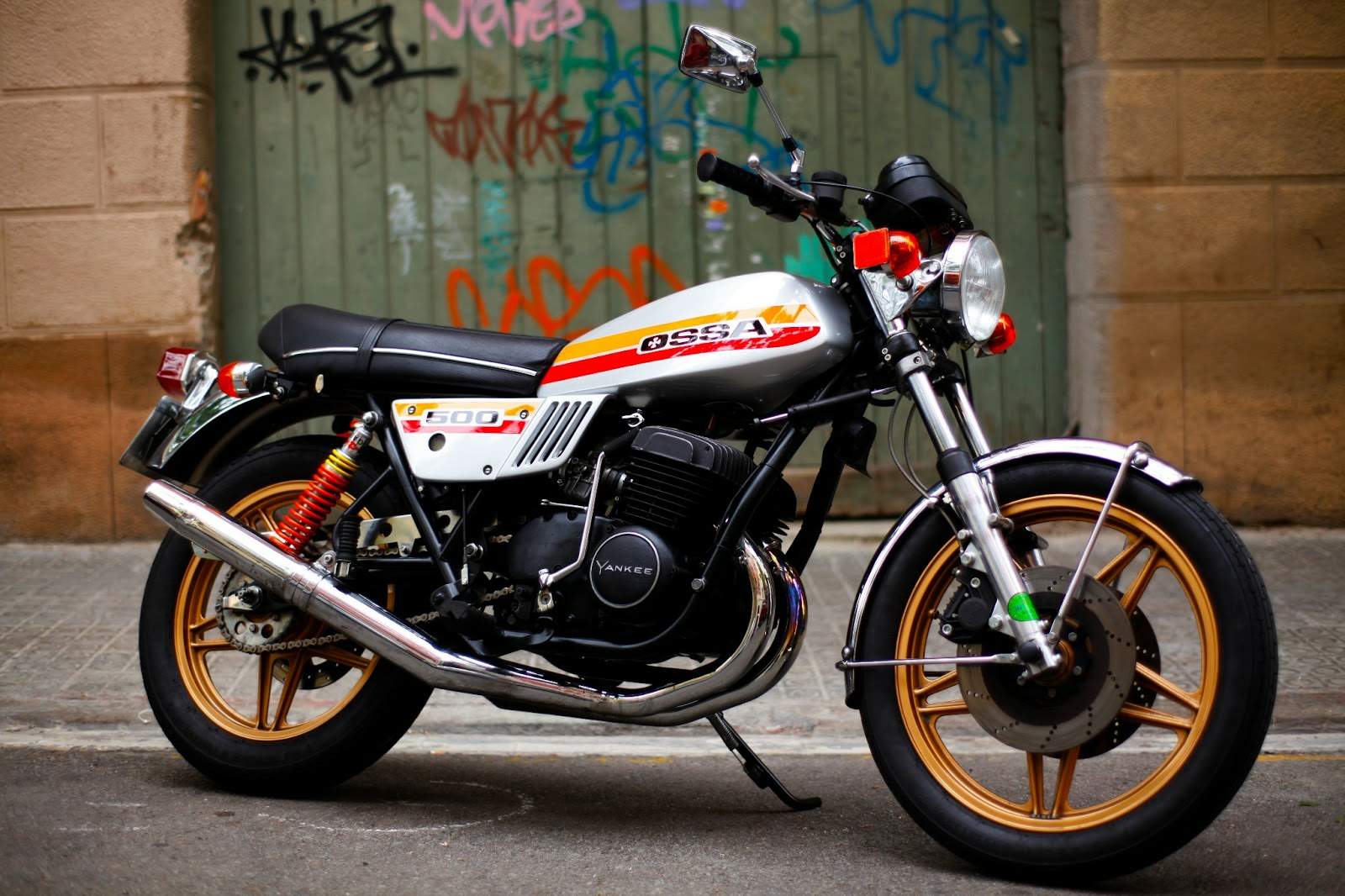 Delays in production were eventually the Yankee's downfall, as lighter, more reliable motorcycles made their way into the American market. By the time the first Yankees rolled off the assembly line in 1971, the weight differences were large enough to make the serious enduro rider shy from owning the Yankee.
The Yankee did offer some new and innovative ideas to motorcycling at the time. It was the first production motorcycle to have a rear disk brake system. The Yankee had a 6-speed gearbox with the option to lock out low gear so the motorcycle would comply with the AMA racing rules of the time. It had stainless steel handlebars and a strong, light frame which was made from chrome-moly tubing with the oval swingarm being totally new to motorcycling. The forged aluminum fork crowns were produced by the gun-making Smith and Wesson Company of Springfield, Massachusetts. A quick-release seat and large air filter system was a plus for the serious dirt riders of the time.
Source and more info yankeetwin.com