Make Model

Aprilia RSV 1000 Mille R

Year

2002

Engine

Four stroke, longitudinal 60░V twin, DOHC, 4 valves per cylinder

Capacity

997.6 cc / 60.9 cu-in

Bore x Stroke

97 x 67.5 mm
Cooling System
Liquid cooled

Compression Ratio

11.8:1

Lubrication
Dry sump

Induction

Integrated electronic engine management system. Indirect multipoint electronic injection. Throttle body ě57mm.

Ignition

Digital electronic with one spark plugs per cylinder
Spark Plug
NGK, DCP R9E
Starting
Electric

Max Power

101.3 kW /137.7 hp @ 9500 rpm

Max Torque

107 Nm / 10.91 kg-m / 78.9 lb-ft @ 5500 rpm
Clutch
Multiple disk in oil bath with patented PPC Claimed Horsepower: -assisted hydraulic control.

Transmission

6 Speed
Final Drive
Chain, 40/16 (2.5)
Primary Drive Ratio
60:31 (1.935)
Gear Ratio
1st 34:15 (2.27) / 2nd 31:19 (1.63) / 3rd 26:20 (1.3) / 4th 24:22 (1.091) / 5th 24:25 (0.96) / 6th 23:26 (0.88)
Frame
Box section sloping twin-spar aluminium alloy frame, two-chamber adjustable Ohlins Racing steering damper with one-piece mounting.

Front Suspension

Ohlins ě43 mm upside-down fork with adjustable compression rebound and preload

Front Wheel Travel
120 mm / 4.7 in

Rear Suspension

Aluminium alloy double banana swing arm, APS progressive system linkage. Ohlins hydraulic shock-absorber with adjustable rebound, compression, preload and length

Rear Wheel Travel
133 mm / 5.2 in

Front Brakes

2 x ě320 mm discs, 4 piston calipers

Rear Brakes

Single ě220 mm disc, 2 piston caliper

Front Tyre

120/70

ZR17

Rear Tyre

190/50

ZR17
Rake
25░
Trail

102

mm / 4.0 in

Dimensions
Length: 2035 mm / 80.1 in
Width: 730 mm / 28.7 in
Height: 1145 mm / 45.1 in
Wheelbase
1418 mm / 55.8 in
Seat Height
810 mm / 31.9 in

Dry Weight

189 Kg

/ 416.6 lbs

Fuel Capacity

18 Litres / 4.7 US gal

Reserve
4 L / 1.1 US gal

Standing ╝ Mile

10.7 sec
Acceleration 60-140 km/h
10.2 sec
Top Speed
278.0 km/h / 172.74 mph
Heading out to Fontana for the double-header weekend of AMA racing, deciding which bike to ride out on was a no-brainer. Sure, there was a stable full of the latest Open Class Sportbikes, but a few days prior, something terrible happened.
The day we planned to head out to the drag strip for the final part of our Open Sportbike Shootout, Aprilia's marketing coordinator Robert Pandya winged his way into town. Initially, he was just going to drop off the bike, make nice with us MO boys, and then head back off to do something more important. As it turned out, however, Signore Pandya had some free time and decided to accompany us on our trek over the mountains, through the woods and out to Los Angeles County Raceway that evening. And he was bringing his Mille R with him, with us still mid-flog on our in-line fours, myself on the 954, Johnny Bee on his beloved R1.
We all met up (except for young Calvin and the GSX-R who would meet us later at the drag strip) at the base of the 'Crest at a tidy little lunch spot. And after a Sun Valley version of Italian cuisine and a half hearted attempt by yours truly to make nice with a not-so-nice waitress, we were off.
Sitting under yon pine tree, the bright yellow Aprilia made its presence known. That too-bright shade accented by flat black touches and some bright reddish-pinkish coloring on the fairing lowers sure looks mahvelous, even from a distance. Up close and personal with the bike, however, it's the details that catch your eye and you pretty much ignore the bright surroundings. Carbon fiber rear fender? Check. Carbon fiber fairing louvers? Yup. There's a c-f dash panel and front fender too, and it's all the real deal. None of that fake stuff here. And that's pretty much how the whole bike is, really.
Up front, a closer inspection of things reveals that the forks aren't just gold-colored on some artistic whim, they're from Íhlins. The shock is too, by the way, and it sits just in front of a swingarm that seems fit to be a structural member of a suspension bridge some place. It's a beautiful aluminum piece, part polished and part flat, with the chain running through a cut-out in its starboard side. The Plain Jane version of the Mille uses the same swingarm though, so I guess seeing it on the R isn't as eye-catching as the Íhlins bits that replace the Showa stuff of the basic version.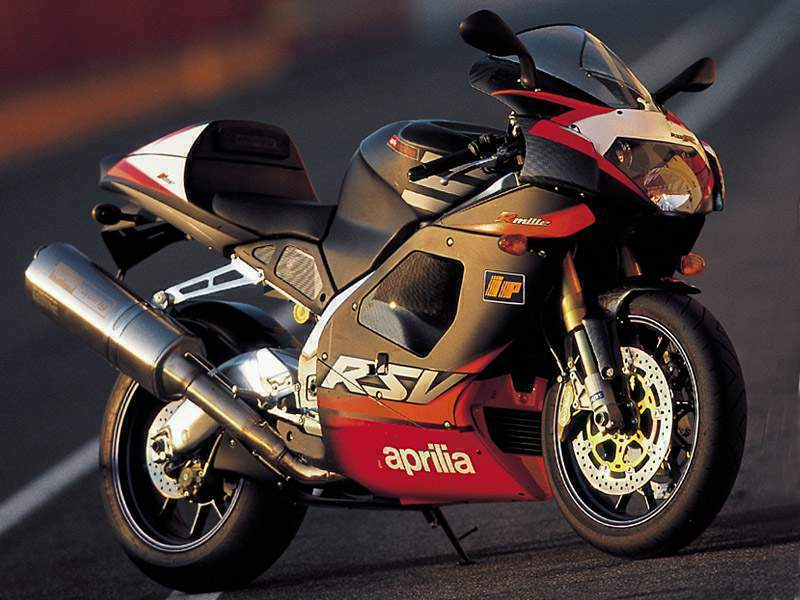 Also sourced from the pages of an Íhlins catalog is the steering damper, which you notice peeking up from you every time you check the bike's rather confusing five-buttoned instrument panel (though there is a cool lap-timer in there somewhere), mounted just above and in front of the lower triple-clamp. Reducing unsprung weight hanging from the up-rated suspension is a set of very cool blue OZ Racing wheels. They're forged aluminum, wrapped with Pirelli Dragons and replace the stock cast pieces, the package providing a weight savings of 25-percent. And it's these high-dollar detail bits that add a few bucks to the price of your plain ol' vanilla Mille. Though I guess calling the fundamental makings of a World Superbike title contender "vanilla" really is selling things a bit short.
After a few moments spent blabbering on about the bits that make up the Mille R, I not-so-subtley suggested Pandya have a go on one of the other bikes on hand. He'd always been a fan of the in-line stuff, so it was an easy coup, though I had to jump ahead of John to get the Aprilia's key before he did. And so, fired up, Aerostiched up and basically fed-up with mindless yammering, we were off. After only a few miles of less-than straight roads, I remembered why the standard version of this bike won our last Open Twins Shootout: it's such a fundamentally sound machine, and it's terribly easy to ride, too.
Over the course of the last few weeks, we've once again fallen in love with big-bore sportbikes. You can do anything on them, go anywhere in reasonable comfort and they're impossibly fast and can make up for a huge talent deficit if you take some time to hone your point and shoot technique. Riding the Aprilia, however, is no point-and-shooter as it's carrying around the same weight as our open bikes while producing nearly 30 horses less. The 998 cubic centimeter motor of this Mille-R sure seems decent enough, though it's the same unit that the standard Mille uses, right down to the fuel/air mapping and exhaust canister.
Riding
the
bike
into
the
mountains
I
expected
to
be
left
for
dead
as
the
two
other
boys
left
me
behind,
their
right
wrists
locked
in
their
full,
upright
position.
Thankfully,
I
thought,
the
pace
was
only
sporting
and
not
yet
hell-bent
like
I
had
expected.
I
was
content
to
sit
back
and
enjoy
the
bike's
excellent
wind
protection
and
impossibly
narrow
feel
while
we
just
cruised
along.
Between
the
knees
the
Mille
seems
no
wider
than
a
kid's
shoe-box
thanks
to
the
beautifully
sculpted
4.8
gallon
fuel
tank.
And
the
motor,
though
not
over-whelmingly
powerful,
is
very
smooth
for
a
60-degree
twin,
thanks
to
what
Aprilia
calls
AVDC,
which
stands
for
"anti-vibration
double
countershaft."
And
the
transmission's
about
as
smooth
as
I
can
remember
on
any
other
twin,
too.
When we came to a route change and swapped bikes, I was forced to give up the Mille to John. I took back the reigns of our Honda while Pandya-san played with Yamaha's finest. And, shock of all shockers, with his favorite canyon in sight, Burnsie decided he too can win a World Superbike title on the Mille-R.

So up we go, me chasing the hell out of John, both of us being ungracious guests to the Aprilia man whose sanity gets the better of him (okay, and it's his first time in our backyard sand box). As the two of us sped off, leaving him behind, I didn't think we were pushing that hard. Then I realized that, yes, we're moving right along, and the Yamaha's rear Pirelli Supercorsa isn't all that warm yet. It's just spun off the second tight corner in a row, and John's still ahead of me. A few corners later, the tire's warmer, but so is John, and when we reach the summit he's still ahead.
When we pulled to a stop, as I dismounted and removed my helmet, John sat still atop the Aprilia, then slowly turned his head towards me. He said something about "just when you think you've been riding the best bikes on earth you ride something even better." But I wasn't paying attention, really. I just wanted to know how he was able to get 30 horsepower more from the bike than I'd been able to extract only 30 minutes prior.
What it is, you see, is what all the factory Superbike and, we recently learned, the Formula Xtreme guys always talk about. It's not just the amount of power, they say, it's the type of power. Wonder why there's all the fuss over four-strokes as a platform for GP racing? Same deal. It's the type of power the bikes make, and this Aprilia, it seems, makes the very usable type and it little matters where the tach needle points. And it doesn't hurt that the bike's chassis is such a brilliant performer, either.
or those of you who have suffered through years of stock suspension, we will pray for you because, really, you have no idea how good this Íhlins stuff feels. If you are a sick individual whose pornography is made up of stanchions, seals and stacked shims, here's your swinger's club. In the twisties, the stuff works to keep the Mille superbly balanced on or off the brakes, mid-corner or on the throttle exiting a bend. Nothing short of a giant cedar strewn across the road upsets the chassis. Even on the freeway, where a sportbike rarely shines, I could see myself doing some serious miles on this thing. I thought to myself on more than one occasion, why don't touring rigs use Íhlins? Surely old folks appreciate a smooth ride, too.

The only thing keeping me from an Iron Butt trophy (really, it's the only thing) is the seating position. Though the seat is very nicely shaped and padded, the reach to the bars is a long one even with my long arms and not-so-petite 6'2" frame. In the twisties and on the race track, where this Aprilia is designed to live, the position makes sense. It puts emphasis on front tire feedback and gets you into a nice little sporting tuck. It also gets my wrists sore after a 40-mile commute down the 405 freeway, lane-splitting below 20 miles per hour most of the way. There's no stress on the gams though, as the pegs are placed in a reasonable position, and the foot controls feature trick little eccentric adjusters to tailor the bike to your particular tastes. Even the clutch lever, brake lever and Íhlins steering damper feature little knobs for you to twist to suit.
The beautiful thing about this latest Mille-R, however, is that there's so little fiddling that needs to be done to the bike. In fact, aside from a minor suspension tweak we made after just the first few miles of twisties (the previous magazine tester had the shock's compression and rebound damping backed all the way out), we haven't touched a thing. In fact, we don't plan on touching a thing, except for the exhaust, of course. Ol' Pandya is sending off a pipe and chip to wake things up a bit, power and neighbors, both.

No sir, in the meantime, we'll continue to ride the snot out of this Mille until we get it on track for a little thing we're doing pretty soon called the Open Twins Shootout wherein the fabulous Mille-R will see some stiff competition in the form of a Ducati 998 and an RC51. Until then, however, we're practicing for the next round of the World Superbike Championship - and the Iron Butt Rally - and I think with the Mille-R beneath us we've got a legitimate shot at both.
Source Motorcle.com