Paton 500 1976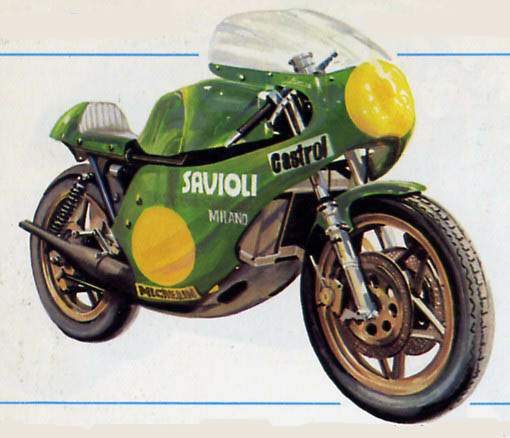 There was talk of the Paton two-stroke in mid-1975. That year Walter Villa was monopolizing races in the 250 class with the Harley-Davidson. Giuseppe Pattoni had been thinking of replacing his fine two-cylinder 500 four-stroke with a more competitive motorcycle. Knowing that separate parts of the Harley-Davidson engine were sold on the open market, Pattoni saw no reason to build a new engine from scratch. He decided to save time and energy by using parts of Villa's engine as far as possible.
Pattoni set out to build a four-cylinder, two-stroke engine in which the cylinders were arranged in alternating V form and frontally in line, with the two outer cylinders forward and the two inner ones back. This made it possible for him to use the Harley-Davidson racing cylinders and rod system and only build a crank-case for them. For the transmission Pattoni turned to the Harley-Davidson 350 racer, and for the chassis he turned to Bimota.
The new Paton 500 made its debut in 1976 driven by Virginio Ferrari. The first track trials were not altogether satisfactory, so Pattoni took the vehicle back to the plant. It reappeared later in the year with a new Segoni chassis and an improved engine. Mimmo Cazzaniga raced the Paton 500 at Mugello and then went back to Milan to await the 1977 season.
Motorcycle: Paton 500 Four-cylinder Manufacturer: Giuseppe Pattoni, Milan Type: Racing Year: 1976
Engine: Paton four-cylinder alternating V, two-stroke, with cross-port distribution. Displacement 492.6 cc. (56 mm. x 50 mm.)
Cooling: Water
Transmission: Six-speed block Power: 95 h.p. at 11,300 r.p.m. Maximum speed: Not tested Chassis: Single bar above, wide tube.
Front and rear, telescopic suspension Brakes: Front, double hydraulic disk;
rear, hydraulic disk