Yamaha FJR 1300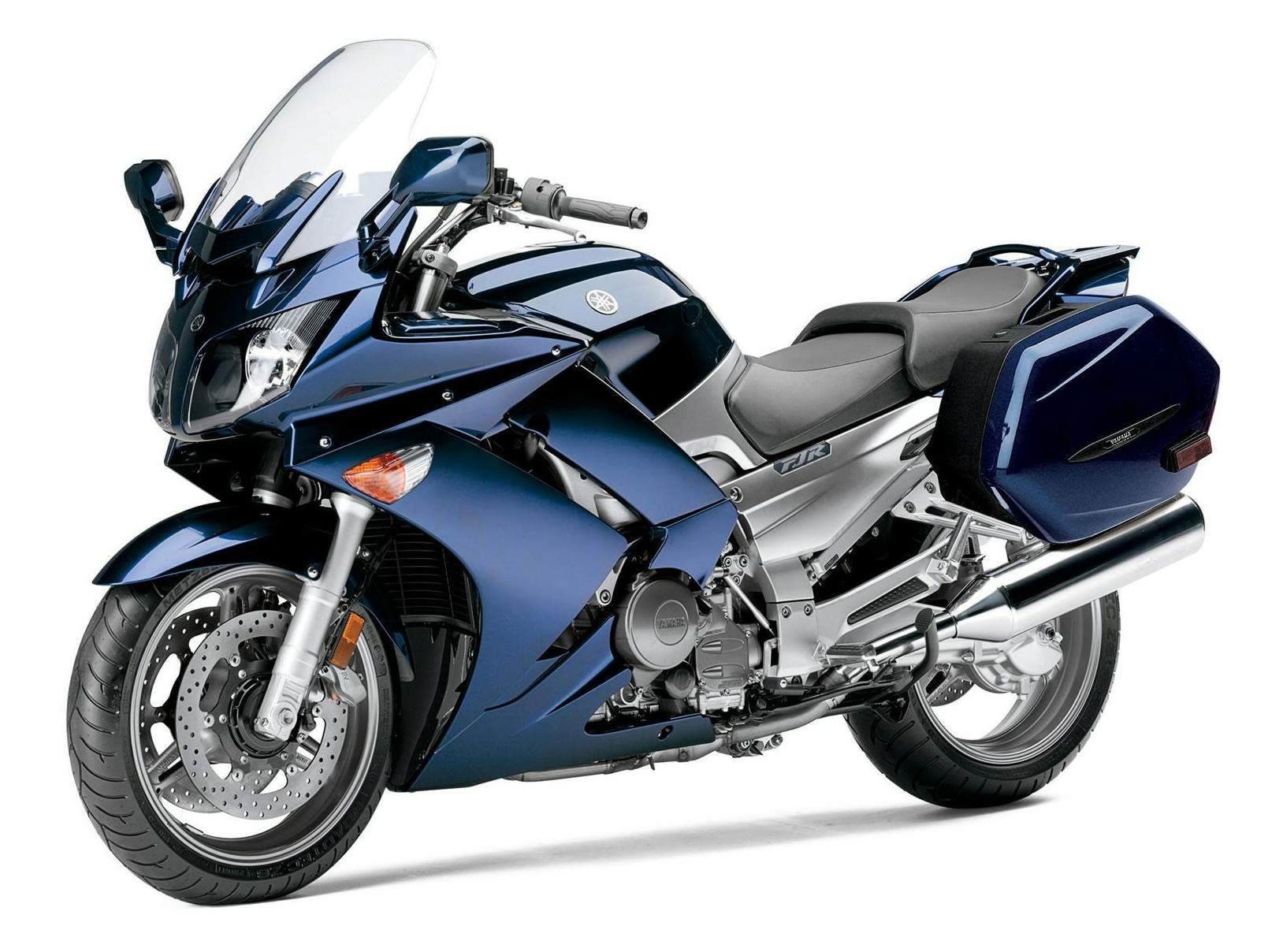 Make Model

Yamaha FJR 1300 / A

Year

2012

Engine

Four stroke, transverse four cylinder, DOHC, 4 valves per cylinder.

Capacity

1298 cc / 79.2 cu-in

Bore x Stroke

79 x 66.2 mm

Compression Ratio

10.8:1
Cooling System
Liquid cooled
Lubrication
Wet sump

Induction

Electronic Fuel Injection
Engine Oil
Synthetic, 20W/40

Ignition

TCI (Transistor Controlled Ignition)
Spark Plug
NGK, CR8E
Starting
Electric

Max Power

145 hp / 105.7 kW @ 8500 rpm

Max Torque

125 Nm / 13.7kgf-m @ 6000 rpm
Clutch
Wet, multiple discs, cable operated

Transmission

5 Speed
Final Drive
Shaft
Frame
Aluminium, twin spar

Front Suspension

48mm upside-down telescopic fork w/adjustable preload, compression and rebound damping
Front Wheel Travel
137 mm / 5.3 in

Rear Suspension

Single shock, link-type, w/adjustable preload and rebound damping
Rear Wheel Travel
129 mm / 4.9 in

Front Brakes

2x 320mm discs 4 piston calipers

Rear Brakes

Single 283mm disc 2 piston caliper

Front Tyre

120/70 ZR17

Rear Tyre

180/55 ZR17
Dimensions

Length 2230 mm / 87.8 in.

Width 749.3 mm / 29.5 in.

Height 1455 mm / 57.3 in.

Wheelbase
1544.3 mm / 60.8 in
Ground Clearance
130 mm / 5.1 in.
Rake
26.0°
Trail
102 mm / 4.3 in.
Seat Height
805 mm - 825.5 mm / 31.7 in - 32.5 in.

Dry Weight

264 kg / 582 lbs
Wet Weight
292 kg / 644 lbs

Fuel Capacity

25 Liters / 6.6 gal

Standing ¼ Mile

11.4 sec

Top Speed

244.9 km/h / 152.1 mph
We put the sport in sport touring.

With plenty of ponies on tap, a lightweight aluminium frame and incredible stopping power, the 2012 Yamaha FJR1300 puts the sports into sport touring. But we have not forgotten about rider comfort either. Excellent ergonomics, a stylish weather beating fairing and the peace of mind ABS will have the miles disappearing in the mirrors... rapidly.

For those riders who still prefer a serious dose of power, comfort and handling in their sport touring machine, the FJR1300 is the perfect choice.
Featuring an electrically adjustable windshield, air management to keep things cool and sporty handling, you'll soon discover why the FJR1300 is one of the world's premier sport touring machines.

An advanced touring motorcycle that treats you to a powerful, ultra-smooth ride all day long.inish and sophistication that would look at home on an expensive touring car.

This supersport touring bike, boasts standard ABS and adjustable ergonomics that widens the gap between it and common sport tourers more htan ever. Deep, smooth power that sends you down the road like a flat rock skimming a smooth lake, it features a perfectly tuned chassis that bends gracefully into corners and powerful brakes with advanced ABS that bring you to a confident stop in all kinds of weather. And with features like heated grips, adjustable windscreen and much more, there's nothing more you could ever want or need.

Yamaha FJR1300 Highlights and Key Features:

Fuel Consumption ± 17kpl/47mpg(Imp)

ABS Brakes

Advanced air management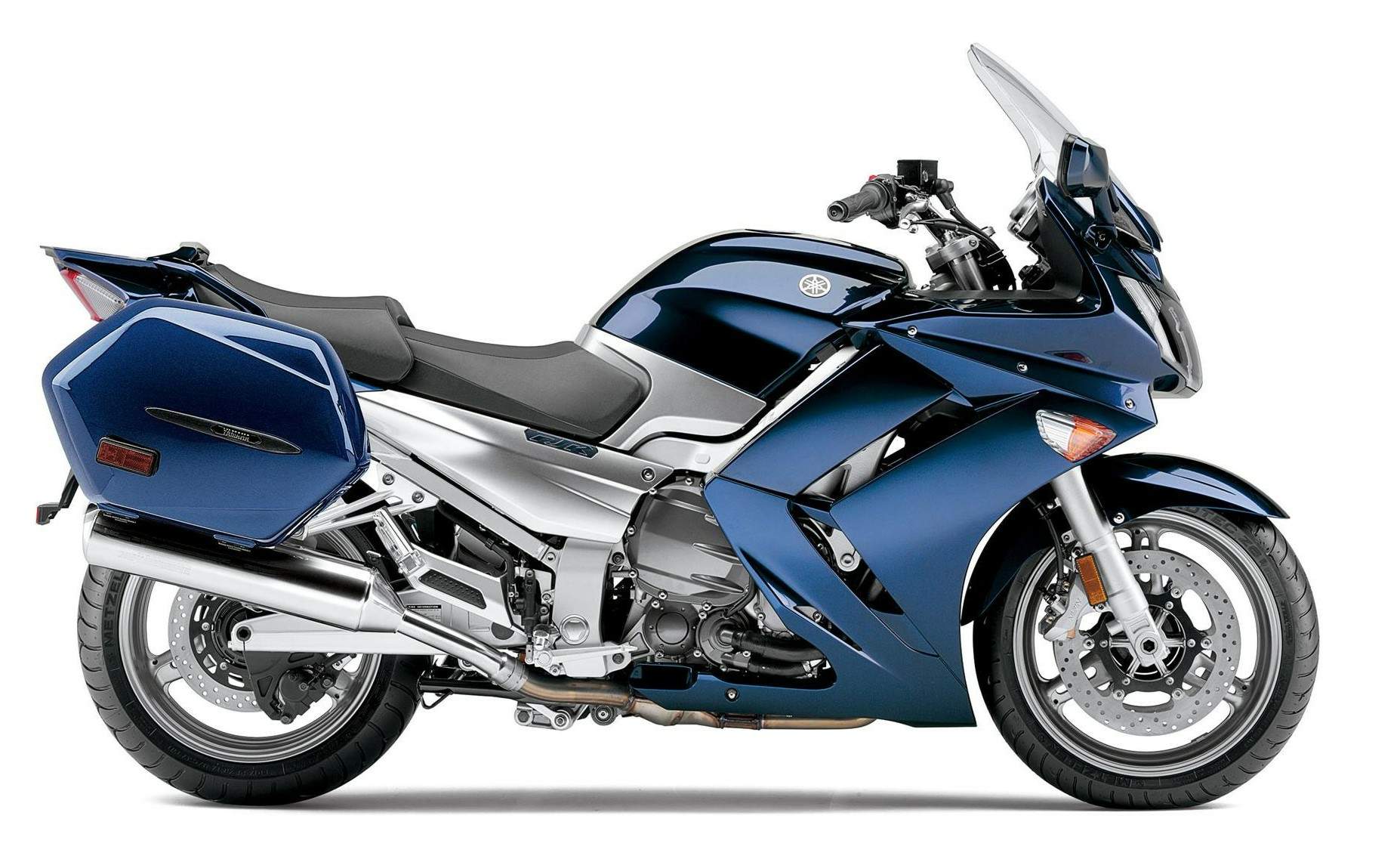 Key Features:

•Heated grips are standard equipment on the FJR1300A - adding more convenience for riders.

•A light-and-rigid aluminum frame, sportbike running gear and standard hard sidebags go beautifully together.

•Pushbutton adjustable windscreen and a thick comfy seat for two are perfect for comfortable, long-distance riding.

•The world's first supersport touring bike boasts standard ABS and adjustable ergonomics—that widen the gap between it and common sport tourers to a gaping chasm.

•Advanced air management system and adjustable bodywork keep the FJR rider looking and feeling cool.

•Instrument panel contains an electronic analog speedometer and tachometer; LCD digital odometer, dual tripmeters, gear position indicator, fuel, coolant and air temperature gauges, and clock; lights for neutral, high beam, turn signals, low oil and engine warnings—as well as real-time mileage, average mileage and air temperature.

•Adjustable ergonomics: the seat can be adjusted up or down by nearly an inch, and handlebar pullback angle is three-position adjustable over a half-inch range.

•Standard equipment Unified Braking System w/ABS: The front brake lever activates six of the eight front braking pistons; the rear brake pedal activates two rear pistons and the other two front pistons—provides balanced anti-lock braking in all conditions.

Yamaha FJR1300 Features and Benefits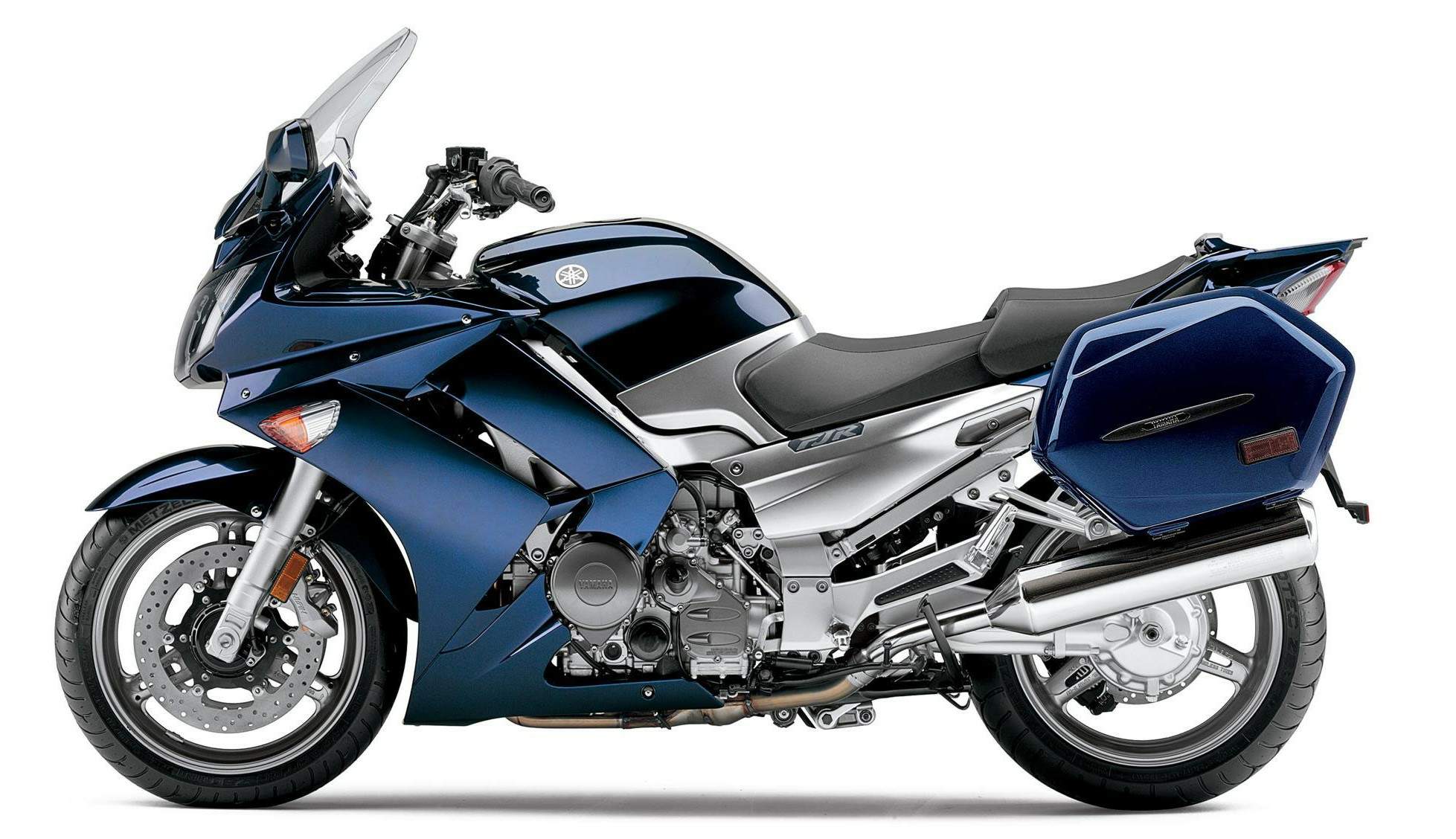 ENGINE

1298 cc / 79.2 cu-incc, DOHC, 16-valve, liquid-cooled in-line four engine delivers serious power and torque (99.1 ft-lbs of torque @ 7000 rpm) for an unequalled spread of muscle over a wide RPM range. Red line is a surprisingly low 9,000 rpm for extended engine life.

Engine is a fully stressed chassis member, allowing for a lightweight yet rigid frame design for excellent handling.

One-piece cylinder and upper crankcase assembly provides tremendous engine rigidity that's lighter and stiffer than two-piece designs.

Specially designed four-valve per cylinder head features compact, side-driven double-overhead camshafts providing outstanding low to mid rpm torque and horsepower for effortless sport touring and great passing power.

Specially designed high lift intake and exhaust cams provide excellent torque and power characteristics well suited to sport touring.

Ceramic composite cylinder "bores" are a "liner less" design with the ceramic coating applied directly to the aluminium block to ensure uniform heat dissipation for consistent power delivery, reduced oil consumption, reduced friction and reduced weight.

High performance, short skirt, forged aluminium pistons are light weight for fast throttle response and also reduce reciprocating mass for less mechanical vibration. Compression ratio is 10.8:1

Specially designed, low-vibration crankshaft features two gear-driven secondary counterbalancers delivering a smooth ride, which enhances both rider and passenger comfort.

The crank uses carburized connecting rods for excellent strength and durability. Carburizing is a heat treating process that increases the carbon content on the outer surface of the rod increasing its strength and durability.

Automatic cam chain tensioner reduces both maintenance and engine mechanical noise.

Advanced electronic fuel injection (EFI) system is ideal for long-distance sport-touring. The 42mm throttle body fuel injection system with 4-hole Nippon injectors delivers crisp, seamless throttle response regardless of weather or altitude. This is a closed loop fuel injection system, with an oxygen sensor that monitors the amount of oxygen in the spent exhaust gases and adjusts the fuel -air mixture via the ECU and FI system for maximum performance with minimum emissions. The benefits of fuel injection include choke-free starting, steady idling during warm up, excellent fuel economy, and reduced emissions. The oxygen sensor is located before the mufflers, so the use of slip-on mufflers will not affect this system.

Heated oxygen sensor provides precise fuel - air ratio information to the fuel injection system to reduce emissions even further, especially at lower engine temperatures.

Compact engine design uses a stacked "Tri-Axis" transmission (transmission shafts are stacked to minimize powerplant size front to back). The stacked design reduces engine length and centralizes mass, thereby allowing the engineers the ability to place the engine in the "sweet spot" of the frame for optimized front and rear weight distribution which provides excellent handling characteristics.

Wide ratio 5-speed transmission utilizes widely spaced gear ratios delivering relaxed long-distance sport touring performance combined with seamless acceleration.

Special scissors-type primary driven gear helps prevent drive train backlash and significantly reduces transmission noise for great rider comfort.

Light-action hydraulic clutch provides smooth, effortless shifting, minimizing both rider fatigue and maintenance. Shift shaft features a needle-roller bearing to reduce friction for silky-smooth shifting.

Clean, quiet shaft drive system is super-durable and low maintenance. This system features mechanical cam dampers in the drive pinion for quieter, smoother power delivery to the rear wheel.

4-into-1-into-2 stainless steel exhaust optimizes engine performance across the power band and utilizes four, three-way catalytic converters to reduce emissions. Two are located in the junction "box" under the engine and one in each muffler. Combined with the Air Induction System (AIS), the FJR1300 is one of the cleanest-running large-capacity motorcycle engines ever built.

Curved radiator uses twin ring-type fans for great heat dissipation and to aid in moving the hot air out of the cowl area for optimized air management and less heat to the rider. Ring type fans "pull" more air than a conventional type fan.

Easy-access cartridge-type spin-on oil filter makes oil changes a snap.

High capacity oil filter and large volume of engine oil (5 liters ) provides extended service intervals between oil changes.

Excessive lean angle cut-out switch prevents the engine from running in the event of a tip over. The switch will activate at 70 degrees.

CHASSIS / SUSPENSION

Cast aluminium twin spar, diamond-type frame, features massive twin spars. This frame design is incredibly light and extremely rigid, the perfect combination for sharp, sport bike-like handling.

Fully detachable aluminium rear sub frame helps reduce weight while permitting easier rear shock access/maintenance.

Lightweight, cast aluminium swingarm. The special swingarm design incorporates the shaft drive into its left side to reduce unsprung weight for incredible handling and suspension performance.

Key chassis geometry figures include: caster angle = 26 degrees and trail of 109mm.

Fully adjustable 48mm cartridge-style forks offer 135mm (5.4") of wheel travel. The adjustable design allows the rider to tailor suspension settings to match rider weight, load and road conditions. Fork adjustments include: 6 - way spring preload, 21 - way compression damping and 17 - way rebound damping.

Adjustable link Monocross rear suspension with 125mm (4.8") of wheel travel features a handy, two-stage (hard/soft) spring preload adjustment lever that allows the rider to easily switch between solo and two-up preload settings. Other rear shock adjustments include: 18 - way rebound damping.

Dual 320mm front discs are squeezed by Nissin 4-piston calipers with independent brake pads for each piston. Computer controlled ABS is standard on the FJR1300.

282mm rear disc brake with opposed piston caliper provide outstanding stopping power. The caliper is mounted on the swingarm to reduce torque action for superior suspension and handling performance. The rear brake ABS system is also computer controlled.

The ABS or Anti Lock Braking System features a linear controlled 3 position system. The controlling ECU and the hydraulic unit are combined into a single compact unit that allows for mass centralization. When the ABS system senses impending wheel, lock-up via active type wheel sensors, the system regulates the hydraulic press to the point just before the wheel or wheels lock-up. The benefit of ABS is excellent control under hard braking or when braking on wet, slippery or loose surfaces. The ABS system helps prevents wheel lock up.

Unified braking system with computer controlled ABS. When the front brake is applied it activates 6 of the 8 front caliper pistons (all four LHS front pistons are activated, while only the "upper" two pistons on the RHS front caliper are activated). When applying the rear brake, both rear pistons activate and 2 front pistons activate (both rear caliper pistons are activated plus the two lower pistons on the front RHS

Lightweight cast-aluminium 3-spoke wheels are fitted with 120/70ZR17 front and 180/55ZR17 rear radial tires perfectly suited to both spirited solo riding or long-range trekking.

Adjustable handlebars offer three positions of adjustability. From the centre position, the bars can be adjusted 5.5 mm forward or 5.5mm back towards the rider. Total adjustment range is 11mm.

Adjustable, two-piece seat features an adjustment range of 20mm (0.8") for the rider portion of the seat. There are two steps of adjustment via specially designed eccentric rubbers. Different foam densities for the front and rear sections, ensure plush comfort for both rider and passenger.

Stylish yet aerodynamic full fairing provides excellent wind and weather protection. Air flow management has been optimized to reduce the amount of heat that flows to the rider. There are vents on the outside of each headlight to allow cool air into the cockpit and fuel tank areas. There is also a fresh air vent below the instrument assembly.

Middle cowl features a 2 - position adjustable visor / vent. The adjustment range is 30mm via quick turn fasteners. The rider can adjust these vents (30 mm or 1.2" range) to allow more or less air toward the rider's hip and leg area.

Small item storage compartment is located in the upper left side of the fairing. Inside this compartment is a 12 volt 30 watt DC power outlet for added convenience. The lid can be opened when the ignition is turned on. Its 1 litre capacity is perfect for small items such as cell phone, wallet, garage door opener etc.

Super convenient push button operated electrically adjustable windscreen. The windshield features a fresh air duct at the bottom to reduce the vacuum tendency (negative pressure) in the cockpit area. The range of height adjustment range is 136 mm (5.4"). The windshield can be easily raised for greater wind protection or lowered for a sportier profile via a convenient handlebar-mounted switch.

Quick-release luggage mounts mean fast removal of the 30 litre colour matched hard saddlebags. The FJR1300 has been designed to look great with or without the saddlebags installed. It takes mere seconds to install or remove the locking saddlebags or optional top case.

Ergonomically shaped, large-capacity 25-litre fuel tank offers an excellent riding range, and is constructed of steel allowing for the use of magnetic tank bags. The reserve portion is 5 liters . The under side of the tank improves air management.

Easy-to-read instrumentation includes an electronic analog speedometer and tachometer, LCD digital odometer, dual tripmeters, fuel and coolant temperature gauges, plus a clock as well as a range of warning lights. Other functions include outside air temperature, a gear position indicator and fuel consumption read out.

R1-inspired cat-eye dual 60/55-watt multi-reflector halogen headlights can be easily adjusted for two up riding. Left and right sides can be independently adjusted via conveniently located screw type knobs.

Sleek tail section helps reduce drag and features a sturdy rear passenger grab and integrated small rack that doubles as a top box mount.

Immobilizer ignition system is designed to reduce the possibility of "ride away" theft. This system must recognize the "coded ignition key" in order for the unit to start. If the immobilizer ignition does not recognize the key (or a thief's screwdriver or other type of "jimmy tool") the bike will not start even if the ignition is turned or forced into the on position. If the system does not recognize the coded chip in the ignition key, it will not allow the ignition system, fuel pump or starter motor to function.

ADDITIONAL DETAILS / FEATURES

5-position adjustable front brake and clutch levers.

The FJR features a convenient "one-key" system to operate all keyed devices on the bike including the main ignition and steering lock, saddlebags and optional top case.

Sporty, aerodynamic mirror shape. The mirrors fold for convenience.

Dual-bulb taillight assembly and integrated turn signals provide a slick, integrated look.

Stylish clear front and rear turn signal lens

Small under seat area can hold a small U-lock.

Low-maintenance sealed battery

Variable heated grips keep hands warm on cool days or evenings

Glove box contains a 12V outlet for phones, GPS units, electric vests, etc.

The FJR1300 offers a significant level of power and performance. It is not intended for novice or inexperienced riders.
MD Review
Now in its 13th model year, Yamaha's FJR1300A is the longest-lived sport-tourer on the market. That's because it's a good motorcycle—fast, smooth, comfortable, good-handling and reliable. Many long-distance records have fallen beneath its radial-shod wheels, including the mind-boggling 86-hour, 5645-mile Prudhoe Bay to Key West blast of John Ryan in 2009. A capable bike for sure, but in an era when a two-year-old smartphone is ready for "Antiques Roadshow," it was time for another mid-cycle update.

Yamaha summoned me from the drab horrors of my everyday life to ride the re-worked 2013 FJR in Northern California's wine country, and how could I refuse? The promise of 300-plus miles on great roads on an improved version of one of the best sport-tourers made was enough to keep me motivated through the short tech presentation.

Yamaha wanted us to know that market conditions have changed a little since the last update. ST buyers are slightly more affluent, slightly older—but also more frugal, demanding more versatility from their rides. So Yamaha wanted to improve comfort and convenience features, increase touring capability, make the bike feel lighter and more sporty and "offer the latest technology."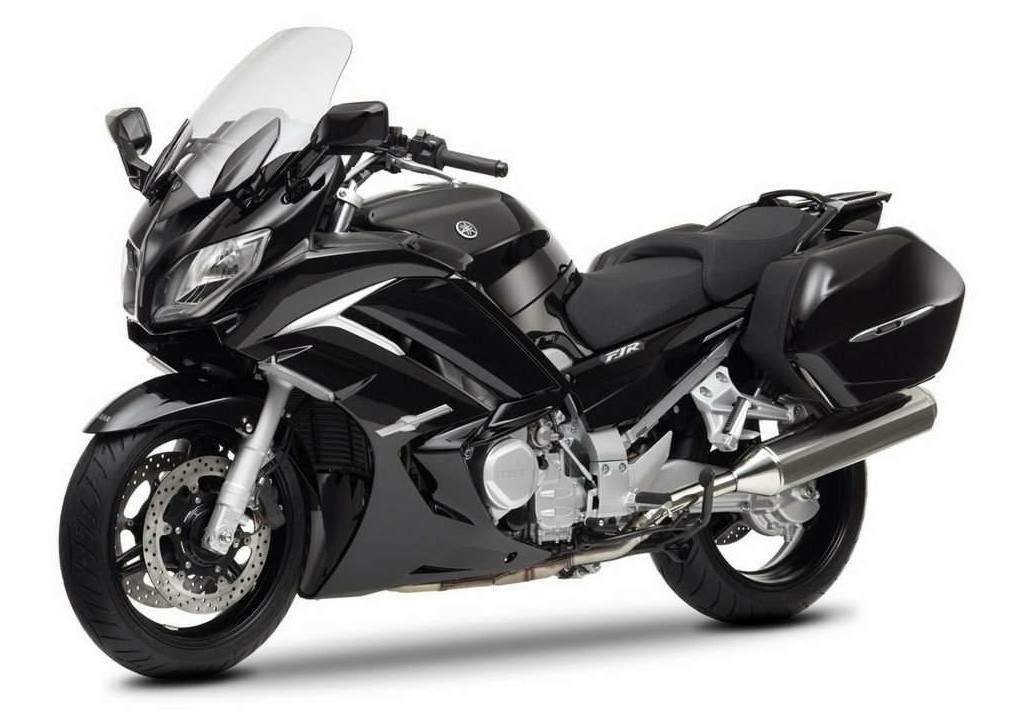 The bike looks much the same as last years, but has a huge number of detail improvements. The motor gets new cylinders, ignition, rings, throttle bodies, as well as new traction control, exhaust and ECU settings. Styling is freshened up with new headlights, cowlings, side fairings, switchgear and instruments, and comfort and convenience is enhanced with a reworked lower-effort centerstand, cruise control, heated grips, new seat cover and windscreen. Handling is also improved with changes to suspension spring rates and damping as well as new OEM tires.

Three hundred miles is a pre-breakfast ride for many FJR owners, but it's a lot for a two-day press event, as journalists need time for photography, Tweeting and lavish meals. But it was necessary to really get a feel for the myriad changes on the bike.
What I remember about the last FJR I rode (a 2009 automatic-clutch equipped bike, available only in Europe now) was a good-handling, comfortable bike with some turbulence from the windscreen and a slightly rough motor. Dirck recalls a stiff throttle return spring as well as the turbulence from his last ride.

After two days on a variety of roads—from divided superhighway to tight, bumpy two-laners—I can say the changes are noticeable and well done. The motor is better; it's smoother and more responsive, with the choice of two mapping settings, Tour or Sport. Both settings offer full power, but Tour gets you there a little slower. Throttle response is great, with no abrupt surprises and a light return spring—even without the very good cruise control Dirck's delicate wrist should remain cramp free.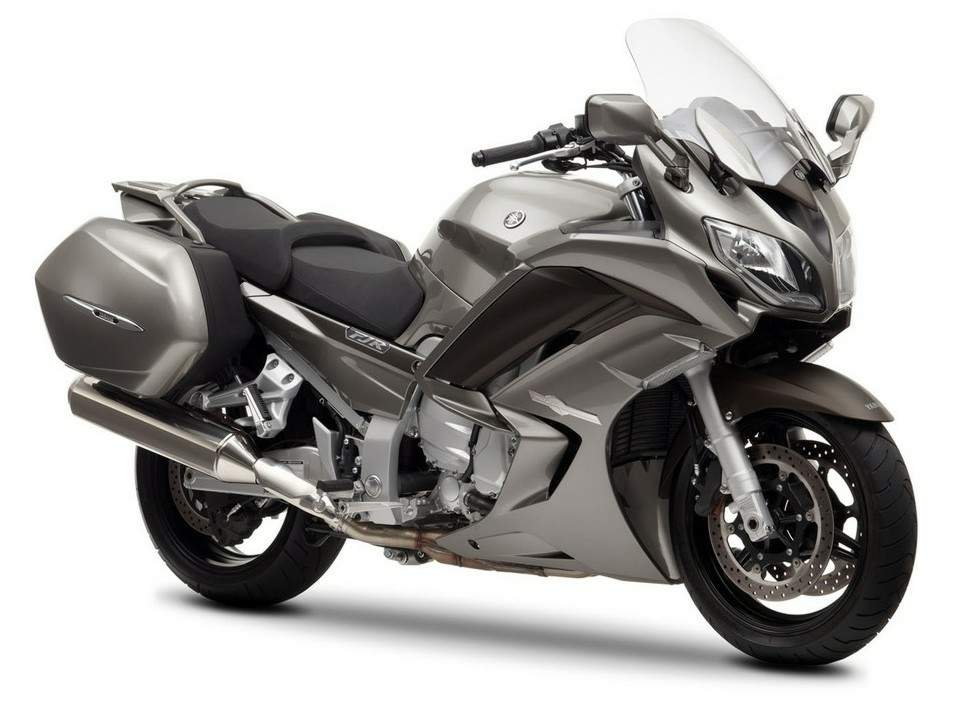 Yamaha claims an increase of three horsepower and three ft.-lbs. of torque, but what I noticed was the smooth and abundant nature of the power delivery, which keeps the five-speed gearbox relevant. Second, third or fourth gear work fine on any kind of road, thanks to the massive amounts of torque and smoothed-out powerplant. Passing in fourth is fun, a taste of being a comic-book superhero. Fifth works well as a passing gear, too, but at a .929 ratio, is also a true overdrive, helping keep indicated fuel consumption in the mid to high 40s at steady throttle at 70 mph.* That should give the rider a 200-plus mile range from the 6.6-gallon tank (I was only able to get a little more than five gallons into the 2009 I tested—I didn't have an opportunity to fuel the 2013 myself).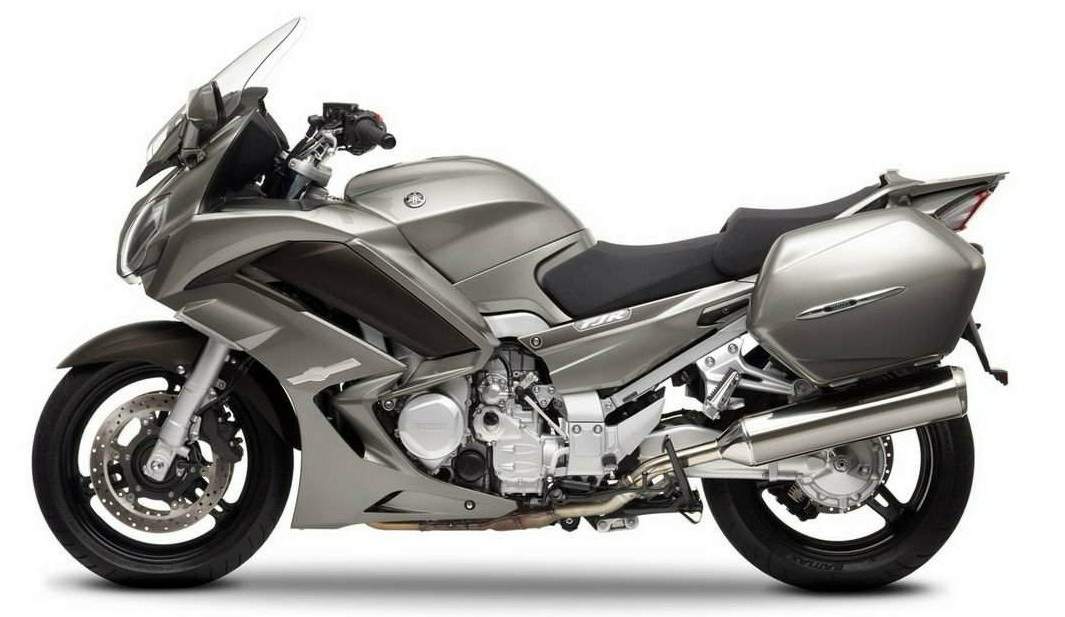 I don't know if the suspension changes improve the bike, as we didn't have a 2012 to compare, but the bike is still a great performer. It handles better and feels lighter than any 637-pound (Yamaha's Wet Weight claim, seven pounds less than the 2012) bike should, and kudos to Yamaha for making suspension adjustment easy—a lever adjusts rear spring rate from firm to soft, and front compression and rebound adjustments are all handled in the right 48mm fork leg. Aided by the specially developed Bridgestone BT-023F tires, the FJR turned easily and felt planted and secure, even on cold, slippery downhill turns. Nobody felt like testing the traction control, but it's there, along with "unified" ABS brakes—useless until you need them, and then they're worth everything you own.
Long-distance comfort is impressive. The two-position-adjustable seat, clad in a new seat cover with Nubuck-esque "high quality" side trim, is wide and supportive, though the foam started to feel unpleasantly hard after a few hours. The seating position is close to perfect, and the bars adjust fore and aft so you can get it perfect-er. The windscreen seems much improved—airflow is smoothed out, with less buffeting (Yamaha offers a taller, wider screen if it's still too noisy for you) and it raises and lowers twice as fast as the old one. Plus, the screen stays in place when you remove the key, eliminating one tiny irritation.
AdChoices

Some improvements I (and many others, doubtless) would like to see haven't materialized. While the new rider information display is data-packed and easy to use, there is no sound system or Bluetooth connectivity, something farkle-addled hypertourers like, along with portable-generator levels of alternator output (the FJR puts out 490 watts at 5000 rpm, leaving 325 watts of excess capacity, according to the Powerlet people, sufficient for most solo touring needs), and luggage capacity is reminiscent of the closets in Victorian houses—didn't those people own more than three changes of clothes? At least Yamaha offers a man-sized 50-liter top case, complete with backrest to beef up your trousseau.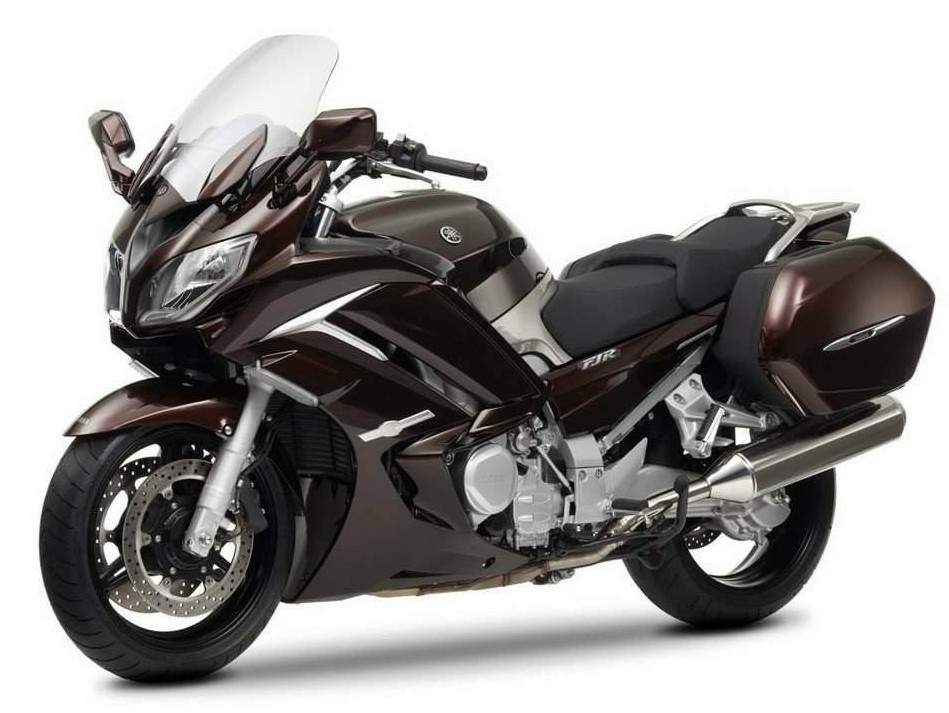 So while the lack of a total redesign after 12 model years may be a disappointment for some, Yamaha delivers on the original promise of the FJR—a light, sporty-feeling tourer you can ride like a sportbike. At an MSRP of $15,890, it's just $300 more than last year and is cheaper and lighter (by a lot!) than Kawasaki's Concours14, Honda's ST1300 or BMW K1600GT. Good enough for another 13 years? Maybe not, but for sporty-touring it's good enough for me and it's probably good enough for you too.

*Yamaha claims 36 mpg based on EPA emissions info. Average reported fuel economy on Fuelly.com for FJR models is around 40.
Long Term report
After Gabe rode the new FJR at the press introduction, we wanted to get the bike for a longer term evaluation.
Click to learn more...

As covered in our earlier articles, the 2013 FJR receives a number of revisions to a platform that is essentially in its 13th model year. After putting a number of miles on the bike, however, the only thing that really betrays the age of this platform is the five-speed transmission. Virtually all the competition has gone to six-speeds.

The first thing that strikes you about the FJR is its powerful and smooth engine. This is not a bike in need of a heart transplant, and further refinement of the fuel injection has resulted in very smooth throttle transitions. This revised model adds two selectable engine maps, including Sport and Tour.

The "Sport" mode offers a surprisingly different feel from the "Tour" mode. Although both offer full power, while in Sport mode, the rider has a much more crisp and immediate engine response. The bike just feels like it accelerates much more quickly and it is more lively. Even with the new traction control system, the Tour mode offers a reassuring softening of the power delivery for use in foul weather or when the rider just wants to cruise along in a slightly less aggressive manner. We did not test whether the Tour mode offers superior fuel economy.

All of the new electronic conveniences operate smoothly, and perform as expected. Most of the features are controlled from the left hand grip area via a toggle switch.

The redesigned windscreen seems to be a huge improvement both in total wind protection and turbulence reduction. The screen raises and lowers quickly and over a broad range that should allow most riders the ability to dial in a position that works best for them. Frankly, the quality of the wind protection on a bike in this category is extremely important, and the new FJR scores highly here. If you find you like leaving the windscreen in the same position at all times, you will be pleased that it stays where you put it, even when you remove the key.

Utilizing ride-by-wire throttle, an effective cruise control is a natural complement to the new FJR. Again, it is easy to access and just plain works. Those of you who travel long distances by motorcycle will certainly appreciate the reduced effort this feature provides. Indeed, past FJRs have had strong throttle return springs that could actually be quite tiring on long freeway rides.

The new suspension settings worked well, particularly out back where prior models have been too soft. The same two-position preload adjustment is easily accessed at the side of the bike. This makes it simple to dial in more preload when adding in a passenger, luggage, or both. The fork, on the other hand, was fine on the highway, but did not provide great confidence through the twisties. Pushing the pace through corners yielded a somewhat vague feeling in the front end, but the fully adjustable fork could permit riders of different weights to dial this out.

The new instrument cluster is very legible, even while riding in bright sunlight. It is easy, for instance, to use the left hand grip toggle to find the heated grip control in the far right instrument window, and dial in the amount of heat required to keep your mitts comfortable on a cold ride. Indeed, the manner in which Yamaha has integrated all of the electronic functions is commendable. Plenty of bikes offer a similar level of electronic control (selectable ignition maps, heated grips, electronic windshield and other features), but make it more difficult, and less intuitive, for the rider to operate.

The transmission shifts smoothly and positively, but we did find ourselves looking for a sixth gear more than once. Nevertheless, five gears is really all the big FJR needs. This motor is plenty powerful, and the spread of power is huge. Fifth gear is tall enough to make high speed touring comfortable with very low vibration levels. I think it was just our normal expectation to find a sixth gear, and the lack of one feels a little bit odd in this day and age.

What this category of motorcycle is all about is high speed, long distance travel in comfort and style, with sporty handling thrown in for good measure. Although the basic package has been around a long time, Yamaha's continual refinement of the FJR has resulted in a very competitive machine. The adjustable seat, adjustable handlebar position, adjustable windscreen and redesigned bodywork all work together to provide an inviting mount for touring. If you can't find a comfortable position on this bike, you are likely far taller, or shorter, than the average human being.

Styling is subjective, as always, but we felt the new bodywork is a big improvement, and keeps the FJR looking fresh and competitive. The saddlebags still integrate well, and offer useful storage, if not the largest capacity. Once again, the saddlebags can be removed and used as luggage with integrated handle. Yamaha also provides a removable duffle, with handle, if you want to travel a little bit lighter.

Despite our spirited test riding, we averaged 39 mpg. Not too bad given the performance level offered by the big FJR.

Source Motorcycle Daily