Yamaha DT 250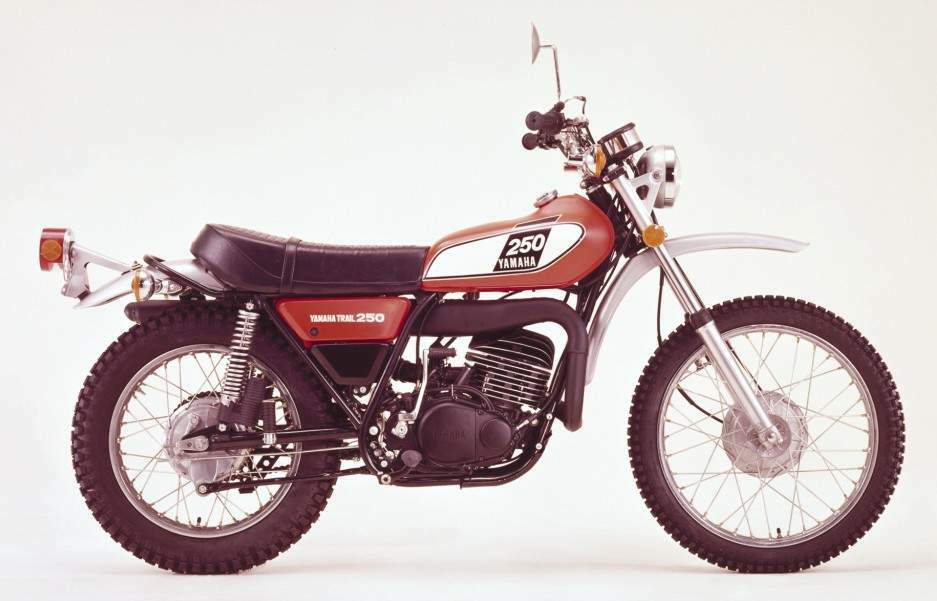 | | |
| --- | --- |
| Make Model | Yamaha DT 250 |
| Year | 1974 - 75 |
| Engine | Two stroke, single cylinder |
| Capacity | 246 cc / 15.0 cu-in |
| Bore x Stroke | 70 x 64 mm |
| Cooling System | Air cooled |
| Compression Ratio | 6.8:1 |
| Induction | Carburetor |
| Ignition | Flywheel magneto |
| Starting | Kick |
| Max Power | 24 hp / 17.8 kW @ 7000 rpm |
| Max Torque | 24.8 Nm / 18.3 lb-ft @ 6000 rpm |
| Transmission | 5 Speed |
| Final Drive | Chain |
| Frame | Duplex cradle |
| Front Suspension | Telescopic forks |
| Rear Suspension | Dual shocks |
| Front Brakes | Drum |
| Rear Brakes | Drum |
| Front Tyre | 3.00-21 |
| Rear Tyre | 4.00-18 |
| Wet Weight | 123 kg / 271 lbs |
| Fuel Capacity | 9 Litres / 2.5 US gal |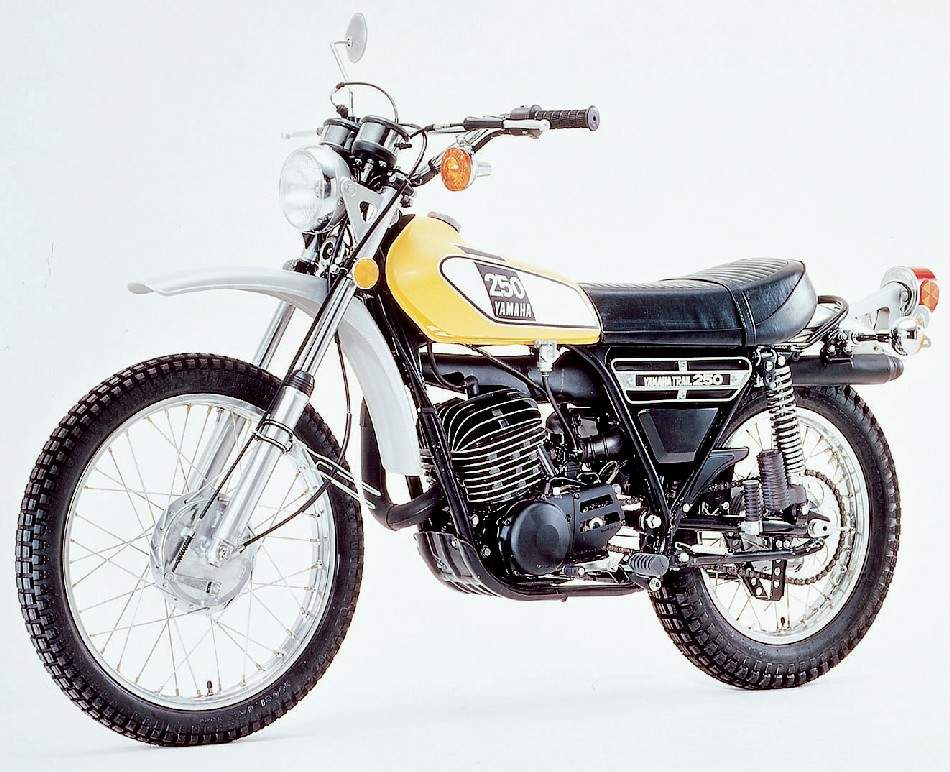 The Yamaha DT is a series of motorcycles and mopeds produced by the Yamaha Motor Corporation. Models in the DT series feature an engine displacement of 50 to 400 cc (3.1 to 24.4 cu in). The first DT model, the DT-1, was released in 1968 and quickly sold through its initial 12,000 production run.
The DT series was created by Yamaha in the late 1960s when the United States motorcycle market was down. Market research by Yamaha indicated that, despite slow motorcycle sales, there was a largely untapped market for off-road motorcycles. At the time, only a few specialty European manufacturers such as Bultaco and Husqvarna made motorcycles specifically for off-road use. Instead, many owners purchased road motorcycles and modified them for off-road use, typically by raising the muffler, adding braced handlebars, and fitting a bash plate under the engine . Such modifications were commonly known as creating scramblers. The first DT model, the DT-1 trail bike, was released in 1968 and quickly sold out.
The Yamaha DT series with monoshock rear suspension was introduced for the 1976 season following the success of similarly-equipped machines in world-championship moto-cross. Always confusing, the initials intended to identify the function of many Japanese bikes,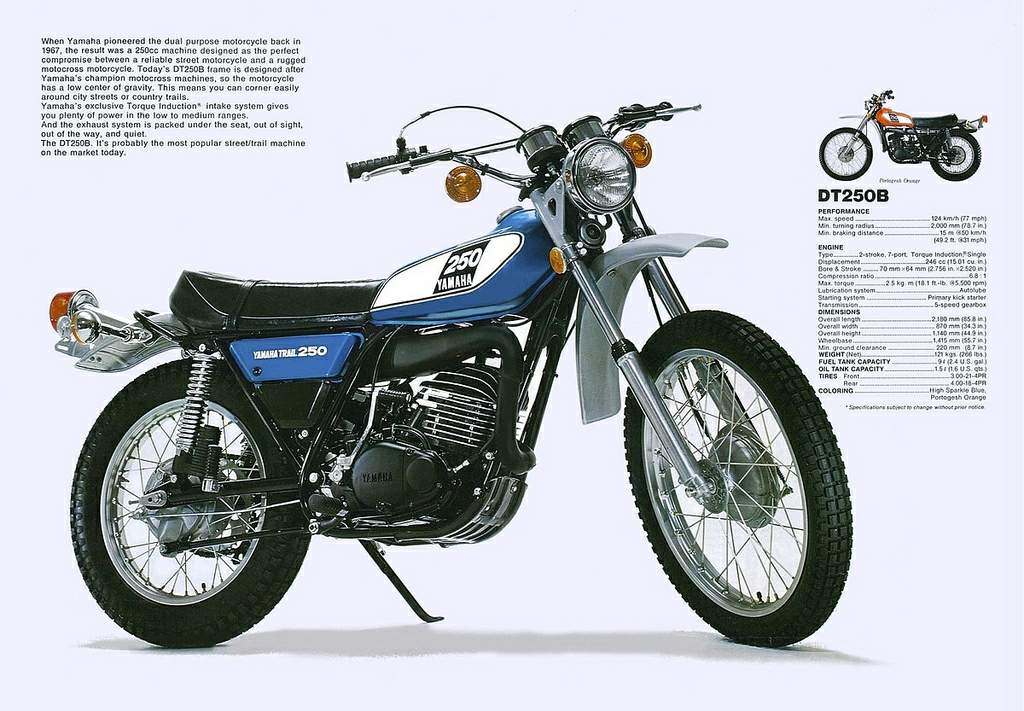 Yam-ahas included, in fact follow a wayward logic. Thus DT, which might fairly be interpreted as Dirt Track, is intended apparently to signify Dual use. (Where T comes in is not entirely clear, though Track makes reasonable sense, of course.)
A couple of years on from the original monoshock frame, that one a compromise affair evolved from the earlier pivoted-fork layout, the DT's frame was purpose-built to accommodate the cantilever system: thus the seat was only averagely high, instead of being suitable only for super-fit riders of over 6ft, who in any case appeared never to relax from a standing-on-the-rests position, and engine accessibility was improved. The spring unit, running parallel to the tank tube, was made under licence from De Carbon and combined the use of inert gas filled with hydraulic fluid.
The engine was fitted with the case-reed induction system, had none of the, harmonic balancers reckoned to be essential for the smooth running of purely 'street' machines, and turned out plenty of power which, while not angled towards on-road use (there was, for instance, a tendency to backfiring on closed throttle), made the DT a useful, not-too-noisy 65mph tarmac cruiser.
In the rough it was too heavy, and not powerful enough, to be a serious competitor; among half-serious trailsters, though, it stood out as a leader.