These motorcycles were near indestructable and were among the best to come out of Japan. When our elected officials decided to close the door on these motorcycles, we lost ten fold. In my case, i was in the market for a 175, and one night i saw an add for one, a mono shock version. It was a cold saturday in january when i went for a look. It was a complete, running bike and most importantly, it hadn't been monkeyed with. So, i took it for a drive on the ice, and then bought it. Spring came along with the realization that although it hadn't been fooled with, it also never got maintained so well, and some replacement parts were in order.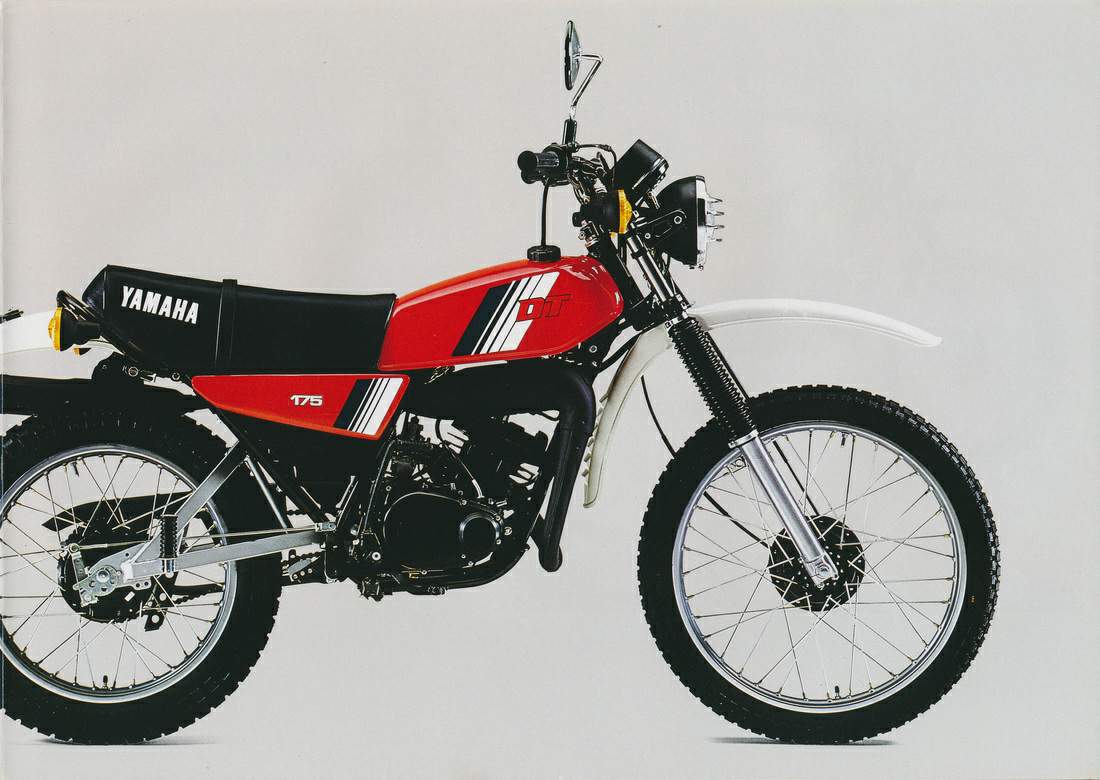 MOTOR CYCLING review 1980
Kawasaki KE175D2, Yamaha DT175MX'80, Suzuki TS250ER and a Benelli 125 Enduro
THERE has been a quiet revolution going on in British biking in recent years as more and more riders turn to trail bikes, many having no intention of ever taking their machines off-road.
It's easy to see why. Since the Japanese invaded and conquered the small bike market in the UK, they have tended to produce ever more complex motorcycles to display their engineering prowess. All very clever, but not everybody wanted multiple cylinders, overhead camshafts, double disc brakes and all the weight and bulk that came with them.
Then an alternative appeared. Small capacity motorcycles that were true lightweights with highly-developed versions of the simplest engines ever invented, single-cylinder two-strokes.
These bikes were a delight to ride. No more winding countless valves up to zillions of revs to extract a decent performance. The trail bikes had torque and with no weight to speak of would fairly zip along from any revs. Steering, handling and suspension developed to cope with the rigours of rough riding were better on the road than most road bikes. We reckon that many of you aren't too bothered whether one trail machine will climb up a sheer rock face, or another will skim across waist-deep mud. If you are looking for a bike to commute to work on or to pop wheelies with in the high street on Saturday mornings, you want to know how it goes on the road,speed, acceleration, braking, fuel consumption.
Hell, what you need is a full track performance analysis such as you'll find on page 54. So much for you lot. What we needed after months of being cooped up in the office, after countless hours of enforced beer drinking and similar hardships that are all part of a journalist's lot, was a couple of days let loose with snorty trail irons and lotsa wide open spaces.
Salisbury Plain has much to commend it. Firstly, it's only a few miles away from Poole, so we don't have to spend a day getting there and secondly, it's about 30 miles wide and 25 miles deep and is crisscrossed by tracks, RUPPs and other vehicular rights of way. There are few roads and fewer villages and people.
You want to know
The main population of Salisbury Plain is a strange race of men with dark blotchy faces and small trees growing out of their hats. They frequently live in holes in the ground, which they can be seen hastily digging in the copses that litter the Plain; or can be spotted tearing aimlessly about in huge, noisy tracked vehicles, burning up taxpayers' money. They are 'the army' and should be approached with caution, because they don't like people laughing at them when they are playing at wars and they have the means to display their annoyance . . . sten guns, howitzers, etc.
The small arms and artillery ranges display prominent red flags when they are in use, so you'd have to be careless to get your head shot off.
Occasionally you'll ride into the middle of an exercise and if they are re-enacting the Battle of the Bulge in the middle of your RUPP, it's best not to argue that you have a perfect right to ride through their trenches and tank formations.
With all this in mind, Neil, Merril and Bob set off to try a Kawasaki KE175D2, Yamaha DT175MX'80, Suzuki TS250ER and a Benelli 125 Enduro. Due to an industrial dispute, the fourth rider who was also our photographer, couldn't come along. This meant we had to leave one bike behind each day.
Benelli 125 Enduro
Benelli's 125 Enduro looks so odd after the stereotyped Japanese trail bikes, you can't help feeling that it must be terribly good at something in particular.
The feeling is enhanced by a variety of purposeful-looking bits. Like a box-section swinging arm and knobbly tyres. Or trials-style gearlever and rear brake lever, too far away from the footrests to be used without lifting your feet off the pegs. These are the folding type, albeit not spring-loaded and there aren't any pillion pegs — no waiting brackets, even, which explained the number-plate ovals on the side panels.
There are precious few trick bits, but the control cables have built-in oilers as well as rubber shrouds to keep muck out of the knurled, lever-mounted adjusters. And Benelli definitely score bonus points for having rear spring pre-load settings that can be altered by hand.
It's called an Enduro so you're prepared to put up with a few of the on-the-road hassles that are bound to come from a refusal to compromise off-road ability. Things like having a tiny speedo that gets inaccurate at speed, is obscured by cables from 20mph, and contains no trip meter.
There's no rev counter either, but I doubt whether any of the bikes in this test need one.
The Benelli is the only bike here to run on mix-in-the-tank petroil, which is messy and a nuisance, especially as there's nowhere to store an oil bottle (or the handbook). But then, all competition bikes run on petroil, don't they?
There's no off-road justification, however, for having such a long reach to the front brake lever that even an ape would need two grabs to work up any leverage. The Benelli turned out to have the least effective brakes of the group, but not much worse than the Yamaha.
Then there are a few things that start nagging doubts growing. Things you haven't seen since you rode your last Bantam. The tin, stamped-out switch blocks could he straight from any British bike of yesteryear, except that British bikes used to have dipswitches. If the Benelli's got one, it's well hidden among all the other unlabelled knobs.
There's an MZ-type push-in ignition key that doubles as a light switch. This would be a harmless eccentricity if only it would stay in. After a while, any rider instinctively reaches forward to poke the key back down when the engine cuts out.
Despite having its kickstart on the lefthand side, the Benelli started reliably. Just as well, really, because the engine cutout switch is an on/off type that isn't labelled on/off. If the engine was hard to start, you could be kicking for hours, never knowing whether or not the ignition was switched off.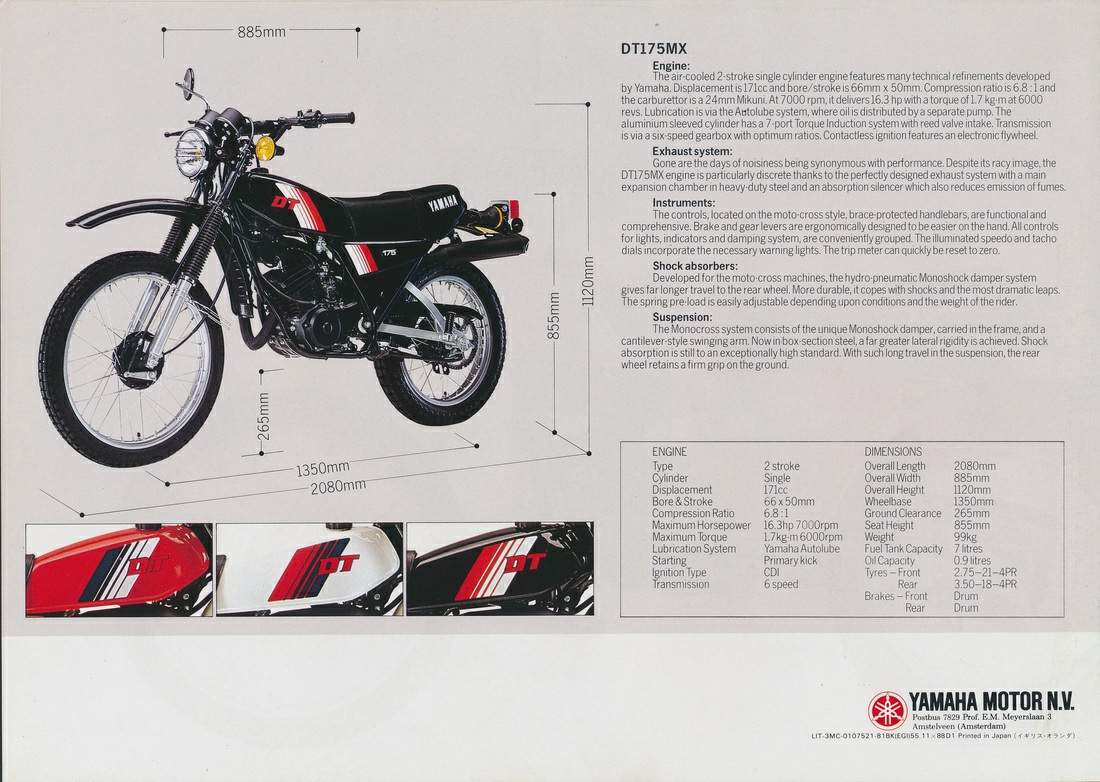 It goes without saying that the gearchange is on the right and that the lever moves up to change down. Try not to get confused if you stall in a bog, because you have to find neutral (without an indicator light) before you can restart the engine. Time-warp transmission continues with a chain that only Raleigh would use today, although it never gave any trouble or needed adjustment during the test.
Unmoving experience
Looking at the MIRA figures leads you to expect a 125 that's quick, nearly as quick as the DTI 75. But somehow, riding around on the road is an unmoving experience. The performance is there all right but it has to be wrung out of each gear before jerking into the next one. Most of the time it's easier to sit back and relax in the image of one who's hot stuff over mud and rocks.
This way you'll save money too, because the Benelli has a vicious thirst for a 125. (As with all the bikes in this test, expect more in normal road use than the 46mpg quoted. This reflects much low-gear screaming through the countryside.)
Ring-ding performance testing revealed one of the Benelli's lesser design features. Merril felt a bit insecure while screaming through the timing lights on the best-oneway prone run of 65mph. A quick glance round after the run showed the swinging-arm bolt to be missing its nut, with the bolt not far behind. And that's all the swinging-arm bearing is a nut and bolt.
A few more shortcomings showed up when we headed for the hills. It didn't take too many ruts and rocks to shake off the sidestand spring. Once again, Merril was the lucky rider when one of us spotted the stand dangling, just waiting to dig in on the next left-hander. An aerolastic replaced the missing spring for the rest of the test.
Next problem was that we didn't dare tackle any logs or large rocks on the Benelli.
It has good Ground Clearance, a reasonable sump protector, footrests and controls well out of the way, but the exhaust system dangles several inches below everything else! This piece of design defies belief, even though the Benelli isn't unique in protecting its bash plate with an exhaust pipe. Remember the NVT Rambler?
Mud was kept down well at the back, but the 125 Enduro disgraced itself by obscuring its own headlamp and filling in the cooling fins with mud. There isn't enough front mudguard. But the run was finally over when Merril (again?!) found herself with a ripped tube in the rear tyre. It has to be said that the Kawasaki doesn't have a security bolt either, but it didn't disembowel itself.
Even when deflated to 15psi, the Benelli's knobbly merely performed as well as the trail tyres of the other bikes. Riding on wet tarmac demanded an extra helping of caution, obviously, but a little low-speed squirming was the only noticeable quirk in the dry.
Off-road, the Benelli never quite felt right. In practice, wheelies aren't available unless you slip the clutch to get the revs up. As the figures show, the bike isn't short of power at the top end and even mid-range pull is better than the twice-as-big Suzuki. But, despite gearing at least as low as any of the others, there's nothing down low.
No suspension travel figures are available from Benelli, but it's obvious that there's less movement available on the 125 Enduro than we've come to expect from trail bikes. Initial spring take up is stiff and lightly damped so, although the bike can get through most trail hazards, the rider has to put up with a lot of pitching and bouncing.
Short-travel suspension, low gearing, foot controls well out of the way... mmm. Must be set up for trials riding. while standing on the pegs — bum up, head over the front axle. Standing up causes your left leg to push the kickstart on to its ratchet, but once that noise has been silenced, it's a comfortable position and accurate steering is possible at a snail's pace. You have to develop the technique of slipping the clutch with two fingers while holding the bars with the other two for low-speed control, but that's not so hard.
For a while, I thought I'd found the Benelli's true purpose, so I proceeded to ride around slowly in figures of eight, circumnavigating trees with an impressive amount of body lean. But the illusion was short-lived, because the Benelli couldn't do anything that couldn'tbe done on the others with much less fuss.
Summary
I've never done an enduro, but I wouldn't fancy my chances on the Benelli. True, trickleability wouldn't be needed all that often, but I don't think the suspension could smooth out many bumps at speed. After the first stepped rock or tree trunk, you'd be running without an exhaust system.
Trials riding would have to be j ust for fun. Any competition would be lost as soon as you let the revs drop in a tricky bit.
There's no doubt that the Benelli 125 Enduro would see you through any trail ride. You'll put a bit more effort in than other people, that's all.
As a road bike the Benelli falls down on specification. With a flywheel magneto of only 28W output supplying a 25W headlamp, 10W indicator lamps, and a 5/18W tail/stop lamp, it's not surprising that the navigating glow varies with engine speed. The controls and switches do not fall easily to hand. Many of the doodads we've come to expect didn't fall to hand at all.
At £568 including VAT, UK importers TKM are pleased to be able to undercut the Japanese 125cc trail bikes. But even before the discount dealers move in, the difference isn't great; £77 cheaper than Suzuki's TS125ER and only £22 cheaper than the Yamaha DT125MX.
Buying yesterday's technology at today's price doesn't make a lot of sense. You've got to want very much to be different.
Neil Millen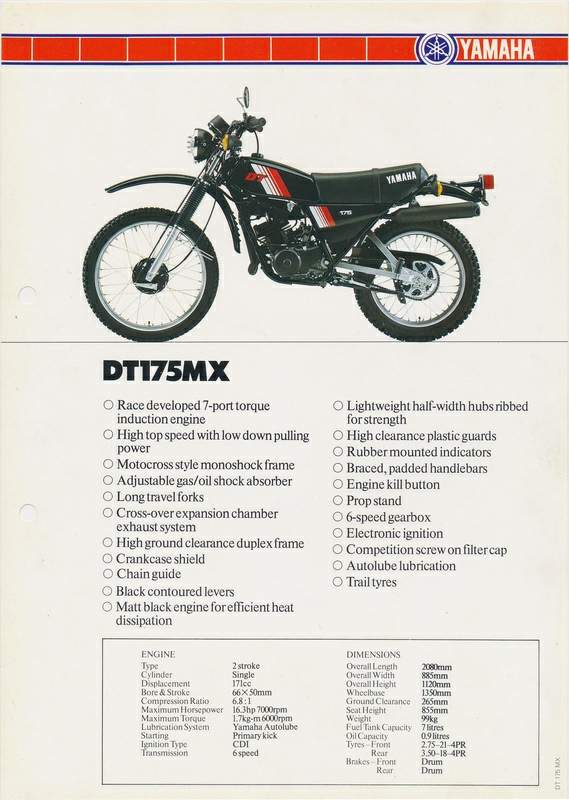 Suzuki TS250ER
AVERAGE is a dirty word in today's motorcycle market, where the race for higher technology gets dizzier with every new model. Yet Suzuki have scored an all-time average record in our Star Ratings for the TS250ER.
The old TS250C was a bit of a throwback to the early Japanese trail bikes, but the ER promised to change all that, even though it uses a modified form of the old engine. An all-new frame hung with all the latest artificial aids to good handling and dressed up in the latest moto-cross fashion looks impressive, so what went wrong?
Some of the nicest things about the way the Suzuki feels are due to its dimensions. The side panels and seat combine in a fat, smooth curve that is easy to grip with your legs for long periods while standing on the pegs for off-road control. The frame had none of the Ground Clearance problems we found with the TS100ER, despite a seat height that most people can cope with.
Now so average
Leading axle forks are now so average that they're becoming commonplace on street bikes. The same goes for box-section swinging arms, even though Suzuki have painted theirs silver-grey to make sure you notice it.
The rear end is controlled by inverted gas shocks with the fattest dual-rate springs I've ever seen. You're nobody unless you've got monoshock set-up
Having said all that, the suspension did its job well by giving a comfortable ride on any surface. Combined with good positioning of the bars, seat and footrests, it had a big, easygoing feel reminiscent of Honda's XL250S. The only times the Suzuki let itself down were when accelerating hard across ruts — the rear wheel had a tendency to hop, although this didn't upset the steering.
Hopping under braking was virtually eliminated by the fully-floating rear unit. Stopping on the trail is often an untidy process with bursts of locked rear wheel, but not with the Suzuki. At MIRA it was easy to hold the rear wheel on the verge; of locking for maximum effect. The braking figures for the Suzuki compare well with the best stopper in this test, the Kawasaki, but aren't as good as the results we got with the XL250S we tested last February.
Living with a bike is often more demanding than borrowing it for a few and we noticed a couple of features on theTS that could become endearing on one of our Marathon Tests. It is arguable that every bike should have fork gaiters to keep grit out of the oil seals, but surely this is essential for an off-road bike. Manufacturers reckon that naked forks look better, but I don't think the rubber wraps spoil the Suzi or the Yam in this test.
Keeping muck off the rider is also important on a trail bike. The Kawasaki's
wrap-around guard is a good attempt, but the Suzuki's wide, hanging flap is particularly effective.
If things go wrong and the tyre sealant doesn't work (it never works for me), it's nice to know that the rear wheel comes out without disturbing the chain or its adjustment. QD wheels are becoming a fading memory, so you'd think Suzuki would be proud of theirs, but the near-useless multilingual handbook keeps it a secret. Puncture repairs must be considered too advanced for the home mechanic. You'll have to leave the book at home anyway, because it's too big to fit in anywhere on the bike.
After riding the two 175s on our trail outing, the Suzuki felt gutless. Low down poke was nowhere to be found. This was especially noticeable if an unexpected handful was needed to keep the front wheel light over a pothole or ruts at an awkWard angle. Neither was it so easy to trickle around on a near-closed throttle despite similar gearing to the smaller bikes.
Mid-range power is quite good, but it comes in viciously at4000rpm. On a loose or otherwise slippery surface, this can turn the bike sideways if you're not ready for it. Once I became accustomed to the bike, tame green laning became exhilarating opposite-lock fun by whacking the throttle open at 4000, but don't tell the Rambler's Association I said so.
This feeling of mid-range pull is subjective, however, because our flexibility figures show the Suzuki to be much less responsive than the 175s. Hauling its extra weight forward on grippy tarmac isn't as easy as spinning the rear wheel on a loose surface.
As the engine speed approaches the 7000rpm red line, the power dies away again. Not so important on the trail, perhaps, but this lack of top-end oomph prevents the bike from feeling quick on the road.
Again, the MIRA figures tell the whole story. Despite the extra ccs the Suzuki was only 0.28secs quicker than the Kawasaki up the standing quarter mile. There wasn't much difference in top speed, either, and both 175s were faster when carrying a passenger. Even Honda's four-stroke 250, the XLS, can equal the Suzuki's track record.
Inevitably, the Suzuki's bigger engine used at least as much fuel as the 175s — less than the Yamaha but more than the Kawasaki, and more than the four-stroke Honda 250. The only bright spot here is that the smaller two-strokes buzzed their way through a lot more oil.
Gears were always there when they were wanted, with or without a clutch that was light enough to operate with two fingers when the engine needed a little low-speed help. Despite the mud, water and standing starts, the chain only needed adjusting once, by a small amount.
Headlamps that illuminate the road in t dark seem to be surplus to requirements i trail bikes and the Suzuki's 25/25W, 6V unit is no exception.
Instead of wasting time trying to poke life back into points you can start walking home before it gets dark if the electronic ignition packs up miles from nowhere. The winkers, two standard mirrors, and everything else for that matter, survived being stuffed intp the ground every so often. Apart from the blue stripes on the side panels which rubbed off on our legs, the detail finish and fittings on the Suzuki were good. You get a rev counter to look at when you're bored and a spot-on accurate speedo. Below these are the usual warning lights. Mileometer and trip meter are in the speedo, but zeroing the trip meter is a one-mile-at-a-time chore. Why do manufacturers assume that trail riders want to stand around twiddling knobs?
The switchgear is standard, the seat is lockable and has a built-in helmet lock, and the usual tools sit in a tray instead of being stuffed up a not-quite-big-enough tube for passers-by to pinch them from. The engine oil filler is also under the seat, where it's easy to pour into and a low oil level shows up in the sight glass in the left-hand side panel. There is a steering lock on the bottom fork yoke and the ignition key fits all three locks.
Summary
So why should you buy one? A good question that, and not an easy one to answer. I enjoyed riding the TS250ER and I wouldn't have noticed its lack of useable power so much if we hadn't had the Yamaha and Kawasaki around for direct comparison. I liked the way the heavier bike rode the bumps with less pitching and a softer engine can make things smoother on the rough when you can't always exercise as much control over your right wrist as you'd like to.
For tarmac riding, the Suzuki has more of a big-bike feel in comers and the seat is much more generous if you want to survive a long run. There isn't much room for two people on the smaller trail bikes.
But ultimately the 175s make more sense, for serious off-road work at least. When you have to resort to dragging yourself and your bike out of a mess there's no substitute for low weight and the lightest bike is also going to be the least tiring at the end of a long day, assuming roughly equal engine and frame performance.
Neil Millen
Kawasaki KE175
WITH 'electro-fusion' bore, box section swinging arm, CDI ignition and a broad power band exhaust system, the latest Kawasaki 175 trail iron promised to be an interesting ride, especially off road. Even so, we were surprised and delighted by the KE175D2's nimble nature on a wide variety of sticky going and were equally impressed with its tarmac performance.
At MIRA we found the Kawasaki was faster, quicker and more flexible than the Yamaha DT175MX'80, its nearest competitor. As most trail bikes spend 90 percent of their lives on the road, and many never see a trail at all, this track advantage puts the Kawasaki clearly in the lead. But all trail bikes are a compromise between off-road ability and on-road suitability, so from past experience we guessed the Yamaha was saving all its glory for the trails, where it would outshine the KE.
Yet the Kawasaki was not to be outdone on the rough by any of the other three puddle-jumpers we took along on our exploration of the forgotten byways of Salisbury Plain.
Rigorous ordeal
The test started with the neat blue moto-cross styled D2 being pounded over 170 miles to MIRA from our Poole office, followed by a hard thrashing up and down the timing straight and then another blast back to Poole. The Kawasaki not only survived but passed this rigorous ordeal with flying colours.
With a top spee
d around 70mph (72 prone, 67 upright) the KE buzzed along the roads without running short of breath. The broad spread of power (equalled only by the Suzuki 250) meant that the reed valve motor would pull well out of roundabouts and when overtaking, without the usual flurry of activity in the gear/clutch/throttle departments. The five ratios were well-spaced to make full use of the wide power band which stretched across 55mph in top against the Yamaha's 46mph.
This flexibility was clearly demonstrated at the track. Whilst the time taken to accelerate in top gear from 30-50mph was only half a second quicker than the Yamaha, the Kawasaki jumped from 40-60mph in 8.67 seconds compared to the DT's sluggardly 11.02 seconds. On the road this meant the Yamaha rider would need to go down one, or even two of its six cogs to overtake, while the Kawasaki rider just opened up in top (fifth) and zipped past with ease.
According to Kawasaki, the KE's engine power output has been substantially modified to produce this broader spread of power. Reed valve induction and a new exhaust system have helped peak power to be achieved lOOOrpm lower, and peak torque, up from 1.7kg.m. to 1.9kg.m. now occurs at 5500rpm instead of 7000rpm with the earlier KE.
Not only did the KE accelerate quicker (1/3 second better than the DT over a lA mile) it stopped quicker too,
The Kawasaki's brakes were just under 10 percent better one up and over 20 percent better two up.
Perhaps the most surprising feature of the Kawasaki's peppy 16bhp motor was its fuel efficiency. At MIRA we measured the fuel consumption of all the trailsters with our Petrometa and the KE proved the least thirsty of the lot. At a steady 60mph it clocked 63mpg against the 53mpg of the Suzuki TS250ER and Benelli 125 and the lowly 40mpg of the Yamaha.
Only blemish on the Kawasaki's faultless performance and efficiency record was a 130 miles-per-pint oil consumption, but even this may have been partly caused by the KE's engine failure, which developed following a drowning on the first day's trail ride.
Merril 'Boobytrap' Boulton decided to give Neil a good soaking when the effects of his lunchtime o'booze session became unbearable.
This involved Merril and KE taking a lusty plunge into the stream Neil was busily filling, but the water was deeper than it appeared. As merril and the Kawasaki disappeared below the surface, all that could be heard was Merril'S" hysterical giggling and the bike's spluttering exhaust. The CDI electrics were so well insulated that the engine continued to run until it filled with water via the air intake under the seat and even then one of the winkers could be seen stubbornly flashing two feet under water.
After draining the motor, carburettor and airbox, we were amazed when the Kawasaki fired up and ran perfectly after two prods on the kickstarter. The bike ran happily for the rest of the day's trail riding and only revealed its true disgust at being used as a submarine on a long, fast road bash to the next set of trails the following day.
Clouds of smoke
After about fifteen miles, the motor started faltering and pouring out clouds of dense white smoke. The oil injection system was functioning correctly, so we deduced that the smoke was the result of oil being sucked into the crankcase from the gearbox via a strained gasket.
The plucky little stroker still managed to limp back to base, even if it did blot out a sizeable portion of Wiltshire en route. Before the Kawasaki threw in the towel however, we had had plenty of time to assess its off-road capabilities on gravel, deep sand, mud, ruts, and a scrambles course, not to mention streambeds.
The engine flexibility which made the bike so pleasant to ride on the road, gave endearing qualities on the rough stuff. Up on the pegs and manoeuvring round obstacles was a doddle with bottom gear pulling from 3.6mph, over one mph slower than the DT managed. An early problem with stiff steering was overcome when we readjusted a tight steering head bearing.
light front wheel to a vertical wheelie, depending on the riders' weight distribution and was controllable enough for even us ham-fisted journos to avoid rolling up the number plate. The KE would also aviate the front wheel in second and third gears with a pull on the bars, useful when potholes appeared underneath the front wheel.
It was almost impossible to be caught in the wrong gear and third and fourth were suitable for smoother lanes, although it was fun to drop one gear and step the back wheel out under power for bends.
Gearchanging was light and easy thanks to the gear shift drum being mounted on ball bearings in this latest KE. Even clutchless changes, when a finger daren't be spared from gripping the bar to operate the equally light clutch, were smooth, but there were some false neutrals, particularly between third and fourth which were annoying.
Good damping
The leading axle front forks and laid-down rear shocks with 8in. and 5V2in. of movement respectively, provided good damping and springing at both ends. Even the worst surfaces tackled at speed did not manage to confuse the suspension into throwing the bike off line or into letting the shocks get through to the rider. As we have frequently noticed with trail bikes, the suspension gave better ride and handling on the road than many roadsters. Suspension for road-only machines can be designed to operate under much more limited conditions, so it suggests there is a lot of road suspension development work going undone.
Tyres were a good compromise, being progressive when cornering on the road, and reasonably grippy in most off-road conditions too.
Box section swinging arms seem to be all the rage this year, and Kawasaki have even painted their's silver in contrast to the black
frame to make sure you notice it. As well as aiding torsional stiffness, this feature matches well the overall moto-cross styling of the D2. Other MX styled features have varying degrees of merit. The high-level exhaust system is tucked well clear of the rider, allows good access to maintenance areas and is difficult to dent, even in a fall.
Lightweight conical hubs and alloy rims reduce unsprung weight, but there are no security bolts to prevent tyre creep and rip-out punctures when running low tyre pressures for extra grip in the mud.
High impact resistant plastic is employed for mudguards and engine covers, giving a useful weight saving. But the front guard is too short at its rear to prevent mud clogging the motor when the going gets sticky. Also, there is nowhere to store the handbook.
Summary
The sleek tank and seat design looks good, but there is no comfortable knee-gripping point when up on the footrests, so difficult sections soon get tiring. The tank's slim looks belie its 2.1 gallon capacity which gives around 120 mile range. The Yamaha's 1.5 gallon tank, by comparison, returned only 60 miles per refill, but this would be stretched to 80 miles plus by a road-only user.
Despite the KEs many weight saving wonders, the DT slips in just 71bs. below it dry. We weren't very impressed with the trip meter, which required its digits to be cancelled one at a time by laborious twiddling and none of us were sorry when the knob got fed up and dropped off.
The standard of switchgear and electrics was high and the 35/35 watt headlamp was adequate for night use. The toolkit supplied was the bare minimum, but average for trail bikes. Qverall standard of finish was good.
Perhaps one of the most significant advances made with the latest KE175, in terms of sales at least, is a price reduction of £20 to £669 retail. In value-for-money terms it's a giveaway.
Bob Goddard.
Yamaha DTI75
YAMAHA'S DT range of trail machines has earned quite a reputation in recent years for highly efficient off-road performance, combined with excellent tarmac characteristics. And the DTI75 has established itself as the firm favourite with thousands of bikers in Britain.
Both Geoff and Merril considered it THE number one trail machine and in 1979, the DT175MX was Yamaha's top selling motorcycle, bar none.
Although it is hard to improve upon the best, Yamaha made a number of modifications to produce their DT175MX'80 model, which we assessed on the road, at MIRA and over Salisbury Plain. Firstly, the monoshock rear swinging arm is constructed of square section tubing for mainly cosmetic reasons, but might even improve its strength too. A larger air filter box and different carburettor internals give smoother running and crisper acceleration. Somewhere along the line, the MX'80 has gained an extra 1.3bhp at the same 7000rpm and torque is up from 1.64kg. m. to 1.7kg. m. at 6000rpm.
A new Autolube cable has been fitted to all the '80 DT singles which removes the need to ever reset the oil pump. A ratchet and pulley wheel, combined with a junction box, does all the adjusting for you automatically.
Fresh colour scheme
The only other changes are a new chain guard and fresh colour scheme and graphics.
Clearly none of these changes can be considered a retrograde step, but Geoff and Merril no longer consider the DT175 to be top dog. What has happened is the competition has caught up and overtaken Yamaha's top seller.
Geoff rode the DT up to MIRA, a journey including every road type in its 170 miles. While Geoff is prepared to admit that his economy-sized posterior takes some accomodating on small bike seats, he found the DT's uncomfortable after 40 miles and by the time he got to our hotel near MIRA, needed several pints before he could talk about anything else. Others agreed the seat was harder on bums than the other three trailsters and there was barely room for a pillion passenger.
Maximum speed sitting upright at t lie test track was 64mph. Although the speedo's unusual tendency to read low means this was ;i truetwmph.it is still surprising that a bike with six gears to choose from should have the engine running out of revs in top below 70mph. Perhaps, we thought, the Y am aha has lots of low torque to enhance its off-road abilities, but the KE had a lower non-snatch speed, despite a higher first gear, as well as achieving a higher top speed at lower revs than the DT.
In short, the MX '80 model is not so flexible, although it should be remembered that its spread of power would have been considered excellent only a couple of years ago, such is the rate of progress in trail bike design,
When the Red I .ion's best began to ease
the pain in his butt, Geoff remembered that the DT was very easy to start, handled and steered well and had a pokey motor. The tyres gripped adequately on tarmac but had some unsettling tendencies. The light front end and sensitive steering let the rider feel every block of the front tyre as it bit into the road which gave a juddery feel to the bars. Leaning for bends was a three-stage affair as the weight transferred from centre tread blocks to shoulder blocks then sidewall blocks. Not surprisingly the tyres whitelined badly, too.
On the trails, the tyres were excellent. The DT flew up a stepped hill covered in loose sand without wheelspin, while the KE ran out of grip and dumped Merril half way up. Bob decided it was time to show Merril that skill and technique were the only things preventing her from getting to the top and proceeded to charge the hill on the KE as he had with the DT. Much to Merril's delight, he landed in a heap only a couple of feet from where her excursion had ended. A second attempt failed even earlier and proved conclusively (so Bob said) that the DT's tyres were infinitely better than the KE's in deep loose sand.
They were also very efficient at dealing with mud, allowing the bike to climb out of a stream up a wet muddy bank without wheelspin where all the other bikes had to be legged up. The tyres' efficiency could be further enhanced by safely lowering tyre pressures thanks to security bolts fitted to both front and rear steel rims.
Traction at the rear was undoubtedly aided by the De Carbon monoshock rear suspension, which gave 5.7 inches of well-damped rear wheel movement. The effect was deceptive. The rear felt soggy but never bottomed, absorbed all bumps and coped with everything from fast deep ripples to hefty jump landings without getting upset. The nitrogen-filled suspension unit had five pre-load settings.
Gasping and wheezing
The front forks were also softly sprung and damped, closer to trials suspension than moto-cross, but didn't bottom on the downhill steps of the scrambles course. They were fitted with gaiters which could be heard gasping and wheezing like a bronchial octogenarian. Any manufacturer who produces a trail bike without fork gaiters plans to sell a lot of spare fork stanchions, bushes and oil seals, so Yamaha should be congratulated for their honest practice.
The steering which felt so light and sensitive on the road paid off on the rough, where wheelies came easily and slow speed manoeuvrability was excellent. Steering through the deep water of a river bed was simplicity itself at less than walking pace and the engine kept chugging away at low revs despite being part submerged in cold water. The turning circle was noticeably smaller than the Suzuki 250.
The brakes took a good deal of drying out after the stream riding and squeaked their protest thereafter, hut the single-leading-shoe drum stoppers were not very impressive before we went trailing.
At MIRA they gave the worst solo stopping distance at 182 feet from BOmph,
and were hopelessly inadequate with a passenger, taking 232 feet to stop at the same speed.
If the brakes did not encourage two-up riding, the fuel consumption did not suit long distance touring either. Geoff had to stop three times for petrol on his epic bum-busting burn-up to MIRA with only 77 miles before reserve. Our Petrometa tests showed why:
At a steady 60mph the Yam burned a gallon for every 40 miles, compared to 53 for the Benelli and Suzuki and 63 miles for the miserly Kawasaki. The overall 38mpg figure is low because most of the miles involved were on the trail, but even so an owner should expect no more than 45mpg with normal road use. Oil consumption was also heavy at 170mpp. What was the DT doing with all this juice and lube?
Although the Kawasaki beat the Yamaha in the flexibility stakes, the 250cc Suzuki flunked the top gear acceleration tests taking 13 seconds from 30-40mph and 12.8 seconds from 40-60mph. The Yamaha spent 8.96 seconds and 11.02 seconds respectively, while the Benelli took 9.65 seconds and 11.08 seconds, not so far behind the DT on the higher speed test, where the 125's peaky engine began to show through.
The Yamaha's six speed gearbox gave slick and smooth changes, both with and without the use of the wet multiplate clutch. The lever was well placed to operate with the toe of your riding boot while standing on the pegs over nadgery stuff — very handy. The 'dog's leg' clutch lever was light, as were all the handlebar controls and the switchgear was up to Yamaha's usual high standard.
The electrics were fed by a 6-volt, 4-amp-
hour battery, kept topped up with power from a flywheel magneto which also housed the capacitor discharge ignition. Earlier MX's had a 6-amp-hour battery. A 35/35 watt headlamp provided good illumination for night riding on country lanes up to 60mph and the big, bright 5/21 watt tail/brake lamp was a good safety feature.
The clearly calibrated speedo and rev counter were illuminated by a soft, green glow which prevented glare. Bright 17 watt indicators winked at night without the headlamp dimming in sympathy.
The Yamaha looked smart and purposeful in its latest colour scheme, but the styling was somewhat conservative and it was not so eye-catching as the Kawasaki or bright yellow Suzuki. Overall standard of finish was high.
Summary
Despite being overshadowed by the completely new KE175D2, especially on engine performance, the DT175MX '80 still excells on suspension thanks mainly to the 'Monocross' cantilever system at the rear. The Yamaha's tyres are much better off road than the Kawasaki's, although they feel a little less stable on the road. All in all it is still a good buy at £650 inc. VAT.
Bob God