Yamaha DT 125MX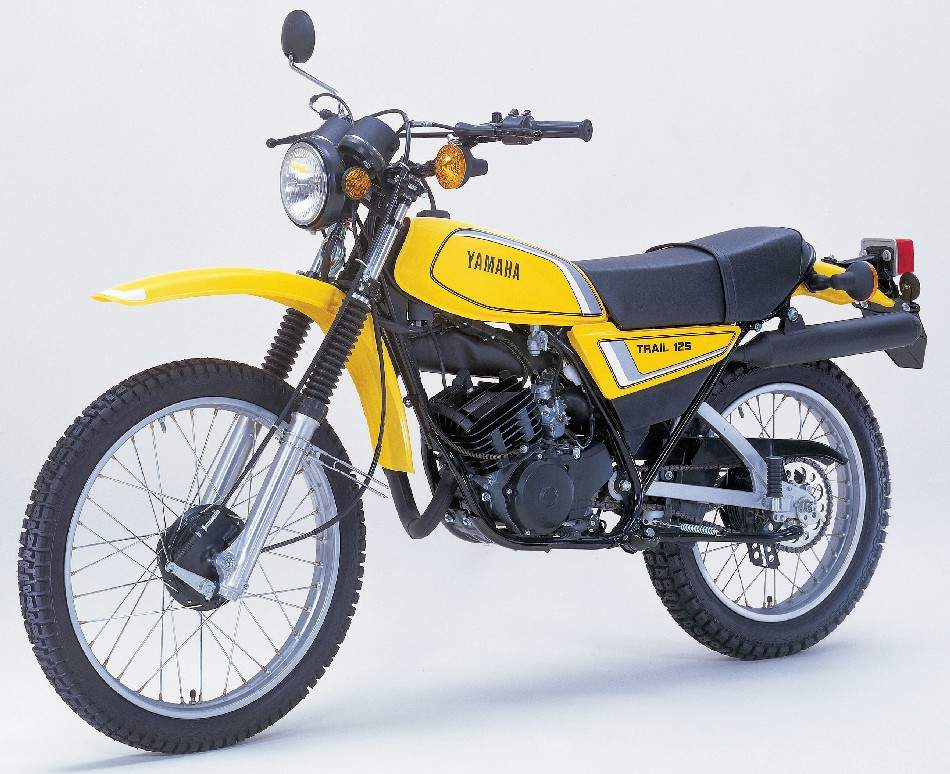 Make Model

Yamaha DT 125MX

Year

1982

Engine

T

wo stroke, single cylinder,

reed-valve

Capacity

123 cc / 7.5 cu-in

Bore x Stroke

56 х 50 mm
Cooling System

Air cooled

Compression Ratio

7.2:1
Lubrication
Autolube
Oil Capacity
0.9 Litres

Induction

Single 24 mm Mikuni

Ignition

Flywheel Magneto
Starting
Kick

Max Power

14 hp / 10.3 kW @ 6500 rpm

Max Torque

1.5 kgf-m / 15.2 Nm @ 6500 rpm
Clutch
Wet multiplate

Transmission

6 speed
Final Drive
Chain

Front Suspension

Telescopic Forks
Front Wheel Travel
160 mm / 6.2 in

Rear Suspension

Monocross
Rear Wheel Travel
115 mm / 4.5 in

Front Brakes

Drum

Rear Brakes

Drum

Front Tyre

2.75-21

Rear Tyre

3.50-18
Dimensions

Length 2080 mm / 81.8 in

Width 885 mm / 34.8 in

Height 1120 mm / 41.0 in

Wheelbase
1325 mm / 52.2 in
Seat Height
855 mm / 33.6 in
Ground Clearance
265 mm / 10.4 in

Dry Weight

96 kg / 212 lbs

Fuel Capacity

7 Litres / 1.58 gal

Consumption Average

79 mpg

Standing Ό Mile

19.9 sec

Top Speed

74 mph

Bike magazine 1981
Kawasaki AR80. Yamaha DT125MX. Yamaha RD125. Vespa P125X.
THE 125cc LEARNER LIMIT HAS BEEN A long time coming — not that it's here yet, of course. The writing went up on the wall in 1977 when a ruling that bikes up to 150cc should be plated to indicate that capacity crept in with the infamous slowped law. Near-as-dammit l00mph 250s like Suzuki's X7 were another excuse for Government action of some kind.
No one seriously pretended that yet another capacity restriction on learner machines would by itself cut casualties but, when you're an Elected Representative of the People, it matters less what you do than that you're seen to be doing something. Almost anything.
Even by their own standards, however, the Governments which brought in the 250cc learner limit and the slowped law didn't get it completely right. Quarter-liters for beginners were OK in the days of BSA C15s but the law didn't forsee the days of screaming Jap two-strokes like the RD250 whose makers extract getting on for 130bhp per litre from their motors.
The slowped law has been seen, even by non-biking types, as an ill-conceived piece of legislation which created as many, if not more, dangers for 16-year-olds as it was supposed to do away with.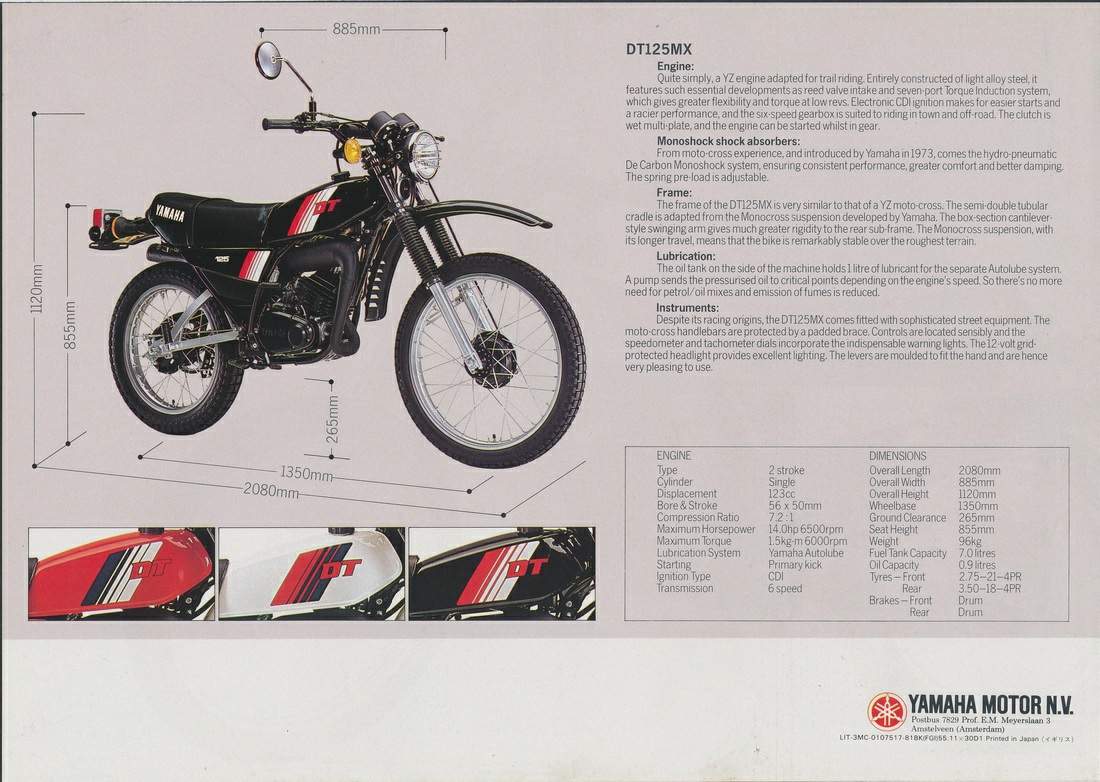 This time, they've tried harder. Due at least in part to the efforts made by the bike trade organisations, the BMF and others, the latest law affecting bikers is a bit more sophisticated. Bike was predicting a 125cc limit back in 1978 but now the capacity limit is backed up by a 12bhp power limit. No doubt some Government chappie reajised there were screaming 125cc two-strokes like the RD125 whose makers were extracting getting on for 130bhp per litre from their motors . . .
So here's Bike's Teeny Giant test in which we pit two 125s which won't meet the new regs against the Vespa scooter and the Kawasaki AR80 which will. The RD125 Yamaha is an obvious candidate for the chop if you're a Whitehall person even though it's no more highly tuned than the Government-approved AR80 and no less a competent little bike with adequate handling and brakes for its performance. Not surprisingly, a detuned RD125 would hardly be an adequate response to the 12bhp limit and it looks like its successor will be the RD80LC first shown at the Paris Show in October. Yamaha also have a watercooled 125 trail bike for 1982 but it puts out I6V2 horses. The 1981 DT125's on-the-road performance is only a little faster than the Kawasaki's but it, too, is over endowed with bhp for future learners.
The AR80 is definitely of the new generation. Light, quick and snappily-styled, it's much more than merely an overgrown moped. But it's hardly the easiest bike of the four to ride and by no means all learners are midgets. Six volt electrics aren't the best basis for an extra 30W drain imposed by proposed twin riding lights, while such small machines are even more easily overlooked by yawning, preoccupied and plain bad car drivers.
Which leaves the Vespa. Its power output is comfortingly correct but does that alone make it safe? All letters of complaint about Bike testing scooters should be addressed to The Third Igloo on the Right, Bjornstallingvellyr, Greenland.
KAWASAKI AR80
THE BELLS, THE BELLS: WHERE THE heck are they coming from?' I thought as I exited the tunnel running under Aldwych and up into Kingsway, London WC2. A persistent ringing sound had appeared, seemingly right around the back of my helmet, halfway through the tunnel, but I'd been concentrating, at the time, on straight-lining the tunnel's bends and only really noticed the noise when hitting the open air again.
Then I spotted that the innocent and thoroughly suburban blue Hillman Hunter car behind contained two large, blue jacketed gents with flat caps and, no they weren't chasing me to read the gas meter.
The same car had been right behind me seconds earlier on the south side of Waterloo Bridge so I knew what the next step was going to be:
'You're lucky to be alive, ain't yer sonny?' said number one. 'Don't you know you're vulnerable on these things? Do you want to live to 20?' said number two. I removed my full face helmet and the life expectancy estimate was raised to 30 but they were right — I had been lucky to get away with an incident that had all the chances to become an accident.
It was a normal enough London scene: cars parked illegally and inconsiderately by a bus-stop, bus double-parked to let off passengers, taxi hugging the nearside looking for a fare and then — without looking, of course — pulling out to pass the stationary bus and causing the white Cortina in front of me to brake sharply and swerve to the offside directly into my path. As the coppers said, it was easy to see the whole scenario developing right in front of you and as an experienced rider who's had one or two, er, three or four, er . . . falls,
I should've known to hang back and wait for the road to clear. Why hadn't I? Well, my only reasoning is that I'd become so wound up, so tense and aggressive in my riding on the little Kawasaki AR80 that normal, rational thinking went sideways along with the back of the bike as I panic-braked.
Fortunately, I managed to convince them that it wasn't my normal road behaviour — and it isn't, I've long since given up trying to be a road racer in London traffic but the point was made. I rode back to the office, parked the AR80 and refused to ride it again.
It's difficult to criticise Kawasaki for producing the AR80 in such a pure street racing role for it's the fulfilment of every young tyro's fantasy. It's low, sleek, light and has radical styling that leaves no doubt as to your personality. It's certainly no utility hack bike dressed up in plastic add-ons being passed off as this year's special. It is special from the neat aerofoiled flyscreen, the unusual clip-ons mounted onto an extension of the top fork yoke, the dog-leg shaped levers, tacho and speedo sunk into a matt-blacked console, the matt-blacked motor and expansion chamber slung underneath and looking purposeful, right to its trick Uni-Trak rear suspension which leaves the seat and tail unit clear above the rear wheel, uncluttered by twin shock absorbers.
How can you complain about a bike which pulls strongly and briskly through six gears to a maximum speed of 65mpn and which'll cruise happily at 55-60mph, all the while sounding not a great deal noisier than a Honda step-thru?
And this from a simple piston-port controlled reed valve 78cc, automatic tubed, motor that fires up first kick every time.
What you can legitimately complain about is the narrow power band that requires constant swapping of those six ratios to keep the bike buzzing along. It's just not possible to cruise at a steady 30mph along a busy central London or any big city — street in the same gear: as you're planning your line through the traffic, negotiating potholes, manhole covers and pedestrians you need instant power response.
The lObhp @ 8,000rpm AR80's effective rev band is so narrow that 20-35mph requires third, fourth and fifth gears. Imagine that handicap to skilful riding (and no, I'm not preaching safety, just skill) to a rider with ten years' experience and then imagine the same to a novice, perhaps encountering rain and greasy streets for the first time.
Out of town, it's a different deal: the AR80 is fun for precisely all the things that make it a poor city hack.
The steering is very quick in response and precise once you've learnt that it requires no effort beyond a gentle nudge to initiate a turn. To begin with, I found that I started cornering far too soon; I'd clip right hand corners on the wrong side of the road and have to swerve quickly on lefts. That only took a day to get used too, however, and was as much to do with not being used to such a light weight machine.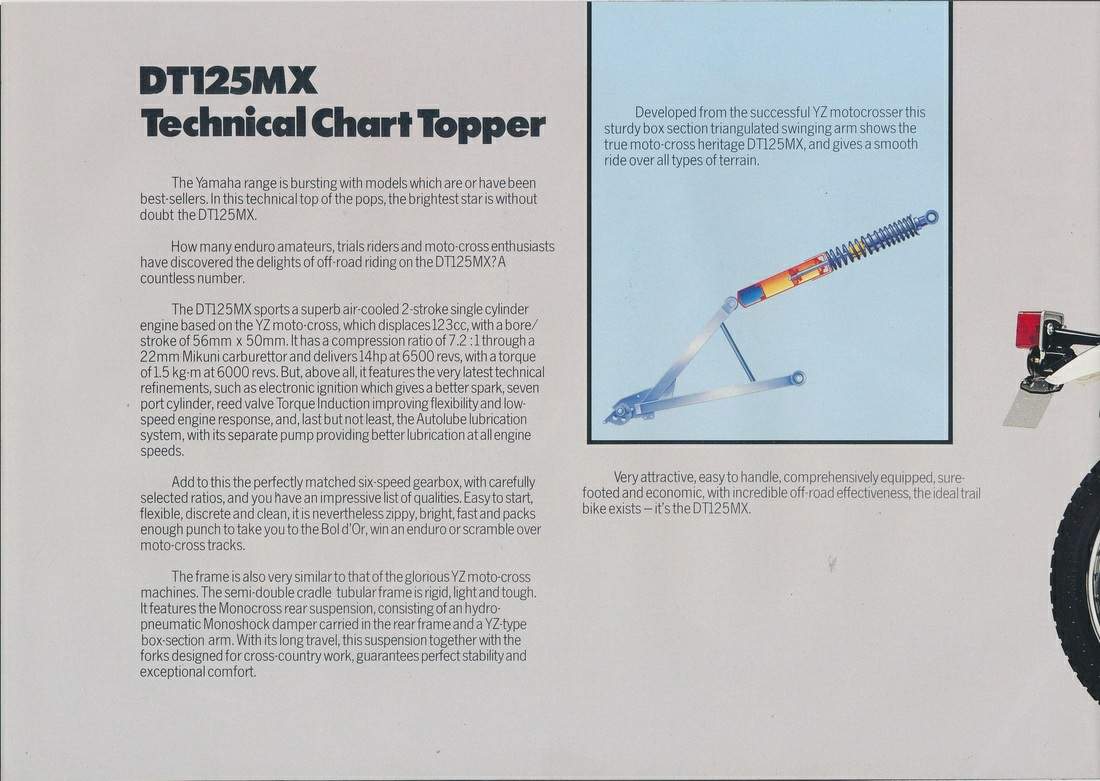 Unlike many small bikes of this capacity range, the AR80 has a proper tubular full cradle frame gussetted at the steering head for rigidity. The forks are hydraulically damped and have 130mm of travel; the rear Uni-Trak suspension works on the rising rate principle where a light spring is used to cope with soft ripples and small road imperfections but with an overhead lever system to progressively increase the effective spring poundage (ie: stiffness) to prevent bottoming out. There's the normal spring pre-load cam at the bottom of the Uni-Trak single shock absorber which can be set for heavier weight riders but it's the very devil to reach. The ride is firm and can be skittish over some surfaces but with a dry weight of only 75kg (1651b) that's to be expected perhaps. Certainly it's better than most small bikes.
Braking is by a single 182mm diameter disc up front, operated by a hydraulic caliper, and 110mm diameter drum at the rear. Both are extremely good, wet or dry, with bags of feel and that's a major point on such a light machine with skinny tyres. Not so good is the choice of six volt electrics for I wouldn't trust even another biker to notice the feeble indicators flashing for an intended right turn, let alone a cabbie. Switchgear is all as on big bikes with easily reached dipswitch and horn.
The closer you inspect the £499 AR80, the more you wonder at its good design points: the oil tank supplying the auto lube system fits snugly between the top two frame tubes and its cap lies under a locking flap just ahead of the petrol cap. It'll run happily on two-star fuel, swizzling the stuff down at anything from 65mpg up to a more reasonable 85mpg. Oil consumption is difficult to measure precisely unless you're really clocking the miles but there's a low oil level warning light in the tacho dial to warn you that a fill-up is necessary now.
Exhaust is rubber-mounted at its sole frame support — which vibrated loose — and sweeps up neatly to melt a pillion rider's high heel hanging down from the footrests mounted to a sub-frame (which is a lot better than being mounted on the swing arm as are many). The dual seat is comfortable and easily long enough for two and "there's a grab rail. Extras include a helmet lock (steering lock is under the bottom fork yoke) and twin mirrors which are too small to be of much use. No centre stand is fitted, just a long throw prop.
When I first collected the AR801 thought that this was going to be the definitive lightweight street racer for 17-18 year olds but now I'm not so sure. Out of town or in less busy suburbs it would be fun though occasionally a pain to ride. It isn't fun at all in the wet anywhere because of the necessity to pamper the throttle and gear-leaver. For learner riders — or anyone attracted by its styling and first rate chassis the AR would be a much better machine if Kawasaki exploited the British capacity changes with a softer tuned 125cc motor with fewer gear ratios. It wouldn't have to go any faster than the AR80 but it'd be much easier to ride. ■
Dave Calderwood
VESPA P135X
A SCOOTER . . . YOU'RE NOT seriously intending to park that here, are you?' Appearance of the Vespa 125 in the office motorcycle rank met with no little scorn from the other riders in our building. And I was a h!tle peeved myself at landing the PX to test as office junior that's the way it has to be for the moment, I'm told . . . Still, the Vespa did prove, in the next couple of weeks, to have certain advantages as an everyday means of transport in this Great Metrop in which we're based.
It's 35 years since Corradino d'Ascanio laid down his design for the original scooter and "-here's been no fundamental change in the three features which make such a device so distinctive. First, an open frame with a flat footboard does ave good weather protection which would be complete if a windscreen is added. Together with the fact that's a step-thru means it isn't necessary to be togged up in full dress motorcycle gear in winter — an important point for travellers desiring an appearance slightly more appealing than a tired and emotional Michelin Man (or Ms).
However, there's one major problem with all this area of pressed steel: it has the aerodynamics of a large paper bag. Side winds from gaps in buildings, tail winds, head winds or just plain turbulence from a passing lorry can whisk you into a weave needing a touch on the brakes to steady. I'd advise also against wearing loose clothing one puff up yer parka can have you going sideways if not up.
Another original feature is the enclosed engine, tucked under the right removeable 'bubble'. It's a single cylinder two-stroke motor which still uses that ancient rite known as 'Mixing the oil with the petrol'. It's rare these days to find a proper petroil fuel pump and I constantly carried a supply of two-stroke oil since you can't even guarantee a service station having this in stock. That's a pity for otherwise the full enclosure makes the Vespa a thoroughly 'clean' machine. Accessibility to the engine is good under the bubble but the only reason you're ever likely to go under there is to maybe check the plug; it's possible to oil a plug if you don't remember to switch off the tap when putting in the required 50:1 dollop.
Transmission is direct to the rear wheel through gears so no chains need adjusting. Starting from cold often required several prods at the right side kickstarter (which isn't really possible while sitting astride the bike) but it quickly warms up. Operation of the clutch lever/twistgrip gearchange takes a bit of getting used to but it is light in feel and I had no problems with missing gears or selecting the wrong one.
Third point of d'Ascanio's design is that the front and rear wheels are mounted on short stub axles making wheel changing a simple affair. The wheels are interchangeable and there's a spare mounted under the left bubble. Changing a tyre or inner tube is also easy: the rims can be split by deflating the tyre (if it isn't already) and undoing two nuts.
On the road, the trouble with these small (lOin diameter) wheels is their dramatic reaction to imperfections in the road surface and encountering a series of small potholes at over 40mph can be very hairy. Still, that experience isn't all that wonderful on a bike either. Both front and
rear suspensions have a light spring and hydraulic dampers which do little to control pitching fore and aft, though small bumps and ripples are absorbed nicely.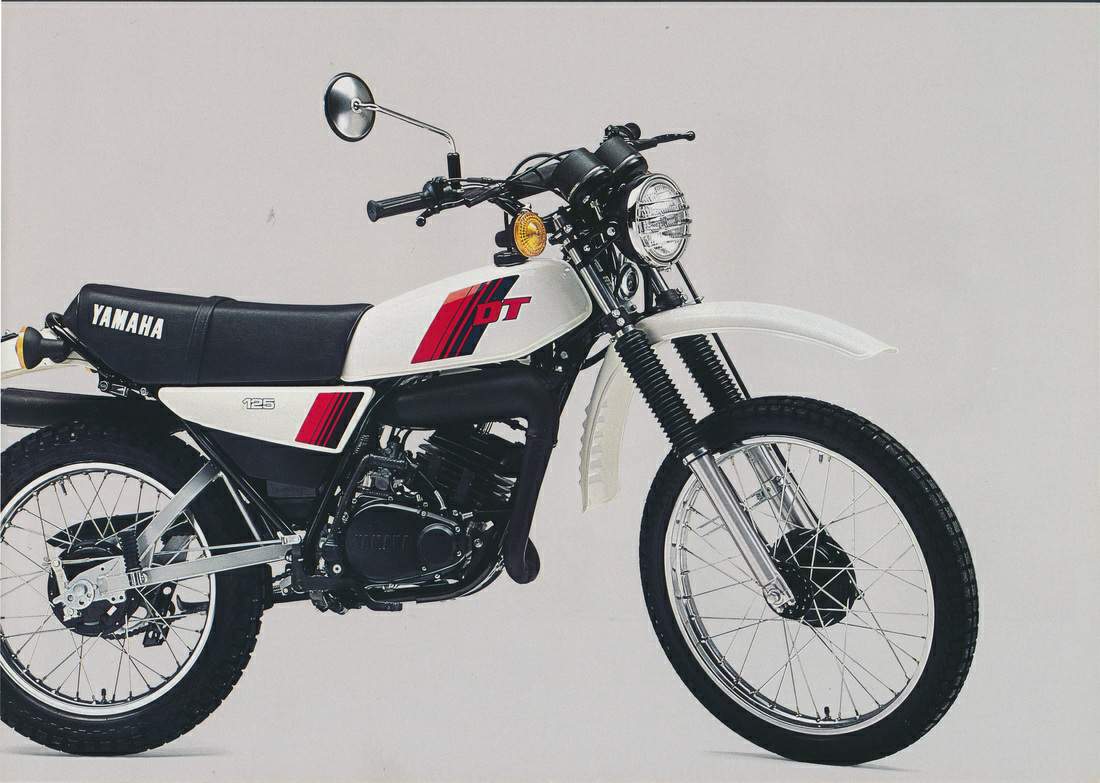 It's around town that the Vespa's usefulness comes over. The steering is nippy and light giving excellent manoeuvrability in traffic and at 30-40mph cruising speeds the bike is quite stable on decent surfaces. Above that — maximum speed is between 45-50mph depending on wind direction and slope — and the bike tends to hop around a bit. Its low centre of gravity helps the manoeuvring and when holding a steady line through a turn. Careful though when riding in the wet: the bike's skittishness over bumps can have you going sideways.
With the motor churning out a lowly 8bhp and having to haul a scooter weight of 104kg (2291b) plus rider, it doesn't come anywhere near the performance of the other 125s or even the AR80. However, this soft tune means it's real easy to get along with, and such actions as pulling away don't require rpm hysterics from the motor and/or frantic clutch fanning. It hasn't got bundles of mid-rpm power, of course, and two-up riding cut the performance down a lot.
It's just as well that it's no scorcher like the others since it hasn't got brakes anywhere near as good.
The drum brakes front and rear are quite hopeless and the rear foot brake is the more powerful, probably because you can stamp harder than you can pull. This is a criticism that only a bike rider would make probably since we're used to a good response from the front stopper; the Vespa is aimed more at non-bike riders who often feel trepidation at hauling on the handlebar lever for fear of going over the top. They — wrongly rely on the less effective and less safe foot brake just as they would in a car. The rear brake's pedal is quite high off the board so what tended to happen while I was riding the Vespa was that my right foot would hover directly over the pedal — clear of the footboard ready for action. Pillion rider's feet share the rear of the footboard so there's a chance of entanglement.
Don't put too much faith in carrying luggage without fitting a rack. That useful looking 'glove compartment' inside the legshields is an awkWard shape for most items and much room is taken up by your supply of oil and the measuring jug. The tyre hand pump and a basic toolkit also lives in that lockable box. It's a two key bike — though we were supplied with a third which didn't seem to apply to the test machine with the ignition having its exclusive key.
T'other one also secured the seat (hinged from the front for access to the fuel cap), and steering lock. The little clip on the bulkhead just under the seat is an extra carrying device and you can thread a case handle or helmet strap through. That's not lockable however and there's no helmet lock.
Looking around our part of the City, Vespas seem to be attracting two types of riders: old men who once would have opted for a step-thru fifty and these kids calling themselves mods. No doubt Douglas, the importers in Bristol, would like to create a chic image and get long-legged fashion model types aboard just as Vespa have in Italy (Italian mags we get in this office seem full of scooter and mofa ads draped with clean, chic women and men). It could work for they're easy to ride, have low maintenance requirements, good fuel consumption and they're better at keeping your legs dry than bikes. At £619 I can't see many teenyboppers going for it though. Enthusiasts will opt for the bikes and the model types will go for a cheap, secondhand car. ■
Shelagh Webb
YAMAHA DT125MX
COMPROMISES ARE ALWAYS ULTI-mately unsatisfactory but the £639 RD125MX trail bike gets by pretty well as long as you don't test its road capabilities too extensively or go to extremes on the dirt. It's well equipped for the street and well set-up for knocking about on the rough, but you gotta remember that quite a few riders buy trail bikes not as dual-purpose commuter/fun machines but because they're nearly always bigger than road bikes of the same capacity and therefore big boys (and big gurlies) feel less like dawks when tooling down to the shops of a Saturday pm.
The DT is four or five inches larger all round than its RD stablemate. The seat is two inches further off the deck too, making it a real stretch for short-arses. Fuel capacity is only 1.5 gallons but consumption can work out at a frugal 70mpg if you're careful though it'll plummet to below 35mpg under serious off-roading. Claimed maximum power from the 123cc motor (in snazzy matt black with nifty radially-finned head) is a meaty 14bhp at 6500rpm which is good for a flat-out, flat-on-the-tank top end of about 68mph but bad for future learners.
Yamaha's 1982 range includes a new watercooled DT125 but it's claimed to be 2.5bhp more powerful than this one. There's also a new four-stroke 125 trail iron the XT125 — which should be learner-legal.
The DT's gaitered front forks provided plenty of travel while the monoshock rear suspension coped with road bumps and potholes far better than the soggy shocks on the RD. You have to unbolt the dualseat to get at the monoshock unit and lay a C-spanner on the adjuster slots. Helps to have a ring spanner handy to undo the bolts if your dealer's just done 'em up because the bike's own toolkit definitely isn't up to the job.
The single 24mm Mikuni carb has a pull-out choke lever which was fairly easy to locate on the move. Once going, not much happens below 5000 revs but the DT was quite capable of holding its own in fast city traffic if it was constantly booted around through the five-speed gearbox to keep the revs up around the 6000-7000rpm mark. Right down the bottom end of the rev scale, the 125 would amble around in first and second with the speedo needle hardly registering.
Winging along on dry roads was almost a pleasure, but I never felt wholly confident about the trials pattern tyres whose knobbles are hardly in the bubonic class. Well, they're only a compromise after all.
The area of Buckinghamshire in which I live is ideal terrain for on-off reading 'cos the four or five miles of green lanes within easy reach of Quaddy Acres are all in 1,000-yard-long segments separated by miles of country highways. Armed with a footpath map on which the Chilern Society had been honest enough to mark RUPPs ('precise status under review' added a gruff footnote in case trail riders thought they were getting away with anything) I set off down a series of lanes varying in surface from firm earth, through sloshy mud to rutted stones.
The tyre pressures need to come down so that you can find some kind of grip in the mud, but the rims are fitted with safety bolts so that was no problem.
I set the monoshock unit on medium preload, but this was proving rather too firm on the flinty bits so I decided to drop it a couple of notches. Guess when I found out the DT's toolkit couldn't get the seat off? Most of the time it didn't matter because the going was softer and the trails so overgrown that it was more a question of riding over the logs and stumps in the path and hoping the 'bars wouldn't snag on trailing branches or brambles.
With the reed-valve single pushing out adequate torque it's fairly easy to trickle throught the tricky bits, though if the DT had fallen into a ditch its mere 2201b or so shouldn't have presented any retrieval problems.
Unlike the RD 125 which had excellent lights, the DT's 6V/35W headlamp was no more than average on dipped beam and scattered its light badly on main beam; a case for more attention to the lens and reflector.
The brakes, 5in single leading shoe drums front and rear, shouldn't be asked to perform miracles but they didn't overtax the tyre's limited on road adhesion. ■
Brecon Quaddy
YAMAHA RD125
TOO MUCH VICIOUS, UNCONTROLlable horsepower means only one thing for Yamaha's RD125 The End. 16bhp at 9000rpm puts it about as far outside the coming 12bhp learner limit as current roadgoing 125s will go, which is not only a shame but pretty daft because anyone who can walk, crawl, shuffle or roll into the nearest road can get themselves killed without having to buy even a bicycle.
And anyone with an interest in logic could tell you there's no way you can possibly point to a cubic capacity or bhp figure and say 'that's too high for safety' or 'that's low enough", but then politicians readily admit there's little room for logic in their profession. Still, the RD125 as we know it is done for and there's nowt we can do about it except stick together and make sure Whitehall's Oxbridge mafia are fully aware of bikers' views on future legislation.
Mind you, the L-plate loony's fave eighth-litre two-stroke twin is getting a bit long in the tooth after six years in production.
The styling may have been tarted up regularly to bring it roughly into line with changing fashion the twin leading shoe front brake became a hydraulic disc and the inevitable cast wheels appeared a couple of years ago — but it looks more and more like a refugee from the mid-seventies. Those disproportionately large indicators sticking out either side of the 35/35W headlamp are a dead giveaway, but at least they feature Yamaha's excellent self-cancelling system.
Electronic ignition passed the RD by — contact breakers on the lefthand end of the crankshaft still do the business for the 124cc piston-ported, reed-valve twin.
The squared-off tank holds a respectable 2.8 gallons and the lockable seat hinges up to reveal the toolkit in a neat pouch in the tail and the filler cap for the autolube oil reservoir. The cap has 'motor oil' written on it in huge letters; presumably to deter novices from pouring in lemonade or marbles.
Starting the test bike was easy. Flick the carb-mounted flick-up choke lever, prod the kickstart and the RD will usually burble into life first go. Finding the choke lever while on the move to turn it off wasn't quite so easy: more bloody infuriating really.
Once warmed up, the RD will pull right round to the ten grand redline in all five gears, which gave it an indicated top speed of 75mph in top even when I was sitting up, but low hills or headwinds pushed the revcounter needle back to course, learners don't need anything over 60mph from their bikes 'cos they can't use motorways, but that view ignores the need for a speed reserve for overtaking.
The RD's acceleration wasn't a lot to write home about, even in
could get past 5Smph artics fairly safely. Future learners will just have to learn to love eating diesel fumes.
Pulling away from traffic lights, the RD's acceleration is easily enough to leave 95 per cent
the 9000rpm power peak. Theoretically, of the 6500-90O0rpm action zone, but at least it of Joe Average Road Users in a cloud of unburnt hydrocarbons, and by keeping the power screwed on the whole time, my journey times for a 30-mile trip to the office on the RD weren't substantially down on the 50 minutes I usually reckon on when I'm on my 650. Constant screwing (sorry) is what the RD is all about and it's well able to take it.
The test bike came to us straight from MCN without time for the usual service at Mitsui but there were no signs of trouble even though it had been through the obligatory timing-light thrash at MIRA with only a few hundred miles on the clock.
Riding around at 65-70mph whenever possible didn't do much for fuel economy, however, and it drqpped to 46mpg on the commuter trips, compared to around 51mpg for my 650. Funnily enough, the RD doesn't have a tripmeter whereas the dual-purpose DT125 does.
In slow traffic, it could be ridden down to less than walking pace in bottom and still pull away, but the wide 'bars (nearly 3ft wide overall including the mirror) often meant missing chances of nipping through gaps in queues. Braking from the disc was adequate and the rear drum wasn't too fierce — A Good Thing in view of the almost universal tendency for beginners to rely solely on their bike's rear stoppers.
The riding position was OK although I'd have preferred narrower 'bars while handling was about what I'd expected given the mixture of a low, short wheelbase (48in) machine with a 5 foot 10 inch, 12 stone rider. Even on the firmest of their five spring preload settings, the shocks gave me a bouncy ride and the forks dived abruptly under braking, but maybe that's a legacy from its past.
Night-time riding was no problem thanks to the RD's excellent headlamp which gave such good illumination on main beam that I even took the bulb out to make sure it was only a 35W job. Dip beam wasn't quite so impressivve but it was nicely conspicuous in daylight and I once again failed to see how the twin 15W day riding lights proposed by HM Government's tame boffins at the Transport and Road Research
Laboratory are going to make much difference. This is a good time of year to spot 15W bulbs by the way they're most commonly used for jobs like lighting up corporation Christmas trees.
At the time of writing it still wasn't clear whether the Government was going to stick to its original plan of introducing the new test next month and the 125cc/12bhp limit next October or vice versa, but assuming it does the former, there are still 10 months left in which learners can legally ride bikes like the RD. You've then got to decide whether you want to buy one and face possible problems selling it when the learner market for secondhand RD125$ dries up, or whether you want to go for one of the new generation of sports tiddlers like the Kawasaki AE80 or Yamaha's own up-to-the-eighties RD80LC, both of which will be learner-legal when the new law comes into effect.
The £689 RD has the advantages of greater size and extra power right now, even if it is destined to join the late lamented FS1E moped in the hall of fame reserved for bikes sidelined because somebody suddenly decided they were too much for your average beginner, whatever that means. ■
Brecon Quaddy