Make Model

Yamaha BT 100 Bulldog

Year

2005

Engine

Four stroke, 75°V-twin, SOHC,

Capacity

1063 cc / 64.8 in

Bore x Stroke

95 x 75 mm

Compression Ratio

8.3:1
Cooling System
Air coolid
Lubrication
Wet sump
Engine Oil
Mineral, 10W30SE

Induction

2x 37mm carbs

Ignition

TCI (Transistor Controlled Ignition)
Spark Plug
NGK, BPR7ES
Starting
Electric

Max Power

65 hp / 47.4 kW @ 5500 rpm

Max Torque

88.2 Nm / 9 kg-m @ 4500 rpm
Clutch
Wet, multiple discs, cable operated

Transmission

5 Speed
Final Drive
Shaft
Frame
Aluminium, Single cradle frame

Front Suspension

43mm forks preload adjustable,
130 mm / 5.1 in

Rear Suspension

Rising rate monoshock preload adjustable.
Rear Wheel Travel
113 mm / 4.4 in

Front Brakes

2x 298mm discs 4 piston calipers

Rear Brakes

Single 282mm disc 1 piston caliper

Front Tyre

120/70-17

Rear Tyre

170/60-17
Trail
106 mm / 4.1 in
Dimensions
Length 2200 mm / 86.6 in
Width 800 mm / 31.4 in
Height 1140 mm . 44.8 in
Wheel base
1530 mm / 60.2 in
Seat Height
812 mm / 31.9 in
Ground Clearance
168 mm / 6.6 in

Dry Weight

229.5 kg / 505.9 lbs
Wet Weight
251 kg / 553.3 ub

Fuel Capacity

20 Litres / 5.2 US gal

Consumption Average

16.5 km/lit

Standing ¼ Mile

13.8 sec / 97 mph

Top Speed

110 mph
The Bulldog is a rather curious motorcycle, with a somewhat confused identity. Styled like a naked, aggressive musclebike, which looks like it could take on Ducati's Monster or Buell's X-l, the Bulldog actually offers rather mediocre performance. Its exposed V-twin engine is borrowed from the XVI100 Drag Star, and offers just 48kW (65bhp). Chassis-wise, a tasteful steel-tube perimeter frame snakes around the top of the engine, Rl-type front brakes are fitted, and the hunched fuel tank makes the Italian-styled Bulldog look like a short, taut machine. It's attractive too, with a neat flyscreen and high-quality detail finish. But again, the performance is more akin to a cruiser than an aggressive musclebike.
Milan, Italy, 12 June 2002 -- Oh my, oh my, what a little teaser she was. Just two years ago, a fresh and naked beauty ended up as a desktop background on countless computer screens around the world and prompted grown men (me included) to drool. Yep, that brutal MT01 concept Yamaha showed at the Tokyo Show was one hell of a turn-on. But in life, fantasy and reality do not often meet. The promise of a big-big-bore streetfighter, (or was it a supermoto with the mother of all engines?) ended up splitting into two different and somewhat diluted versions. Americans got their low & mean 1700 Road Warrior to play with, while Europe had to be content with a...mmm... how to call it? A naked power standard? Urban retro cruiser? Big pseudo-trailie-on-acid? Enter the BT1100 Bulldog.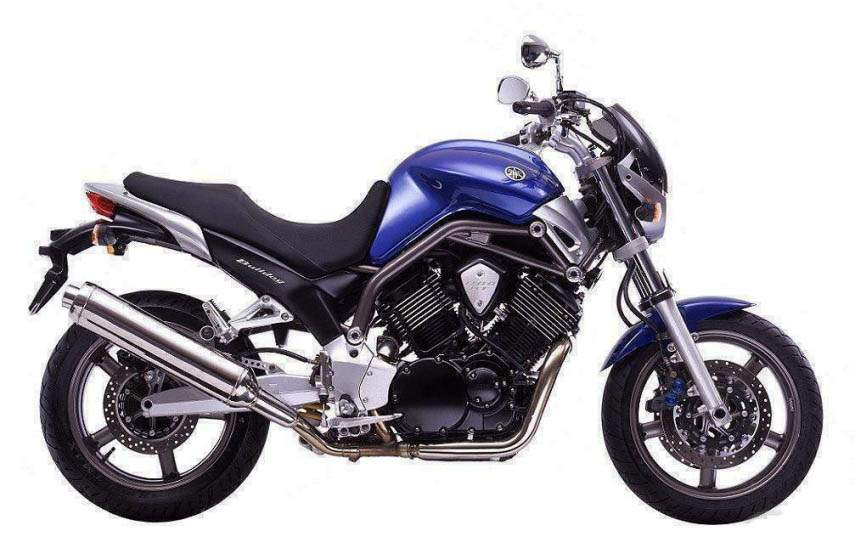 So like many Yamahas before, the BT1100 Bulldog is a tool that resists conventional definition. Yes, it does have Ducati Monster influences, some traces of that sexy MT01 concept bike and maybe a pinch of Buell poise thrown in, yet surprisingly, at the end of the day the result is so original that it earns the privilege of founding a new niche. Original-schmoriginal, the BT1100 is also a fine example of progressive motorcycle design, from its stubby proportions and bold shapes down to the abundance of amazing fine details. Countless approving nods from Milanese motorcyclists showed that at least on the styling front, Yamaha's designers got it more than right.
Mechanically speaking, it's a bit of a mixed bag. If that motor looks familiar, that's because it's been around for 20 years now, having powered the first ever Japanese V-twins, the Viragos 750 & 920 (and later the 1100 Drag-Star). The air-cooled, two-valve-per-cylinder unit has never won any horsepower contests, so any expectations you should have for easy burnouts on the twist of the throttle would better be shelved. The frame, on the other hand, is one bold and massive piece and holds much promise for rigidity and sporting prowess while enhancing the bike's looks with its daring mid-tank plunge. Further strengthening that sporty image are those R1 brakes, beefy right-way-up forks and a 170-section rear tire. And then you notice it's got a nerdy shaft drive and handlebar risers. Confused? So was I.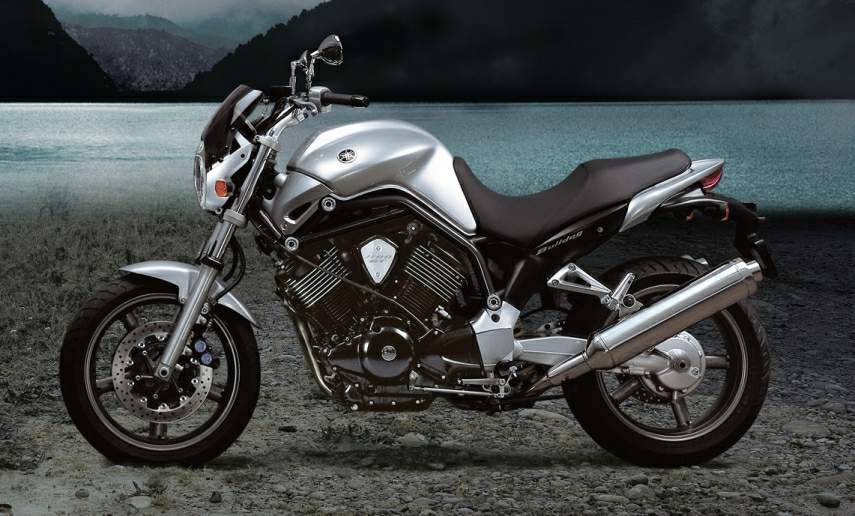 Things clarify rather quickly upon sitting on the bike and moving on. Any fears of a tough and hard-edged MMI (man-machine-interface) dispel as your butt and feet meet the soft surfaces of the seat and footpegs. Guiding position is true dual-purpose, loads of leg room, high and erect, with the bars feeling at first a tad too close and wrongly angled. A little fumbling with the choke lever under the tank and we have the engine running. There is a deeper rumble coming from the pipes than on the Drag Star, but throttle response already hints at a very mild response. And indeed, after a few stoplights the last hopes that there would be a mean streetfighter hidden in there somewhere, disappear. What a pussycat! Yamaha claims to have raised the peak output of the 1100 mill by three ponies, but with 65 claimed hp, the engine is a real softie. What does make riding the Bulldog a bit more interesting enginewise is that the peak torque point has been shifted from a lowly 2500 rpm in the Drag Star, to some 4500 in the BT1100. So instead of having an engine that pulls from zero revs and runs out of puff by the time the tacho needle crosses the two thirds point; the BT's engine is much more of a revvier and doesn't mind hitting the 7000 rpm rev limiter every now and then. In the lower half of the range it's a nice plodder with the power climbing in linear fashion from 3000 rpm and up.
With its powerful brakes, you can rest assured the Bulldogs brakes are far stronger than its bite. Although disappointing at first, the super friendly power grows on you as you clock more and more urban riding miles. The engine is a real doddle to use, and it's helped by the cycle side of the equation, which feels really at home in the city. The erect riding position works superbly and allows for easy scanning of the surroundings without any neck breaking contortions needed, an important virtue in the world's fashion capital, where model types seem to grow on trees. On the countless stone paved streets of Milano, intersected by streetcar rails, the soft fork filters out most of the white noise while the progressive-linked monoshock is a bit less accommodating on bigger bumps. Steering-wise, the wide handlebars produce instant steering response in tight situations and hide well the considerable mass of this well-trained Bulldog. Time to hit the highways and the canyon roads.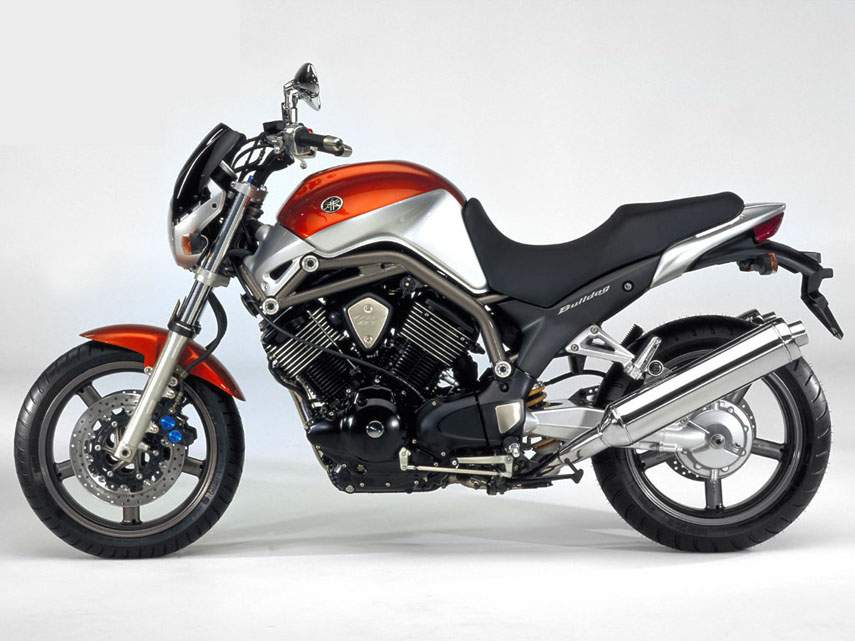 With a fully upright riding position and a tiny bikini fairing for wind protection, cruising speed depends mainly on your will to fight the air pressure. The engine is capable of propelling the Bulldog to some 110 mph, but eventually 90 is a far more reasonable proposition. The limited amount of horses in the stable means that quick overtaking requires a downshift or two, but as long as you're not trying to compete with any squids out there, the BT gets the job done without any perceivable vibration.
On long freeway stints, the all-too-accommodating saddle becomes more of a pain in the rear. As it often happens these days, it's another case of a too-sculpted seat that keeps you pinned to just one position. Borrowing a term used by a MO reader, if your "lard factor" is above average, there's a good chance that things are going to be a bit cramped in the gender-defining zone.
Cramped or not, the Bulldog comes into its own again when the going gets twisty. There, the mixture of great stability and high grip provided by those huge tires, the stiff frame and the ample leverage of the wide bars works really nice, enabling a good rider to maintain an entertaining pace. Just like a good adventure tourer, the Bulldog supplies clean fun in the twisties, but it's no supermoto.
The 506 pounds Yamaha cites as the bike's dry weight, and the slightly underdamped fork eventually start to be felt when the pace picks up. Just as well, Ground Clearance is not one of the BT's main virtues, although by now it starts to be clear that on the BT1100, if you're pushing that hard, you are certainly calling the wrong number. In the braking department, the BT1100 doesn't need any excuses. It's R1 derived brakes need no introduction and supply ample power and feel in any situation. The rear brake, though, is almost too potent and locks too easily, not the best thing if you are a beginner.
Beginner? Who said beginner? Here at MO we are all a bunch of hairy- arsed bikers, aren't we? Must have been my unconscious playing games. After a few days of riding, the fact that the BT is one docile ride that could be a stepping stone for anybody climbing up the capacity ladder cannot be denied, and that in itself is quite refreshing. Save for Suzuki's SV650, there hasn't been a new, true beginner's mount in quite a long time, certainly not an 1100cc model.
Then we have that design issue. Just like in a cruiser, where performance is secondary to looks (or at least it used to be...), the BT1100 provides a hot conversation topic whenever it is parked in a bike-choked lot. Yamaha is the only Japanese company using the services of an external design office (GK Design) and that reflects on many of its models. The daring and courageous shapes of the Bulldog might have never been born within the confines of corporate design.
Above all, the Bulldog is one hell of an urban tool. I had a hard time trying to recall a bike that was so much fun to just hop on and go for those little errands--to my lover's or to get (cigarette!) rolling papers from the corner shop. Weigh in other factors like the low maintenance drive shaft and engine and the BT1100 starts making sense as groovy everyday transportation, beginner rider or not. Last but not least is the price issue. In Europe, the BT is sold in the same price bracket as the H-D Sportster, Triumph Bonneville and Ducati Monster 750. Against that sort of character-laden opposition, the BT1100 is on level battling ground. Will its quirky character appeal to the American riding public? That's the big question. At the moment Yamaha thinks not.
Source Motorcycle.com