Make Model

Suzuki AN 650 Burgman

Year

2006-07

Engine

Liquid cooled, four stroke, twin cylinder, DOHC, 4 valve per cylinder.

Capacity

638

Bore x Stroke

75.5 x 71.3 mm

Compression Ratio

11.2:1

Induction

Electronic fuel injection

Ignition / Starting

Digital electronic

Max Power

55 hp 40 kW @ 7000 rpm

Max Torque

62 Nm 6.3 kgf-m @ 5000 rpm

Transmission / Drive

Electronically-controlled, CVT- automatic

Front Suspension

Telescopic front fork with 41mm inner tubes, provides 105mm of wheel travel

Rear Suspension

Swingarm-style, twin preload-adjustable shock absorbers and a separate aluminium swingarm

Front Brakes

2x 260mm disc

s

2 piston caliper

s

Rear Brakes

Single 250mm disc 2 piston caliper

Front Tyre

120/70 R15

Rear Tyre

160/70 R14

Dry-Weight

238 kg

Fuel Capacity

15 Litres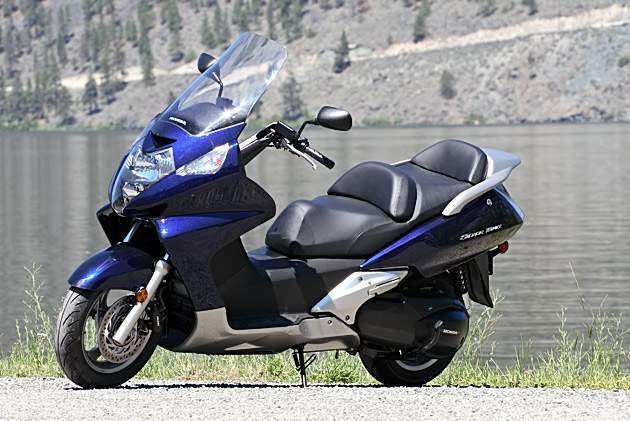 Road Test
Riding into Princeton the smell of fresh cut hay from roadside ranches wafts through my helmet's vents. It is hot for June, after a sodden spring the sun is pushing the temperature to 34°C and the hay into midlife. It's a combination of events that makes this early harvest and the accompanying aroma of fresh cut alfalfa possible. For me, having grown up in British Columbia's ranching interior, this is the smell of summer – one that I'd not realized I'd missed until this tour, or should I say, "scoot-tour". Our metal steeds are not the usual sort of back roads companions, they are the Honda Silverwing and Suzuki Burgman 650 Executive, two big displacement scooters that have purred through the past 800km and laid to rest any doubts I have about their touring proficiency.

Three days ago back in Vancouver I had a few doubts. Sitting in the underground pre-loading, neither the Burgman 650 Executive nor the Honda Silverwing struck me as particularly appealing pieces of road ordnance.

From the front the Burgman 650 Executive invokes thoughts of the FRJ 1300's functional styling, while the back is reminiscent of a Goldwing's wide-load. The Burgman 650 Executive's control pods are festooned with buttons for its CVT transmission's manual mode, power mode, fold in mirrors, and electrically adjustable windscreen. It has all the toys; ABS, sliding back bolster for the rider, back rest for the passenger, and a total of three glove boxes (only one locking). In short this is a bike for Bruce Wayne in his dotage, cruising the streets of Gotham in automatic gadgeteer comfort after running about the mansion all day on a wispa-lift. Maybe a cynical view, but I can't help but feeling a bit young for this bike's demographic.

The Honda? It's styling is the lovechild of an odd ménage a trios between CBR1000XX, an ST1300 and a Reflex. The result is sleek and sci-fi, the rear looking like a Cylon-raider but distinctly cuter, the gauges stylish and easy to read, the front looking windswept and vaguely predatory. The Silverwing has a more unified and European design sense to it, compared to the collection of functional lines, boxes and blobs that compose the Burgman 650 Executive. Honda has gone a simpler, cleaner route. ABS is standard, the windscreen is fixed, and there are only two glove boxes, one locked and one not. In getting out on tour, one only spends so much time pondering appearances before it's time to wedge too much luggage into too little space.

Capacious, voluminous, roomy, ample - all these words and much more fit under-seat on either the Burgman or the Silverwing. Here you are exempt from the normal jiggery-pokery of loading for a ride. Just pop open the seat, done by turning the ignition all the ways clockWise on the Burgman or in the left hand side trunk lock for the Silverwing, and start stuffing. At 55L and 56L respectively, the Silverwing and Burgman have ample space for a weekend tour. That is unless you're traveling OWD style; a laptop, two cameras, three lenses, video equipment (we keep meaning to use it), clothes for four days (just in case we run long), two sets of spare shoes, towels (we may want to swim along the way), rain gear (in case the swimming isn't the only water we encounter), and a spare helmet. Many people travel with less for a month. We took the liberty of bumping the twin shocks on each bike up a couple notches to keep the rear ends from dragging across the asphalt as we exit town.

As usual it's a late start, and we're leaving to the honking snarling tune of Vancouver's lunchtime traffic – it is rush hour without the sense of order as drivers frantically try to run an hour and forty-five minutes worth of errands in an hour. Hooligan time, then, as we filter, split, and abruptly lane change our way thru. We get away with it too; these big scoots are "so darn cute," as occasional OWD photographer Justin Mastin-Frost puts it, "you just want to cut them a little". Ok, maybe not cute, but at least innocuous enough they fail to offend the caged masses.


In the traffic melee, the Silverwing feels smaller, lighter and more manageable, moving like twist-and-go liquid through the auto-bloat; the Burgman is still effective but it ends up feeling bulkier and more bike-like. This is despite both mega-scooters sharing the same 1,595mm wheelbase, and similar claimed dry weights - the Burgman comes in at whopping 238kg (524 lbs.) while the Silverwing is 6kg less at 232kg (511 lb).

The Silverwing's perceived traffic agility may come from its smaller tires, 120/80-14 front and 150/70-13 rear versus the Brugman's 160/60-15 front and 120/70-14 rear, those make for quicker turn in and less rotating mass. Just as likely it's the Burgman's girth, a whopping 810mm wide compared to the Silverwing's slender 770mms. When it comes lane-splitting time the Executive editions "blue button" comes into play. Press it the mirrors fold in, an act that prompted one wag to exclaim, "Oh my God! It does yoga!" At a stop the Silverwing's narrower seat and floorboard arrangement also make it easier to paddle about. The reality of these clutchless-wonders is they will embarrass any sportbike in traffic and leave the big tourers gasping, even loaded to the gunnels.

Part of this in-traffic alacrity is the simplicity of engaging "warp" both bikes offer. Free of clutches, gear selection and shifting, you simply crank the throttle and are gone, leaving hot hatchback owners agape, owners of Italian super-cars stymied, and sport-bike riders frustrated. I don't think the novelty of hiking my trousers up to the nipples, pretending to gum food in my helmet, and then taking the race boys off the line will ever wear thin - welcome to the joys of a CVT transmission.

The Suzuki benefits from its transmission's "power mode", which keeps the CVT in lower ratios and slides the engine 1500RPM higher in the range, making for better pickup and stronger compression braking. Even in the default automatic mode, the Burgman is no slouch though. Suzuki has equipped the 650 with a manual mode embedded in the shotgun spray of buttons cluttering the left control cluster, which lets one shift through 5-preset ratios using thumb accessible up-shift and down-shift buttons. Out on the road you quickly realize the Burgman's automatic modes are far better at managing this bike than any human ministration though. The Honda's shifting is a simpler affair, you get to twist, you get to go, no fancy options and no added complexity.

Out on the open road we cruise through the sweepers of the reinvented Sea-to-Sky. This is a highway whose beautiful twisted soul has been sold cheap to the 2010 Winter Olympic masses. We join drivers flooring it like brain damaged lemmings on a quest for their personal edge in Whistler and prove both bikes are more than adequate at freeway speeds. An at speed limit clip is relaxed, freeway speeds effortless, and holding with traffic comfortable.

Both bikes feature torquey parallel twins, with the Silverwing displacing 582cc and the Burgman weighing in at 683cc. Output wise both beasties are quite comparable; the Burgman's plant develops a claimed 54hp at 7,000 RPM and 32.5lb/ft of torque at 5,000RPM, while the Silverwing lays claim to 50hp at 7500RPM and 37lb/ft of torque at 6000RPM. Still, thanks to the power mode the Burgman feels slightly spritelier.

Out of traffic, late lunch stop done in Whistler and past Pemberton we're into B.C.'s most convenient set of mountain carousels, turns, and twists – the Duffy Lake Road. Time's been cruel to the Duffy, at points the road is more patchwork, potholes and heaves than unified whole, but if a bike can make it here it can make it anywhere. Giovanni Di Marino is accompanying us astride my own VFR800 and it seems these "scooters" may have taken him by surprise on the Duffy's chop and bump.

Suddenly, someone lights a firecracker under my arse, and astride the Silverwing I'm off. Is this a scooter with sporting aspirations? Do we have to rename the article to "Sport-Scoot-Touring"? Perhaps, but pushing hard is tricky work on the Silverwing.

To get speed out of the blue scoot requires liberal application of the throttle. Into the corners you need to trail brake in order to settle out the bouncing suspension, while laying on the throttle for all its worth to avoid losing speed. Hit a bump or pothole and the impact is transmitted directly up your spine – in this both bikes are equal. In the Silverwing's vibrating bar mounted rear-views I see Kevin on the Burgman and he's gaining slowly.

On the straights we shoot along full out a step-through cruise missile, embarrassing local drivers. These scooters may look like Grandma's practical reinterpretation of a motorcycle, but guess what? Grandma has a sense of humor and fun. Pulling on the brakes, valuable velocity is burnt off before the road goes snaky again.

Either bikes' combined braking is decidedly abrupt, offering up little feel. Hauling down from speed the Honda's braking, relying on a single 256mm disc with three-piston caliper out front and a 240mm disc twin-piston caliper set up in the rear, is decidedly weaker than the Burgman's but is ample for most situations.

The Burgman's setup consists of dual front disc brakes with 260mm rotors and twin-piston calipers and a single rear disc brake with 250mm rotor and twin-piston caliper. By big tourer specifications these numbers may seem a bit weak, but one doesn't really head out to stoppie these bikes.

Should things get dicey both bikes are equipped with ABS (in Canada at least). The Silverwing's system seems less easily engaged and far more refined once it does, with only minimal pulse felt through either brake lever. The Burgman's system shows that Suzuki is a bit new to this game. It's easier to engage over washboard, and once active the pulses are much more obvious. Still, on a long day touring, however comfortably, should Bambie decide to make the leap in front of you either system lets you maintain control while slewing to a halt.

In the twists the Burgman, surprisingly despite its mass, is having an easier time of it, with its power mode Kevin can make better use of the engine's compression braking and then torque out of the corners with better pickup. If this were a race, rather than a frolic there would be no losing the Suzuki. For a while Kevin's even switched to manual mode, but futzing with the buttons becomes bothersome. The Burgman's suspension is a bit more settled through here too, taking up the bumps and wallows better – it's a more refined experience.

Eventually things settle down and we pull into a rest stop for a bike switch, gales of laughter, and conversation as to how the scooters, an advised use of the term, fare when thoroughly "tested". Giovanni puts it best, "I'm shocked. I'd say you were doing 80% of a sportbike's pace." Suddenly it's hard to see these as mere "scooters", let's drop the pretense and call them "bikes" – that will certainly make the guys at Honda and Suzuki happy won't it?

Both the bikes are nimble in a way that makes you wonder about the efficacy of sportbike design. In "automatic motorcycle" land, the center of gravity is mere inches off the ground with the engines and transmissions of each bike lying in their bases. On these tight and twisting roads either the Burgman or the Silverwing can bruise the ego of any cruiser and should the spirit take you, even a few sport bikes.

Saturday morning we wake up to sun, a fresh day and with the serious "sport riding" behind us we decide to engage our inner scooterness – it's a good day to tour. We reset our "cognitive frameworks" and give up on the playground logic of "more is always better" in terms of displacement over a dubious breakfast of grease, eggs, grease, and hash browns.

"We used to do entire week long tours not breaking 130kph," Kevin says smearing aerosol whipped cream and canned "fresh" strawberries across a pancake, "when you had your ST1100." He's right, and the act of travel wasn't diminished, only enriched, once you give up the drive to hurry.

Cruising down Highway 12 from Lillooet to Lytton drives this point home. The Silverwing frees me from the fascinations of velocity. Ambling along at 110kph, I'm noticing scenery, looking at wildlife, taking in the smell of summer flowers blooming, and truly enjoying the ride. Have I slipped over the edge and become some nice young man on a really big scooter? You know the type the neighbors respect and strangers ask for directions? Well for part of the weekend, yes.

Either of these bikes removes the onus of "sportbike performance anxiety" and that makes them a vacation regardless of the destination. At this pace I notice more about the bikes too. The Honda's engine is a bit lumpier and vibier than the Burgman's. The screen narrow enough that bugs are periodically impacting my shoulders, and my helmet is caught in a gentle and perpetual buffet.

Switching over to the Burgman other points become obvious. It feels eerily smooth by comparison, which is not to say the Silverwing isn't – it's like comparing silk to moderate thread count linen. There is less buffeting, but a backdraft tapping the back of my helmet even with the windscreen at maximum extension. I'm a tall one at 6"2' and need a screen to match. That said I often find myself pulling the screen out of my line of vision for technical roadwork and in traffic. The Silverwing's screen may be smaller and more rakishly angled, but I think it has better optical quality. Wind protection across the shoulders is better than the Silverwing too, indeed as the day warms I "blue button" the mirrors out of the way to increase airflow.

Again, being tall I find the Burgman's more relaxed seating position preferable – it's being just a bit looser in the leg and bit more upright with the bars seeming to come back further. These ergonomic differences definitely benefit folks over 6 feet tall. Both bikes feature short seat heights, 750mm (29.5 in.) for the Burgman and 739mm (29.1 inches) for the Silverwing, so my knees are bent and I feel a bit like I'm riding though the world on a classroom chair that's just a bit to small. That said I'm sure I can do an 800km day on either bike in comfort by comparison to any sportier fair – or even my own VFR.

At Lytton, we head north on Trans-Canada Highway though the latter portion of the Fraser Canyon, and the embracement of this new found "scoot-topia" has worn off a little. In the distance I see a Harley ripping along to the big noise of straight pipes, I just can't help myself. I hunch down behind the Silverwing's screen and give it the berries and we run up towards top speed through the sweepers and straights.

Having overtaken the Harley… waving… in a tuck… I realize from his expression that he doesn't actually see the amusement in "jap-crap" passing him, let alone a "jap-crap" scooter. I now feel a strong motivation to stay in front of him, and more importantly put some distance between he and I. He is no longer cruising, I am no longer scootering, and I can only hope that Kevin is still taking pictures from the Burgman.

Though the Harley Rider lost the battle, the moment we hit some of the tighter curves, if machismo is at stake I've lost the war. There is no way to look macho or tough on the Silverwing or Burgman. Your name can be "Bruiser", you can be 300lbs of pure tattoos and muscle, and you may as well be wearing a tutu. There will be no respect, from anyone… curiosity maybe but not respect.

The tour winds on and the temperatures continue to climb as we cruise the 5A at a comfortable 130kph clip. Both bikes feel like they could do this all day without breaking a sweat, and then I realize something is missing from this touring experience – engine heat. The last time I was out on the Honda ST1300 or the Yamaha FJR1300 both featured heat output as hefty as their displacements. The Burgman and the Silverwing are just plain cool by comparison. The smaller engines seem to vent less heat onto the rider, and on hazy summer days or while sitting in traffic being I'm more than willing to pass on some power to avoid slowly roasting.

Day three sees us winding back into town along the Lower Mainland's Highway 7, a pleasant alternate to the heavily trafficked Highway One connecting Hope to Vancouver. Unfortunately, everyone else who's been out of town has had a similar idea and traffic is now clumping with slow moving vehicles at the helm. It's a game of strategic overtaking, and the bikes each comes into their own.

Passing on the Silverwing takes a bit of judicious planning and RPM play, the meat of the bike's pull lies at 4500RPM followed by a gentle drop off. Things heat up again at 6500RPM though, and that's good enough to occasionally haul my McMeaty carcass and cargo up to 165kph. The run up is decidedly unsportbike though, taking its linear time. The real surprise is a sweeping uphill passing lane coming out of Harrison Lake – the Silverwing lets me slide through traffic under full throttle, easily out maneuvering the auto-bloat, though the "tetch" of the center stand lets me know that my MotoGP inspired pass may be a little aggressive.

Meanwhile, the Burgman has the edge in overtaking. Press the yellow button engaging the "power mode" and the engine's revs slide about 1500RPM upwards, the diesel-electric whir becoming a whine, and your pass is executed with ease. With the Burgman, it's easier to execute "classic" motorcycle multi-car passes, while the Silverwing works better if your strategy is to skip though traffic in multiple hops like a stone across the

I settle a bit as we continue our hopscotch though traffic into Vancouver proper. It would be easy to lump either of these bikes into a mere commuting roll, coming in from the far flung suburbs on a daily basis and laughing at every single-occupant Escalade chained to the service stations as you go. The only insult you really need to hurl their way would be the mileages; "4.5L/100km (62mpg)" from the Silverwing and "5.5 L/100 km (51 mpg)" from the Burgman – results vary with throttle action of course. Nipping by the SmartCars, and just about anything else four-wheeled, completes these bikes as near perfect dry weather commuter.

Still, taken as a city commuter alone, the argument for a $11,899.00 CDN scooter, in the case of the Executive garbed Burgman ($10,999.00 CDN for the plain-Jane edition), comes across as improbably unconvincing. The Silverwing at $10,299.00 is equally credible. Where though, outside Kawasaki's exhaustedly long in the tooth $12,299 CDN Concourse (or as we like to call it the bike that time forgot), can you get a proper touring bike in that price range?

In the context of a small displacement tourer, the Honda Silverwing and the Suzuki Burgman start to make sense, real sense for someone who can swallow horsepower pride, be realistic about touring goals and then factor in current of fuel prices. Those factors in play the large barges aren't sitting quite so comfortably on the top of the pyramid.

I've got a couple peeves with both these bikes though. The biggest is automotive style gas caps - there is no place to put them. In the Suzuki's case at one fill up photographer Kevin Miklossy places it on the ground, then forgetting where it was managed to step on the cap and bend the key. A holder of some type would be in order, or acknowledge these are bikes and ditch the automotive detail. Then there are the Executive's folding mirrors, on something aspiring to be "executive" these seem toys – why not a more useful option like heated grips, a choice would put the big Burgman into the "mini-RT" territory.

While both bikes rise to touring aspirations there is a subtle difference in flavors to them. Out on the road the Silverwing's disposition seems that of a scooter with aspirations of being a motorcycle. It feels lighter, is narrower, and less cumbersome at low speed, making it the in-city choice. The Burgman 650 Executive on the other hand is a motorcycle aspiring to be a scooter, and you're left wondering why. Drop the charade of a step-through design and you have a sweetly natured low-displacement touring bike – a Goldwing-lite, or low-cal FJR. It has weather protection in spades, the electric windscreen, feels more planted at speed, and that "power mode" which gives it the edge in overtakes. That, to my mind, makes Suzuki's 650 Burgman Executive a prime choice for Scoot-touring regardless of destination, weekend away or month along the west coast.
Source Onewheeldrive