Moto Guzzi V 11 Café sport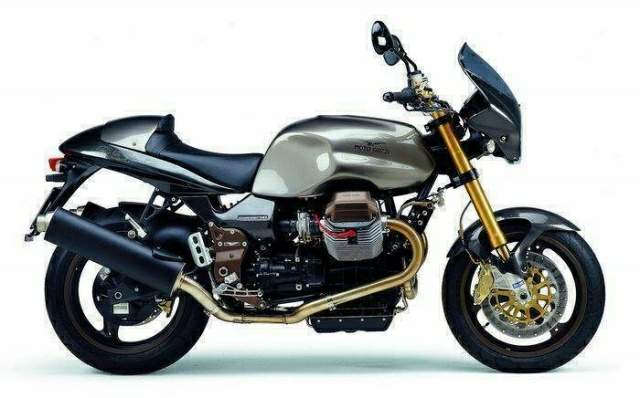 Make Model

Moto Guzzi V 11 Café sport

Year

2002 - 03

Engine

Four stroke, 90° V twin, longitudinally mounted, OHV, 4 valve per cylinder.

Capacity

1064 cc / 64.9 cu-in

Bore x Stroke

92 x 80 mm
Cooling System
Air cooled

Compression Ratio

9.8:1

Induction

Magneti Marelli IAW Multipoint phased sequential fuel injection

Ignition

Magneti Marelli IAW electronic digital
Starting
Electric

Max Power

91 hp / 66.3 kW @ 7800 rpm

Max Torque

94 Nm / 69.3 lb-ft @ 6000 rpm

Transmission

5 Speed
Final Drive
Shaft

Front Suspension

43mm Öhlins upside-down forks, adjustable compression
Front Wheel Travel
120 mm / 4.7 in

Rear Suspension

Cantilever swingarm, Sachs Boge mono shock, adjustable compression and rebound damping
Rear Wheel Travel
128 mm / 5.0 in

Front Brakes

2x 320mm discs 4 piston calipers

Rear Brakes

Single 282mm disc 2 piston caliper

Front Tyre

120/70-17

Rear Tyre

170/60-17
Trail
103 mm / 4.1 in
Dimensions
Length 2150 mm / 84.6 in
Width 810 mm / 31.9 in
Wheelbase
1490 mm / 58.7 in
Seat Height
800 mm / 31.5 in
Ground Clearance
178 mm / 7.0 in

Dry Weight

226.0 kg / 498.2 lbs

Fuel Capacity

20.7 Litres / 5.4 US gal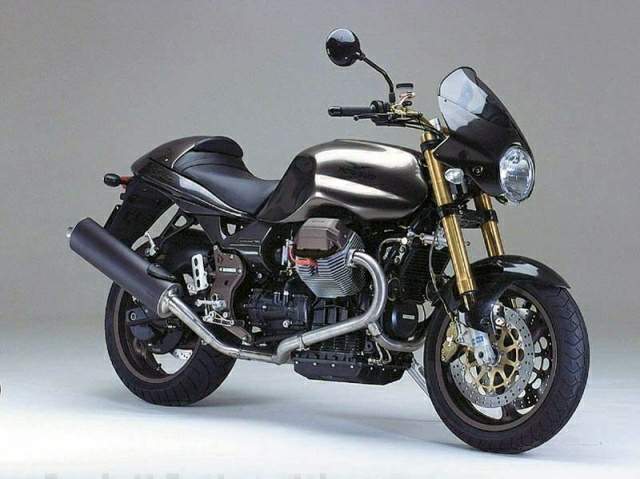 Here's the thing; Moto Guzzis are really classic British bikes in disguise.
I mean think about it for a minute; long legged, loping power from an old fashioned, but much enlarged engine design, a certain level of eccentric engineering and unique handling traits, plus a reputation for less than perfect reliability and finish. It all reminds you of Norton, Triumph, Vincent etc But Guzzi are overcoming most of the problems of the past, which afflicted British bikes too, once saw the Italian marque dubbed `tractors' and sent Moto Guzzi sliding into bankruptcy. All that changed when Aprilia took over the company a few years back. The most obvious change that you notice as soon as you ride away on the Café Sport is in the engine department. The 1100cc V-twin goes well, damn well, for something which has its design roots in the 1940s.
This is still a motor which features pushrods, but the electronic engine management and Marelli fuel injection are now spot-on, giving the engine a beautiful spread of power from 2,000rpm-6,000rpm. It growls menacingly at traffic lights, shaking the bike gently, but accelerates without a trace of hesitation each and every time you gas it up. I was impressed at how fast the bike could surge forward, in any of its six gears. For blatting around the B roads of Shropshire, the Café Sport was top fun, even in the wild 'n' windy March weather and I had no trouble despatching drivers of `fast' cars to my mirrors - the Guzzi is fast enough for the average country road.
The nose fairing offers little wind protection - not that even a howling gale could move the bike sideways a great deal - so the bike, and the rider, tends run out of serious steam at about 110-120mph. Beyond this, I think the average Suzuki SV1000 owner, or Aprilia Tuono rider, would be shooting off over the horizon, assuming they wanted to risk jail in Blair's new Puritan Britain, where fun is soon to be outlawed altogether.
The Guzzi is still a more laid-back kind of machine than the average big twin. A fundamentally different two wheeled experience.
It has a roominess that Buell owners can only dream about for example. The handlebars are high, set wide and the saddle offers plenty of space. The gearbox is still notchy, but you soon adapt and find a certain pleasure is mastering this one hangover quirk from Guzzi's dark days. As well as a smooth, steady delivery of torquey power, the Guzzi's injection set-up also proved quite miserly with the unleaded too, returning an average of 47mpg on a mix of motorways and twisty B roads.
I find it hard to believe that the gas tank is 20 Litres big. The warning light flickered on anywhere after 100 miles and it took only eight or nine quid's worth of fuel to fill it up again. Maybe I should have ridden onwards with the warning light on, but with an injected bike, you never want to run out of gas in case it fouls up the system up do you?
Another thing which makes the bike addictive is the engine noise. The Guzzi barks and snarls through its pipes like some old school rock band, determined to ignore all warnings of hearing damage or respecting the neighbours. I like that. Motorbikes used to always have a unique sound and it's great that the Italians are keen on keeping this tradition alive. This stuff matters.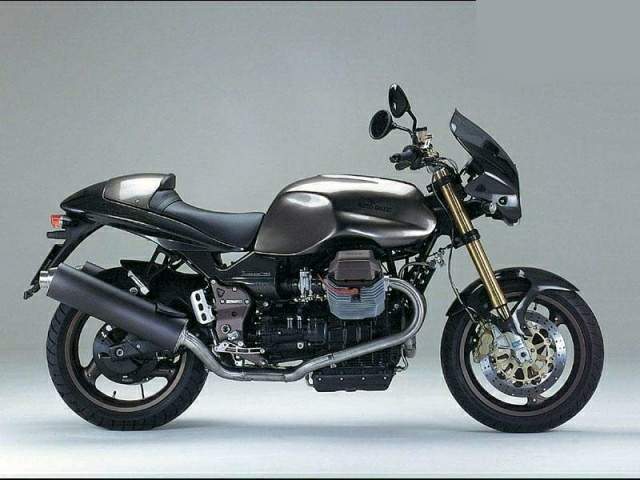 THE BESPOKE HOOLIGAN OPTION
When you look at the kit on the Café Sport, you see where the high asking price is justified, to an extent. Beautiful gold anodised Öhlins forks, a neat steering damper, carbon fibre bits `n' pieces, gold callipers, Brembo disc brakes and an exhaust system made from proper metal, not some soft-as-butter recycled Coke cans. The Café Sport looks very durable, solidly made and likely to last a long time.
This is one of the things I rate as a `British' tradition about the bike.
Once, men bought big motorbikes like Vincents, Brough-Superiors, or Norton Commandos intending to rack up a healthy mileage over a span of several years. They were prepared to do some routine jobs on the bikes to keep them going, but they expected basic components to last for decades before rusting away. It's great to see Guzzi transformed into a brand which is arguably better built than some Honda and BMW models and yes, I never thought I would live to write that sentence.
But there's still no denying that owning a V11 Guzzi Café Sport is still a more challenging proposition than snapping up a Honda CB1300, Suzuki Bandit, or a BMW R1100. It isn't as wild a beast to tame as the Aprilia Tuono, but the Guzzi does need a fair degree of muscling to make it corner successfully, especially on bumpy roads. This is not a perfectly balanced, do-it-all motorcycle, it demands some ability, some serious input from its rider.
The brakes are excellent, but the sheer mass ( the Café Sport weighs 226 kilos dry ) makes stopping quickly a challenge, especially on wet roads. The Guzzis also carry their weight relatively high, which presents another set of handling problems which the rider has to learn to conquer, or at least ride around to an extent. You still need to carefully plan exactly where you're going on the Guzzi, choose a line, then stick to it - this is not, and never will be, a nimble trackday tool.
That alone restricts its market in today's leisure biking world, because to be blunt, there are few riders about who are willing to adapt their riding style to something which occasionally shakes its head, or needs years of skill to brake late into an off-camber bend on a bumpy B road. Easy to ride bikes like the CBR600 have made too many of us lazy riders, to a degree, almost unable to cope with a machine which needs a set of skills to tame.
But if you're looking for a retro motorbike which is unique, distinctive and sounds like Thor's hammer then look no further. The Café Sport is an acquired taste, but a powerfully addictive one in the long run.
One day, it will also be a classic bike. It's resale value will drop to a certain level, then fall no further, so long as you look after it. Those traits will appeal to many older riders who have lost thousands of pounds buying discounted machines which are worth half the new price in is a little as two years. For a bit of an oddball, the Guzzi Café Sport makes a great deal of sense in other ways.
Source insidebikes.com