Make Model

Kawasaki KLX 450R

Year

2008 - 09

Engine

Four stroke, single cylinder, DOHC, 4 valves per cylinder

Capacity

449 cc / 27.3 cu-in

Bore x Stroke

96.0 x 62.1 mm
Cooling System
Liquid cooled
Lubrication
Forced lubrication, semi and #8209;dry sump

Compression Ratio

12.0:1

Induction

Keihin FCR

Ignition

Digital AC-CDI
Starting
Electric & kick

Max Power

56.4

hp /

41.5 kW

@

8500

rpm

Max Torque

50

Nm /

5.1 kg-m

@

7500

rpm

Transmission

5 Speed
Final Drive
Chain
Frame
Aluminum, perimeter Rake / trail: 27.1 degrees / 4.6 in.

Front Suspension

48mm inverted AOS-type cartridge fork with 22-way compression damping and 20-way rebound damping
Front Wheel Travel
285 mm / 11.2 in

Rear Suspension

UNI-TRAK® single shock system with 22-way low-speed, two-turn variable high-speed compression damping and 22-way rebound damping
Rear Wheel Travel
278 mm / 10.9 in

Front Brakes

Single 250mm disc 2 piston caliper

Rear Brakes

Single 240mm disc 1 piston caliper

Front Tyre

80/100-21

Rear Tyre

110/100-18
Rake
27.1°
Trail
122 mm / 4.6 in
Dimensions
Length 2180 mm / 85.8 in
Width 820 mm / 32.3 in
Height 1255 mm / 49.4 in
Wheelbase
1480 mm / 58.3 in
Seat Height
940 mm / 37.0 in
Ground Clearance
320 mm / 12.6 in

Dry Weight

115 kg / 253.5 lbs

Fuel Capacity

8 Litres / 2.1 US gal
Kawasaki's 2009 KLX™450R may have inherited the lightweight engine and chassis from the multiple championship winning KX™450F motocrosser, but it is much more than a high-strung racer with a headlight and 18-inch rear wheel. Designed for the rigors of the off-road world, the KLX450R delivers a wide spread of power with high-traction torque and superior throttle control, combined with the enhanced durability, comfort, and long range that's required in unforgiving off-road environments.
A simple push of the starter button is all that's required to light off the 449cc four-stroke engine. In addition to push-button electric starting, the KLX rider also has the option of using the kick-starter. However, a high-capacity starter motor and compact, high-output battery helps ensure quick and reliable starts under just about any condition a rider might face.
A long lasting, trouble-free engine is the heart of any successful off-road racing platform. These extra durability traits were engineered into the KLX450R's engine via steel exhaust valves and a reservoir tank equipped radiator to provide efficient cooling during long rides.
The KLX450R's cam lift and timing, and beefy flywheel are designed to produce good low and mid-range performance. Harnessed to this engine is a wide-ratio five-speed transmission with gears specifically for the demands of off-road competition. The overall result is a gutsy response, ideal for hill climbing, mud holes, or other poor-traction challenge.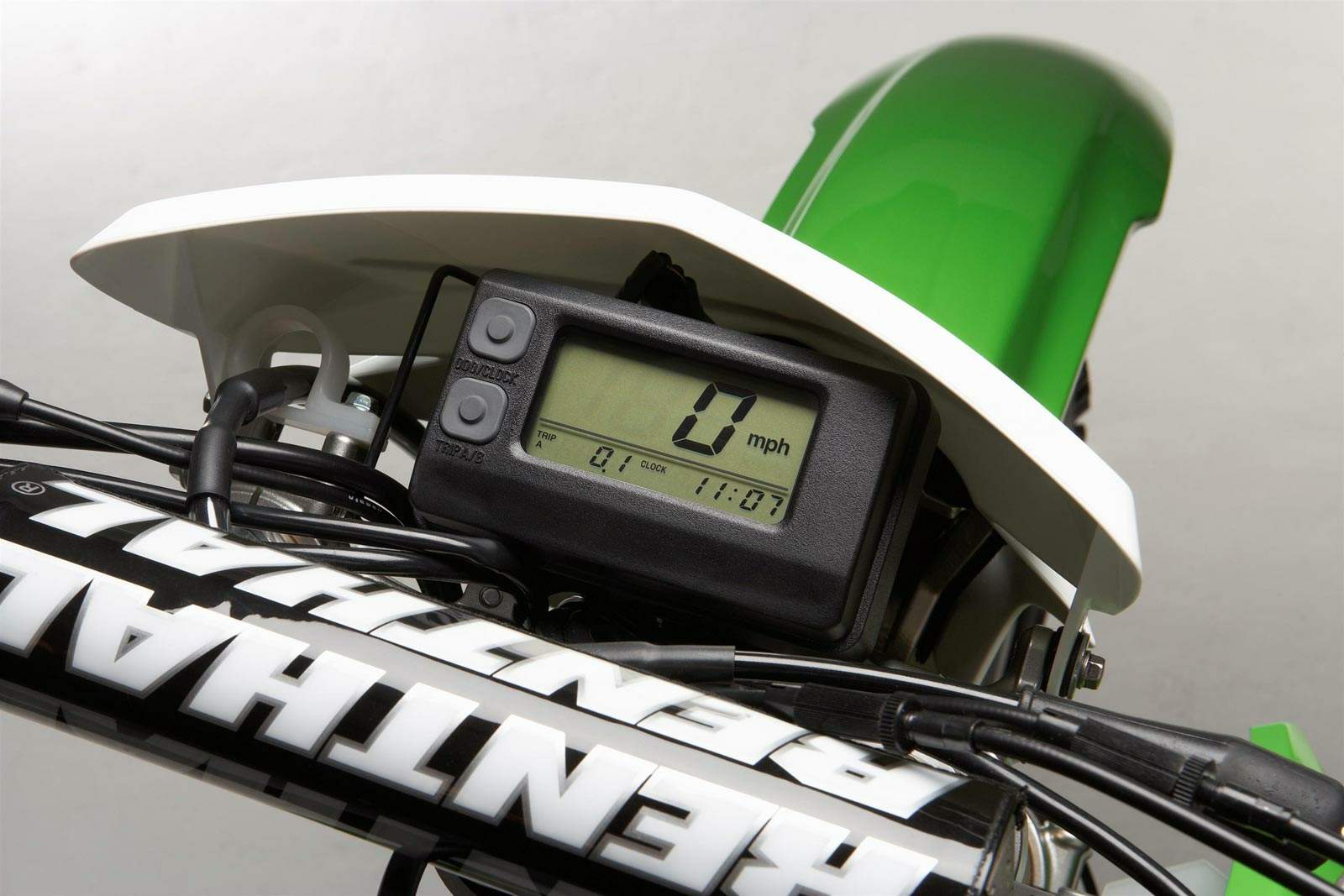 Avoiding rider fatigue, whether during a race, or a long weekend of back country exploration, was another top-priority for Kawasaki's engineers. To minimize bothersome rider-taxing effects, the KLX450R's nimble chassis utilizes top-of-the-line suspension components. Up front its Kayaba AOS inverted fork provides superb damping and more precise steering with tuning specifically optimized for light, easy handling characteristics. Oil and air are kept in separate chambers for sustained and stable damping performance during long events and low-friction seals for smooth fork action. Matching the fork is an equally capable Uni-Trak® rear suspension system. Its shock features both high-speed and low-speed compression damping with the suspension arm mounts below the swingarm for a longer rear suspension stroke.
Further enhancing rider comfort is a wider seat with slip-resistant top surface and smooth sides for enhanced mobility. The KLX450R's 18-inch rear wheel is well suited to absorbing sharp-edged impacts and allows the rider to choose from a wide selection of off-road tires. Among the other off-road features are a two-piece, left-side cover that allows easy access to the air cleaner; engine guards for both sides of the engine; and a works-style aluminum skid plate.
A lightweight digital instrument cluster includes speedometer, dual tripmeter, odometer, and clock. The plastic fuel tank, which meets all environmental regulations, has a 2.1 gallon capacity and a reserve-enabled petcock. Lightweight illumination equipment includes a compact 35-watt headlight with a plastic lens to show the way to the podium and an ultra-compact and energy efficient LED taillight to highlight the part of the KLX450R that competitors are most-likely to see.
Authentic Kawasaki Accessories are available through Kawasaki dealers.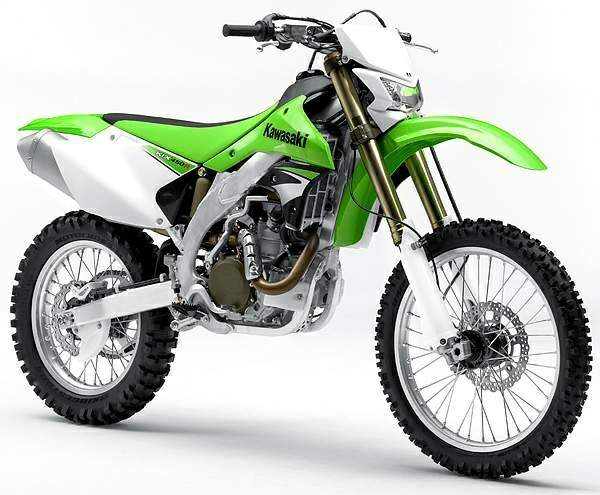 Features
Ultra-powerful 449cc Liquid-cooled, Four-stroke Single
- 449cc liquid-cooled, four-stroke single with four valves
- Features superb low and mid-range power delivery
- Linear power curve offers plenty of over-rev, for maximum flexibility in choosing shift points
- Cam lift and timing boost low- and mid-range torque
- Camshaft lobes and tappets feature a soft-nitride surface treatment for long wear and high-rpm reliability
- Hand-finished surfaces of the polished intake ports improve intake efficiency at all rpm
- Lightweight 36mm titanium intake valves and aluminum valve retainers reduce reciprocating weight for reliable valve control at high rpm
- 30mm steel exhaust valves for improved durability
- Double valve springs help ensure stable valve operation
- Screw-type automatic cam chain tensioner with oil pressure spring
- Low-friction coating on piston skirt
- Extra flywheel mass provides ultra-smooth engine power delivery
- Crankshaft and connecting rod are sintered for additional rigidity
- Crankshaft, rotor mass centralization, oil circulation, and ignition timing designed for ideal engine braking characteristics
Exhaust
- Large 41mm titanium exhaust header for maximum power
- Tapered exhaust pipe joint helps increase ultra-low rpm power.
- Titanium exhaust pipe heat shield
- Silencer uses long-fiber packing for lower maintenance
Cooling
- High-capacity Denso radiators deliver superior cooling efficiency
- A reservoir tank is fitted to the radiator, for efficient cooling during long enduros
- Slim radiators feature tightly packed cores and fins designed to enhanced heat dispersion
- The radiator shroud design is optimised for a seated position
Electric Starting
- High-capacity starter motor is compact, yet offers high-output to help ensure quick and reliable starts under all conditions
- Lightweight battery is located under the seat and behind the airbox for optimum mass centralization
- Having both electric and kick starters means the KLX450R can be quickly restarted if the engine stalls during an event
- Features highly reliable auto-decompression system; the dual-weight centrifugal decompression system fitted to the exhaust cam eases starting, and its simple construction helps to ensure reliability
Wide-Ratio Five-Speed Transmission
- Features ratios selected="true"="true"="true" specially for off-road racing
- The transmission's gears are designed for high durability
- Ball bearing shift lever for smoother shifting
- Ratchet-type shift mechanism for smoother shifting and a more positive feel
Frame
- Lightweight all-aluminum perimeter frame is a composite structure comprising forged, extruded and cast components
- Slim frame profile, two-piece radiator shrouds, and careful bodywork design make the KLX450R feel light and narrow beneath the rider
- Aluminum skid plate
Front Suspension
- Fork tuning is optimized for light, easy handling characteristics
- Kayaba AOS (Air-Oil-Separate) fork keeps oil and air in separate chambers for stable damping performance during long rides
- Large front fork damper cartridges offer a more progressive and plush action
- Low-friction fork seals help reduce stiction
Rear Suspension
- Uni-Trak® rear suspension system mounts the suspension arm below the swingarm, allowing a longer rear suspension stroke.
- Rear shock features dual compression adjustability, allowing high-speed and low-speed damping to be tuned separately
- Alloy swingarm uses cast front section, tapered hydroformed spars and forged chain pullers; the tapered spars are shaped to match the balance of flex and rigidity required of the aluminum frame
- Sprocket style chain roller reduces drive lash
Brakes
- Petal brake discs front and rear, help reduce unsprung weight and clean the brake pads for more efficient braking performance
18" Rear Wheel
- Durable 18" rear wheel allows fitment of a wide selection of off-road tires
From the Cockpit
- Renthal aluminum handlebars are standard
- Lightweight short-length grips feature a special pattern to reduce vibration transmitted from the bars to the rider
- Seat is wider than the KX450F's for additional comfort during long enduros
- Seat uses a slip-resistant top surface for good grip when seated and smooth sides for excellent rider mobility
Off-road racing equipment
- Lightweight digital instrumentation includes a speedometer, twin tripmeter, odometer and clock
- Lightweight 2.1 gallon fuel tank is constructed to meet strict U.S. environmental regulations
- Gas tank petcock is fitted with a reserve pickup
- Compact lighting package includes a 35 W headlight with lightweight plastic lens
- Ultra-compact and energy efficient LED tail light
- Two-piece construction of the left-side cover with a special "door" for easy access to the air filter
- Engine guards protect both sides of the engine
- Includes an aluminum skid plate for added protection from rocks and ledges
- Sealed chain and a side stand are fitted as standard equipment
- California models feature a secondary air system to enable them to meet strict emissions regulations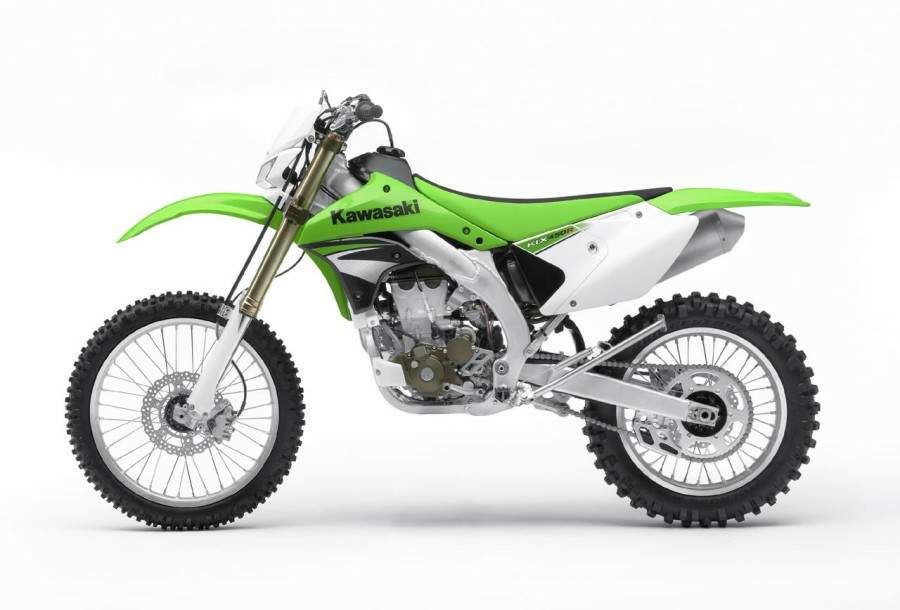 Review
When building their new 450 enduro weapon, Kawasaki took the proven path of using an established motocross model and then modifying it, thus ending up with a user-friendly, enduro/trail bike. It can often be a thankless task for the engineers too; faster riders want 'more motocross' while the average bush-basher prefers more trail bike influences.

There have been substantial changes made to the base-plant KX450F to turn it into the KLX450R but we'll just stick with the important stuff.
ENGINE
The KX450F motocross model has an awesome engine, (we've got one at our place, so we know) and it provides a proven base for the KLX450. The first thing that the Kawasaki engineers did when transforming the roaring MX donk for off-road riders was to keep the short-arsed crew happy by adding an electric starter (hooray for the little bloke!)

Next on the Important Stuff list was the addition of a wide ratio, five speed transmission. Getting a little more technical now, the flywheel mass (crankshaft) has been doubled, as in heavier, and this takes some of the edginess out of the motocross engine. The camshaft design and cam timing have also been modified in the interests of smoother power delivery and more torque.

One millimetre larger steel, exhaust valves are fitted, to enhance low end power and offer better durability. Regular stuff like an automatic cam chain tensioner, an auto compression release for the kick-starter and a four valve, double overhead camshaft head keep the KLX up to date with modern four-stroke engine design.

Of course the motocross muffler had to go. It's borderline offensive, even on a racetrack, and has been replaced with a trail friendly, re-packable, ADR compliant model. The motocross radiators have been retained although a reservoir tank has been added to absorb those boiling moments.
CHASSIS
The frame and running gear have the basic layout and look of the moto model but once again the enduro-friendly wand has been waved over it. Here are examples:
Fuel tank capacity has been increased to eight Litres , (the KXF is 7.2) and has a reserve position
The suspension settings have been tuned to be more off-road specific
The fork is a top-of-the-line, Kayaba AOS, jobbie, while the rear end uses the bottom link, Uni-Trak system
An 18-inch rear wheel and an 'O' ring chain will keep the enduro diehards happy
Our test bike came with Michelin tyres, although showroom models will have Bridgestone ED03s
The cockpit features Renthal '971' bend alloy 'bars, decked out with Aussie-made alloy Barkbusters and a digital speedo that'll tell you how fast you went, how long it took and how far you travelled
The air filter is accessed via a two-piece sidecover and is a 'no tools' job for servicing, as it should be on a trail bike
And if you were wondering how much did the appetite for ADR compliance and an electric leg cost in the weight deptartment when compared to the KX450F, according to Kawasaki about 10kg, although that sounds a little conservative to us
RIDE TIME
Two things become apparent when you crank up this bike. First the choke lever is almost impossible to operate unless you have the fingers of a five year-old. Second, the exhaust note is incredibly quiet. The decibels, or lack of them, coming from this bike can be confusing. The first couple of laps around our test track had me questioning why this bike could feel so responsive when it sounded like a choked lawn mower.

The front end would lift effortlessly over whoops and tree roots and the corner exit response was smooth and tractable, yet still fast. You really need to ride this bike a bit to get your head around the motor. It doesn't romp and stomp and it's not angry, but it does go pretty darn well. It's not a 'chunky' motor and it doesn't stall easily. You really don't need to use the clutch too much either, it's very electric.

We rode this bike in a variety of terrain too. You name it: fast swoopy stuff, tight gnarly hills, sand washes, fire trails, and we kept trying to find an excuse to need more power but couldn't come up with one. Vince Strang and I spent a fair bit of time playing with this bike and at the end of the day we both had to give the engine a thumbs up for trail riding, even if it did sound like a four-stroke lawnmower.

But, and there's always a but, the other side of the coin is that the KX450 has no anger or aggression in stock trim but a lot of people who purchase a 450 enduro bike expect some aggro for their dollars. I'm sure that in the next couple of months an aftermarket race pipe will surface for the KLX and it'll be interesting to see what effect that has on performance.

The chassis and suspension come straight from the motocross model and Kawasaki have done a particularly good job on setting the suspension up for off-road riding. Plush and smooth are two words that get thrown around the keyboard a lot when it comes to describing motorcycles, but in this case that's an appropriate description. We had testers weighing from 60 to a 100 kilos ride this bike, (no, not all at once) and yes, it was a big ask to expect that they'd all like the stock suspension setup, but they all said the ride was "plush and forgiving". To us that sounds a helluva lot like an endorsement.

Stopping performance was top shelf stuff too. The front brake had a nice positive feel at the lever and the bike didn't headshake coming down from speed. Stability and straight line tracking through rough sections wasn't a problem either, but tipping the bike into corners was a different matter. It's not that the KLX450 corners badly, it's just that it likes to stand up, even around corners, and it takes extra effort on the rider's part to arc a turn fluidly.

Some tuning in with the race sag and fork height could help here. The electric leg worked well every time but I'd hate to have to rely on it. Like all electric start, competition off-road bikes the battery just doesn't have enough guts for constant use, but it did start easily with the kicker and after a few kays the battery was juiced again anyway.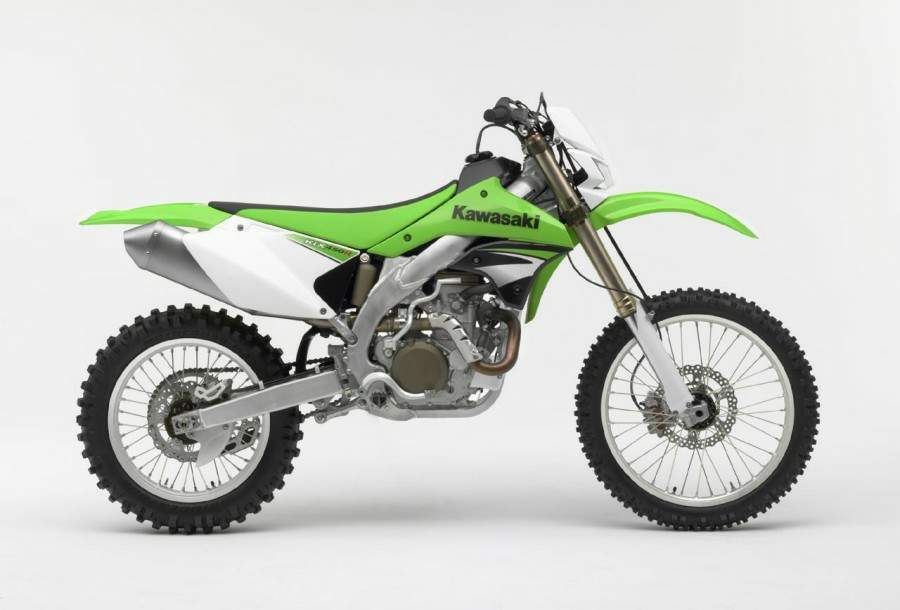 Crankcase and lower frame protection is something we'd look into if we owned one of these bikes, and at this stage the only sump guard we know of is the 'Hyde', imported by A1 Accessories. It's surprising how easy lower alloy frame rails can be damaged, so for that reason alone we'd fit an aftermarket guard.

SHOULD YOU BUY ONE?
As far as the trail rider goes, this bike is a buy it and ride it proposition. It has all the necessities for trail riding. The gearing's fine, the brakes work, the cockpit is all enduro and the engine could pull you smoothly and quietly up the southern face of Mt Kosciusko.

Racers and rev-heads will demand more from this bike though; they'll want more hit from the motor, and as a couple of our testers mentioned, they really did expect more action from a competition 450. We reckon a race pipe, and a little tuning would fix the mojo problem, but don't feel embarrassed if you just buy this bike and ride it stock. It goes a hell of a lot better than it sounds. RRP: $11,990 plus ORC.
GOOD POINTS

Performance
Suspension
Brakes
NOT SO GOOD

Fiddly choke
Ultra quiet

Source Bikepoint