Kawasaki KDX 200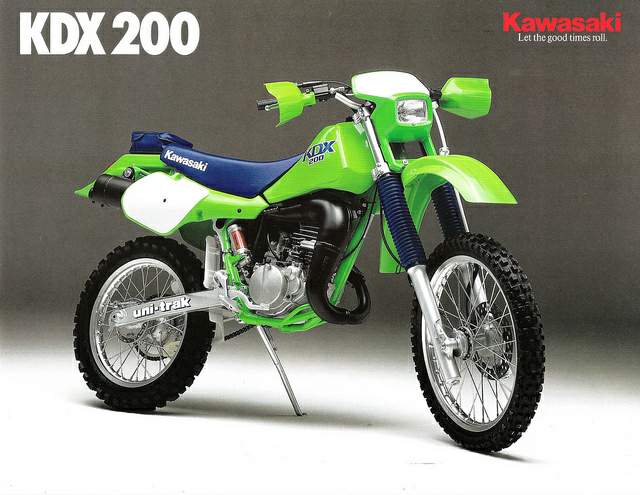 | | |
| --- | --- |
| Make Model | Kawasaki KDX 200 |
| Year | 1984-85 |
| Engine | Two stroke, single cylinder, |
| Capacity | 198 |
| Bore x Stroke | 66 x 58 mm |
| Cooling System | Air cooled |
| Compression Ratio | 7.7:1 |
| Induction | 34mm Mikuni carb |
| Ignition | CDI |
| Electric | Electric |
| Max Power | |
| Max Torque | |
| Transmission | 6 Speed |
| Final Drive | Chain |
| Front Suspension | 43mm Kayaba telescopic forks |
| Front Wheel Travel | 260 mm/10.2 in |
| Rear Wheel Travel | 260 mm/10.2 in |
| Rear Suspension | Single shock adjustable for compression rebound and spring preload, |
| Rear Wheel Travel | 280 mm |
| Front Brakes | Single 221mm disc |
| Rear Brakes | 110mm drum |
| Front Tyre | 80/100-21 |
| Rear Tyre | 110/100-18 |
| Dry-Weight | 101 kg/207 lbs |
| Seat Height | /37.0 in |
| Fuel Capacity | 12.5 Litres/2.9 gal |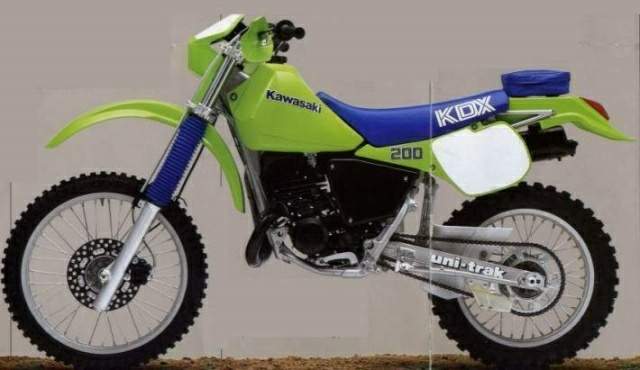 You can search high and low, in cracks and crevices, up in trees and down in bushes, but you won't likely find a better value for tackling tough terrain.
Kawasaki's KDX has come of age. After years of sound off-road performance, often despite the handicap of second-string, make-do components, the '86 KDX is this year blessed with a wealth of top-notch features guaranteed to elevate it to top-of-the-line en-duro performance.
The factory retained 66.0 by 58.0mm bore and stroke dimensions as well as air-cooling, but the KDX engine now features a Kawasaki Integrated Power Valve System (KIPS) similar to the unit found on the latest 125-class MX machine. Like the motocrosser, the KDX uses a single resonator chamber to alter exhaust tuning and improve low-end power, while a pair of sub-ports open during high-rpm operation to advance port timing and increase peak exhaust flow. Net result: more top-end plus a wider power spread.
Further modifications to the engine include a new ignition curve and a larger airbox, as well as a redesigned muffler to improve breathing. Additional crankshaft mass increases flywheel inertia about eight percent, and a slightly taller first gear narrows the first-second spread for more tractable power delivery. Finally,* a new, larger-diameter clutch, derived from the unit fitted to last year's KX125, measures five percent wider across than the old KDX setup for greater durability, and the off-road version uses clutch springs both longer and stiffer than those in the motocrosser. Significant as the engine improvements are, Kawasaki's major changes center on its chassis. Based on last year's KX125 frame, the 200's new running gear utilizes KX-bred suspension components: fork-tube diameter has grown as stout as those on the motocrosser, to a beefy 43mm; air caps add latitude for adjustment; and, though the KDX lacks the motocrossers' new TCV fork valving and compression-damping adjusters, the 200's updated setup delivers about a half-inch more travel than the old fork.
Kawasaki builds a variety of Uni-Trak single-shock rear suspension systems; the KDX incorporates a strut-type setup with non-adjustable linkage. The gas-charged, aluminum-body, remote-reservoir damper, however, offers spring-load and nitrogen pressure adjustment along with 13-position compression damping and 20-way rebound adjustability. The shock may be rebuilt when worn past optimum control.
A host of additional features put the finishing touches to the new KDX. Kawasaki's dirt-going front disc brakes are among the best in the business, and this year the factory bestowed a disc on the 200, a welcome addition. The new miniature bar-mounted master cylinder should resist crash-inflicted damage better than a full-sized unit, and a braided stainless steel brake line provides increased durability and feel. A cable system replaces rod-actuation for the rear brake. The petite single-leading-shoe drum gives good stopping power with a minimum of weight and bulk. Wider fenders front and rear and color-matched hand covers aid rider protection without compromising clearance through tight sections.
Set up according to the factory's standard recommendations, KDX suspension components should please a variety of riders. The Kawasaki delivers plenty of well-controlled travel at both ends, yet the seat doesn't perch the rider nosebleed-high. Reflecting its moderate 232-pound curb weight, the 200 feels distinctly light and nimble, traits accentuated by its steepish 26.5-degree head angle. Inveterate sand dwellers may complain about the Kawasaki's slightly twitchy deep-sand habits, but the KDX handles high-speed straight-line fireroad work without nervousness.
The new power Kawasaki's engine revisions have produced in the KDX will open the eyes of big-cube fanatics that believe life doesn't exist below 400cc. Riders accustomed to wringing out small-displacement bikes will be tempted to keep the 200 in the high-rpm mode where it responds best. Urge builds smoothly as engine speed increases, and obstacle-dodging power wheelies come with the ease of a thought. The new 200, however, also settles down and grunts at basement-level engine speeds. Even though the recalibrated first gear seems like the natural choice, second gear often works better for picking a path through nasty terrain—for instance a walking-speed traverse through streambeds filled with basketball-sized rocks; credit the extra flywheel effect and KIPS-added torque for your ease of travel. The new clutch also proved its worth; repeated slipping and other forms of abuse never fazed the KDX during the course of testing.
Top it all off with this: All of the 1986 200's improvements come at a bargain-basement price. The upscale big fork or new disc brake alone would eclipse the $100-mark in a flash, yet, at $1899, the new KDX is only a C-note more costly than last year's Kawasaki 200. Serious enduro riders and play riders of all persuasions will be hard-pressed to find a better off-road mount, and no amount of searching will uncover a better per-dollar value for tackling tough terrain.■
Source Cycle 1986