Kawasaki GPz 750 Turbo (ZX750-E1) Prototype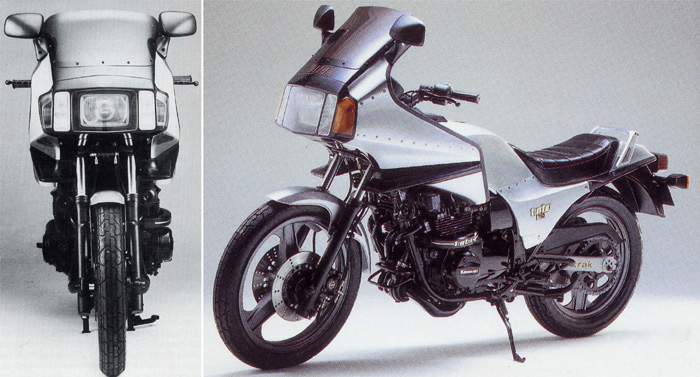 The 750 turbo (ZX750E1) was released in 1984, alongside the all-new GPz900R. Although carrying GPz badges on the engine covers, it was only referred to by Kawasaki as the "750 turbo" - the GPz tag wasn't mentioned. Development started in January 1981 as a turbocharged 650, then as a 750 from November 1981.When finally released, the stock bike made a claimed 112 hp, had sports bike handling (for the day) and looked good - especially next to the other factory turbos which were already on the market - the Suzuki XN85, Honda CX500 and 650 turbos, and the Yamaha XJ650 turbo. Performance was on a par with the GPz1100, at around 11.2 secs at 125mph for the quarter mile and 148mph flat out. One magazine even branded it the fastest bike they had ever tested, and Kawasaki ran some ads claiming it to be "The Fastest Production Motorcycle in the World". Jay "PeeWee" Gleason also famously recorded a 10.71 quarter for Kawasaki to show that the turbo had genuine performance and was ahead of the other factory turbos. Around 5500 E1 units were made, and approx 2500 1985 E2 models, which were identical except for twin throttle cables, and minor changes like brake caliper decals.
This 1982 pre-production prototype was exhibited at the Tokyo Show, alongside the XN85 Suzuki turbo. The fairing was formed from sheet aluminium. Note the wing on the upper fairing, the absence of a lower fairing, and the dymag-style wheels.