BMW R 80/7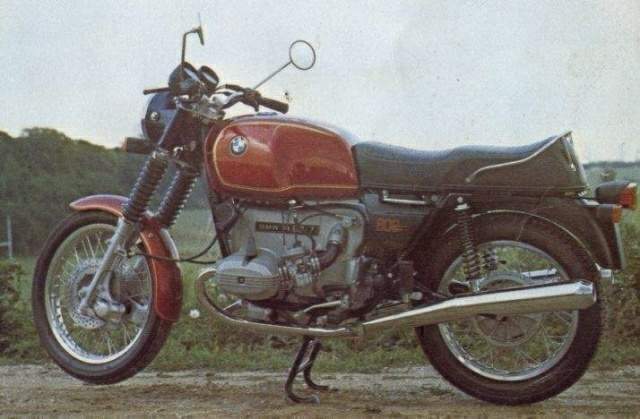 | | |
| --- | --- |
| Make Model. | BMW R 80/7 |
The BMW R80s evolved from the 750 and then just kept on evolving slowly, like most primitive forms of life.
The R80/7 appeared in September 1978 and was basically a bored-out R75. It had a duplex endless timing chain, contact breakers and mechanical advance/retard, wire wheels, fork gaiters, single front disc and a solid shaft
The British police were much taken with the bike, and, largely at their instigation, a second disc went on the front The front suspension was beefed up by reducing the damping rod holes from four to two. All engines were the S model with 9:1 compression ratio, Kinematics gearchange went on soon after, in a half-successful attempt to get a half-decent gearchange action. Cast wheels followed and brake calipers changed from ATE to Brembo. These changes crept up osmotically on the Beemer, but in late '79 came a major overhaul.
The seat changed to the sportier R90S style and the rear light became the current twin-bulb type. Changes also took place in the engine.
The timing chain changed over to a single-row item with split link, which is worth remembering as it takes half the time to replace compared to the duplex one.
The ignition was modified to get out of the way of water and oil, and was put in its own container and remotely driven, much like a car's distributor.
Fork gaiters departed and the shaft drive finally got a cam-type shock absorber.
Production finished in 1980, The engine continued in the R80G/S Paris-Dakar model, until the R80 was brought back in 1983, featuring some of the C/S mods.
Faults and Quirks
BMWs are low-tech and low-stressed, so often prove to be ridiculously long-lived Later models will probably prove the better buy, if only because of their specification. Ignition may well prove troublesome on earlier models since the original points were at the front of the crankcase and could get water in from the front and oil from the rear.
Equally, the early duplex timing chains could take ten hours to replace even by a skilled mechanic, so the later models' single-link will prove easier to replace. Listen for clattering chains, which normally go about 40,000 miles.
On older models check for scuffed wiring loom and blocked breathers. Also look for worn rear wheel splines, as replacements are expensive. Wives can sometimes drop in at 50,000 miles or so on a very tired engine
Electrics can prove troublesome, beyond just the points. The mechanical regulators on older models should be viewed with a jaundiced eye. The Varta batteries, horribly expensive that they are, could be easily ruined, so replace with a similar sized car battery that has the full 30aH wack. Generators are also weak.