The NEW PEGASO 650 STRADA shuns stylistic excess. Instead, it does everything possible to give its rider unrivalled handling. The PEGASO 650 STRADA also knows the importance of comfort and ergonomics. It knows that total ridability is essential for a bike to prove its worth under all conditions from city commuting to touring. That is why every mile ridden on a PEGASO 650 STRADA, in or out of town, is a concentration of riding pleasure.

The PEGASO 650 STRADA is unbelievably agile in traffic. A total steering angle of 76° (38°+38°) lets you nip through the rush-hour, so even going to work can be fun! The PEGASO 650 STRADA is exciting, agile, manoeuvrable, dynamic, fast and everything else with it! It is born to devour mountain bends, thanks to superb engine performance and the sort of handling you would only expect from a sports bike.

But the PEGASO 650 STRADA can become a totally different bike at the drop of a hat. The optional fairing screen turns it from an aggressive streetfighter into a road-hungry tourer.

The Aprilia PEGASO 650 STRADA is a truly multi-purpose motorcycle, easy to ride yet capable of guaranteeing exciting sports performance for leisure-time riders and convinced motorcyclists.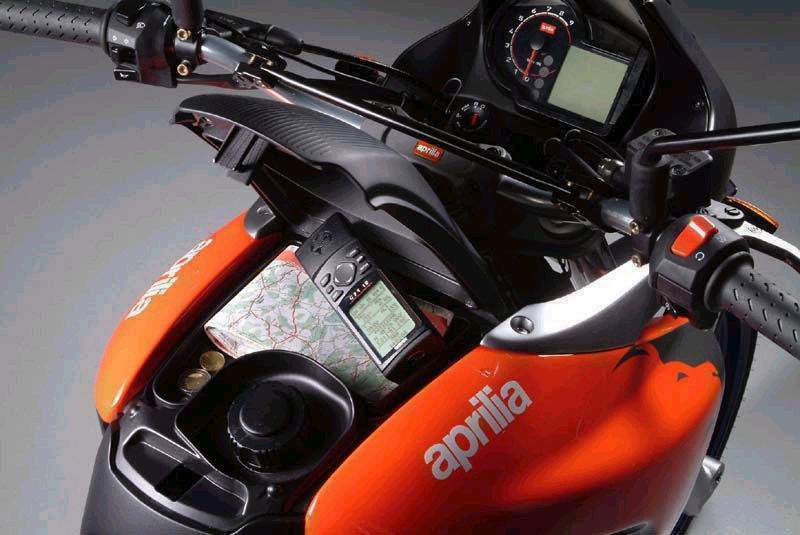 DESIGN

The PEGASO 650 STRADA's unmistakable personality, plus the sort of style that has always distinguished Aprilia motorcycles, make the bike instantly recognisable. Aggressive, eye-catching, and clearly Aprilia, the PEGASO 650 STRADA brings sporty elegance to every ride. The PEGASO 650 STRADA's good looks emphasise its light weight and dynamism from the first glance.

The bike's vocation for fun and enjoyment is clear even when it is on its side stand! The sleek, streamlined design of the Aprilia PEGASO 650 STRADA declares the bike's eagerness for sports riding even before the engine starts.

The PEGASO 650 STRADA sets new standards in motorcycle design. Every single part has been made for perfect functionality and ergonomics. The result is perfect integration between man an d machine, for unbeatable fun and universal ridability.
The PEGASO 650 STRADA boasts an extremely low seat, just 780 mm, for absolutely leisurely control. Riders of all statures, including lady riders, can get their feet firmly on the ground. The seat is specially shaped for effective sports riding too, while also affording rider and passenger great long distance comfort. An optional kit is available to increase seat height to 820 mm, making the riding position even more comfortable for taller riders.

Rarely has such performance been coupled with such great ergonomics and functionality. Two storage compartments, one in the top of the tank and a second under the seat, provide bags of room for items you need to get your hands on quickly. There is even provision for an elastic seat net to carry even more of your belongings with you on holiday.

For maximum convenience, the tank-top storage compartment can be opened by an electric push-button on the handlebars, so coins, mobile phones, toll tickets and the like can be reached without having to stop the engine. The under-seat compartment is more generous than any other in this class of motorcycle and quite big enough to stow rain-proofs and other such items.

Rational design has found its maximum expression on the NEW PEGASO 650 STRADA. Take the self-supporting cockpit fairing for example. This one part holds the headlights and the instruments. Fewer parts means fewer screws, greater strength and reduced weight.

ENGINE

The PEGASO 650 STRADA's engine is a liquid cooled, four valve, single cylinder four stroke, equipped with the most advanced electronic fuel injection system currently available. The engine is designed for brilliant performance, low fuel consumption and, of course, extremely low emissions. The result is a machine that is fantastic to ride under all conditions.

The engine maintains Aprilia's traditional dry sump design. What makes it so exceptional is its compact overall dimensions and advanced technology. The engine's high power output (50 HP) is perfect for the PEGASO 650 STRADA's design concept, a concept that prioritises riding enjoyment. This powerful but flexible engine has an exceptional torque curve and accounts for the dual personality of the Aprilia PEGASO 650 STRADA: docile and relaxed for daily commuting and touring but mean and aggressive for sports riding.

The NEW PEGASO 650 STRADA has a healthy respect for the environment. Like all Aprilia motorcycles it incorporates standard-setting engine technology because fun and enjoyment should not spoil the environment. A double exhaust catalyser keeps emissions within the latest Euro 2 standards.

Other features of the PEGASO 650 STRADA that deserve special mention are:
- Anti-vibration counter-shaft for smoother running and greater comfort.
- Single throttle body with a latest generation micro-spray injector.

CHASSIS

Efficiency can go hand in hand with simplicity. A compact, single spar, steel frame is the perfect backbone for a thoroughbred supermotard like the NEW PEGASO 650 STRADA. Despite its extremely light weight, this frame delivers standard-setting rigidity as well as easy access for maintenance purposes.

Great care has been taken over suspension calibration to combine road holding and comfort. The NEW PEGASO 650 STRADA is equipped with a robust fork with the largest diameter stanchions in its class (45 mm). Wheel travel is 140 mm. This fork provides the best possible compromise between easy riding, braking control and comfort. A robust anti-twist bridge helps make the front end even more rigid and imparts a feeling of solid reliability unequalled by any other bike.

The gas-filled monoshock at the rear is adjustable in spring preload and rebound. It too is calibrated for maximum control under sports riding conditions without penalising versatility. Rear wheel travel is 130 mm.

The PEGASO 650 STRADA's elegant aluminium alloy wheels copy the wheel design of the RSV 1000 R Factory supersports for an even more aggressive look. Wide rimmed wheels and large, road-going tyres (110/70 at the front, 160/60 at the rear) provide plenty of support for the Pegaso's refined chassis. Great tyre grip and an extended area of ground contact guarantee a sensational ride in total safety.

The wheel spindles are 20 mm in diameter but hollow for greater strength and reduced weight.

BRAKES

Absolutely nothing has been overlooked, and only the best available components have been used. The Brembo front brake features a mighty 320 mm floating disk with a four-pot calliper, for the sort of braking power and control normally only found on supersport machines.

This powerful front brake is assisted by a 240 mm disk with a Brembo floating two-pot calliper at the rear.

The entire braking system has been calibrated for maximum efficiency, power, response, and feel.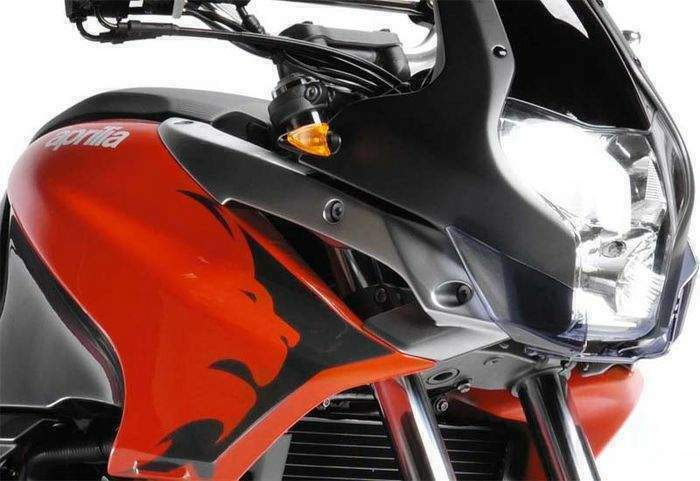 COMPONENTS

Just like all Aprilias, the PEGASO 650 STRADA is equipped with top quality, prestige components. The following items deserve special mention:
- Complete, sports style, analog/digital instrumentation to provide the rider with all possible information. Alongside the analog rev counter, a large, multifunctional, digital display incorporates an on-board trip computer to display instantaneous and average fuel consumption, trip speeds and times, and a chronometer. Eight function and warning indicators monitor riding and engine parameters and the direction indicators feature a timed self-cancelling system.
- 2 storage compartments, including one on top of the tank and a second under the seat. An electric release control on the handlebars means that there is no need to remove the ignition key to open the tank-top compartment.
- Electronic immobilizer.
- Large twin headlights with simultaneously lit low and high beam units.
- Compact, streamlined direction indicators with monocoque body and integrated halogen bulb.

ACCESSORIES

As can be expected from Aprilia, the NEW PEGASO 650 STRADA is complemented by a wide range of dedicated accessories, so you can customise your bike exactly as you want it.
- Hand guards
- Heated grips
- Fairing screen
- ABS
- Luggage rack
- Top box
- Panniers
- High seat and footrest kit