Honda XR 250R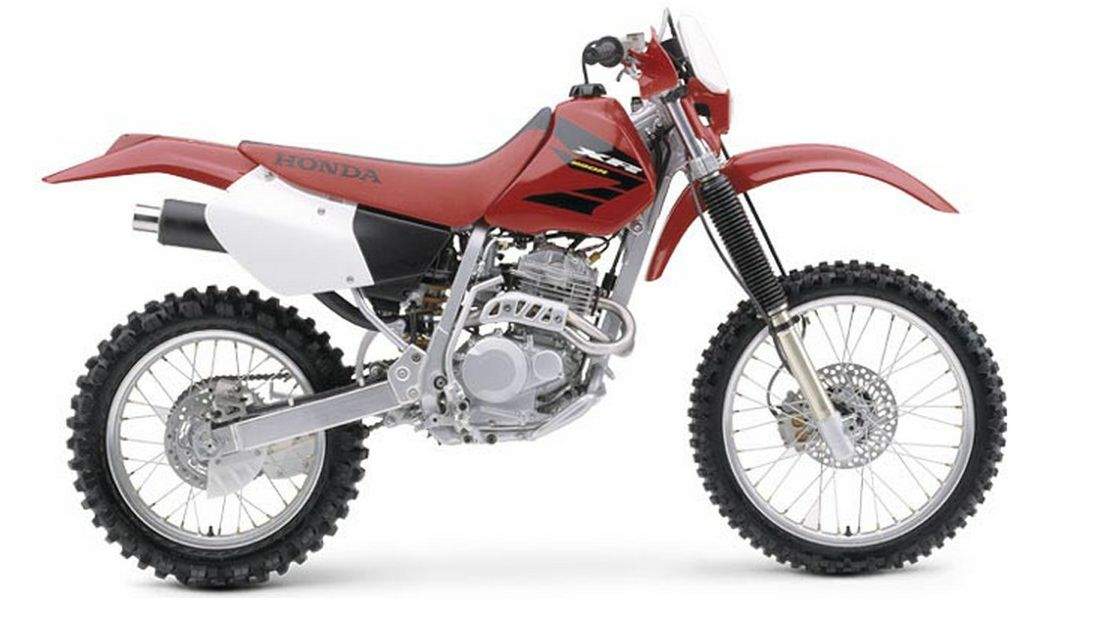 Make Model

Honda XR 250R

Year

2005

Engine

Four stroke, single cylinder SOHC, 4 valve

Capacity

249 cc / 15.1 cu-in

Bore x Stroke

73 x 59.5 mm
Cooling System
Air cooled

Compression Ratio

10.2:1
Lubrication
Dry sump

Induction

PD30 Carburetion

Ignition

CDI type magnetic Ignition System
Starting
Kick

Max Power

30 hp / 21.9 kW @ 9000 rpm

Max Torque

24.5 Nm / 18 ft. lbs @ 7500 rpm

Transmission

6 Speed
Final Drive
Chain

Front Suspension

41 mm Air assisted telescopic forks

Front Wheel Travel
280 mm / 11.0 in

Rear Suspension

Pro-Link, adjustable compression and rebound
Rear Wheel Travel
280 mm / 11.0 in

Front Brakes

Single 240 mm disc 2 piston caliper

Rear Brakes

Single 220 mm disc 1 piston caliper

Front Tyre

80/100-21

Rear Tyre

100/100-18
Rake
26.5°
Trail
105 mm / 4.1 in
Dimensions
Length: 2110 mm / 83.1 in

Width: 830 mm / 32.7 in

Height: 1215 mm / 47.8 in
Wheelbase
1400 mm / 55.1 in
Seat Height
920 mm / 36.2 in
Ground Clearance
315 mm / 12.5 in

Dry Weight

104 kg / 229.3 lbs

Fuel Capacity

9 Litres / 2.4 gal
For a while it seemed like everyone owned one, or was about to. Rob Smith looks back fondly at Honda's XR250 series.
Come-on, hands up all those who have never ridden one of Honda's quarter litre chookies. Right, so that makes three of you. Just about everybody has ridden an example of what must be arguably the most successful - in terms of popularity - four-stroke trail bike in history. The stone reliable XR250R has proved itself as a gentle off-road tool for the casual weekender, a competent competition mount in Enduro, muster mount, outback tourer and just about every variant of dirt riding in between. It's probably not stretching things too far to say that it's an icon.
HISTORY
In the beginning there was the now collectable silver, twin-shock XL250 Motosport that came into being in the seventies. As time passed it became the XL250S which sported the unusual then and now 232 front wheel. This strange wheel size featured 'claw' type tyres that you had to use 'cos no other bugger made a replacement. I had one of the former and three of the latter, two of which saw hard and unsympathetic use as London courier bikes.
The fact that they withstood the daily punishment but still coped with off-road silliness at weekends stands as testimony to the inherent design integrity.
In 1984, the 247cc four-valve, air-cooled XL250R arrived featuring the new RFVC (Radial Four Valve Combustion) head, and Pro-Link suspension. Standing shoulder to shoulder with the XL was the new, more dirt-focussed kid on the block, the fully ADR complianced, twin carbed XR250RE. The following year saw the upgraded RF take over featuring primarily engine changes to deal with the problems associated with heat. One of which was an increase in oil capacity.
At that time the XR250 was being sold in Australia with off-road gearing,and as a result XRs were copping a thrashing, this led to the engine oil disappearing and the engine revving itself into an early grave.
1986 arrived and with it a bigger frame, an oil cooler and, importantly, road gearing which gave the bike an easier time when pressed into road use. The twin carb set-up had gone in favour of a single carb that made starting easier, and it was time to let the XR settle into the market for a while.
Between '86 and 1990 the only changes were as Honda put it, BNG, that's 'Bold New Graphics' to you and me. However, 1990 saw further development with the addition of cartridge forks, and front and rear disc brakes. From there it was back to BNG until 1996.
1996 was the XR250's coming of age. The XR250RT emerged fresh and new sporting a ground up redesign. There was a new chassis featuring revised steering geometry, and for the first time a removable sub-frame. Meanwhile, bolted up front were a set of plush 41mm cartridge forks.
The engine was all-new and now featured a dry sump with increased oil capacity. There were tweaks that produced a bit more power, and the crankcases now incorporated the swingarm pivot. In short the new XR shared no common parts with the previous model.
ON THE ROAD-OFF THE ROAD
As far as riding an XR on the road goes, the experience is not something that you'd want to do a lot of. It's fine as long as you're not running full knobby tyres, but that kind of defeats the purpose of owning one. The engine is a willing performer, but even with road gearing the power runs out as quickly as you run out of gears.
Depending on what gearing you're running, freeway speeds will see a bit of vibration coming through the footrests and handlebars, and the bike is happier at about 90kph than it is at 100. The seat is bearable for up to an hour. Hardier types than myself who have endured vast, around-Australia distances tell me that it is possible to harden up over time, although I suspect that even with a 15 litre tank fitted you'd still be getting off fairly frequently, thus relieving the agony a little.
In terms of handling and braking, the XR is a dirtbike, and so while it can make a reasonable fist of road swervery, even with knobbies fitted, it's simply not what it's good at. The suspension is fundamentally too long and soft and the riding position demands that you sit too close to the handlebars.
Brakes are adequate rather than brilliant and limited by the kind of rubber surrounding the wheels.
Once, off-road the XR has the chance to show where its strengths lie. Bear in mind that in standard form this is not a hardcore off-road weapon, and therefore suited more to the casual weekend dirt rider. Having said that, the XR is still a favourite with some of Australia's expert off-road guns.
Weighing in at a reasonable and easy to pick up 116kg The XR feels light, confident and easy to ride, and flatters crap riders like me by letting them get away with things that more ferocious weaponry would punish without mercy. As a result it encourages the novice, building confidence and allowing them to take a few chances and so improve their riding skills.
Having had a few spiteful big bore off-roaders, I have to say that one of the most welcome attributes of any dirt bike is easy starting. When the engine goes Ptoof! half way up a snotty hill with a name like Old Disaster, the last thing you need as you slide back to oblivion is an engine that sullenly refuses to bail you out of trouble. Unfortunately up until the electric start XR250L, kick start was the only option. Fortunately though, for those unable to tell the difference between ability and ambition, the XR is a willing and easy starter.
Once under way, the little 250 makes useable power right through the rev range, There's no sudden steps in delivery, and what torque there is makes most hills and deep mud a doddle. The suspension is plush and well controlled in just about all non-competition situations, while the brakes that were less than impressive on road become excellent for the kind of off-roading most people do.
IN THE WORKSHOP
With a bike that has had such a long period of development you'd expect the end product to be good, and it is. As has been mentioned pre-1996 models suffered from the effects of running hot and working hard. In reality very few people give an XR an easy life. However the basic design is and always has been very simple and easy to maintain. There really isn't any excuse for not changing the oil, and it1s clean oil with frequent changes that will ensure the life of an XR, any XR. It1s impossible to say the oil should be changed after a specified number of kilometres, because the work can be so varied. Keeping an eye on the oil level and colour is a good indicator, although a change of oil after about four days riding, with a new filter every third or fourth change is a good idea. Naturally when you buy one, you1ll check the bike over. Check the owner over as well. Do they do the maintenance themselves, do they have a manual, and does it look used? Look for rounded off nuts and broken fasteners or fittings that haven1t been repaired. Look at the colour of the oil, and have a look at the state of the air-filter. They'll tell you a lot about the level of care the machine has experienced.
You'll listen to the engine. It's not unusual for there to be some camchain rattle. A new chain and tensioner will cost about $250 to buy and install, although it1s obviously cheaper if you do the work yourself. A good XR engine is a mechanically quiet unit. Also make sure that there1s no smoke when you rev up or shut down, as this will mean that the valve guides are worn. Once again not a huge job, but one that will need a substantial decrease in the asking price.
Of course the chain, sprockets and brake pads wear out and are good bargaining points to, but be sure to check things like wheel bearings that may have had the grease jet washed out of them and have worn prematurely. Don't forget to check the rear suspension linkage for wear also. Check the steering head bearings, and make sure that the forks aren1t twisted or bent. Take the seat off and have a look at the subframe to make sure that it's not crash-twisted. A test ride is essential.
WHICH MODEL?
Obvious really isn't it? Anything from 1996 onward will be the best in terms of development. However if you come across an older one that's in good nick and it hasn't done much work, it1ll still be a good buy if the price is right. With dirt bikes it's condition and care that are the key factors in buying a good one.
SUMMING UP
The little XR is a great bike. It's getting a bit dated compared with the competition from the other manufacturers, but it's still a well-developed, and reliable introduction to the world of off-roading. Have a ride on one and tell me if I'm wrong...
Source Bikepoint