Honda XR 200R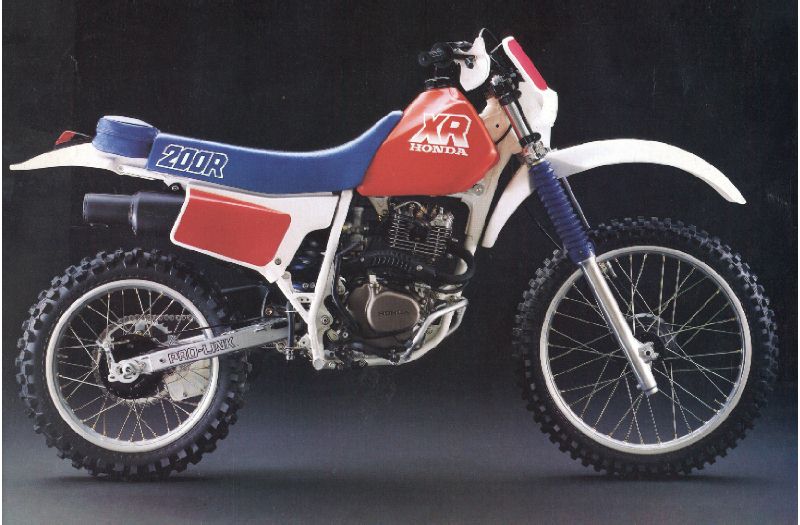 Make Model

Honda XR 200R

Year

1984-85

Engine

Air cooled. four-stroke, single cylinder SOHC, 2 valve,

Capacity

195

Bore x Stroke

65.5 57.8 mm

Compression Ratio

10.0:1

Induction

Single 26mm Keihin carb

Ignition / Starting

CDI / kick

Max Power

30 hp @ 9000 rpm

Max Torque

2.5 kg-m @ 7500 rpm

Transmission / Drive

6 Speed / chain

Front Suspension

35mm Kayaba 240mm wheel travel

Rear Suspension

Pro-link Kayaba damper 247mm wheel travel adjustment for spring preload and rebound damping.

Front Brakes

Drum

Rear Brakes

Drum

Front Tyre

3.00-21

Rear Tyre

4.10-18

Wet-Weight

109 kg

Fuel Capacity

7.5 Litres

Consumption average

35.3 mp

/

g

Top Speed

102 km

/

h
Road Test Cycle
The newly reworked XR200R is one by-product of Honda's determination at the four-stroke front, and the results are exemplary; 1984 represents the first year the XR200R has existed as a really up-to-date off-road mount. Through 1983 this medium-sized XR
featured a time-worn two-valve engine which was its greatest limitation. Yes, the XR was an interesting and worthwhile motorcycle, but not nearly up to snuff for really serious riders. Now things have changed.
For all intents and purposes, the new XR200R and XR250R are cast in the same mold. Rather than down-size the XR350R to become just another overweight 250, Honda developed this year's XR250R as an outgrowth of the new XR200R; still, each follows the favorable pattern set by the ХR350R and ХR500R in 1983. For a 250 to inherit technology from a smaller model is something of a turnabout, but one which helps the quarter-liter XR eliminate the "largeness" it's traditionally suffered.
The design mates share many components, including their wet-sump engine cases and most internal gear ratios, high-tensile steel chassis, nearly all of the rear Pro-Link setup, running gear and cosmetics. Honda set the XR200R's bore and stroke at 67.0mm x 56.5mm for a displacement of 199cc, while the XR250R uses a bore eight millimeters greater to displace 249cc. Honda's RFVC (Radial Four Valve Combustion chamber) engine designs incorporate dual Keihin carburetors, and the XR200R uses a pair of exclusive 20mm units. With such a setup, the primary carburetor meters during low-end, mid-range and main-jet operation, while the second carburetor opens late to supplement breathing at the high end.
Honda has vastly improved the XR200R, but the company's marketing intentions are still familiar: for 1984 Honda hopes to retain the XR200R's "fun factor" reputation while attracting more serious riders courtesy of the improved powerplant and upgraded suspension.
Starting the XR200R is a one- or two-kick affair with the engine cold or warm. An automatic compression release aids in this matter and, once underway, no objectionable engine vibration encroaches.
The last feature you might expect from the XR200R would be overwhelming power; by open-class or two-stroke enduro standards, the four-valve XR offers moderate output, yet that power is far more usable than you might guess. On hills, the Honda pulls strongly from low on the rev scale, while on top it sings with enthusiasm. One thing is certain: the Honda's dual Keihin carburetors are expertly metered, allowing the XR200R engine to deliver on every bit of its potential.
Equally well thought out is the transmission with a ratio available for any situation. Low gear, coupled with the XR's willing low-end pull, allows you to crawl up any incline your skill allows, seldom touching the clutch lever. While you can loft the front wheel to skim over most ruts, rocks or ravines, unicycling across vast fields on horsepower alone is better practiced on another motorcycle—the experienced XR200R pilot will rely more on balance than power for extensive rear-wheel motoring. We disagreed only with the XR's clutch, which has a short, rapid engagement and is difficult to modulate in tricky uphill situations.
The new XR200R's quick-steering chassis (rake, 26 degrees; trail, 4.1 inches; wheelbase, 53.5 inches) is especially at home in tight situations, but presents something of a disadvantage for novices under fast conditions—in all cases, experts will appreciate the Honda's exceptionally quick steering characteristics.
The XR200R employs a 36mm leading-axle fork, and sooner or later you'll use every bit of the 10.0 inches of travel provided. The remote-reservoir, rising-rate Pro-Link rear system is easily adjustable for spring preload, compression and rebound damping, and provides 9.6 inches of rear-wheel travel. Advanced riders will run with the rear suspension adjusted firm.
IRC Volcanduro VE-32 tires (3.00-21 front, 110/90-17 rear) do well on all types of terrain except hard surfaces or sand-covered fireroads where they give up their grip early, promoting occasional fishtailing and front-end plowing. At high speeds the Honda re- mains otherwise stable, steering effortlessly on trails and in sand.
Down-sized single-leading-shoe brakes grace the Honda, front and rear; they work adequately except for the rod-actuated rear, which can cause its wheel to chatter while on steep downhills. The XR250 sports a disc front brake, befitting its loftier status, displacement and price.
Honda's redesigned XR200R is, as Honda implies, fun. Best of all, the XR is capable for enduros, weekend exploring, play racing or simply developing riding skills, and only those used to motorcycles superior to the XR in both size and price will notice its few short- comings. For experts, the nicely de- tailed XR200R will fall somewhat short of the power and top suspension marks such riders demand. A novice will find the XR200R balanced and reassuring, while it also serves just about well enough for premium-brand riders. However, an advanced pilot would be better advised to purchase an XR250R or XR350R when considering four-stroke Hondas.
We believe the XR200R is one of Honda's best for-everybody dirt bikes, thanks to its advanced technology, affable and versatile nature, and conservative price. At $1625, the XR200R is more than $377 better than the standard-issue XR200, and $223 less costly than its stronger XR250R sibling. For the true Dirt Donk we recommend Honda's standard XR200, while for an expert the more potent XR250R will represent money well spent. For everyone in between, the new generation XR200R is just the right Honda.
Source Cycle 1983