Honda XLV 750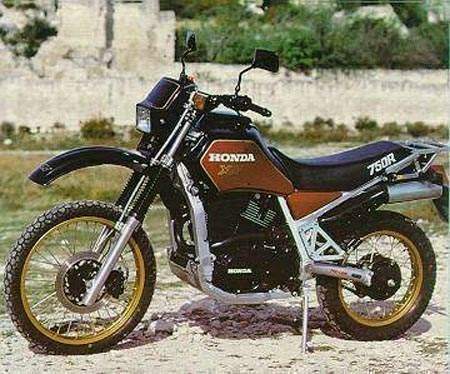 | | |
| --- | --- |
| Make Model | Honda XLV 750 |
| Year | 1985 |
| Engine | Four stoke, 45°V-four cylinders, SOHC. 3 valves per cylinder |
| Capacity | 749 cc / 45.7 cu-in |
| Bore x Stroke | 79.5 x 75.5 mm |
| Cooling System | Air/oil cooled |
| Compression Ratio | 8.4:1 |
| Lubrication | Wet sump |
| Induction | 2x Keihin VD Throttle bore 36 mm |
| Ignition | CDI |
| Starting | Electric |
| Max Power | 61 hp / 45 kW @ 7000 rpm |
| Max Torque | 7 kgf-m / 68.4 Nm @ 5500 rpm |
| Transmission | 5 Speed |
| Final Drive | Shaft |
| Gear Ratio | 1st 2.500:1 (40116) 2nd 1.750:1 (35120) 3rd 1.291:1 (31124) 4th 1.000:1 (28128) 5th 0.833:1 (25130 |
| Clutch | Wet, multi-plate |
| Frame | Double cradle |
| Front Suspension | Telescopic forks |
| Front Wheel Travel | 200 mm / 7.8 in |
| Rear Suspension | Air assisted Pro-Link |
| Rear Wheel Travel | 180 mm / 7.0 in |
| Front Brakes | Single 276mm disc 2 piston caliper |
| Rear Brakes | Drum |
| Front Tyre | 90/90 21 |
| Rear Tyre | 130/80 17 |
| Wheelbase | 1480 mm / 58.2 in |
| Seat Height | 855 mm / 33.6 in |
| Dry Weight | 195 kg / 430 lbs |
| Wet-Weight | 212 kg / 467 lbs |
| Fuel Capacity | 19.5 Litres / 5.1 US gal |
| Top Speed | 165-170 km/h |
| Reviews | XLV owners |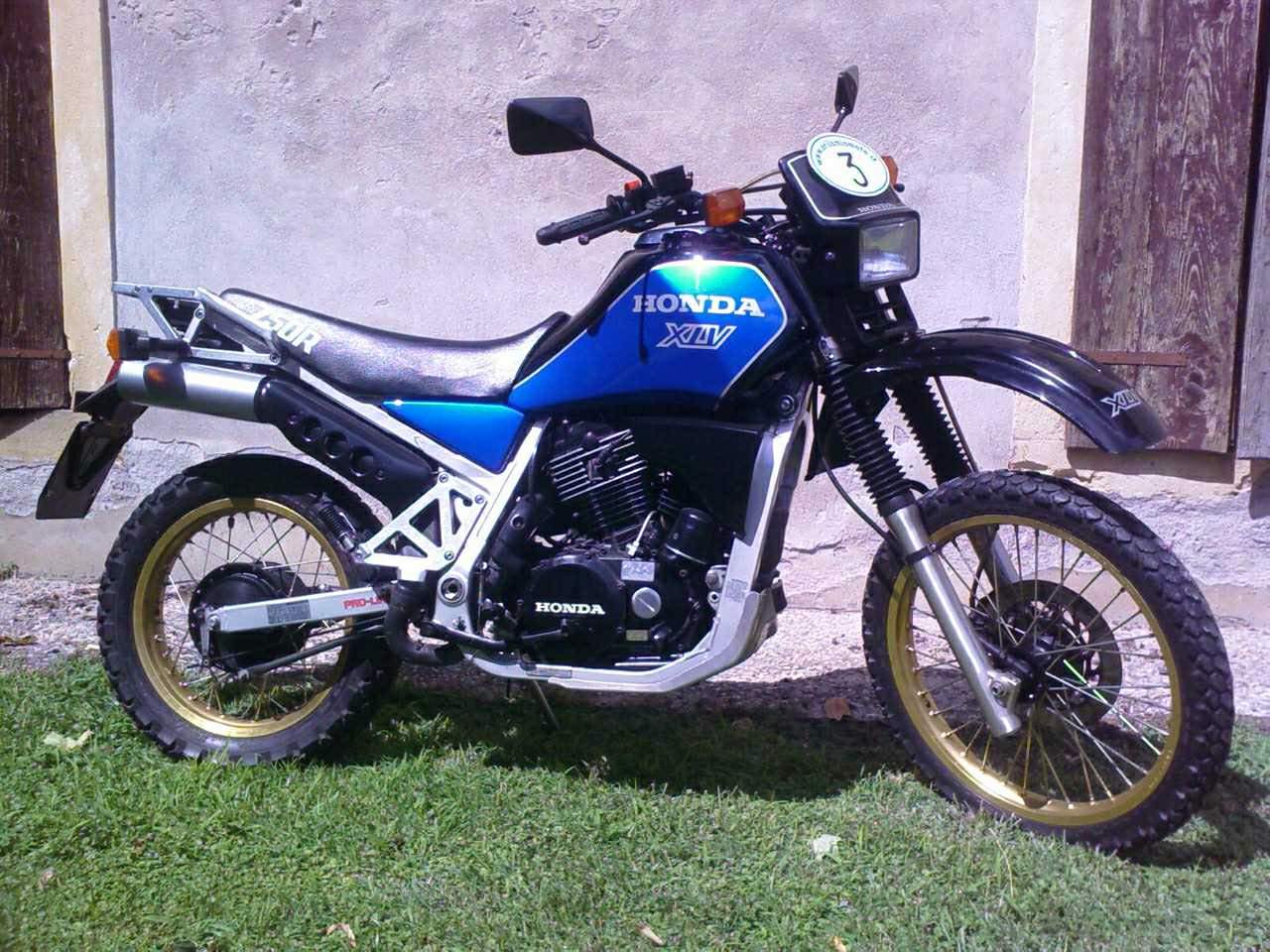 The Honda XLV750R was only in production for a few years, however it provided the basis and was the forerunner of the Transalp and Africa twin. The XLV750R was sold in Europe from 1983 -1986
The HONDA XLV 750 R has been sold from 1983 to 1986, as RD 01 type, as RD version first, presented in 'Salon de la Moto' in Paris in October 1982, and sold from July 1983, in RF version next, after some mechanical and aspect modifications, and sold from February 1985.
The major difference between the two versions is the painting , the RD version est 'rather flashy' in three colors : blue, white, red, while the RF version is 'rather invisible' en two colors : black + red or black + grey. In fact, the last bikes in RD version sold at the beginning of 1985 have received some of the modifications
planned for the RF version, as the adjustable rear suspension... and may be all or part of the mechanical modifications,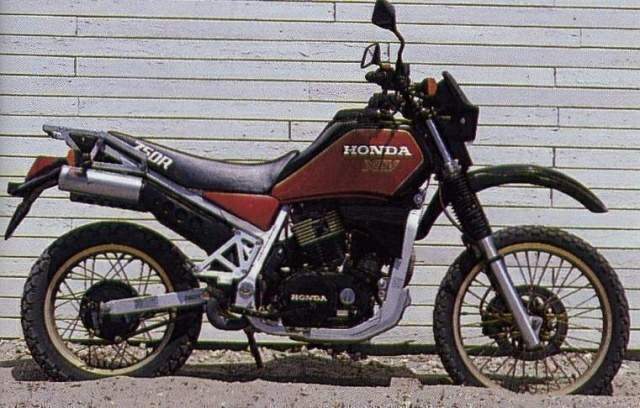 Well in advance of the '84 selling season, Honda UK invited the press to London's Cunard Hotel fora dose of Shreddies floating dismally in champagne. The purpose of this early morning PR exercise was the unveiling of the usual model range update. The whole episode was seriously underwhelming, not least because there were comparatively few staggeringly new cycles and those of us who regularly cast a bloodshot eye through foreign magazines knew that a lot of fancy tack was missing. The resident marketing mouth explained to us.
with all the credible innocence of a cherub suffering from Down's Syndrome, that this sad state of affairs represented Honda's long-overdue rationalisation of its British range. We were told that a tightlaced list of sure sellers was Chiswick's answer to the recession.
All of this would have stood with an air of being eminently reasonable if it wasn't for the inclusion of the somewhat dubious XL250R in the lineup. You know the quarter-litre market's as dead as a Dodo, I know it, but Honda hasn't apparently caught on. . . Five hundred specimens of this bike were piled high in the Chiswick dungeons and the asking price was definitely on the You-Must He Kidding side in the region of twelve hundred quid. Suggestions by me, amongst others, that a smarter and far more exciting idea would be to launch the sensationally francophile XLV750 onto unsuspecting rosbifs were pooh-poohed. Honda still won't admit its mistake, despite the bike's impressive sales performance across the rest of Europe, but well-known South Coast independent Bill Botfield has now set out to prove them wrong. . . I'd seen smudges of the XLV before and already developed a perverse lust for it, but nothing can prepare for in-the-flesh visual contact. Nestling amongst a vast array of'classic' British scrap in the Bol D'Or showroom, it stood out like a bride at a funeral. Forgetting any status it may or may not claim as a motorcycle, as a styling exercise the XLV is both outrageous and brilliant. It was created to go forthe throat of France's massive dirt-poseur market, like the Yamaha XT Tenere. Generic roots are pure Rallye Paris-Dakar in both image and engineering, but detailing sharply recognises Rallye St Tropez-Port Grimaud practical usage...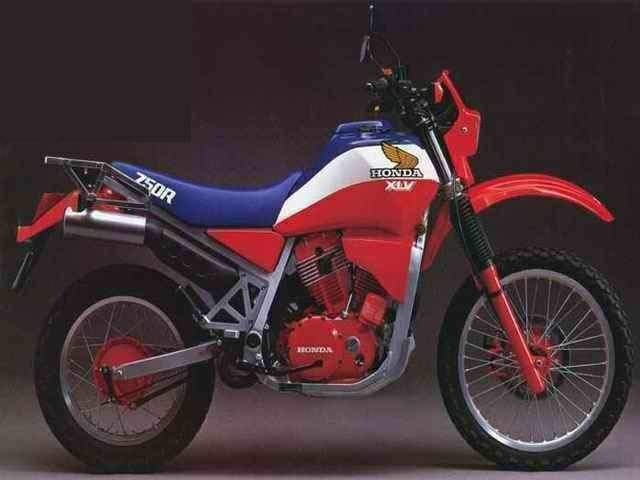 Despite its layout and thoroughly serious equipment, the XLV can never be regarded as a dirt bike in European terminology. There are 428 reasons that forcefully insist upon such a fact, and they are the number of pounds it weighs before fuel and oil are added. Put in persective, that's twice as heavy as any competitive enduro bike and even forty pounds heavier than Gaston Rahier's winning Paris-Dakar projectile — a 1015cc, 90bhp BMW monster. Just to be sure, I risked ongoing trouser stains with a brief green-laning adventure. Suspension, steering and tractability worked within conventional trailbike limitations and power — with more theoretical stomp than an Open Class motocrosser — was not a problem, but abject terror certainly was. One small mistake would have led to WB ? management explaining broken bike to Bol D'Or and broken neck to my mum. . . Forgiveness is a virtue but, in that particular sense, the XLV is totally evil.
XLV dirt imagery is soured, too, by awareness of how the engine's significant quantity of wellie actually works. Despite appearances, the bike isn't really a twin-tub thumper. The 45 degree vee twin lump is loosely based on the VT500 and 750 motors; in fact it shares identically oversquare bore and stroke dimensions with the VT750. (Another bike available to Anglo punters only through the good offices and entrepreneurial tendencies of Monsieur Botfield...) The significant difference is an absence of water-cooling, presumably to save weight. With less control over running temperature, the engine compression has had to be dropped considerably, which explains why the XLV has less ponies and less bottom-end grunt than the VT Shadow.
Nevertheless, a 45 degree cylinder configuration is something of an automotive armpit, in that it's nearly as hot and sweaty. Fighting back, Honda have built what is, to all intents and pur-. poses, an oil-cooled engine. Complementing the 1.5 liters that lurk permanently in the sump are another couple of liters in the frame. This quite large amount of lube is circulated through an oil cooler and those two giant girders up the front of the motor. I'm sure structural requirements don't demand such massive frame members but I'd be willing to bet that heat dissipation does. The entire skeleton, including the bleedin' swing arm, gets surprisingly hot after a while.
Typical of Honda's Alice-In-Wonderland attitude to historically simple vee configuration motors, the XLV is a haven of technological complexity. Sideshows like the externally-mounted car-type disposable oil filter are fine as long as the local kids don't learn about strap wrenches, but most things are overwhelmed by eye -searing red paintwork engulfing crankcases and barrels. The heads feature twin plugs and single overhead cams bothering three valves per cylinder-two inlet and one exhaust — which remain peaceful" and serene thanks to hydraulic tappets. The carburation is completely invisible, buried between and above the pots. These tightly-packed Keihin CV units, hopefully protected from engine toasting by a substantial heat shield, suck through a vast airbox integrally included in the centre of the fuel tank. The filter is a large, quick-release foam type, accessible frorrrthe top of the tank and smacking of full-works desert racing gear...
Downstairs, offset crankpins stifle primary vibration and action transfers backWards via a precise but noisy five-cog box before hanging a tight an' fast turn into shaft drive. Like most of Honda's efforts, the transmission is impeccably smooth and lash-free. Design constraints imposed by the shoe-horning of this mill into a chassis of basically fashion-accessory layout may have resulted in less of what I'd really like but, hang on a minute, there's still plenty enough to go round. Maximum torque of 50.61 lb/ft is available at a not-particularly-astronomical 5500rpm but the torque curve lacks the flatness of a big-bore single and, as with max. power of sixty-one donkeys when the trank's spinning up to seven grand, the excitement comes from free-revving silliness. This is not to say that itlacks flexibility, but itdoes lack thrills at low engine speeds.
None of this matters, anyway, when the totality is viewed as a tarmac terrorist. The XLV is a fast bike that can be ridden to the limits of its engine performance potential. Concessions to the dirty habits promised by styling usually promote trailbike handling vagaries, making the genre about as useful as a nun's nasty at brain-off, back-roads scratching speeds, but Honda's XLV is a notable exception. The factor that counts is weight disposition in relation to rigidity, steering and suspension. Whilst the XLV isn't front-end heavy by any means, its bias is thankfully neutral. That, allied with a massively stiff frame and the particularly clever fork, holds the secret. The sharp end is graced with big, thick, stanchions held together with a trail innovation — a nice red fork brace.
Good behaviour is equally unaffected by the suspension. XLV legs have a necessarily respectable amount of travel for off-road fantasy but are happily not afflicted with over-soft spring rates. The brakes, too, avoid dirt excuses for arresting inadequacy. At the front a nicely sensitive but extremely capable double'-piston caliper hooks its teeth into a disc and is well-assisted by the rear drum. These anchors are especially useful because they are allied to the latest in Bridgestone Trailwing boots which, on dry roads at least, belie their block treads with impeccable manners.
Precisely how does the XLV750Rmake its mark on motorcycling consciousness? It is an excellent road-going tool. Conan the Barbarian would probably find it a good trail bike, but as I don't habitually pump iron and I ain't a walking brick shithouse, I didn't. It probably has some value as a dirt roads, long-distance trek bike and it'll be interesting to see whether Honda France fronts up to this year's Dakar odyssey with XLV-based stuff. Dominating everything, though, is its pure style. If Boy George can use cosmetics, then so can I — but I'd much rather sit on this motorbike, because it runs better than mascara...
Roger Willis.
CUB
Source Which Bike 1984