Honda

XL

700

V

Transalp

| | |
| --- | --- |
| Make Model | Honda XL 700V Transalp |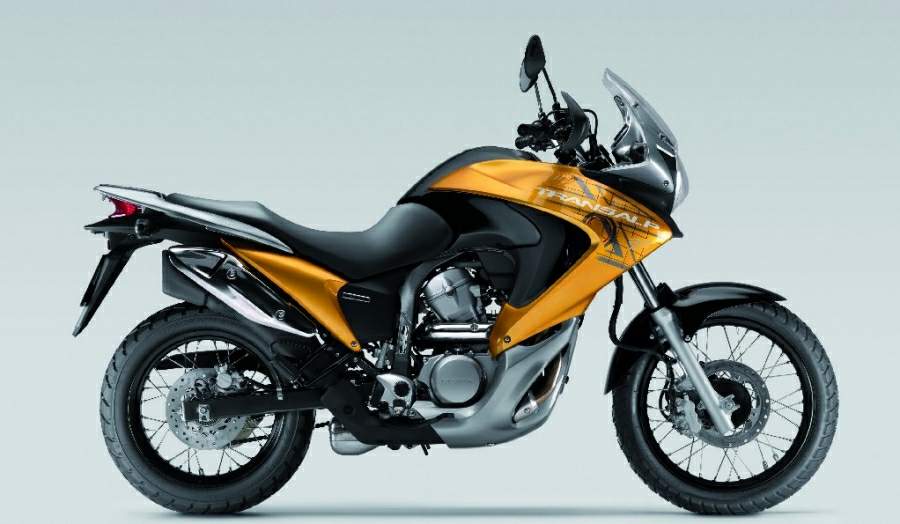 Honda has prepared the notorious Transalp for 2009 as part of their plans to continue the long career of this average displacement Enduro bike, but only added anti-lock brakes and painted it in the colors of the first Transalp model.
Already famous thanks to its bulletproof engine and the awesome riding experience that it offers both on paved roads and off them, the Honda XL700V Transalp needs no presentation whatsoever. What is unknown on this new model is the C-ABS anti-lock brakes that are meant to provide the best of braking performance on all riding surfaces that the bike is made to be exploited on. Honda added the new braking system on most bikes in the 2009 lineup and this legend simply couldn't be missed.
Featuring an aggressive and futuristic design, the Transalp practically defines through its looks the idea of adventure in motorcycling, meaning no barriers in a rider's quest. And the liquid-cooled and electronically fuel-injected 680cc V-Twin four-valved engine is there to back up the inviting design and never leave room for the rider to wish another kind of riding experience. This is the impressive result of the V-Twin engine type which managed to find its way on this dual-sport motorcycle in 1987 together with the first Transalp. Imagine this bike's evolution if it would have featured a single-cylinder motor.
Modern day means modern requirements so the new Honda has to comply with Euro-3 regulations and features a very efficient catalytic device.
Also, Honda offers a range of accessories which allow you to personalize the 2009 model year like never before. Not much has changed, indeed, but what did, makes all the difference.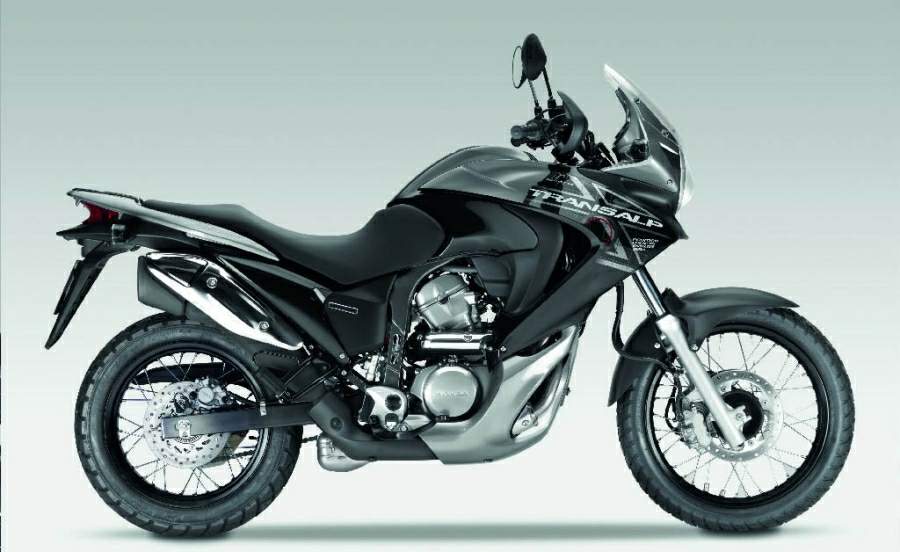 Test Ride
Honda's Spanish-built, 643cc Transalp adventure tourer has been around since 2000 but when time came for an update the Honda guys didn't just give it a nip and tuck, they waved the corporate magic wand and hola! – a whole new bike. Well, almost…

They started with a longer stroke (79 up to 81mm) to take capacity up to 680cc, claimed max power from 39 to 44.1kW at 7750 and torque from 55 to 66Nm at 5500rpm. The 650's CV carbs have been replaced by electronic fuel-injection with 40mm throttle bodies.

The new bike's mid-range is certainly stronger but the big improvement is in induction; Honda seems to have conquered the jerkiness that afflicts most fuel-injection systems at small throttle openings.
It will pick up smoothly and evenly from as low as 2750rpm.
The new Transalp will pick up smoothly from 2750rpm so it can be used as a balanced, if bulky, commuter.
Throttle response is, in fact, good throughout the rev range; as with most Hondas, there's no power band as such, but the engine becomes more energetic – and noticeably vibratious - above 6500rpm.

The Transalp romps happily up to its true top speed of 177km/h, the rev counter needle hovering around the red line at 8000rpm, without any apparent stress, although it becomes prone to mild weaving and headshakes above 160km/h – especially if you have your feet on the rear footpegs, which seems to make it much worse.

But this is not a sports bike, so back off to just under the vibration level at 6500rpm and the bike will cruise comfortably all day at around 150km/h
Sustained high speed also makes the Transalp unexpectedly thirsty; our standard test ride, which included performance testing, returned 7.3 liters /100km – that's 11.3 percent worse than that of the previous model despite Honda's claims to the contrary.

The rest of the drive train is standard Honda issue – a slightly wooden but seemingly abuse-proof clutch and a five-speed gearbox that works better at high revs than poodling around town. The shift action of the test Transalp seemed very notchy when the bike was cold – possibly due to its extreme youth.

The brakes are a little low-tech: sliding callipers at both ends but with plenty power and bite to make the long-travel front suspension dive extravagantly under hard braking, occasionally throwing a little wobble into the front end – use the rear brake to steady the plot.

You soon learn to do all your braking before you get to a turn – then you can float through at speed and come out with the throttle hard on.
Supple and well damped

The suspension is supple and well damped, ideal for a back-roads tourer if not for a sports bike; it coped better with our bumpy test section than some pukka dual-purpose bikes I've ridden there, holding its line and telling me about the bumps without transferring them to my spine.

The Transalp is also at home on gravel, even though it has a smaller front wheel than its predecessor; it's surefooted on hard surfaces but the Metzeler Tourance semi-street tyres (30 years ago we'd have called them trials universals) soon reached their limit in soft sand and mud.

Once again, this is a tourer, not an enduro bike.

The new fairing was a surprise on several levels; Honda claims it's smaller than that of the 650 – well, it's wider at the crucial 1.5m level (roof height for most cars – very important in traffic) but considerably slimmer above that.

Honda also says it deliberately sacrificed some protection for smoother airflow; said airflow must be much smoother because, despite having more wind in my face (and since when has that been a bad thing?), I found myself more relaxed at cruising speed on the 700.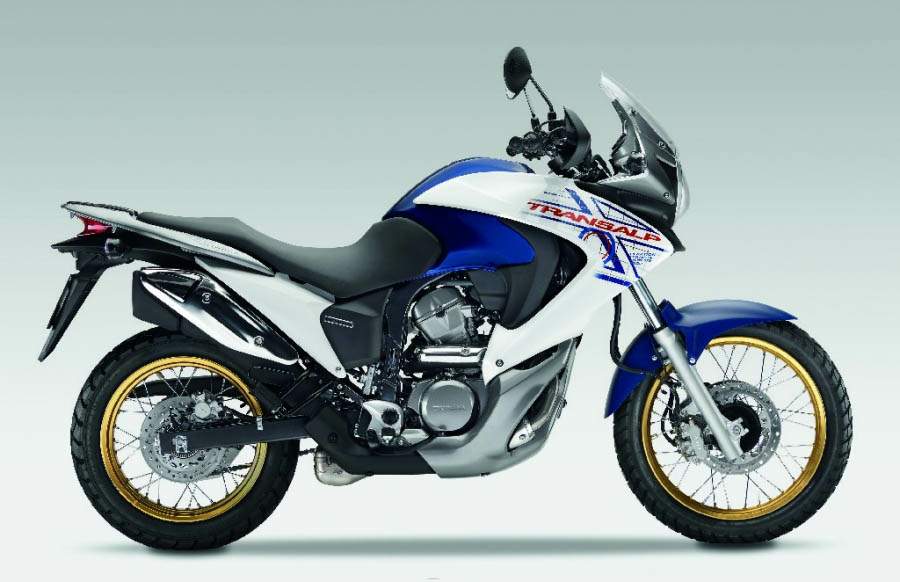 The styling is also more coherent and the graphics, which Honda says are intended to evoke the readout of a GPS navigation system, are bright and distinctive without being too plastic.

The new instrument panel is generically digital with an analogue rev-counter (it seems the market just won't accept any other representation for engine speed) but better laid-out than most in a very neat pod. There are numbers for time, speed and distance and a bar graph for fuel, all very logical and legible.

The wide, flat seat is very deeply padded, as supportive as a commode cushion and very comfortable once you're on the move; it's a little too wide at the front when you have to put your feet down, however, not ideal especially as the seat is already high at 841mm.

Relaxed and comfortable

The passenger accommodation is relaxed and comfortable but makes the bike a little less than wieldy, the steering less precise. It's fine for giving She Who Must Be Obeyed a lift to work in the mornings but for touring together you'd do better getting her a Transalp of her own.

If I have a gripe it's that the bike could use a centre-stand – although that'll make the saddle feel even higher.

Build quality from the Montesa plant near Barcelona is impressive and the Transalp has a well-deserved reputation for durability. The XL700V is a great round-towner, despite its wide bodywork – but it's even better on the back roads taking you to places few people go.
Source Motoring 2008