| | |
| --- | --- |
| Make Model | Honda XL 250R |
| Year | 1982 |
| Engine | Four stroke, single cylinder, SOHC, 4 valve |
| Capacity | 249 cc / 15.1 cu-in |
| Bore x Stroke | 75 x 56.5 mm |
| Cooling System | Air cooled |
| Compression Ratio | 10.2:1 |
| Induction | 1x 28mm Keihin |
| Ignition | Electronic |
| Starting | Kick |
| Clutch | Wet multi-plate |
| Max Power | 20.2 hp / 15 kW @ 7500rpm |
| Max Torque | 19.6 Nm / 14.5 lb ft @ 8000 rpm |
| Transmission | 6 Speed |
| Final Drive | Chain |
| Front Suspension | Air assisted telescopic fork |
| Front Wheel Travel | 210 mm / 8.2 in |
| Rear Suspension | Single shock, swing arm |
| Rear Wheel Travel | 109 mm / 4.2 in |
| Front Brakes | Drum |
| Rear Brakes | Drum |
| Front Tyre | 3.00 -21 |
| Rear Tyre | 4.60 -17 |
| Wet Weight | 131.0 kg / 288.8 lbs |
| Fuel Capacity | 9 Litres / 2.6 gal |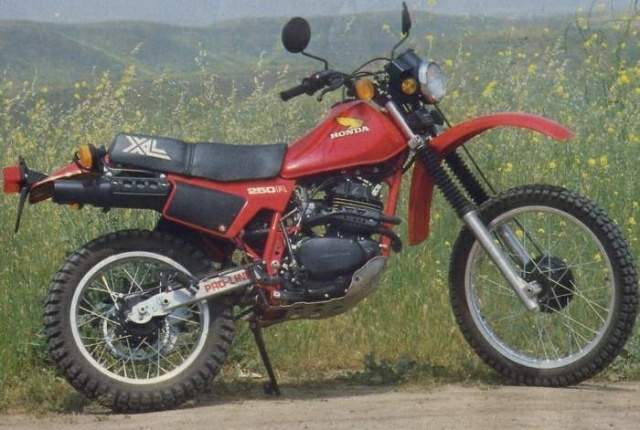 With its long-travel suspension and smooth power plant, the new Pro-Link XL250R makes any road its home.
I l Honda's XL250R is a perfect "Shorts" machine—long on usefulness but short on modifications for the new model year. In 1982 the XL250R went into the operating room for its first major update since its 1978 introduction; it emerged with better on-road and off-road performance. In place of its original dual counter balancers, today's four-valve 249cc engine has a single gear-driven counter-rotating balancer, reducing overall weight but maintaining engine smoothness. An automatic cam-chain tensioner eliminates one important maintenance chore. A sixth transmission gear allows closer spacing of the bottom five ratios, helping acceleration and providing more gears for battling adverse terrain. And 12-volt electrics boost wattage for the lighting, a distinct advantage over six volts.
The running gear didn't get left out of the '82 refinement process. A new, lighter frame utilizes a single-shock Pro-Link rear suspension system (in place of the previous dual-shock setup) and an air-adjustable fork with 35mm legs. The box-section swing arm's snail-type chain adjusters allow quick wheel changes—always an advantage when it comes time to repair a flat. A 21-inch front wheel also replaced Honda's former—and unconventional—23-inch hoop.
During last year's redesign Honda opted to exchange the original XL's leading-trailing front brake for a double-leading-shoe design to provide better braking power.
For 1983, however, Honda has reverted to leading/ trailing actuation. The reason for the about-face is simple. With leading/ trailing brake design, opposite ends of the two brake pads (one "leading" and one "trailing") are actuated to contact the drum with maximum force. When the wheel spins forward the single leading edge has more braking power because the drum, in essence, jams into the pad; the trailing edge contributes less because the drum skims over it. When the wheel spins backward, however, the trailing edge becomes the leading, so a leading-trailing system has equal braking power whether the wheel (or bike) is moving forward or backward. A double-leading setup, consequently, provides better braking power than a leading/trailing design during forward motion—but not backward. The implications are obvious. Run your double-leading-shoe bike almost to the top of a hill, grab the brake to keep from rolling back down, and . . . surprise—not much action. Hence the switch. The trend for race bikes is to go for maximum power; the trend for dual-purpose bikes is toward versatility.
Also new this year is the introduction of a California-only model, differing from the 49-state version only in the addition of a small recovery canister for gas tank and carburettor fumes. Venting these fumes into a special filter meets California's evaporative emission standards. Though we tested the California model, we figure the canister setup will not affect performance, so our comments should apply to 49-state models too.
All these refinements, especially the new chassis and the counter balancer, have helped keep the XL to 295 pounds with a full tank—only five pounds more than the XR250R we tested in November 1981. Although the XL's diet helps, its dry weight is still some 40 pounds greater than that of the average 250-class motocrosser and about 20 pounds more than the average two-stroke woods bike. The extra weight, of course, compromises the Honda's performance in the rough but, as with all dual-purpose bikes, that's the price paid for highway capability.
In the hills, the XL is enjoyable and capable if you restrain your enthusiasm somewhat. The six-speed power-plant pulls easily from idling speeds. Even when bogged down in deep sand, it accelerates willingly and pulls cleanly through its rev range. The predictable and tractable power band makes the XL delightful for negotiating tight trails, and the bike lets you travel loose, low-traction surfaces with a grace less torquey two-strokes don't allow. The XL does feel a little out of its element, however, on high speed fire roads; despite its ability to rev high, it doesn't make enough power available for easily controllable throttle-steering.
On the highway, the engine strains only beyond 60 mph, and sixth gear usually suffices—except on up hills. Even slight grades challenge the engine, forcing a downshift to fifth and sometimes fourth if the up-going gets rough—that's just about average for a 250cc single. Those gear changes will come slick and easy, though, thanks to a short, smooth shifting action. Although engine vibration levels are low for a dirt bike, they are higher than average for a street machine. Rides of up to an hour or so are no problem, but long-distance adventures may leave you road weary.
The XL's suspension components, which provide 8.5 inches of front-wheel travel and 7.5 inches at the rear, soak up large road bumps effectively but offer mediocre compliance over small stuff. In the hills the XL easily handles most terrain at moderate speeds.
The suspension works well and doesn't bottom when dropping off deep ledges, but after hard riding for 20 minutes or so the rear shock begins fading. All in all, the XL handles any ground capably as long as the rider respects the dual-purpose limitations imposed principally by its trials tires; even when pushed beyond those limits, though, the XL's forgiving handling gives plenty of warning before the bike gets too squirrelly.
When it comes time to hotfoot it to the gas station you'll be pleasantly surprised—our XL returned excellent gas mileage. One day of mixed highway and off-road riding resulted in our lowest gas mileage figure—60.4 mpg.
The gas tank's large-diameter filler neck makes refueling clean and easy.
The XL250R certainly makes motorcycling simple: You don't need a garage full of bikes, or avan to haul your dirt bike and gear to the local riding area. One bike will do, thanks. And if you accept the performance compromises imposed by. 250cc four-stroke dual-purpose motorcycles, the XL250R will give you miles of good riding both on- and off-road.
Source Cycle Guide 1983