Honda XL 125S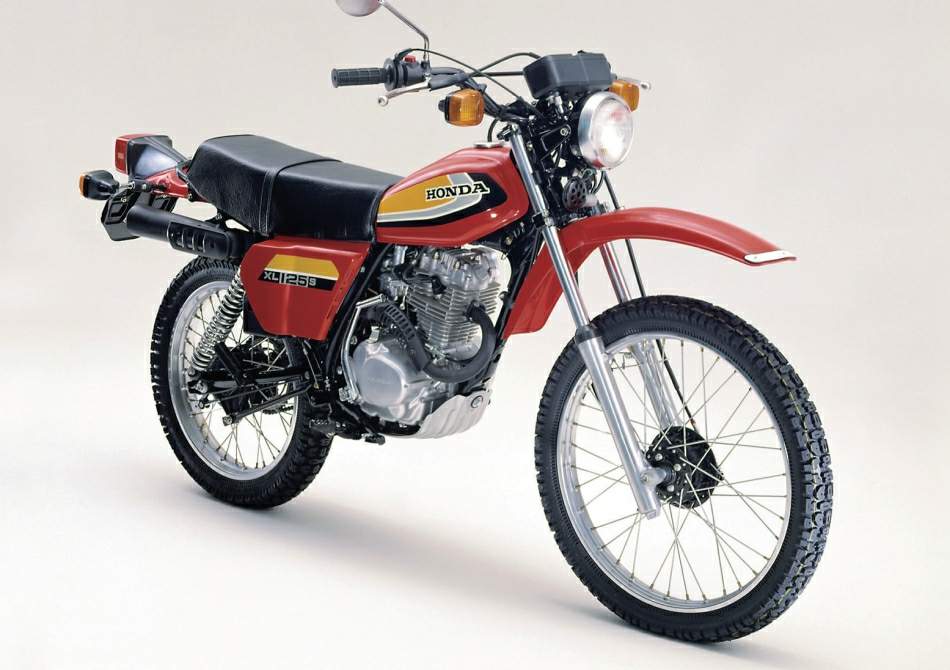 | | |
| --- | --- |
| Make Model | Honda XL125S |
| Year | 1979-80 |
| Engine | Four stroke, single cylinder, OHC |
| Capacity | 124 cc / 7.6 cu-in |
| Bore x Stroke | 56 X 49 mm |
| Cooling System | Air cooled |
| Compression Ratio | 9.3;1 |
| Induction | 1X 26 Keihin carburetor |
| Ignition | CDI |
| Starting | Kick |
| Max Power | 12.5 hp / 9.5 kW @ 10000 rpm |
| Transmission | 5 Speed |
| Final Drive | Chain |
| Front Suspension | Telescopic forks |
| Rear Suspension | Swinging fork |
| Front Brakes | 130mm Drum |
| Rear Brakes | 120mm Drum |
| Front Tyre | 2.75 -21 |
| Rear Tyre | 4.00 -18 |
| Seat Height | 818 mm / 32.2 in |
| Dry Weight | 106.6 kg / 235 lbs |
| Fuel Capacity | 6.8 Litres / 1.6 US gal |
The elemental 124cc SOHC single that powers the XL125S is simple, tor-quey, economical and may well be the most time-tested engine in all of motorcycling. the power plant has maintenance-free electronic ignition, a six-speed close-ratio transmission, aluminum skid plate for case protection when traversing rocky terrain and chain final drive.
A leading-axle fork and rear lay-down shocks provide ample suspension travel, and the universal-tread tires stick well on or off the road. The XL has such street-legal amenities as flex-mounted turn signals, large tail- and headlights, rearview mirrors and large-capacity fuel tank.
Dirt Rider 1978
In the world of dual-purpose bikes, Honda has always stood out as the maker of the most hassle-free line on the market. Way back when the earth's crust was still cooling, Honda was building the SL-series bikes. A four-stroke with dubious handling qualities wasn't everyone's idea of what a competition motorcycle should be, but all could agree on one thing: No matter what happened, that back wheel would not stop turning.
This is the SL350 we're talking about. Actually, the smaller bikes were not all that famous for their motors— "gutless" was the expression most often used to describe them. But, power or no power, they always seemed to want to run forever, and on any kind of gasoline you wanted to feed them—no oil mixing or injectors to worry about.
True, a four-stroke has a few more moving parts than a two-stroke, but most of the true street/trail enthusiasts will have an easier time relating to four-cycle habits. Fill it up with regular, every now and then check the oil, no injector to adjust, or oil tank to keep filled; and less chance of fouling spark plugs over the long run. Just like the family car.
But, there are also a few more tuning hassles (valves, cam chain tension), and it is widely known that a two-stroke will accelerate more fiercely. But, who needs to do wheelies on the street? And, just like the family car, when it starts running rough, most folks will take it into the shop, and let the man worry about it.
The little engine that might
The first time we rode the XL125, we happened to be in the desert. This isn't the best place to test a dual-purpose bike, but we tried to spend most of our time on the fireroads, just to give the little bike a chance. We expected to hear cries of' 'No power!" or' 'No suspension!" or both, and spend the rest of the day fighting over who had to ride the XL, but it didn't work out that way.
On a hard surface, the XL was a nice little bike. The suspension was soft, but the action was smooth—with a good amount of travel, front and rear; and the motor was generally accepted as being rather peppy "... for a 125 foof bike.'' The only time the motor let us down was when we tried to dig in real deep, looking for gobs of torque. Like trying to pull third gear from a crawl, on an uphill grade.
But, this isn't a fair complaint, because no sub-250 (in stock form) can do a trick like that. Let's just say that the motor is happiest when it's being buzzed, and as long as you keep this in mind, the XL will surprise even the grumpiest rider.
We have to admit, the suspension did an admirable job. The forks soaked up most of the ratty terrain we rode through—with an occasional bottoming but no rattling, clanking, frantic thrashing to slow us down. With a change of fork oil, and a little tuning on the preload for rider weight, they will satisfy the demands of the casual trail rider. The shocks are stylishly chromed, but don't let that scare you away.
They actually seem to do the job. Neither end of the bike can be considered as suspended for competition, but at the moderate speeds where the XL is the most comfortable, they will perform adequately, aiding control, rather than destroying it.
Oh, and that brings to mind the handling. Even though the fork angle seems to be rather steep (27.8 degrees), the XL is reasonably stable at a fast clip. Combined with the short wheel-base, this makes the bike a turning fool. In really tight going, the Honda will turn on the proverbial dime, and give a good measure of change. The frame geometry seems to be right-on.
Aiding and abetting the handling are the tires. Patterned after the ' 'Claw Action" tires that are standard equipment on the Honda dirt bikes these days, we would have to say that these are the first dual-purpose tires that work. If your riding includes a generous helping of both street and dirt, you'll be deliriously happy with them. They grip well in anything but sand—unlike a standard "trials'' tire—and they are not nearly as freaky on pavement as knobbies. Considering that knobs aren't legal for street use, this is the best compromise going.
Road rash
Speaking of pavement, part of our testing included a 100-mile trip into the back roads and canyons, to get an idea of what kind of streeter the XL is. A few quick notes: Top speed is right around 55 mph, with an occasional downhill burst to 65-70 or so. This is not a happy freeway bike. In very fast, rush-hour traffic, the XL will scare you to death, and if there are hills or headwinds to fight, the top speed will drop below 50, and sixth gear will be hard to pull. Very hard.
A full tank of gas will take you about 105 wide-open miles before reserve is necessary, and reserve is probably worth another 35 miles or so. Comfort is good, with the seat getting pretty hard after about 80 miles, but the rubber-mounted handlebars, tank, seat and footpegs do a good job of soaking up vibration. None of that over-buzzed, long ride feeling here. Only one problem: The XL is set up for one passenger only. There are no buddy pegs or grap strap for a passenger, but considering the amount of muscle that would be needed to pull a passenger, you wouldn't be very happy even if you could carry one.
Not a bad bike to fight a gas crunch with, all things being equal. The XL will be happy as a clam going to and from work or school, and will give you the option of short-haul pavement-scratching, or moderate trail riding, or both, when you want to get out in the real world. And the nice thing about that option is that, unlike its brothers of the past, the XL will do each job equally well. A little slower than a larger-bore bike, true, but just as much fun.