Honda XL 1000V Varadero ABS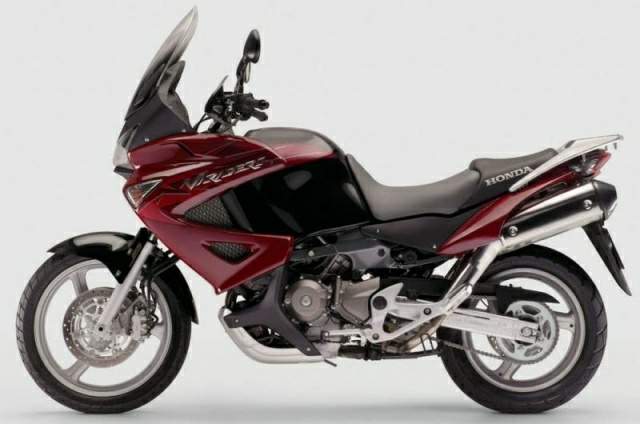 Make Model

Honda XL 1000V Varadero ABS

Year

2006-07

Engine

Liquid cooled, four stroke, 90°V-twin cylinder, DOHC, 4 valves per cylinder.

Capacity

996

Bore x Stroke

98 x 66 mm

Compression Ratio

9.8:1

Induction

PGM-Fi electronic fuel-injection with two 42mm throttle bodies.

Ignition / Starting

Computer-controlled digital transistorised with electronic advance / electric
Clutch
Cable-operated multiplate wet clutch.

Max Power

94 hp 69 kW @ 8000 rpm

Max Torque

99 Nm @ 6000 rpm

Transmission / Drive

6 Speed / chain
Gear Ratio
1; 2.571 (14/36), 2; 1.684 (19/32), 3; 1.292 (24/31), 4; 1.100 (30/33), 5; 0.969 (32/31), 6; 0.853 (34/29)
Frame
Diamond; steel tube

Front Suspension

43mm telescopic fork, 155mm wheel travel

Rear Suspension

Pro-Link with spring preload

damper

,

rebound damping

adjustable

, 145mm wheel travel

Front Brakes

2x 296mm discs 3 piston calipers

Rear Brakes

Single 256mm disc 3 piston caliper

Front Tyre

110/80 R19

Rear Tyre

150/70 R17
Seat Height
838 mm

Dry Weight

235 kg

Fuel Capacity

25 Litres

Consumption average

16.0 km/lit

Standing ¼ Mile

12.4 sec / 171.8 km/h
Standing 0 - 1000m
24.8 sec / 192.4 km/h

Top Speed

211.5 km/h
Reviews
Honda Varadero XL1000 V / 1000ps / Motorfreaks.nl / Motosolo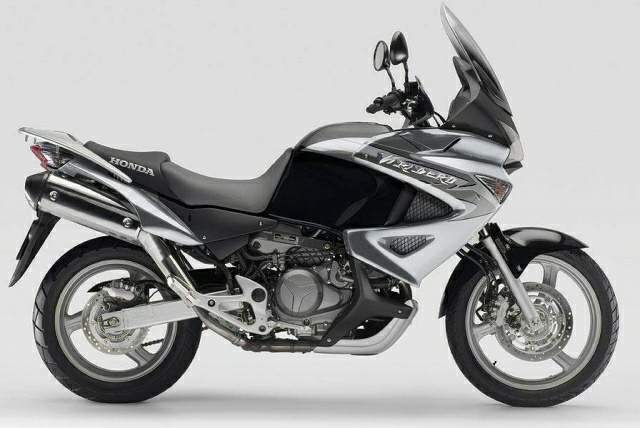 Honda's dynamic XL1000V Varadero reasserts its leading position in the exciting world of Adventure Touring with detailed new design innovations and ride quality improvements that significantly enhance its impressive looks, its easy convenience and its long-term riding comfort.
The new 2007 XL1000V Varadero comes loaded with a host of new features that enhance its styling, convenience and long-term riding comfort for longer years of crosstown or cross-continent riding enjoyment.
New Instrument Panel
The Varadero's newly designed instrument panel features new dial designs for a more attractive look and easier recognition, and a new fuel mileage gauge that calculates remaining driving distance based on fuel volume and current fuel consumption.
New Locking Side Pockets
For added riding convenience, the Varadero's cockpit now features convenient new carrying compartments built into the sides of the cockpit area, which help keep needed smaller riding essentials within easy reach. As these pockets also feature locking lids, the security of these essentials when parked is also assured.
New Seat Shape
The Varadero's seat contours have also been carefully redesigned for greatly enhanced riding comfort for both rider and passenger over longer touring distances.
New Sidecover Panels
The Varadero's sidecover panels have been newly redesigned for more compact and stylish shapes that also lend easier access to hard-to-reach service points and other functional parts.
New Tail Cowl Design
The new 2007 Varadero also features a new, more sleekly designed tail cowl, which tapers with smoothly rounded rear contours into a large, fully integrated combination tail/stop light and clear-lens indicators for a more modern look and enhanced visibility from the rear.
New Tail Pipe Caps
The Varadero's prominent twin high-mount exhausts play a distinctive role in its impressive Adventure Touring design. Now these large stainless steel canisters receive a more cosmopolitan look with new decorative form-fitted end caps, which provide a stylish accent on the Varadero's intrepid go-anywhere design.
New Aluminium Undercowl
The Varadero's large resin undercowl has been replaced with a more sturdy new aluminium lower cowl that enhances protection of lower engine components while providing a more rugged look as well.
New HECS3 Low-Emissions System
In keeping with the latest in environmental protection laws and Honda's ongoing efforts to protect the air we breath, the 2007 Varadero features a new HECS3 oxygensensing catalytic exhaust gas converter system. This system effectively controls engine operation to minimise the emissions of harmful gasses and ensure full compliance with Europe's strict EURO-3 emissions regulations, all while maintaining the top performance and swift acceleration for which the Varadero has won renown.
New Colour Variations
The Varadero's new colour variations feature two-tone graphics that exude a lighter, more luxurious image whether at stop or on the move.
Review
So what makes the Varadero work? There seem to be lots of features which, in isolation, would at best be pointless and at worst look daft. The motocross style handguards, for example, should seem silly on a bike that nobody in their right mind would take off road, while the rather odd looking half fairing doesn't look big enough to make much difference. But between them I was able to wear summer gloves and a light jacket on a pretty chilly autumn day. And they kept the last of the bugs off my visor as well. The old fashioned analogue clocks look as though they should be hard to read while the high-tech LCD panel above promises information overload. But no - the clocks are clear and easy, and the LCD tells you exactly what you want to know, no more, no less. Unless you really don't want to know the time, of course, in which case you will hate the fact that the clock is displayed, large and clear, all the time. Those skinny, throwback mirrors may look like something off a 1980 Superdream but they give a clear, vibe-free picture of the road behind. So the Varadero is rather more than just the sum of its parts.
I'm not saying that the Varadero is above criticism. Personally, although I found linked brakes to work well on the VFR we tested before, on something this size and weight I found them to be slightly lacking in bite. I'm sure that's really down to my braking technique, but it was a little disconcerting nonetheless. I also feel that the total lack of underseat storage as a result of the fashionable high level exhausts was a bit of a disappointment for an otherwise utterly practical bike.
But overall, to say I was impressed with the Varadero would be a masterpiece of understatement. As far as out of the box usability is concerned, this is one of the best bikes I have ever ridden. Don't let the looks or the size out you off. You can't see it from the saddle, and as any man will tell you it's not the size that matters...
Source Motorbikes Today