Honda VTR 1000 RC51 SP2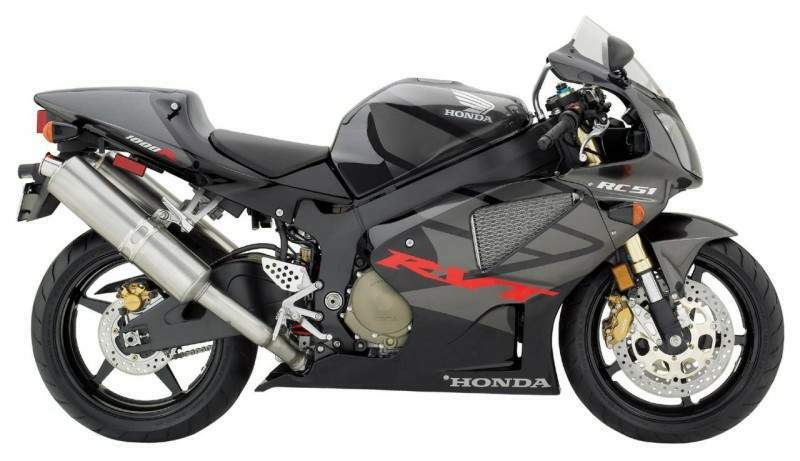 Make Model

Honda VTR 1000 RC51 SP2

Year

2006

Engine

Four stroke, 90°V-twin cylinder, DOHC, 4 valves per cylinder

Capacity

996 cc / 60.8 cu-in

Bore x Stroke

100 x 63.6 mm

Compression Ratio

10.8:1
Cooling System
Liquid cooled
Lubrication
Wet sump

Induction

Electronic fuel injection PGM-FI with two injectors per cylinder

Ignition

Computer-controlled digital transistorized

Starting
Electric

Max Power

136 hp / 100 kW @ 9500 rpm

Max Torque

10.7 kgf-m / 105 Nm @ 8000 rpm

Clutch
Hydraulic clutch

Transmission

6 Speed

Final Drive
Chain
Frame
Aluminium, twin spar

Front Suspension

43mm inverted cartridge-type fork with adjustable spring preload, and compression and rebound damping,

Front Wheel Travel
130 mm / 5.1 in

Rear Suspension

Pro-Link with gas-charged integrated remote reservoir damper offering adjustable preload, and compression and rebound damping,

Rear Wheel Travel
120 mm / 4.7 in

Front Brakes

2x 320mm discs 4 piston calipers

Rear Brakes

Single 220mm disc 1 piston caliper

Front Tyre

120/70 ZR17

Rear Tyre

190/50 ZR17

Dimensions
Length 2040 mm / 80.3 in
Width 725 mm / 28.5 in
Height 1145 mm / 45.0 in
Wheelbase

1420

mm / 55.9 in

Seat Height
813 mm / 32.0 in
Ground Clearance
130 mm / 5.1 in

Dry Weight

194 kg / 430 lbs

Fuel Capacity

18 Liters / 3.8 US gal

Consumption Average

19.5 km/lit

Standing ¼ Mile

10.9 sec / 209 mph

Top Speed

271.3 km/h
RC51 vs. 999R
What's the price of true twin-cylinder happiness--$30,000 for Ducati's 999R or $16,000 for our hot-rodded Honda RC51?
From the February, 2009 issue of Motorcyclist
It was the best of times. It was the worst of times. It was the spring of hope. It was the winter of despair... Hold on, wrong story. Ease your eyes over the quintessential Italian wrist rocket--Ducati's latest R-spec 999. It's unquestionably the finest production twin-cylinder sportbike ever offered to the paying public. In the right hands, this 139-horsepower, 452-pound synthesis of surgical handling and carbon-fiber sex appeal is all but invincible. For 30 grand, the paying public expects no less.

The question, then, for twin-cylinder devotees orbiting somewhere below the socioeconomic troposphere is simple: Can you rattle the Ducati's cage for less than the down payment on a three-bedroom condo? How much twin-cylinder love can you get for roughly half the 999R's sticker price? At $11,599--plus about $4500 in bolt-ons--our long-term RC51 is one perfect answer to that question.

Remember the RC51? Minted six years ago to replace the RC45 as Honda's global Superbike contender, it won the 2000 and '02 World Superbike championships under Colin Edwards. Honda's V-four couldn't break Ducati's desmodromic SBK stranglehold, but its half-brother could. Two years later, Nicky Hayden nailed down the AMA Superbike title. Although it appeared essentially identical to all but RC51 extremists, the '02 production bike was dramatically improved, especially in the chassis department. But despite its track record and HRC pedigree, showroom success was less resonant. The original 489-pound, 118.5-horsepower twin has been upstaged by a parade of lighter, stronger and flashier fours. Still, resolute handling manners and an aftermarket full of go-fast ordnance have sold enough hardcore fans on the RC to keep it in Honda's '05 lineup.
Even with supplemental hard- and software from various speed merchants, our RC can't suck the headlights out of a new R1. Not yet, anyway. But who cares? Once you're hooked on the linear rush of two 499cc cylinders ripping through 9000 rpm, it's more fun than any four. OK, like many ex-racers, weight can be an issue. But thanks to Sato Racing titanium mufflers and a few other lightweight bits, our blue-collar Duck hunter is down to 470 pounds, complete with life-giving bodily fluids.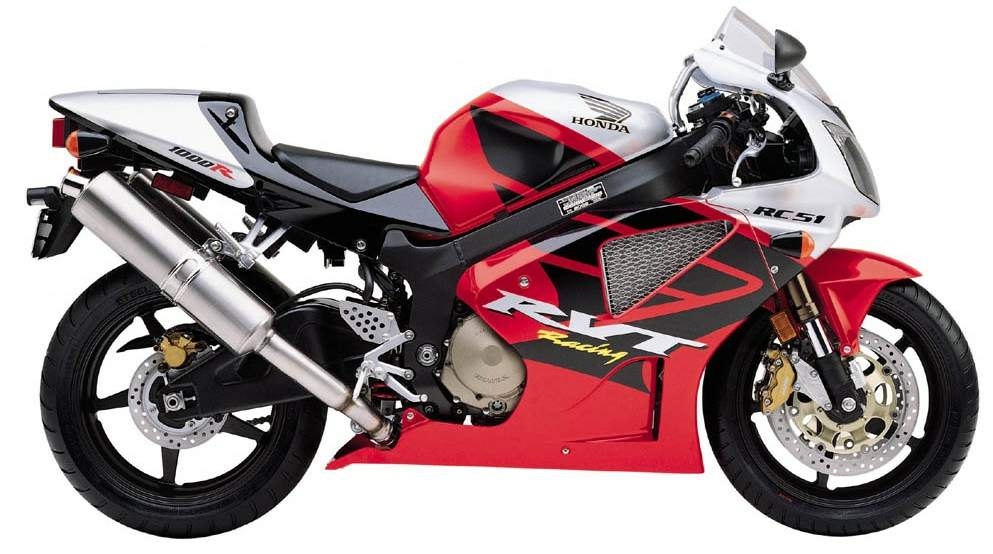 The Ducati looks lighter because it is--by a full 18 pounds (wet), according to the Motorcyclist scales. After rubbing your nose in that little factoid, grandiloquent Ducatisti invariably point out all the spendy carbon-fiber bodywork (don't forget the chain guard), forged aluminum wheels and magnesium mounts for the headlight and mirrors. That's when zealous RC51 pilots--as if there were any other kind--bring up the fact that the 999R's tailsection is made of, um, plastic.
Not that there's anything wrong with plastic. It's what's under the skin that counts, right? With the obligatory Power Commander sending more fuel through those yawning 62mm throttle bodies, the soft rev limiter and intake flapper valve disengaged, our tweaked RC makes a respectable 129 horsepower at 10,250 rpm. That's a significant bump from the '04 model's stock output of 123 at 9250. Better still, this one makes 18 more horses than a stocker at 6000 rpm.

The Ducati's 499cc cylinders describe the same 90-degree angle and breathe through eight valves, but similarities end there. Each 104mm forged piston--4mm broader than the Honda's--moves through a 58.8mm stroke. Both engines are happy on super-unleaded pump gas, but the 999R sets compression at 12.5:1 vs. 10.8:1 for the RC. Ducati massaged the 999R to meet '05 AMA and World Superbike rules that hew closer to full-factory spec. That means seriously massaged heads, titanium connecting rods, bigger but lighter titanium valves, hotter cams and a lighter, streamlined crankshaft spinning in sand-cast cases.

Source Motorcyclistonline.com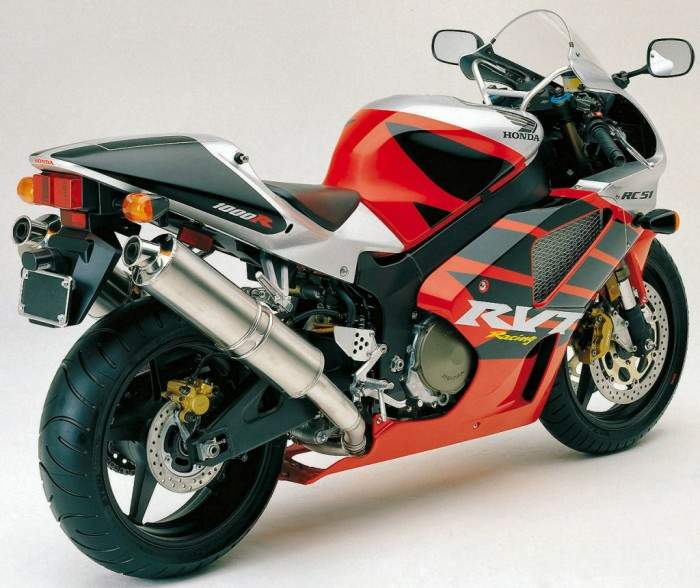 Review Motorcyclist 2002
Whatever the multimillion-dollar factory riders want, it seems they get. And if any of those changes happen to benefit street riders, well fine--but it's almost an accident. So it is for 2002: A multitude of tweaks have arrived to make the '02 RC51 more competitive on the track, but the trickle-down effect is that the bike is now much improved for puck-wearing plebes.
For '02, Honda chose to tweak the engine a bit, put the entire bike on a part-by-part diet and significantly revise the suspension, chassis and swingarm. Down in the engine room, the throttle bodies have been supersized from 54mm to 62mm, and the two injectors feeding each combustion chamber now sport 12 laser-drilled jets, rather than the four little garden hoses of the previous bike, for a finer spray. The injection and ignition mapping were tweaked, also, resulting in throttle response that's as smooth and creamy as a nougat filling. (Don't tell Nicky; he's got a sweet tooth.) The new motor feels same-same in terms of power output; Honda claims a two-horsepower increase for 128 hp at the crank--but the low-rev snatchiness is nowhere to be found.
The engine is warmed over, but as Honda's Doug Toland said at the intro, "All of the 'magic' of this bike is in the chassis." The new Pro Frame looks similar to last year's and has the same amount of rigidity, but weighs 260 grams less and is more linear in its absorption of stress thanks in part to the new stamped engine hangers (previous units were cast). Also new is a steering-damper boss up by the steering head, but on the stock geometry you'd be hard pressed to make this bike shake its head on the street or track.
Even though the steering-head angle has been reduced one degree to 23.5 degrees--the steepest of any Honda--the RC51 feels planted at all speeds, even at 130 mph through Willow Springs' infamous Turn Eight. There you sit, tucked behind the splendid new windscreen that's 1.2 inches taller than last year's, sensing no instability from either end of the bike. Of course, the new swingarm (890 grams lighter) is 16mm longer and aids the stabilization effort.
Right above that sexy new swingarm is a revised shock (115 grams lighter). It's been repositioned to allow room for aftermarket exhaust systems, but also had its linkage ratio tweaked (4 percent softer on the bottom, 5 percent softer on top), even though spring rates are the same. Nine percent more compression damping has been added along with 11 percent more rebound. Up front similar tweaks have been applied. The fork (145 grams lighter) is now 9 percent softer on compression, up 16 percent on rebound, with the same spring rate. Fork travel has also been increased from 4.7 to 5.1 inches. These changes make the bike feel plush and controllable--a far cry from the wooden feel of the previous bike. The suspension is simply awesome now, soaking up midcorner ripples yet never getting out of line or doing anything untoward.
Steering effort is drastically reduced on the new bike. The RC51 is no 954 in terms of flickability, but the new bike turns in with an ease and precision that's head and shoulders above the old bike. Pick your line, shove the bar and you're there. The previous unit's brakes were fine, but the new four-piston jobbies are even better. The old brakes were extremely progressive--once activated you only had to move your finger a smidge to stop the bike. The new brakes are totally linear and require more lever travel, providing better feel, easier modulation and more feedback.
Speaking of feedback, the RC51 comes wrapped in a new flavor of Dunlop rubber named D208. The 208s are quite soft for a street tire, which allows them to heat up quickly and throw down GP-like grip. Feedback from both the front and rear was excellent, with excellent straight-line stability and precise steering at high and low speeds.
Our only complaint (and we think some folks at American Honda's marketing department will back us up on this) is that the bike looks exactly the same as last year's. Europe gets a bitchin' white/grey, but we get the same paint job as before. If you go out and buy the "new" model with all the killer updates, you want people to know, but it's literally impossible to tell the two bikes apart from a distance.
Source Motorcyclist