Make Model

Honda NS 400R Rothmans Replica

Year

1986

Engine

Two stroke, 90°V-three cylinder, reed valve

Capacity

387 cc / 23.6 cu-in

Bore x Stroke

57 x 50.6 mm
Cooling System
Liquid cooled

Compression Ratio

6.7:1

Induction

3x 26mm Keihin carburetors

Ignition

CDI
Starting
Kick

Max Power

72 hp / 52.5 kW @ 9500 rpm

Max Power Rear Tyre

59 hp @ 8500 rpm

Max Torque

5.1 kgf-m @ 8000 rpm

Transmission

6 speed
Final Drive
Chain
Gear

Ratio

1st 2.500 / 2nd 1.714 / 3rd 1.333 / 4th 1.111 / 5th 0.965 / 6th 0.866
Frame
Double

cradle

Front Suspension

Air assisted forks. adjustable anti-dive
Front Wheel Travel
120 mm / 4.7 in

Rear Suspension

Pro-link adjustable preload
Rear Wheel Travel
100 mm / 3.9 in

Front Brakes

2x 256mm discs 2 piston calipers

Rear Brakes

Single 220mm disc 2 piston caliper

Front Tyre

100/90 -16

Rear Tyre

110/90 -17
Dimensions
Length 2065 mm / 81.2 in
Width 720 mm / 28.3 in
Height 1150 mm / 45.2 in
Wheelbase
1385 mm / 54.5 in
Seat Height
780 mm / 30 in

Dry Weight

163 kg / 259.3 lbs
Wet Weight
183 kg / 403.4 lbs

Fuel Capacity

19 Litres / 5.02 US gal

Consumption Average

30 mpg

Standing ¼ Mile

13.03 sec / 164.2 km/h

Top Speed

202 km/h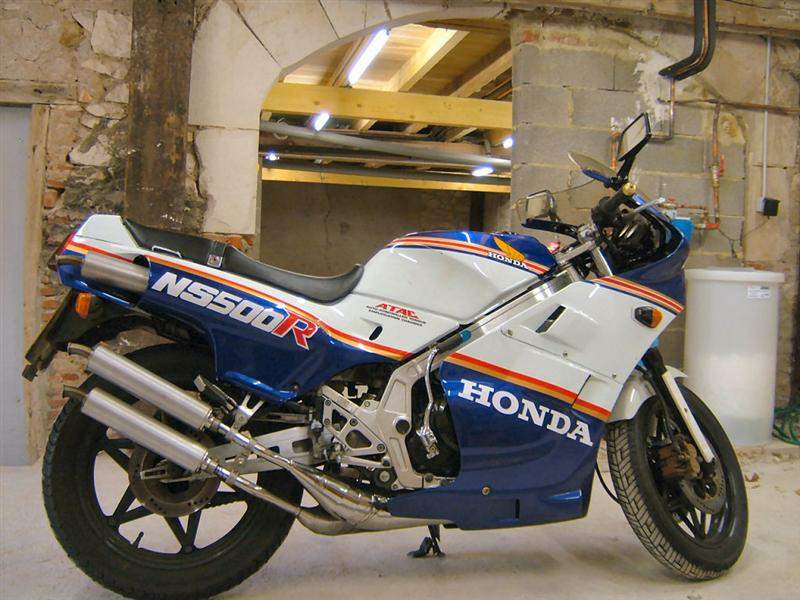 Here's what certain riders of the beveled toe think they know: Nothing could better transform the moderately talented mortal into a backroad tiger than a genuine racing machine. Here's what factory engineers know: Genuine racers are for those few gifted pilots who can survive on the thin line of forgiveness. Therein lies the great irony of the repli-racer:
The more it approaches the real thing, the less forgiving it becomes, and the greater the likelihood its normal mortal rider will find himself beveled head to toe. Solution: Build a motorcycle that looks exactly like a genuine racer, but doesn't cross the line between racetrack precision and street forgiveness. The NS400R is convincing evidence that Honda knows precisely where to draw this line.
As Honda's first attempt at cashing in on Freddie Spencer's Grand Prix success with the NS500 two-stroke triple, the NS400R had to be true to the original—from its aluminum frame, triple-cylinder engine, multi-piece composite wheels and swoopy glasswork right down to its Rothmans decals. Generally, repli-racers designed for the street with an aspiring eye toward the racetrack (such as Yamaha's FZ750) differ from those originating on the track and later civilized for the street. Street bikes improve when stripped to racetrack essentials, but race bikes forfeit their delicate balance when saddled with street hardware. The NS400 forfeits nothing; it encourages the novice rider to stretch his limits while at the same time never compromising the speed and precision demanded by the bevel boys.
On the Kerker dyno, our German-spec NS registered usable power from 5000 rpm to a screaming 52-bhp, 9500-rpm peak. At the strip, it posted an astonishing 12.2-second, 111-mph run—1.3 seconds quicker than Yamaha's RZ350, and nearly five miles per hourfaster than Kawasaki's splendid ZX600R Ninja. Furthermore, Honda's NS400 has a smoother power delivery than most four-stroke repli-racers sold throughout Japan and Europe—including Honda's clever CBR400 Rev bike. Take that, ring-ding haters.
How can a two-stroke racer-transplant possess such accommodating manners without losing its sting? First, the NS400 shares a fundamental design concept with the NS500 racer— which stresses cornering speed and handling ease over peak power—and this approach applies directly to the street. Second, the success of the NS500 concept lies more with its simple design philosophy than with its specific layout, allowing Honda engineers to drastically alter the NS400's layout and still remain true to the racer's basic principles.
The V-three racer—disposing two-cylinders atop the crankcases, a single forward pot 112 degrees downward, and three carbs in the vee channels its upper expansion chambers under the seat and out the tailpiece. This arrangement leaves no surplus space below the tank and seat for electrical components and the support systems needed to get the NS400R on the street. Honda could have made space by stretching the NS400 at the waist, but the NS500 philosophy mandates low and narrow dimensions. Instead, Honda engineers shuffled and compacted the Vee: with one cylinder on top and two down below, the NS400's upper expansion chamber winds outside the rear subframe to make space for a battery and automatic oil-injection system. In addition, the NS400 disposes its cylinders at 90 degrees for perfect primary balance (the NS500 uses a counterbalancer) and employs rubber engine mounts to isolate secondary vibration.
The NS400's engine layout also ensures space for two ATAC systems, located beneath the lower cowling on the front two cylinders. Although the NS250 and 500 racer also use this system of electronically controlled exhaust chambers, which allows engineers to tune for top end without strangling torque at low engine speeds, the NS400's ATAC valves slam shut at a lower rpm: 7200, to be specific. Even without the spec-sheet, you'd have to be numb all over not to know when ATAC does its stuff. The NS has plenty of fizz downstairs, but at 6500 rpm things begin to bubble, and by 7200 the NS is in full froth.
Forget about relative engine comparisons: when the NS is on the pipe, only a backdrop of liter-plus sporting hardware—pumping out twice the two-stroke's horsepower—provides an adequate perch from which, to view the NS's remarkable performance. With a super-tall, close-ratio gearbox that knits third through sixth together in short 500-rpm hops, the screamer hits 130 mph, catching the last two gears well beyond the 100-mph mark. On long sweeping backroads, where big bikes normally play their horsepower trump, the NS absolutely clings to Suzuki GS 1150s and Kawasaki 900 Ninjas— even the crucible of 90-mph apex-to-apex acceleration can't shake it loose.
There is something especially demoralizing about flogging your Superbike down an ultra-fast road—tires squealing, belly-sparks flying, your entire body apucker—and being passed on the outside by an NS400R looking absurdly composed. Don't push your luck: Unless you ride a Kawasaki 900 Ninja, Yamaha FZ750 or FJ1100, we recommend you smile and wave bye-bye when the NS streaks past. The close-coupled NS can seemingly tilt over only a few degrees and still rip through corners. It's a classic case of long versus short wheel-base: The longer the wheelbase, the more a motorcycle must lean to maintain a given cornering speed. At 53 inches between axles, the NS400 is over five inches shorter than the Yamaha FZ750, nearly three inches shorter than the Honda VF500 Interceptor. Tire size underscores the difference: the NS's skinny skins offer no hint of its astounding cornering speeds.
On tight backroads, a rider can square off corners, using the trajectory of a ricocheting bullet, because the NS responds to the slightest steering input now, but without the twitchiness of the smaller NS250R. Never once did the 400 shake the bars in premeditation of a real blur-and-snap routine. With its short wheelbase, 415-pound wet weight, forward-biased mass, and 16-inch-front/17-inch-rear wheel combination, the NS400 needs nothing steeper than 27 degrees of rake.
In contests of speed, the NS asks only that the rider keep the engine spinning in its 3500-rpm powerband, a task made easier by the gearbox's well-matched ratios. Beyond that, anything goes—hang-off, sit up and steer with muscle—the NS has no preference for riding styles. Its suspension provides both a comfortable ride and precise high-speed control, its chassis runs true at triple-digit velocity, and its ergonomics are wonderfully suited to backroad foolery—compact, without being cramped. Even our six-footers found the NS's seating accommodations more comfortable than the 600 Ninja's—high praise for a Honda repli-racer that positions your hands at the same level as your kneecaps.
Complaints? Improved fairing ducting would preclude singed neck hairs, the throttle return spring is much too stiff, and we're perplexed by the NS's tire selection. Perhaps the combination of a triangulated front and round-profile rear works well in Germany (the land for which this particular NS400 was built), but the front tire hurt braking performance. Sure, it already stops harder than most riders can imagine, but even the bevel-boys know that more traction, whether you're trying to go fast or slow down, is better than less.
Sound like we're reaching for gripes? It should: the NS400R reflects the influence of Honda's NS500 racer throughout, yet behaves like a two-stroke version of the VF500 Interceptor. The bevel-boys would never believe that such racetrack precision could be so successfully harnessed to forgiveness and versatility, but then they'll never know. Trying to sneak a streQtable NS into the U.S. may be a crime, but we think the real crime is that Honda can't offer the NS400R here in the States. ■
Source By Ken Vreeke Cycle Magazine 1985