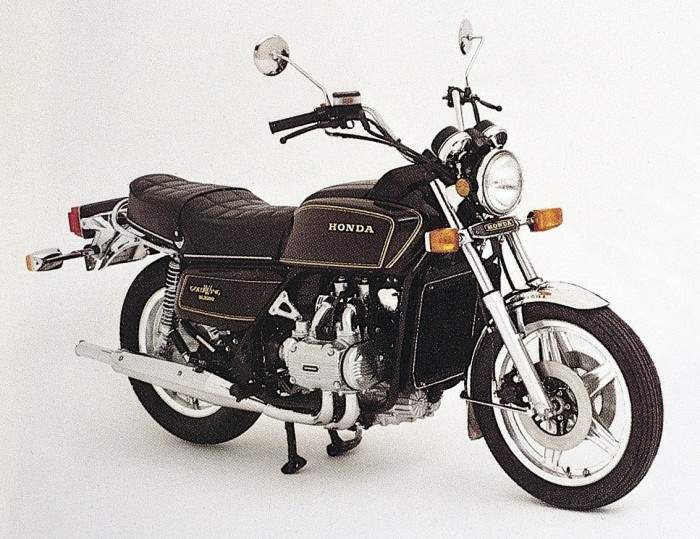 these shores in 1975, to be followed by the Kl the following year. The latter had a wiper for the sight glass and grease nipples for the drive-shaft splines, but otherwise the machine was unchanged. The nipples were retro-fitted to the KOs by dealers.
In 1978 the K2 got snazzier cosmetics and taper roller bearings in the steering head, but the engine was not to change the whole time it stayed at one-litre capacity until the KZ of '79 to '80. This got the black paint and gold pinstripe treatment plus the new Comstars in place of the spokes. The exhaust turned to chrome and the dummy tank changed configuration, with gauges set in a console at the front
The engine changed at last, becoming 2bhp less powerful, at 78bhp, thanks to smaller carbs and softer valve timing. Torque moved down the range and suddenly the bike was a better, easier to use tourer.
The GL1100 of 1980 was basically an overbored one litre, being bored out, with a strengthened crank and more equipment. A De Luxe version also appeared in 1980, with fairing, panniers and top box, which saved the aggro of fitting them yourself. Considering its intended use, the G-L1000 was remarkable for its nakedness.
Faults and Quirks
Since this was Honda's first attempt at a water-cooled four-stroke, they engineered it thinking of the extreme temperatures and stress of an air-cooled engine. The result is that they last forever. Don't be put off by high mileages since they really will go on into six figures on the
milometer if they are looked after. Happily, most owners tend to be older and richer and so look after their bikes and spend what is necessary on them.
The three things to watch out for are the exhaust system, the clutch and, on early models, the spoked wheels. The black-painted pre-KZ model exhaust rusts within ten seconds, while the latter chrome ones simply rot New systems are around £500, but aftermarket ones can be had from people like Gazelle, in stainless steel, for about half this price.
The clutch is down at the back of the engine and hard to get at, but do listen to it carefully as early clutches were overwhelmed by the power and they do slip.
For spoke-wheeled bikes it would be well to check that they are all there and are straight since theirs is a hard life.
Obviously most bikes will be fitted with some sort of touring gear, but equally obviously factory stuff is better - although later GL1200 parts won't normally fit. If you get the option, take one with Vetter. Pantera or Rickman accessories.
The American S&W rear shocks are another welcome addition, as stock units were far from wonderful when new. King 'n' Queen seats are not so welcome, but the stock seat is very average for long-distance work.