| | |
| --- | --- |
| Make Model | Honda CBX 250S |
| Year | 1985 |
| Engine | Air cooled, four stroke, single cylinder,, DOHC, 4 valve per cylinder |
| Capacity | 249 |
| Bore x Stroke | 72 x 61 mm |
| Compression Ratio | 10.5:1 |
| Induction | PHO2R Slide valve |
| Ignition / Starting | CDI / electric |
| Max Power | 31 hp @ 9500 rpm |
| Max Torque | 20 Nm @ 9000 rpm |
| Transmission / Drive | 6 Speed / chain |
| Front Suspension | Telescopic forks |
| Rear Suspension | Swinging arm dual shock |
| Front Brakes | Single 240mm disc 2 piston caliper |
| Rear Brakes | 180mm drum |
| Front Tyre | 90/90 -18 |
| Rear Tyre | 110/90 -18 |
| Swat Height | 760 mm |
| Dry Weight | 130 kg |
| Fuel Capacity | 12 Litres |
| Consumption average | 52 mp/g |
| Standing ¼ Mile | 15.8 sec |
| Top Speed | 102 mp/h |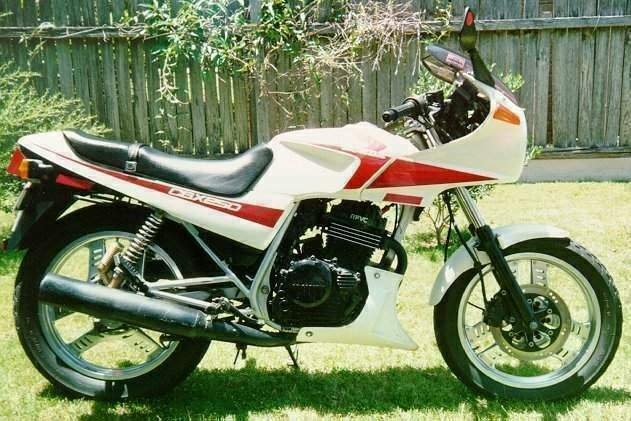 If it wasn't for a healthy Japanese home market in the 250cc category, we would already have reached the end of the line, since the reduction in engine capacity allowed to learners effectively wiped the slate clean in Britain. An enormous choice of model variants has now been reduced, virtually, to Johnny-boy water cooled buzz-boxes, like the RD250LC and Suzook RG Gamma, flogged as proddie racers or hooligan tackle, and the oddfellow tested here.
The reason Honda UK continues to plug away with developed versions of its four-stroke 250cc single has got absolutely nothing to do with sentimentality for a dying Dreed. Long after the L-plate raison d'etre for a quarter-litre class vanished into its legislative sunset, the 250RS kept on selling to a specific consumer slot: despatch riders. A combination of four-stroke longevity and reliability, moderately zippy performance, good urban scratching manners, reasonable fuel economy and a sensible asking price made it an excellent work tool. It also attracted not a few women, stepping up onto full tickets but lacking either the confidence or inside leg measurement to cope with large capacity bikes.
This latest CBX version is a clear development of earlier RS models in overall function, manners and even appearance; but the engine, particularly, is almost entirely new. The technology encapsulated in it has been lifted, apart from the twin overhead camshafts, straight from Honda's XR range of enduro competition bikes and includes the two most recent innovations aimed at maximising single cylinder four-stroke performance whilst removing traditional glitches in throttle response.
The showpiece directed towards extracting more stomp is Honda's RFVC cylinder head design. This set of initials stands for Radial Four Valve Combustion. By angling the pairs of intake and exhaust valves radially, a very shallow combustion chamber is achieved, with the largest possible valve areas for efficiency and a high compression ratio to up the power (10.5 to 1 compared to the old RS, which finished up at 9.5 to 1).
Of course, with valve stems sticking out in four different planes, the rocker gear required to operate them is somewhat complicated.
The cam chain drives an idle shaft geared onto the two camshafts, incorporating a sub gear to eliminate backlash and minimise nailbag noises from the whole top end. The cam profiles on each shaft, in their turn, shove rocker arms and sub-rocker arms about to communicate all that vital open/close information to the various valves. Sophisticated? Yes, and extremely well put together. A signal of Honda's departure from the days of cheapskate throwaway engines is the presence of ball bearings supporting camshafts. The plain 'holes' masquerading as bearings, with gestural oilways and drilled straight into a soft alloy head casting, have thankfully become a thing of the past.
The second clever feature tacked onto the CBX's cylinder head is the type of carburation. Right back to fond and unrealistic fantasies of BSA DBD34 Goldies, attempts to drag serious performance out of single pot four-strokes have always come up against a major problem. High compression plus good breathing traditionally by means of an enormous choke size — provided bags of welly on any given throttle opening, but actually getting the throttle open tended to gas the motor with a frustrating display of farts, burps and the very opposite of smooth, instant power delivery. Giving credit where it's due,
Yamaha circumnavigated this difficulty first on its XT5 50 trail thumper by the simple solution of having two carburettors, one to feed each inlet valve, and linked so that one of 'em does the business at low and mid-range revs and the other comes in to join it when serious grip-twisting and 'go for it' situations occur. The Yam system uses a slide carb primary and constant velocity carb secondary set-up, but when Honda gratefully thieved the idea, it found that a pair of Throttle response is instant and smooth from tickover to the ten-and-a-half-grand red line.
All good stuff, I'm sure you'll agree, producing over 30 donkeys instantly on tap in a torquey but nevertheless free-revving motor. But nothing is perfect. For a reason that must be related to the advertising/ promotional value of absolute top speed claims on the Jap market, the CBX lost its place in the Garden of Eden when inscrutable R&D wallies plotted the gear ratios, subverting the usefulness of the little diamond they'd just created. Despite a six-speed box, the CBX250RS is outrageously over-geared.
Top gear is barely functional, even as a fuel-saving overdrive, and, in normal use, kicking up onto that last cog wipes the icing off the speed cake. Meaningless drag-strip performance claims were borne out by a particularly educational visit to the MIRA testing facilities with the Honda. On the way up the motorway, every gust of headwind or the slightest incline meant cracking down into fifth, and downhill sections barely flagged 90 onto the clock.
Once onto the mile straights, with the mirrors off and the slight and wizened form of El Gimpo not so much in the saddle as lying along the tank, the sun shining and a gentle breeze urging him into to radar trap, consistent. 102mph readings were obtainable. He clearly sussed, though, that the most marginal lifting of head, elbow or little pinky would knock as much as lOmph off terminal speed passing the Willis sunbathing/radar gun location.
Secondary points of annoyance also exist relating to the CBX engine's behaviour. The most disturbing of these is —as reluctantly critical road testers used to scribble when fearful of losing advertising revenue — that "some vibration is apparent".
The CBX250RS appears to lack the pretty-much-standard contra-rotating balance shafts and relies, instead, on shearing-type rubber cushion engine mounts to smooth out the vibes. They do sweet FA. At low revs, a pleasant throb is communicated through the front portion of the safety seat, straight to a person's privates. (Perhaps this is a subliminal design feature to tighten Honda's grip on its femal clientele?) With the motor buzzing, so are the footrests and handlebar. At sustained high speed, it doesn't take long for dead and white-knuckle syndrome to afflict the pilot and I, personally, find that unacceptable in a modern motorcycle. Being fair to Honda, though, it may have been a fluke characteristic of our early and probably pre-production test bike.
Transmission remains, incidentally, as lumpy, snatchy and verging on the naff, as with the old RS. It could do with a far more efficacious cush drive stuffed into the drive train . ..
That's got to be enough whining and slaggery. Overall, the CBX motor is still impressive and gives a healthily frugal gas consumption of knocking on 60 miles to the gallon, ridden with its little throttle on the stop most of the time. Cruised gently, in a high gear with only one of the carbs being sick into its inlet tract, 70 or 80mpg could easily be a possibility.
The rolling chassis isn't, generally, that much different from its predecessor, being a refirement of an already good job. A steel box-section swingarm now sits inside the main frame triangulation behind the motor, instead of pivoting outside as on the old RS. The swingarm is painted black, a merciful retreat from fake alloy toshing jobs and silly trendiness. The twin shocks have five-position spring preload adjustment but fixed damping, and are a fraction on the pogo-stickish side. The front suspension now features air caps on top of fork legs and is substantially improved by the addition of an alloy fork brace guaranteeing stiffness and pointing straight towards handling precision.
Detailing is excellent, with only a couple of omissions relating to my personal prejudices about motorcycling practicality. The footpegs mount on tasteful cast alloy sub-frames, and the wheels are trad spoked items with alloy rims. The instrumentation is simple, clear and without indulgences, except perhaps for the fuel gauge. The powerful halogen headlamp has reverted to a correct circular shape, reinforcine a no-nonsense image but clashing somewhat with the boy racer plastic tailpiece used to hide the toolkit and owner's idiot guide. The bits missing are the chain enclosure to prolong the sealed O-ringjob's already large slice of longevity into infinity, and the obvious — a luggage rack. Everybody toting a 'working' motorbike fits one, so why can't manufacturers include them as designed-in OE features?
On city streets, the CBX's character and deportment is impeccable. It's got the lightness and 'feel' of a good-handling bike of half its capacity. It steers like a dream and handles with a stability that belies its diminutive physical stature. The only time it tries to shake hands with the devil and weave about is at the very top limit of performance which, given the over-gearing sitch, doesn't matter that much anyway. The anchors, led by a vanguard of twin-piston caliper superiority acting onto the single front disc, are superb. Some bikes are over-braked, some bikes are frighteningly under-braked; this one is just braked, and that's all you need.
The CBX250RS is a safe and sensible motorcycle at what could be the end of a classic line. Sure, there's room for improvement, and if steady consumer demand persists, I'm confident that Honda would get round to cleaning up the few rough edges — eventually.
And that, really, poses the most awkWard question and highlights the one critical thing that the Big Aitch almost certainly has got wrong: the price. All the technological trickery and what must be fairly limited production runs have resulted in a leap of some four hundred quid over the asking tag on the old 250RS, which is still a current, listed model available in dealers' showrooms. Such a large slice of gelt could well send prospective punters in other
Source Witch Bike 1984