Honda CBX 1000 Pro-Link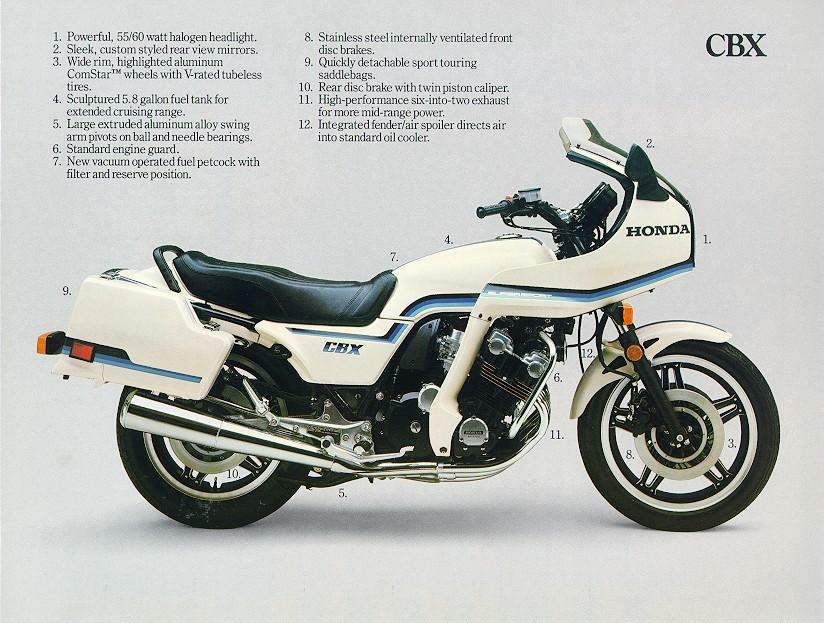 Make Model

Honda CBX 1000 Pro-Link

Year

1982

Engine

Four stroke, transverse six cylinder. DOHC, 4 valves per cylinder

Capacity

1047 cc / 63.9 cu-in

Bore x Stroke

64.5 x 53.4 mm
Cooling System
Air cooled

Compression Ratio

9.3:1

Induction

6x 28mm Keihin carbs.

Ignition

Electronic
Starting
Electric

Max Power

98 hp / 72.9 kW @ 9000 rpm

Max Torque

83.4 Nm / 61.5 lb-ft @ 7500 rpm

Transmission

5 Speed
Final Drive
Chain
Gear Ratio
1st

12.90

2nd

9.26

3rd

7.35

4th

6.35

5th

5.49

Front Suspension

Air assisted fork
Front Wheel Travel
160 mm / 6.1 in

Rear Suspension

Pro link adjustable single shock 3-way rebound

Front Brakes

2x 276mm discs

Rear Brakes

Single 296mm disc

Front Tyre

3.50-19

Rear Tyre

130/90-18

Dry Weight

277 kg / 600 lbs
Wet Weight

308 kg / 680 lbs

Fuel Capacity

22 Litres

Consumption Average

31.7 mp/g

Standing ¼ Mile

12.4 sec / 108 mp/h

Top Speed

127 mp/h

1982 was the final year for the CBX - The 'C' model was introduced and differed from the 'B' in only two respects - it now featured a pillion grab rail, and the colour change to "Pearl White". Honda was now targeting the touring riders needs, to travel greater distances comfortably. The race inspired Pro-Link suspension was perfected to provide progressive spring and damping rates.
Yet at the heart of this magnificent bike, was the awe inspiring 6 cylinder engine that provided the power to satisfy any performance enthusiast.
Review
IF THERE was an award for "most improved motor cycle'' it would be won by the Honda CBX tourer. Engineers and stylists have created a stunning machine to roll into the tyre tracks of the 140mph (but only in a straight line] CBX Super Sports.
It's not just the sports bike with a fairing and face-lift, but a high-technology sports-tourer which actually handles well. A big part of the appeal of the CBX B and C models lies in mechanical sophistication. The six cylinder tourer is a rolling demonstration of the state of the art of motor cycle design.
Most impressive is the new Pro-link air and spring rear suspension. This, and the fact that the front fork stanchions have lost their tendency to whip bygoingupin diameter from 35mm to 39mm, means the 600lb bike goes round corners with a minimum of fuss.
Bringing this unwieldly monster under control was no mean feat. It took a chromed alloy swinging arm of massive proportions to provide a flex-free link. A system of levers, feeds the movement to a single vertical suspension unit which is placed forward of the rear wheel.
Progressive springing means that as the unit compresses it becomes stiffen On the road, small bumps are readily soaked up while bigger obstacles don't allow the unit to bottom out. Air pressure is adjustable from 28 to 57psi. In practice I found 40-42psi was fine for two-up touring with camping gear, yet for solo use 38psi gave a reasonably firm ride with enough travel to soak up bumps.
The main failing with after-market air suspension conversions has been that effective travel is drastically reduced - but Honda's Showa unit, being backed up with a coil spring, retains the travel essential for a comfortable trip on today's bad roads. Further fine tuning of the rear suspension could be done with a three way adjuster for changing rebound damping. This works on a conventional oil unit, but I found the range of adjustment was so small it made little difference. With the medium range pressure I used, a big lump in the road would cause full compression - and this would be followed by a lurch as the unit unwound.
On one occasion during the 900 mile road test the red light warning of a fall in rear Fined with fairing and detuned for touring, the new look CBX still packs plenty of punch The only difference between the B and C models is that the latter now has a passenger grab rail. suspension pressure came on. Then I discovered garage air lines don't fit the bike's air valves.
Only a bicycle or foot pump would make a good airtight seal around the valve - but luckily enough pressure found its way in to get the bike back on the road.
Honda do not supply a pump - despite the fact that changing loads need different pressure for best performance. Only a pressure gauge is in the tool kit. Front air-assisted forks needed no change in the 7-13psi recommended pressure, and worked well, with plenty of movement in the right direction, under all conditions. A great improvement.
The wheelbase goes up from 59 to 60.4ins, and the greater weight is carried on wider wheels, Front 19-inch wheel rim width goes up from 2.10 to 2.50 and the rear 18-inch wheel from 2.50 to 2.75. Both are the usual black, reversed spoke Comstars.
Putting it all into motion is the well known twin cam six cylinder engine in detuned form. Revised camshaft profiles now give more mid-range power but the edge has gone from the top end and power is down from 105 to 100bhp. In this form it will sell worldwide. No longer are there to be American spec or Continental spec machines suiting local laws.
Performance is down by about 10mph at the top end, and by about a second through the standing quarter mile which is only to be expected. On the road the bike gives the impression that although it's not so fast, at least the frame allows you to use the power.
As soon as performance is discussed it will come under fire from hard-riding speed freaks claiming such a bike shouldn't be slowerthan its predecessor at "only" 130-odd. The fact is that when 100mph comes up and it's still in third gear one wonders why more speed is necessary. It's simply as fast as anyone wants to travel. And there's comfort as well.
Similarly, a 500cc single might theoretically be sufficient for touring, but the lure of speed and fun generally proves irresistable. This CBX simply recognises that most riders graduate to big bikes and end up touring so this has the comfort of a fairing and matching panniers as optional extras.
Honda leave the bike to speak for itself, summing it up as a sport tourer. The big power plant has proved to be quite up to the dual purpose and is now no less impressive than it was when it was launched. Minor changes include an exhuast system with a balance pipe beneath the engine, and a two stage ignition advancer.
Predictably, economy varied between about 35 and 38mpg. I was surprised to get a shade over 40mpg while on a 120 mile trip over motorway and A roads, which compared very well with 35mpg on local trips.
Two-up riding gave about 38mpg. Maybe that extra mid-range power meant I tended to use a higher gear than I'd have chosen on the earlier model. Gearing remains the same. The engine, having travelled only 500 miles before I collected the bike, became smoother with the mileage - but only more time would tell if the clutch chatter that has plagued the model has been cured. Honda now use coil springs to soak up the load within the clutch hub instead of rubber bungs which were prone to deteriorate with use.
Smooth power becomes useable from around 3000rpm - below that speed the lack of flywheel is noticed and it needs a buzz to get moving. Blast-off starts from 4000rpm - and despite the mild cams the engine revved willingly to the red line through the gears. Play the scratcher and it will get up and go. Settle down to watch the sun set and it will amble along at60mph at justover4000rpm in top gear. It must have been difficult designing a fairing for such a bike - but it is a good compromise.
If you look for total protection you'll be disappointed. Protection ends at neck level and lower legs have only the brunt of the wind taken from them by the scanty lower fairing and feel heatfrom the engine instead. Handlebars extended into the airstream. compared with other fairings, turbulence at helmet level was not too bad, and was scarcely noticed as long as my visor was snapped shut.
The fairing does serve to keep the blast of air off the rider's chest - so there is a case for handlebars slightly higher set than on the naked model. Maybe it wouldn't be a bad idea to have adjustable bars. However, the riding position was much as before, with footrests pleasantly rear set. Knees can come closer together thanks to a restyled tank which manages to look smaller while remaining at nearly five gallons.
Gone is the long internal filler neck which made the last half gallon difficult to squeeze in. The seat and brakes are the only components that fail to come up to scratch. The seat was simply too firm and became uncomfortable after about 130 miles. To look at, the front brakes are among the most impressive currently used on production machinery but they provide no more than adequate stopping power.
When braking heavily at speed it took not just two fingers but as much pressure as the whole hand could muster to achieve the desired effect. Strikes me that Honda have gone a bit too far in catering for riders who don't know how to respect a good brake. But it was good in the wet with no noticeable delay.
There was a persistent mild squeal from the front discs at low speed when light pressure was used. Although the tyres are of a meaty section it was not too difficult to find their limit of adhesion while cornering, but that's praise of the handling rather than a criticism of the rubber tyres.
Honda's excellent halogen headlight remains in use on this model — giving a big round pool of penetrating light on main beam -and was adjustable by a knob to compensate for the load on the suspension. It could be adjusted while riding, although the handbook naturally warned against this.
Panniers styled specially for this machine were not available for test and Honda could not give a price for them before going to press. It remains to be seen if fitting these make it easier to tie a tent and stuff bags on the back. On the standard bike the rubber edged rear part of the seat unit made a makeshift carrier, but it left a lot to be desired.
Wide set mirrors are set unusually far from the rider but work well. In fact the range of vision they give virtually eliminates the usual blind spot either side of the bike's rear light. They were spring loaded, adjustable and remained clearthrough all but a small patch of vibration.
A comprehensive tool kit lies under a non-lockable snap-on side panel. Honda's previous CBX earned a reputation for being light on chain wear, considering the job it does. It remains to be seen how this model will treat its final drive, but during the test it needed only half a turn on the adjusters to take up slack.
Instruments and handlebar layout remain unchanged —apart from the addition of a clock on the fairing - and still look good. Despite the extra weight, the CBX-B was not too difficult to haul onto the centre stand, and the side stand has a better position. Summing up, it's really good to ride a bike that is so improved and so well put together. General excellence of design is only marred by the seat, brakes and the lackof an airpump.
It's an exotic and true sport-tourer with the bonus that it's basically tried and tested and unlikely to give teething troubles. Definitely a heart-stealer.
Source MCN of 1983