Honda CBR 600RR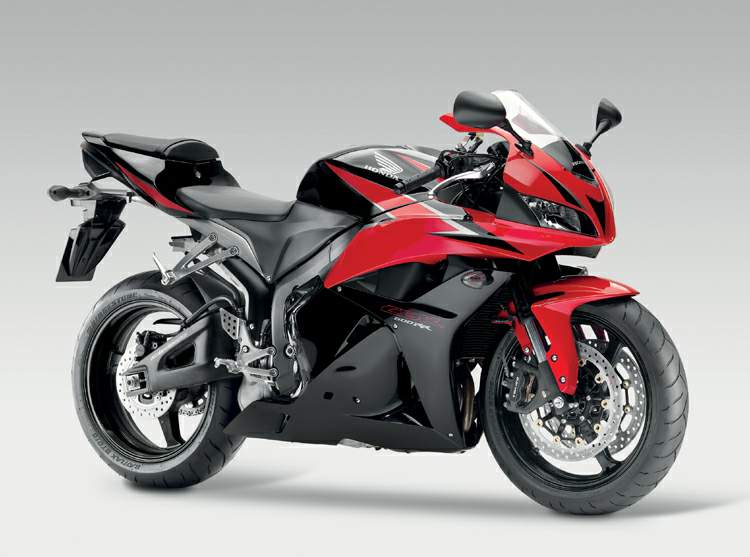 Make Model

Honda CBR 600RR

/

C-ABS

Year

2009

Engine

Four stroke, transverse four cylinder, DOHC, 4 valve per cylinder.

Capacity

599 cc / 36.5 cu-in

Bore x Stroke

67 x 42.5 mm

Compression Ratio

12.2:1
Cooling System
Liquid cooled
Lubrication
Wet sump
Engine Oil
Synthetic, 10W/40

Induction

Dual Stage Fuel Injection (DSFI) with 40mm throttle bodies, Denso 12-hole injectors

Ignition

Computer-

controlled

digital

transistorized

with
electronic

advance

and

independent

four-

cylinder

3D-

mapped

computer

control.

Spark Plug
NGK, IMR9C-9H
Starting
Electric

Max Power

118 hp / 88.1 kW @ 13500 rpm

Max Torque

66 Nm / 48.6 lb-ft @ 11250 rpm
Clutch
Cable-

operated

multiplate

wet

clutch.

Transmission

6 Speed
Final Drive
Frame
Aluminium, twin spar

Front Suspension

41mm inverted Big Piston Fork with spring preload, rebound and compression damping adjustability
Front Wheel Travel
120 mm / 4.3 in

Rear Suspension

Unit Pro-Link HMAS single shock with spring preload, rebound and compression damping adjustability;
Rear Wheel Travel
129.5 mm / 5.1 in

Front Brakes

2x 310mm discs 4 piston calipers

Rear Brakes

Single 220mm disc 1 piston caliper

Front Tyre

120/70 ZR17

Rear Tyre

180/55 ZR17
Rake
Trail
Dimensions

Length 2015 mm / 79.3 in

Width 685 mm / 26.9 in

Height 1105 mm / 43.5 in

Seat Height
820 mm / 32.3 in
Wheelbase
Ground clearance:
135 mm / 5.3 in

Dry Weight

156.5 kg / 345 lbs
Wet Weight
186 kg / 410 lbs

Fuel Capacity

18.2 liters / 4.8 gal

Standing ¼ Mile

11.1 sec

Top Speed

255.3 km/h / 158.6 mph
The 2009 CBR600RR, and like new Fireblade, the big news on the 600 is ABS. the Honda's new 600RR will be available with electronically controlled anti-lock brakes as an option. Honda's C-ABS not only prevents wheel lockups under very hard braking, but also modulates brake force between the front and rear wheels, and is probably a big advance in safety for sportsbike riders.

Other changes on the 2009 Honda CBR600RR include an engine that's been fettled for better low-rpm power delivery, radial-mount monoblock brake calipers at the front, minor changes to the fairing for a reduction in wind noise and for better high-speed stability, and new paintjobs. Power output stands at 120bhp and the new 600RR weighs in at 184 kilos, so performance should be quite nice…

Honda factory accessories for the 2009 CBR600RR include a tinted bubble screen, rear seat cowl, various carbonfibre bits, and anti-theft alarm. Again, like withthe 2009 Fireblade, not much seems to have changed on the new 600RR, but we still expect it to be the best 600cc supersports machine in the market in 2009…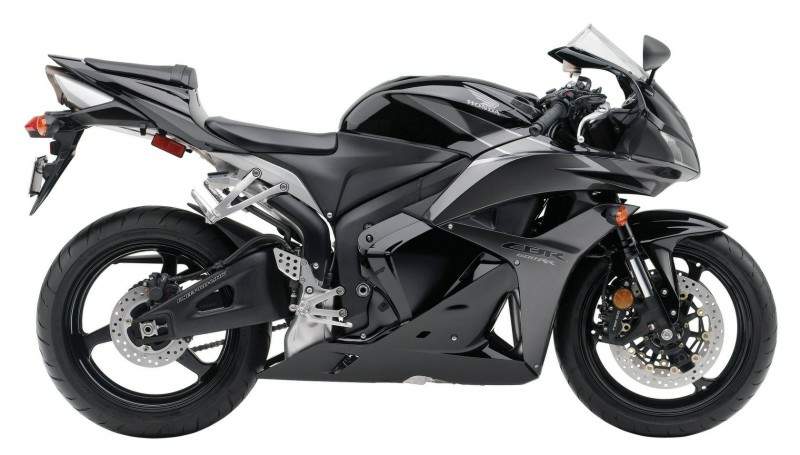 Features

NEW FOR 2009

- Increased mid-range power.
- New bodywork for a sleek, race-ready look.
- New lightweight turn signals.
- Radial-mounted monoblock four-piston front calipers.
- CBR600RR ABS equipped with patented, electronically controlled Combined ABS, delivering the benefits of Combined Braking System (CBS) and the benefits of Anti-lock Braking System (ABS).
- Exciting new colors: Red/Black, Black/Bright Green Metallic, Metallic Black, Phoenix, Pearl White/Pearl Blue/Red (2009 special color†).

UNIQUE FEATURES

- Exclusive, MotoGP-derived Unit Pro-Link® Rear Suspension (see Technology Section).
- Dual Stage Fuel Injection System (PGM-DSFI) features two injectors per cylinder (see Technology Section).
- MotoGP-derived Honda Electronic Steering Damper (HESD) (see Technology Section).
- High-revving engine redlines at 15,000 rpm.
- MotoGP-style center-up exhaust system.
- 41mm Honda Multi-Action System (HMAS) inverted front fork (see Technology Section).
- Centrally located fuel tank increases mass centralization for a more compact frame design.
- Line-beam headlights feature three-piece multi -reflector design.
ENGINE / DRIVETRAIN

- Liquid-cooled DOHC 16-valve 599 cc / 36.5 cu-incc four-stroke inline four-cylinder engine features oversquare bore and stroke of 67mm x 42.5mm.
- Idle-Air Control Valve (IACV) minimizes torque reaction and smoothes response to small throttle changes through gradual reductions of air and fuel intake.
- Oil jets located beneath the pistons for extra friction reduction and cooling.
- Iridium-tip spark plugs improve fuel combustion and performance.
- Non-resonance knock sensor maintains optimum spark advance while constantly monitoring combustion performance during mid- to high-rpm operation.
- Nose-mounted, two-stage ram-air system provides high volume of cool air to the airbox for linear power delivery and incredible engine performance.
- Lightweight magnesium head cover.
- Cylinder head features angled valve insets to improve airflow.
- Cylinder head features two springs per intake valve and one spring per exhaust valve for optimum high-rpm valve operation and durability.
- Direct shim-under-bucket valve actuation ensures high-rpm performance and durability with 16,000-mile maintenance intervals.
- Lightweight, forged-aluminum pistons incorporate special shot peening for added strength.
- Nutless connecting rods contribute to reduced weight and quicker acceleration.
- Light neodymium magnet ACG.
- Lightweight stainless-steel four-into-one exhaust features inline-exhaust valve to control exhaust pressure for increased performance.
- Double-pivot tensioner for cam-chain durability.
- Smooth-shifting close-ratio six-speed transmission with ratios closely matched to the engine's powerband.
CHASSIS / SUSPENSION

- Hollow Fine Die-Cast (DC) frame uses four large castings for ultra light weight (see Technology Section).
- Light aluminum steering stem.
- 41mm inverted HMAS cartridge front fork features spring preload, rebound and compression damping adjustability for precise suspension tuning (see Technology Section).
- Exclusive, MotoGP-derived Unit Pro-Link Rear Suspension (see Technology Section).
- Radial-mounted monoblock four-piston front calipers feature chromium-plated aluminum pistons and squeeze lightweight 310mm floating discs in front and a 220mm rear disc with a single-piston caliper for exceptional stopping power.
- Vertical-piston master-cylinder system produces superior leverage ratio at the front brake lever for higher braking efficiency, excellent feel, and controllability. This layout permits the use of a longer brake lever, which means more braking force with less effort from the rider.
- CBR600RR ABS features Honda's electronic Combined ABS. This all-new ECM-controlled, hydraulically actuated system provides accurate braking force distribution to both wheels. ABS is controlled by a hydro-electronic unit and stroke simulator to ensure precise operation. Benefits include consistent lever pressure without the pulsing often associated with ABS systems. Application of rear brake does not result in immediate front brake activation unless lock-up is sensed, allowing an experienced rider to use rear brake in a normal manner during spirited riding. Combined ABS components are smaller and lighter than conventional hydraulic ABS designs, and have been located closer to the center of the machine, enhancing mass centralization and reducing unsprung weight.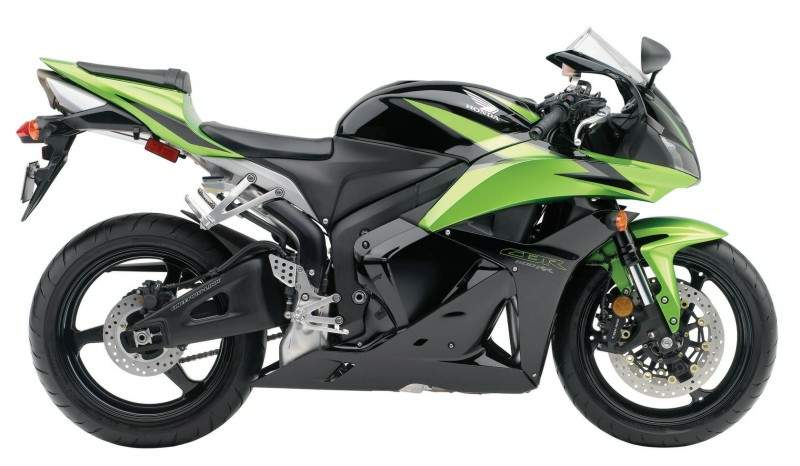 ADDITIONAL FEATURES

- Industry-leading ergonomic design features maximum rider comfort for minimum fatigue in all riding conditions.
- Centrally mounted 4.8-gallon fuel tank is positioned low in the frame, increasing mass centralization and allowing a more compact design.
- Plastic tank shell cover protects tank and airbox.
- Line-beam headlights feature three-piece multi - reflector design utilizing two H7 bulbs for optimum light distribution and a unique compact design.
- Instrumentation is very compact and features LCD panel with tachometer, odometer, twin tripmeters, speedometer, fuel gauge and clock.
- Attractive, hollow-spoke aluminum-alloy wheels feature race-spec 3.5 x 17.0-inch front and 5.5 x 17.0-inch rear dimensions.
- One-piece fan assembly for maximum cooling efficiency.
- Maintenance-free battery.
- Compact rear-cowl storage compartment for U-type locking devices under the passenger seat (lock not included).
- Pivoting, aerodynamic mirrors.
- Integrated ignition-switch/fork lock for added security.
- Convenient push-to-cancel turn-signal switch.
- Transferable one-year, unlimited-mileage limited warranty; extended coverage available with a Honda Protection Plan.
- Purchase of a new, previously unregistered Honda USA–certified unit by an individual retail user in the United States qualifies the owner for a one-year complimentary membership in the Honda Rider's Club of America® (HRCA®). Visit www.hrca.honda.com for details.

HONDA GENUINE ACCESSORIES

- Color-Matched Passenger Seat Cowl.
- U-Lock.
- CBR® Racing Cycle Cover (indoors).
- Carbon-Fiber Accents.
Cycle News 2009 Review
Skilled sport riders have historically been quick to discount the safety merits of an anti-lock braking system, viewing it as an unnecessary luxury feature best suited to the sport-touring set. Honda now aims to convince us otherwise, offering optional C-ABS (combined anti-lock brakes) on its 2009 CBR600RR and CBR1000RR models.
Having sampled a wide variety of bikes over the years that offered ABS, linked brakes or a combination of both, I could be counted among the sport-minded community content without the added cost, weight or, often, intrusive operation of previous assisted braking implementations.
Scattered showers and damp pavement provided ideal conditions in which to gather first impressions of a C-ABS-equipped CBR600RR during the bike's press launch staged at the Honda Proving Center of California. Following a technical brief detailing the system's sophisticated components and operation, I put in a few dozen laps around the HPCC road course, exploring the capabilities of C-ABS.
My conclusion? Years spent developing feel and finesse through my right fingers and foot have been rendered obsolete by this system. Grabbing a handful of brake or standing on the pedal results in nothing less than strong, controlled braking action. Although a momentary initial release in braking force is detectable, pulsation is not felt through the controls once the system detects impending wheel lock and enters an anti-lock state of operation. Neither does the chassis buck like a rocking horse, another characteristic of many slow-cycling, grab-release-grab ABS setups. The CBR's ECU-controlled plumbing makes extremely quick and near-seamless adjustments in system pressure.
The combined or linked aspect of the RR's setup is a vast improvement over earlier-generation linked arrangements dating back to the CBR1000F and CBR1100XX of the 1990s. There's no sudden front-end dive when lightly applying rear brake at low speeds, allowing riders who dab the rear brake when making U-turns to do so without ill effect.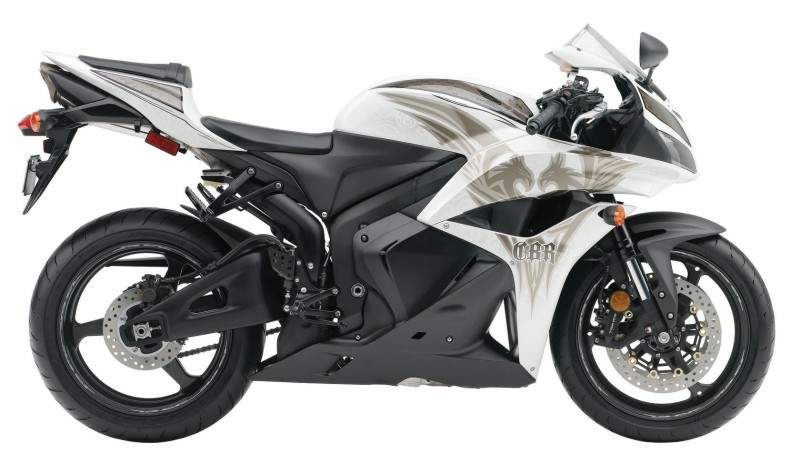 Although Honda spokesmen make no claims regarding the system's effectiveness beyond straight-line use, trail-braking performance is a natural question on the minds of many sport riders. I found the smooth nature of the CBR's ABS and its combined brake effect allow fairly aggressive rear-pedal application mid-corner without unsettling the chassis. I used this technique in a series of left-hand bends at HPCC and was able to confidently check my speed and tighten my line. Another experiment I conducted was trail-braking deep into corners, easing off the front lever while remaining on the pedal down to the corner apex. Although I came away unscathed, I advise readers looking to try this to carefully ease up to this technique as I did. This is not a fail-safe system; it does not rewrite the rules of physics.
Following the launch, we obtained a pair of CBR600RRs for further study on the street and test strip, one with C-ABS and another without. Drained of fuel, the standard bike weighed 386 pounds on CW's scales, while the C-ABS model came in at 411 pounds. Both bikes produced 102 peak horsepower and 45 foot-pounds of torque, but the additional 25 pounds accounts for a quarter-mile time 0.2-second off the 10.59 seconds at 129.16-mph pass set by the non-ABS model.
That's a fair trade-off, we think, for all but the most track-day-driven. Every CW staffer who has ridden the C-ABS model on the street sensed the feeling of invincibility that this system imparts. We found ourselves actually seeking out slick surfaces, such as paint lines, oil spots or loose sand, to brake across. To a man, we were amazed by how transparently the system adjusts to variations in grip.
Looking to back our seat-of-the-pants findings with hard data, we gathered comparative stopping distances from 60 mph on each 600RR. Back-to-back stops were performed on dry, bumpy pavement; we then repeated the test in both wet and dry conditions on a smooth stretch of asphalt. We also measured each bike's stopping distance when only the rear brake pedal was applied, the results of which clearly display the huge advantage Honda's combined system provides.
While the shortest stopping distance on dry pavement came aboard the non-ABS bike, safely finding the limits on a bumpy surface required four attempts. Only a second pass was needed on the more predictable smooth surface to beat the ABS. Mulligans, however, are not a luxury one enjoys when faced with a real-world panic stop. The fairly close wet-road stopping distance of the two can also be attributed to the consistent surface condition throughout the stop. Once again, throw in variables such as a deep puddle or a rain-soaked paint line, and there's little doubt that the gap between the two bikes' stopping distances would increase. And remember, this testing was done with a practiced hand/foot at the controls; less-skilled operators will benefit that much more from this smarter ABS.
We came away very impressed with what Honda has achieved with its latest-generation C-ABS. After years of riding bikes with anti-lock brakes, we've come to expect compromises in the feel and function during high-performance braking. Honda has made us rethink our position; to do so with a pure sporting platform makes this doubly astonishing. While many sportbike enthusiasts will stand to benefit greatly from the added safety this system offers, the $1000 premium tacked onto a $9799 base price and the 25-pound weight penalty can't be ignored. Having already invested countless miles in developing a keen, if not infallible, sense of human-controlled ABS, I hope Honda continues to give buyers a choice.