Honda CBR 600RR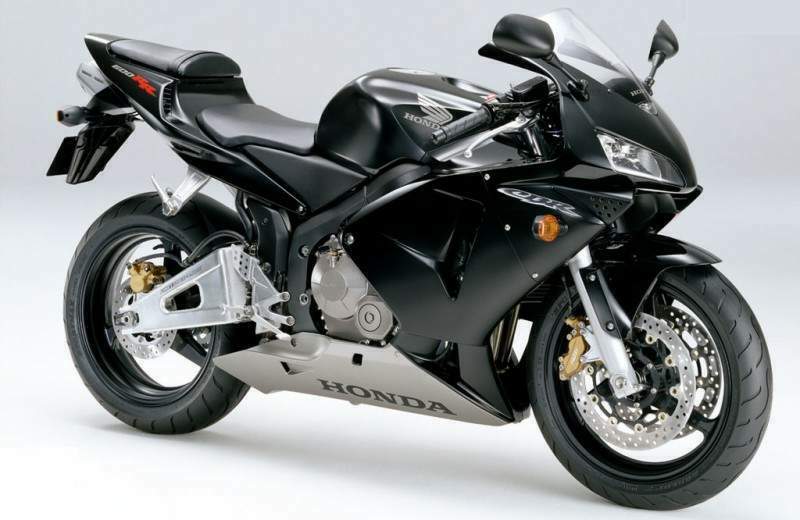 Make Model

Honda CBR 600RR

Year

2003

Engine

Four stroke, transverse four cylinder, DOHC, 4 valve per cylinder.

Capacity

599 cc / 36.5 cu-in

Bore x Stroke

67 x 42.5 mm

Compression Ratio

12.0:1
Cooling System
Liquid cooled
Lubrication
Wet sump
Engine Oil
Synthetic, 10W/40

Induction

Dual Stage Fuel Injection (DSFI)

Ignition

Computer-controlled digital transistorized with three-dimensional mapping
Spark Plug
NGK, IMR9C-9H
Starting
Electric

Max Power

117 hp / 87.2 kW @ 13000 rpm
Power Rear Tyre
102 hp @ 13500 rpm

Max Torque

64

Nm

/ 6.53 kg-m

@

11000 rpm

Transmission

6 Speed
Final Drive
Chain
Frame
Aluminium, twin spar

Front Suspension

45mm HMAS cartridge fork with spring preload, rebound and compression damping adjustability:
Front Wheel Travel
119.5 mm / 4.3 in

Rear Suspension

Unit Pro-Link HMAS single shock with spring preload, rebound and compression damping adjustability.
Rear Wheel Travel
120 mm / 4.3 in

Front Brakes

2x 310mm discs 4 piston calipers

Rear Brakes

Single 220mm disc 1 piston caliper

Front Tyre

120/70 ZR17

Rear Tyre

180/55 ZR17
Turning Radius
10.5 feet
Rake (Caster Angle)
24°
Trail
95 mm / 3.7 in
Dimensions
Length 2065 mm / 81.2 in
Width 685 mm / 26.9 in
Height 1135 mm / 44.6 in
Wheelbase
1389.3 mm / 54.7 in
Seat Height
820 mm / 32.3 in

Dry Weight

169 kg / 372.5 lbs
Wet Weigh
197 kg / 434 lbs

Fuel Capacity

18

Liters / 4.7 US gal

Consumption average

17.1 km/lit

Standing ¼ Mile

11.2 sec / 130 mp/h

Top Speed

162.5 mph
Inspired by Honda's conquering RC211V five-cylinder MotoGP bike, the all-new CBR600RR's revolutionary GP-derived technology and design are destined to dominate the track and the street.

Unique CBR600RR Features
· Unit Pro-Link rear suspension and swingarm design inspired by RC211V.
· Dual Stage Fuel Injection system features two injectors per cylinder.
· High-revving engine redlines at 15,000 rpm.
· New-style centre-up exhaust system.
· Centrally located fuel tank increases mass centralization and allows more compact frame design.
· New Line Beam Headlight features three-piece reflector design.
Engine/Drivetrain
· All new liquid-cooled DOHC 16-valve 599 cc / 36.5 cu-incc four-stroke inline four-cylinder engine features oversquare bore and stroke of 67mm x 42.5mm.
· High-revving engine has 15,000-rpm redline (CBR600F4i redlines at 14,200), wider powerband and more over-rev than CBR600F4i.
· New engine is more compact-engine length is now 236mm versus 266mm -- which helps move the rider forward 70mm.
· New iridium-tip spark plugs improve fuel combustion and performance.
· Dual Stage Fuel Injection (DSFI) system features two injectors per cylinder -- one upper and one lower -- controlled by an ECU that senses rpm and throttle opening. The lower injector enhances rideability while the upper injector improves top-end horsepower. At lower rpm only the lower injector is working. Above 5500 rpm, both injectors are activated. The system uses 40mm throttle bodies.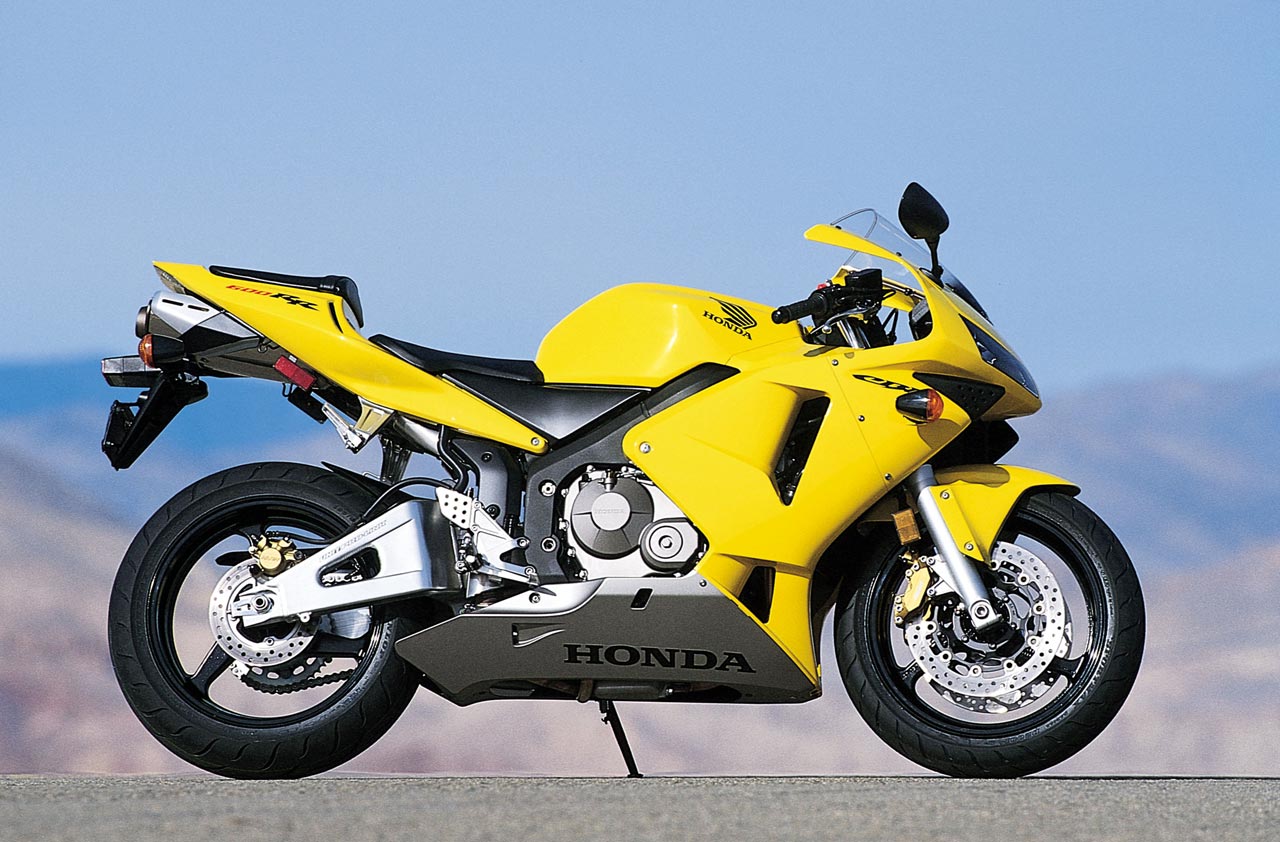 · New Denso injectors with 12 laser-drilled holes deliver a finely atomized fuel mixture for optimum combustion efficiency and power.
· Auto enriching system is integrated into PGM-FI module, eliminating the need for a manual choke.
· Two-stage ram-air system provides a high volume of cool air to the airbox for linear power delivery and incredible engine performance.
· Airbox volume increased to 15 liters (compared with the CBR600F4i) for improved performance.
· Cylinder head features angled valve inset to improve air flow.
· Cylinder head features two springs per intake valve and two springs per exhaust valve for optimum high-rpm valve operation and durability.
· Direct shim-under-bucket valve actuation ensures high-rpm performance and durability and offers 24,000 kilometre maintenance intervals.
· New lighter pistons, piston pins and nutless connecting rods contribute to higher revving engine.
· New double-pivot cam-chain tensioner improves cam chain durability.
· Starter gears moved to the right side for increased lean angle.
· New lightweight aluminum oil cooler.
· Centre-up muffler design increases lean angle and reduces wind drag.
· Smooth-shifting close-ratio six-speed transmission is closely matched to the engine's powerband.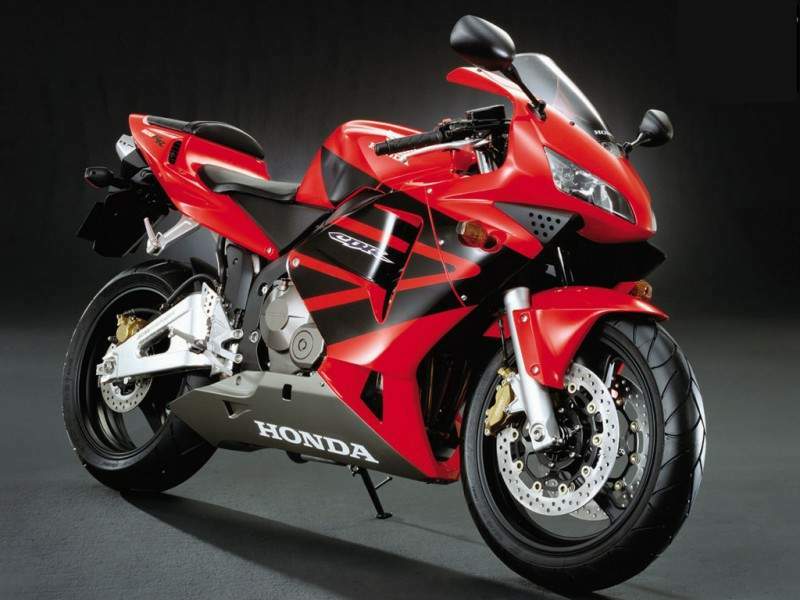 Chassis/Suspension
· Completely new die cast aluminum frame utilizes new manufacturing methods to provide optimum rigidity while reducing weight. Frame is tuned for precise handling characteristics.
· Large, 45mm cartridge front fork offers rebound and compression damping and spring preload adjustability.
· New Unit Pro-Link rear suspension system is patterned after RC211V GP racer. In this system, the upper shock mount is contained within the swingarm rather than the frame. With no top frame-mount for the shock, this unique system eliminates negative suspension energy from being transmitted into the frame, allowing optimum frame rigidity and improved rideability out of corners. The HMAS shock offers rebound and compression damping, and spring preload adjustability.
· Rear swingarm technology derived from RC211V.
· Braking system features twin four-piston front calipers, dual 310mm front discs and a single 220mm rear disc for optimum stopping power.
· New centre-up exhaust system features four-into-two-into-one design for increased performance and aerodynamics.
· Handlebars located below top triple-clamp for precise handling.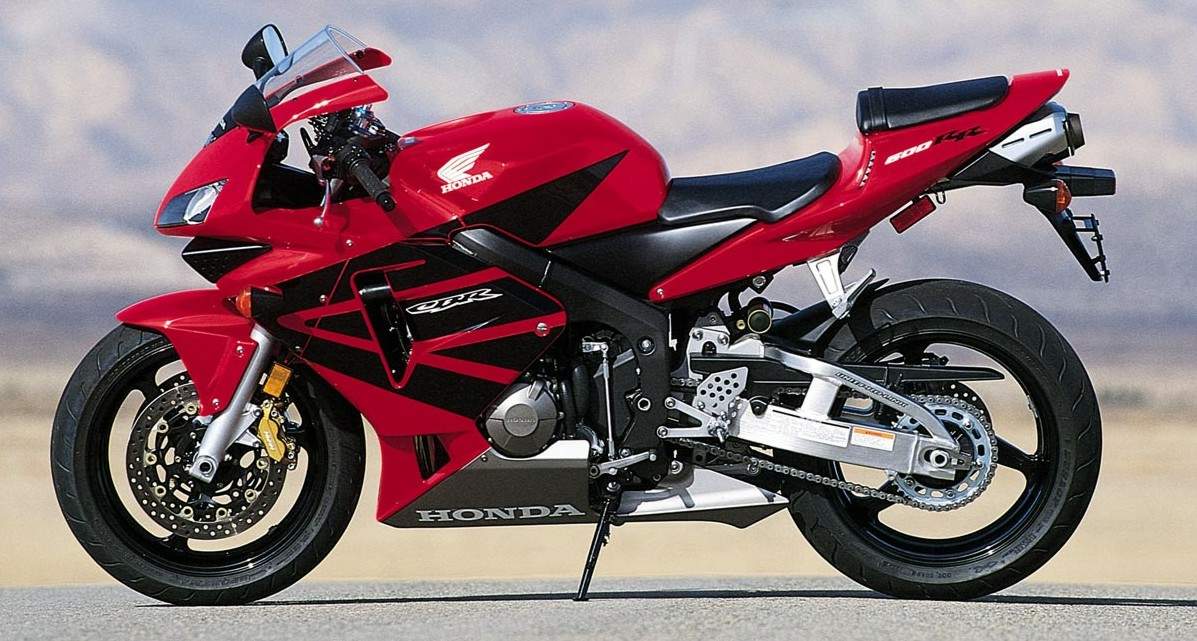 Additional Features
· Industry-leading ergonomic design features maximum rider comfort for minimum fatigue in all riding conditions.
· Centrally mounted 18-litre fuel tank is positioned low in the frame, increasing mass centralization and allowing a more compact design. This design positions the rider 70mm forward for optimum handling.
· New plastic tank shell cover protects tank and airbox.
· New Line Beam Headlight features three- piece reflector design (first in the world) utilizing two H7 bulbs for optimum light distribution, and unique compact design.
· New instrumentation is more compact and features tachometer, speedometer and fuel gauge.
· Attractive hollow-spoke aluminum alloy wheels feature race spec 3.5 x 17-inch front and 5.5 x 17-inch rear dimensions.
· Increased radiator capacity to match increased engine performance.
· New one-piece fan assembly increases cooling efficiency.
· Maintenance-free battery.
· Optional seat cowl.
· Compact rear cowl storage compartment for U-type locking devices (lock not included) under the passenger seat.
· Folding aerodynamic mirrors.
· Integrated ignition switch/fork lock for added security.
· Convenient push-to-cancel turn signal switch.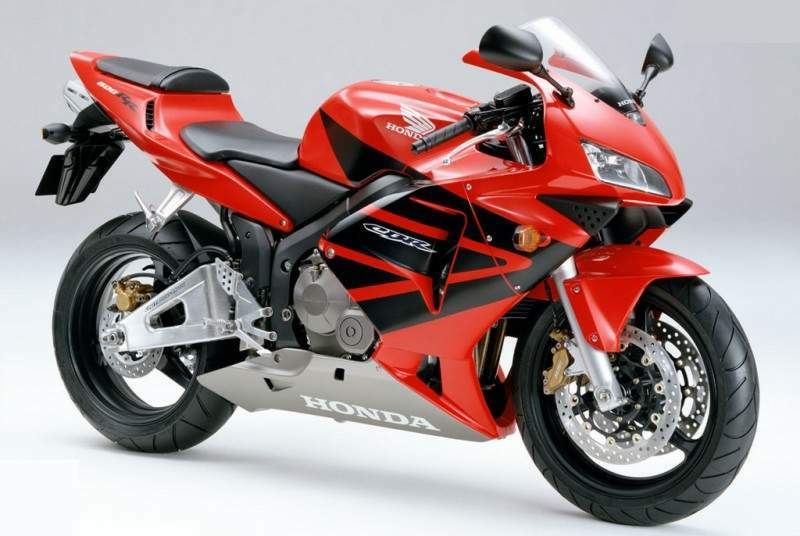 Review
Honda has done an about face over the past couple of years, and the new CBR600RR continues with that new direction. Honda is the world's largest motorcycle manufacturer, and the philosophy up to now used to be "This motorcycle is good for you, so buy it, use it and stop complaining." No, they were devoid of character, were so user friendly that they became a kitchen appliances, and anyone under the age of 96 could got on any model and ride it
Honda is has decided enough is enough, lets build the sort of motorcycles that our customers demand, like sharper 'Blades, and 'barking mad 600s'. Yes, Honda are now definitely back on track with the latest range of supersports machinery and have taken a leaf out of Yamaha's book of how to build an R1 & R6. That's bad news for the rest, but great news for us.
Take a good look at the new CBR600RR and tell me that me that the skinny fairing offers good protection. and that your pillion will be comfortable on that tiny little seatpad? Look at the indicators, they are also tiny. Why do that when safety is, or was, the number 1 concern? Look at the aggressive riding position. After a couple of hours on this tiny bike you certainly can't feel anything and everything starts to ache!
When I first got on the CBR600RR my immediate reaction was 'God it's small', in fact I said that about the R6, but this takes the crown for tiny 600s. If you are anything over 5'8" then you will be hideously uncomfortable on this bike, but don't get me wrong here because over all that, the size, the lack of comfort, the contorted riding position, you will get a seriously good bike and one that will make you smile. Big time!
Honda's did a lot of research with this bike and customer response showed that potential CBR600 buyers wanted a 'lightweight design', a 'racing image', and a bike that left an 'exciting dynamic impression'. And well, they got it!
The CBR600RR is the closest mainstream Honda production bike that looks like one of Honda's racebikes. Honda makes no secret of comparing the RR with Rossi's RC211V, and in this case beauty is more than just skin deep. These 'looks' are achieved with the new fairing which features a sharper nose and a much lower windscreen. As the Honda PR blurb openly admits, it's "a form geared much more to the needs of the circuit than to the comforts of the street". Add the stretched bellypan design and the underseat exhaust and the link to Mr Rossi's rocket was complete.
Riding the CBR for the first time I couldn't help but notice how free the engine felt. There was instant response from the throttle, a slick and positive gearbox and the controls and levers that felt light, easy to use, and well, sort of typical Honda. I was surprised by the lack of on/off jerkiness with the throttle at low revs, this is usually an annoying trait of many fuel-injected bikes, and especially bikes with lightweight engine internals like the RR. The other thing that really caught me out was just how tractable the RR was for a screaming 15,000rpm 600! I found that I could cruise around in top gear at 3000rpm and yet there was no transmission snatch or hesitation when opening the throttle to accelerate. There was also available torque, which was a complete surprise, and there were no discernable dips or kicks in the power delivery all the way through to 13,000rpm where the claimed 117bhp tops out. The engine in the CBR is an absolute gem, it's free revving wherever and whenever you need it, has plenty of usable power and sounds fantastic when you get it up into 5 figures!
Yes to put it in a nutshell it was smooth, had great power delivery, had progressive torque and was in fact very easy to ride in traffic or town, if you could get comfortable on it!
Out on the open road is where the CBR600RR comes into its own though - it suddenly takes on a new life when you leave the 30-40-50mph speed limits and things start to happen that you don't expect from a normal 600. This bike handles well, in fact I would go on to say that it is superb on ordinary roads. The suspension irons out everything even though it feels a little stiff to start with. With fully adjustable forks and rear shock you can play around with the settings to suit yourself. On the standard settings, and after a few days riding it, I felt that the front was a little too soft for my personal liking, so I wound it up a touch and that small adjustment made a huge difference. Suddenly the bike became so planted on corners that you found yourself carrying much more speed, it was easy to turn fast at almost any speed on the stock settings, but now it had become even quicker.
A bike like this needs good brakes, and Honda have complimented the CBR600RR with some of the best, in a word they are excellent. The brakes are the same set up as the current Blade and VTR1000SP2, plenty of power and feel, so enough said about those, I think you get the picture!!
There are plenty of practical touches on the RR, such as good mirrors, a comfy seat, and an easy-to-read tacho. The build quality is excellent and typical Honda standard, Oh, and everyone liked the looks of the CBR. Honda has built this bike with one thing in mind - and that's to dominate Supersport racing, trackdays, and get a large slice of the ultra-competitive 600 market. The days of Honda's user-friendly CBR600 appealing to a wide range of riders are long gone. The strange thing is I suspect that Honda will actually end up selling more CBR600s now that it's gone down the race-replica route.
During the time I had the bike from Honda various different riders tried it and all came to the same conclusions, it's a great bike, totally unlike other Honda models in the past and great fun to ride. It's hard to find any real faults with the CBR600RR, the only drawback is it's size. It is small, in fact incredibly small, and as bikes get even smaller people don't! Having said that after a while riding it you do get used to it and there is still plenty of room to move around from side to side, and space enough to move forward to get the weight over the bars for some tighter corners. If truth be known the CBR600RR is in fact a bit too small for me, I'm 5'10" and probably on the upper side of height for this bike. I can honestly say that it's the first Honda that I have really enjoyed in a long time and it was sad to see it go back!
source Motorbikes Today