Honda CBR 600F4i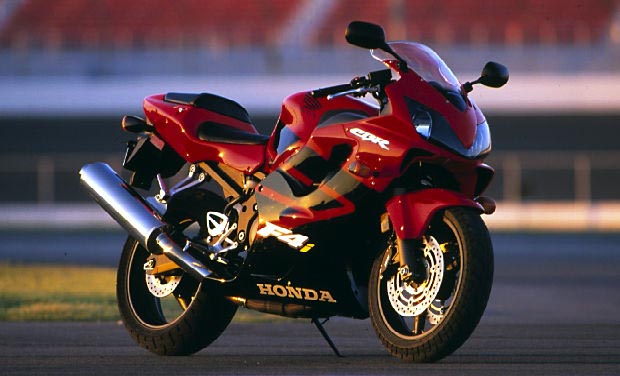 Make Model

Honda CBR 600F4i

Year

2001

Engine

Four stroke, Transverse four cylinder, DOHC, 4 valve per cylinder.

Capacity

599 cc / 36.5 cu-in

Bore x Stroke

67 x 42.5 mm
Coolling System
Liquid cooled

Compression Ratio

12.0:1
Lubrication system
Wet sump
Motor Oil
Semi-Synthetic, 10W/40

Induction

Electronic fuel injection

Ignition

Digital transistorized 3 dimensional mapping computer-controlled.

Spark Plug
NGK, IMR9A-9H

Battery
YTX9-BS
Starting
Electric

Max Power

110.2 hp / 81 kW @ 12500 rpm

Max Torque

6.6 kgf-m / 65 Nm @ 10500 rpm

Clutch
Wet, multiple discs, cable operated

Transmission

6 Speed

Final Drive

#525 O-ring-sealed chain

Gear Ratio
6th 26/ 23 (1.130:1) 5th 25/ 20 (1.250:1) 4th 27/ 19 (1.421:1) 3rd 28/ 17 (1.647:1) 2nd 33/ 16 (2.062:1) 1st 34/ 12 (2.833:1)
Frame
Aluminium, twin spar

Front Suspension

43mm fully adjustable cartridge-type fork

Front Wheel Travel
120 mm / 4.7 in
Rear Suspension
Pro-Link featuring fully adjustable gas-charged remote reservoir damper

Rear Wheel Travel
120 mm / 4.7 in
Front Brakes
2x 296mm discs 4 piston calipers
Rear Brakes
Single 220mm disc 1 piston caliper

Front Tyre

120/70 ZR17

Rear Tyre

180/55 ZR17

Rake
24°
Rake
24°
Trail

96.5

mm / 3.8 in

Dimensions
Length 2060mm
Width 685mm / 26.9 in
Height 1135 mm / 44.6 in
Wheelbase
1386 mm /

54.9 in

Ground Clearance
135 mm / 5.3 in
Seat Height
805 mm / 31.9 in
Dry Weight
169 kg / 370 lbs

Wet Weight

193 kg / 425.5 lbs

Fuel Capacity

18 Liters / 4.2 gal

Consumption Average

19 km/lit

Braking 60 - 0 / 100 - 0

13.6 m / 39 m

Standing ¼ Mile

11.7 sec / 199 km/h

Top Speed

256.3 km/h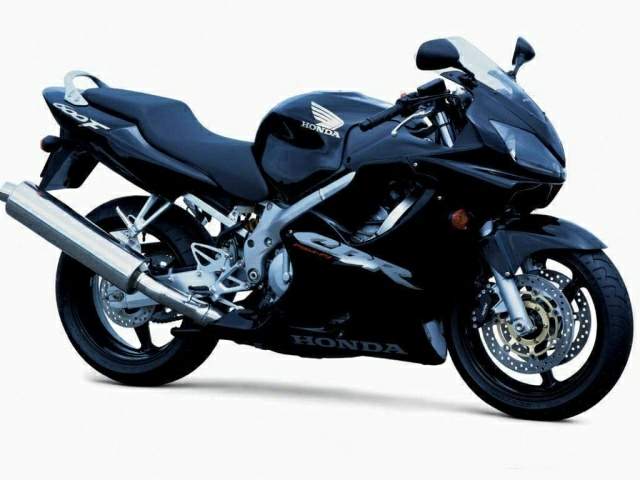 Arguably the definitive middleweight Japanese sportsbike of the last decade or two, the CBR600 has been massively successful, both in terms of sales and on the racetrack, over its six major updates since being launched in 1987. From the first steel-framed model, with 63kW (85bhp) and 182kg (401b) to the latest 81kW/170kg (109bhp/3751b) version, the CBR600 has always been the most usable of the sports 600 models.
This 2002 model, while retaining a family resemblance to its predecesors, is certainly the most advanced version yet. A light, compact, high-output four-cylinder engine fits snugly into a short, stiff aluminium twin-spar frame. High-specification suspension units front and rear give class-leading springing and damping performance, and wide, sticky radial sport tyres give amazing grip when cornering.
Smaller engines like the CBR600's are notoriously difficult to equip with fuel-injection, but the CBR's PGM-FI system is virtually flawless. An advanced CPU delivers finely metered fuel through a pair of 38mm (1.5in) dual-throat throttle bodies and also controls the ignition timing.
The four-piston front brake calipers are similar to the previous model's, but have been lightened with new aluminium pistons, and offer outstanding stopping performance. The fully adjustable suspension is comfortably soft on standard settings, but is easily altered to provide stiff, accurate racetrack performance.
But, like previous CBR600s, the latest model's success is down to more than its on-paper performance. It is also one of the most user-friendly bikes, and manages to be both comfortable and usable without compromising its sporting abilities.
The redesigned upper fairing, with twin 'fox-eye' headlamps and two sculpted air intakes, is aerodynamic enough for a 266km/h (165mph) top speed while giving the rider and pillion very acceptable wind protection. And while items like a key-mounted security immobilizer, pillion grabrail and a built-in mainstand do nothing for the CBR's sporting prowess, they make living with the CBR even easier.
The 2001 CBR600F4i produces 5 percent more peak power at 12,500 rpm and tips the scale at 169 kilograms dry-the lightest, most powerful 600 supersport Honda has ever made by 2001.
· Cylinder head now features two springs per intake valve and hardened intake valve seats for even better high-rpm valve operation and durability.
· Honda's latest programmed fuel injection (PGM-FI) and electronic digital ignition maximize power output and offer immediate throttle response.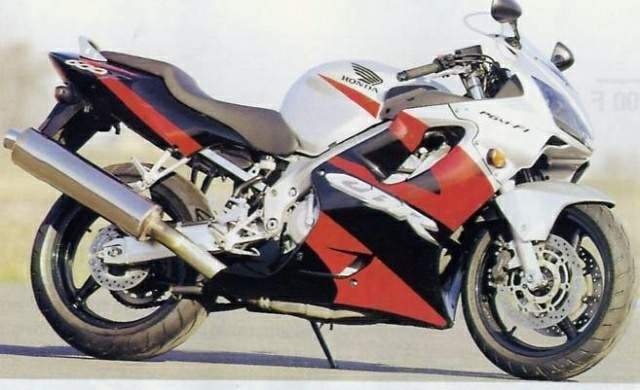 · High-pressure programmed fuel injection (PGM-FI) delivers fuel to four injectors, each mounted in a 38mm throttle body, at 50 psi. Fuel is delivered through four nozzle tips in each injector, producing a highly combustible air/fuel charge for maximum combustion efficiency and power.
· A precise throttle sensor and sophisticated fuel injection mapping combine to produce smooth and linear throttle response, responding easily to fine throttle adjustments.
· Auto-enriching system is integrated into PGM-FI module, eliminating the need for a manual choke.
· Total volume of the ram air ducts and airbox are increased 15 percent-2 liters -for improved airflow at high-rpm operation.
· Exhaust header pipe length and internal muffler baffling are redesigned for improved high-rpm output while maintaining the F4's impressive mid-range power.
· California version utilizes air injection system and a three-way exhaust catalyzer to meet California Air Resources Board (CARB) 2004 Tier 1 emissions standard, reducing emissions of hydrocarbons (HC), carbon monoxide (CO), and nitrous oxides (NOx).
· New eight-plate clutch for even better performance in demanding riding conditions.
· Redesigned shift lever assembly improves shifting feel.
· Rear sprocket changed from 45-tooth to 46-tooth design for improved acceleration in all gears.
· Chassis improvements increase lateral frame rigidity 7.4 percent and torsional frame rigidity 10.9 percent for enhanced road feel and even better handling. Additional casting ribs are added to the Pro Frame(tm) headpipe and frame side plates; center and rear engine hangers and collars are strengthened to increase torsional rigidity of the engine and frame; swingarm mounting shaft and collars are strengthened and supported by needle bearings; strengthened lower rear shock bracket assures minimal shock shaft flex and smooth operation.
· Twin front calipers feature four pistons each; pistons have a molybdenum/anodic-oxide coating and Teflon-coated rollback seals to enhance braking feel under repeated hard use.
· CBR929RR-style aluminum-alloy hollow-spoke wheels feature race-spec 3.5 x 17-inch front and 5.5 x 17-inch rear dimensions.
· Fuel tank capacity increased to 18.0 liters , including 3.4 litre reserve.
· All-new bodywork features aggressive dual headlight design and black anodized frame and swingarm.
· New dual headlight design features computer-designed multi-reflectors with one left-side-mounted 55-watt H7 low beam and one right-side-mounted 55-watt H7 high beam; the asymmetrical low-beam mode is complemented by the operation of both lights in high-beam mode for superb lighting in nighttime riding conditions.
· New instrument display features analog tachometer with white numerals and needle indicator on a black face design; LCD digital displays for speedometer, odometer, A/B tripmeter, fuel reserve, clock, and coolant temperature; warning lights for coolant temperature, oil temperature, fuel injection, and over-rev; indicator lights for low/high beam, turn indicator, and neutral.
· New lightweight aluminum upper cowl stay also serves as mounting bracket for mirrors and instrument housing.
· All-new two-tone Metallic Silver/Black, Red/Black and Pearl White/Red paint schemes feature the Honda racing wing logo.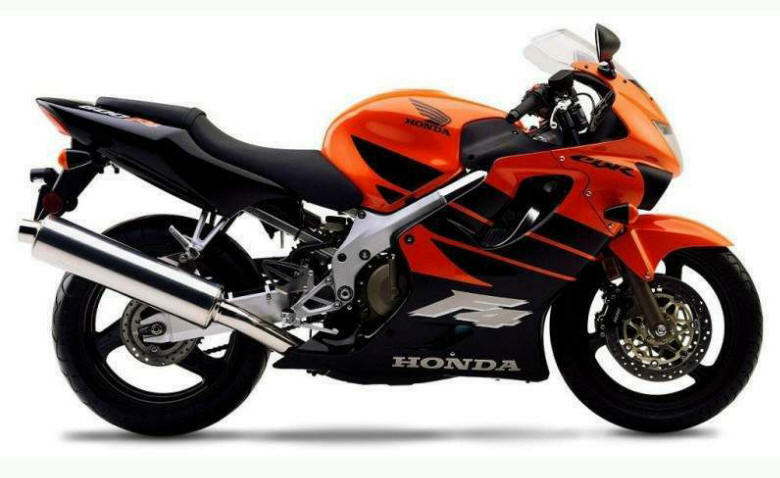 ENGINE
· High-output, liquid-cooled DOHC 16-valve four-stroke engine features oversquare bore and stroke of 67mm x 42.5mm with a straight intake tract contributing to superb power throughout the rpm range.
· Inclined cylinder-head cover mating surface permits higher placement of the intake camshaft for a straight intake tract providing excellent engine efficiency and power.
· RC45(tm)-inspired aluminum composite cylinder sleeves are high-pressure-formed from sintered aluminum powder impregnated with ceramic and graphite. The lightweight composite sleeves provide better wear resistance and superior heat dissipation than conventional sleeves.
· Aluminum alloy pistons feature LUB-Coat solid lubricant to minimize friction between the piston and cylinder wall.
· Ram-air provides a high volume of cool air to the airbox, utilizing a two-stage system that precisely balances air pressure within the carburetor float and vacuum chambers with the air flowing through their bores, providing sharp throttle response, linear power delivery and incredible performance at all speeds.
· Four transistorized direct-ignition coils integrate spark plug cap and high tension lead to produce a high-voltage, long-duration spark, providing maximum performance at high engine output levels.
· Electronic ignition CPU provides digital 3-D mapping for cylinder pairs, creating ideal spark advance settings for all riding conditions.
· Four-into-two-into-one exhaust system feeds single high-output polished stainless steel muffler for maximum power and efficiency.
· Direct, shim-under-bucket valve actuation ensures high-rpm performance and durability and offers 25,000 kilometre maintenance intervals.
· Mechanical automatic cam-chain tensioner provides quiet, reliable service.
· Engine cooling system features a series-flow pattern that reduces piston crown and spark plug seat temperatures, resulting in increased power.
· Bearingless water pump is lightweight and features high-efficiency design.
· High-capacity liquid-cooled oil cooler contributes to lightweight engine design.
· Clutch cover integrates pulser cover and is lighter than traditional designs.
· Smooth-shifting close-ratio six-speed transmission features ratios carefully matched to engine's power
band.
CHASSIS/SUSPENSION
· Pro Frame(tm) design consists of an aluminum twin-spar frame and extruded aluminum swingarm. The Pro Frame design locates the lightweight extruded aluminum box-section swingarm via a combined pivot in both the frame and the rear of the engine, producing superb handling and stability with excellent control.
· Lightweight aluminum, detachable rear subframe section.
· Rigid, 43mm HMAS(tm) front fork offers rebound, compression damping and spring preload adjustability.
· 40mm HMAS rear shock assembly utilizes Pro-Link(r) design with external reservoir for plush feel and excellent, well-controlled damping for all types of riding.
· Sintered brake pads and 296mm floating front discs provide the ultimate stopping power.
· Hydraulic rear disc brake features single-piston caliper and 220mm disc.
· 120/70ZR-17 Z-rated front tire and 180/55ZR-17 Z-rated rear tire provide superb traction.
· Durable, lightweight #525 O-ring-sealed drive chain.
ADDITIONAL FEATURES
· Industry-leading ergonomic design features maximum rider comfort for minimum fatigue in all riding conditions.
· Folding aerodynamic mirrors.
· Front fairing and rear seat cowl utilize few parts for simpler servicing.
· Rear cowl storage box for U-type and cable locking devices (not included) under the passenger seat.
· Integrated ignition switch/fork lock for added security.
· Convenient push-to-cancel turn-signal switch.
· Transferable one-year, unlimited-mileage limited warranty.
Review
Firstly a note for our overseas readers - Australia only receives one version of the CBR 600 and it is the sport model. In Australia it is known as the CBR 600 F4i.

The CBR 600 debuted in 1987 and has proven to be one of the most reliable sportsbikes of the modern era. The 'F' series of road-bikes refers to the model being user-friendly and not an all out sports machine. They say the new F4i has departed from that concept to become a lot more track focused, which this new F4i certainly is, but it has not lost it's user-friendliness along the way.Click To Enlarge

It now features a more aggressive profile to match its improved track performance, and the front end is now much sharper and angular; a concept first kicked off by Yamaha with their 'R' series of road-bikes which Kawasaki then took up, now followed by Honda. The headlights are new dual multi-reflector units covered by a one-piece flexiglass lens. Unfortunately I did not get a chance to test their effectiveness in the dark. The front of the bike now features large ducts for the airbox in the hope of gaining some positive airbox pressure at speed.

A new tail unit has also evolved with what seems like a little less padding and perhaps a bit of a higher perch for the passenger. I did not cover any long distances on the new F4i but I don't think the seat will cause too many complaints in the numb-bum department. The pillion seat opens by way of the ignition key inserted at the rear of the bike Click To Enlarge - Seatsand has enough space for a u-lock or perhaps a tightly rolled set of wets, but not much more than that.

The F4i's taillight is also smaller, taking after the distinctive two-part shape of the CBR900RR Fireblade with a new dual-bulb configuration. The number plate light on the rear guard extender does seem a little bit of overkill, no doubt the victim of an Australian Design Rule or something equally silly. Previous CBR 600sClick To Enlarge came with a centre-stand and, in line with Honda's more sporting slant in the marketing of this model, that has been done away with. All is not lost, however, as the lugs for the centre-stand are still there, so you can fit one yourself. The stands will be available through Honda dealers.

The liquid-cooled in-line-4 engine now features a new fuel injection system and other improvements designed to increase its maximum power while achieving smoother response and stronger performance. In my opinion it has achieved this aim.

Single intake valve springs are replaced by double springs for more precise operation under the stresses of racing. Honda has taken a leaf out of the hot-rodders' handbook by adding a bit more intake duration on the cam. Air cleaner capacity has been increased from 6.5 to 8.1 liters and ram air ducts modified with a new lower intake resonator chamber to smooth response and reduce intake noise (why would you want to do that ?).

The Honda seems to have a stronger mid-range than most in this class but could do with a little stronger top end kick. However, I did see over 240kph on the digital speedo' down 'Gardner Straight'.

Cold starts are as fuss free as possible as the F4i is fitted with the same sort of automatic fast idle system as the Fireblade. I love this feature and the everyday biker will always see the advantages of this system. How many times have you started the bike only to walk away to open the gate or something similar to come back to a bike revving its head off so hard that it rattles the fillings out of your teeth? No problems with that here. When are the other manufacturers going to catch on to this?

Click To EnlargeThe gearbox has also come in for attention with lower 5th and 6th gear ratios for sharper top-end performance. Transmission main shaft length has been increased by 2.5mm for enhanced durability. One clutch plate has been added, increasing in number from 7 to 8 for greater durability. This is great to see, even though the old CBR never had a reputation for eating clutches.

Click To Enlarge - DashThe instrumentation is comprehensive with an analogue tacho' and digital speedo'. When there are 3.5 liters left in the fuel tank one bar shows on the left side of the LCD which then progresses through to 4 bars as the fuel level gets lower before starting to flash when things are getting a little dry. The clock stays on even when the ignition is switched off which is a handy feature. The LCD also incorporates an odometer and dual trip-meters.

I completed nearly 100 laps around Victoria's magnificent Phillip Island race circuit onboard the new CBR 600 F4i and came away impressed. The chassis has a great balance which inspires confidence no matter how hard or soft you push.

Talking of soft, the front forks are a little soft for the guys who brake VERY hard. And, those brakes are great, but if used to their full extent they will bottom the forks. Into Honda corner I had the forks fully compressed with the resultant chirp, chirp, chirp from the front tyre as it lost contact The brakes work - Click To Enlargewith the surface at times. I must stress that I do use the brakes very hard (the practice of hundreds of rolling stoppies comes to good use sometimes) and most will not find this a problem at all. I did manage to dial it out but then went back on track and proceeded to brake even harder again which brought on the same bottoming problem. All track day fiends normally modify their forks with different springs, oil weight and air gap so this is no major problem as it will be easily overcome for a minimum of dollars. The forks do not misbehave at any other time and gave me great confidence when turning in. I liked the front of the CBR 600 F4i better than the R6 or ZX-6R but they don't quite come up to the same level of the sublime front forks fitted to the GSX-R 600, the Suzuki is the benchmark in this area.

The CBR compares quite well against the opposition on the weight front,

Kawasaki ZX-6R 198 kilograms
Suzuki GSX-R 600 192 kilograms
Honda CBR 600 F4i 193 kilograms
Yamaha R6 195 kilograms

As a race bike the CBR has a great basis to work from with a really nice balance to the chassis and a lot of over-rev on the standard engine. This engine is designed to rev a lot harder than it does in it's standard guise which means the tuners will reap great horsepower benefits from blueprinting, aftermarket pipes, cams and injection mapping. These things will howl in World SuperSport trim.

Click To EnlargeAs a road bike the CBR will also excel, great performance married with practical things like good luggage hooks, a very comfortable riding position and other user-friendly features such as the previously mentioned automatic fast idle system will see to that. For the every day biker, I see these little things as making long-term life with a motorcycle just that little bit more pleasurable.

If you were to ask me which 600 I would buy? The answer would be a close call between the GSX-R and CBR. In standard form the GSX-R has the performance edge but the CBR could easily be put in the same league for track-work with a little suspension fettling and a higher level muffler. The Honda has the edge over the Suzuki when it comes to build quality but the Suzuki has a rawer and racier feel to it. The decision between these two is simply too close to call for me. The nutters will prefer the Suzuki, the more practical will prefer the Honda.

Source MCNews.COM.