Honda CBR 600F3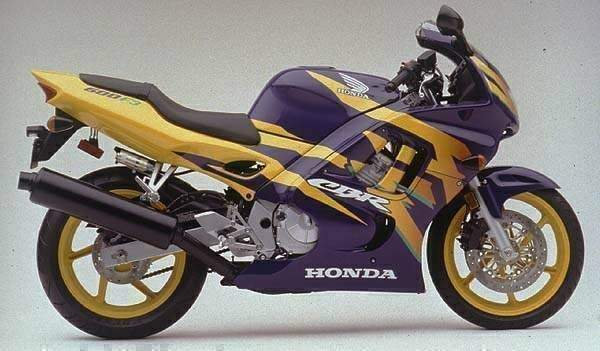 Make Model

Honda CBR 600F3

Year

1997

Engine

Four stroke, transverse four cylinder 30° forward of vertical, DOHC, 4 valve per cylinder.

Engine Weight
61.9 kg / 136.4 lbs

Capacity

598 / 36.55 cu in

Bore x Stroke

65 x 45.2 mm
Cooling System
Liquid cooled

Compression Ratio

12.0:1
Lubrication
Forced pressure, trochoid oil pump
Oil pressure at 80 C: 71 psi (5.0 kg/cm^2) @ 6,000 rpm
Wet sump; 4.4 qt (4.2 L capacity)
SAE 10W-40, API SF or SG
Intake
Dual-Stage Ram Air system with paper-element air filte

Induction

4x 36mm / 1.4 in Mikuni BDST constant velocity (CV) carbs
Exhaust
4-2-1 Header with 6.6 L canister muffler

Ignition

Transistorized electronic with 3D mapping
Electrical
Triple-phase alternator with battery;
Starting
Electric

Max Power

105 hp / 76.5 kW @ 12000 rpm

Max Power Rear Tyre

96.3 hp @ 12100 rpm)

Max Torque

66 Nm / 48.6 lb-ft @ 10500 rpm
Clutch
Multi-plate wet, cable operated

Transmission

Close-ratio 6 speed
Final Drive
Chain, #525 O-ring-sealed; 108 links
Primary Reduction
1.863 (82/44)
Gear Ratio
1at 2.928 (41/14) 2nd 2.062 (33/16) 3rd 1.647 (28/17) 4th 1.368 (26/19) 5th 1.200 (24/20) 6th 1.086 (25/23)
Frame
Steel twin-spar diamond, Engine stressed member

Front Suspension

41 mm HMAS cartridge fork with spring preload and rebound damping adjustability;
Front Wheel Travel
118 mm / 4.66 in

Rear Suspension

Rectangular swingarm. Unit Pro-Link HMAS rising rate monoshock, preload, compression and rebound adjustable.
Rear Wheel Travel
109 mm / 4.29 in

Front Brakes

2x 296mm discs 2 piston calipers

Rear Brakes

Single 218mm disc 1 piston caliper
Front Wheel
3.5x17 in cast aluminum; six-spoke
Rear Wheels
5x17 in cast aluminum; six-spoke

Front Tyre

120/60ZR-17 radial; 36psi (2.50 kg/cm^2)

Rear Tyre

160/60ZR-17 radial; 42 psi (2.90 kg/cm^2)
Rake
25.2°
Trail
94.0 mm / 3.7 in
Dimensions
Length 2055 mm / 80.9 in
Width 835 mm / 27.0 in
Height 685 mm / 27.0 in
Wheelbase
1405 mm / 55.3 in
Seat Height
810 mm / 31.9 in

Dry Weight

186 kg / 408 lbs
Wet Weight
206 kg / 454 lbs
Ground Clearance
139.5 mm / 5.1 in

Fuel Capacity

17 Litres / 4.5 gal

Braking 60 - 0 / 100 - 0

13.7 m / 38.0 m

Standing ¼ Mile

10.9 sec / 198.0 km/h

Top Speed

250.2 km/h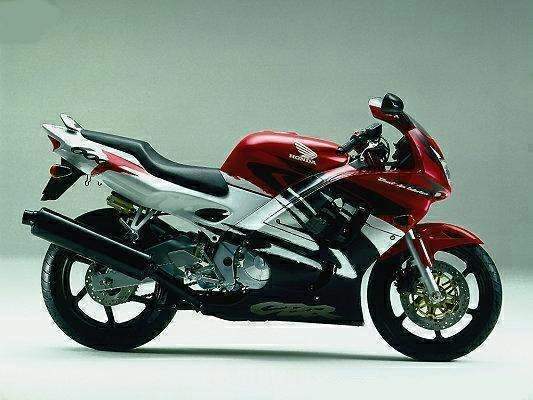 The 1997 CBR came in one of three color schemes: Black with White, or Sparling Red, or Purple with Yellow , The purple and yellow bike is the "SE" model, The engine was modified again to increase the power output to 105 hp
The bike used a lighter weight drive chain , The serial number began JH2PC250*VM600001
1997 600cc Sportbike Shootout by Motorcycle.com
Forget 750s or open-class sportbikes, the real battle for supremacy is waged in the 600 class -- these are the best-selling sportbikes made. Here, manufacturers pump huge amounts of money into research and development to produce the quickest, fastest, best-handling machines possible. This space-race for the 600 title has led to machines that out-perform liter bikes of just a decade ago. But which 600 is best, and more specifically, which is best for you? Read on, and join us for a thorough thrashing of the world's best 600cc sportbikes.

It was the best of times, for sure: Motorcycle Online recently rounded up the best 600cc Sportbikes produced, dusted off our leathers and fired checks out of the corporate account like a cheap six-shooter, appropriating funds to rent Los Angeles County Raceway's quarter-mile drag strip, Willow Spring Raceway's Streets of Willow, as well as taking over Graves Motorsports' shop for the better part of a week to have the bikes dyno'ed and track prepped. Lastly, we brought in AMA Superbike star Shawn Higbee and reigning Willow Springs Formula One Champion Chuck Graves to assist Editor-in-Chief Brent Plummer and Associate Editor Gord Mounce in the testing. The point? To carve as many canyons as possible, shred a bunch of tires and fry three clutches at the drag strip? That's what the four of us thought until Managing Editor "Big" Tom Fortune brought us all back to reality: "This is a street bike test. Remember, tens of thousands of people around the world are going to plunk down their hard-earned money on one of these machines, and in many cases, it'll be their only bike that they have to live with for years to come, through various conditions such as sport touring, commuting and canyon riding. And less than three percent of the machines will ever see a racetrack. You will evaluate these bikes with that in mind!" That said, we headed to Palomar Mountain, and the testing began...

The testing Begins: Kawasaki ZX-6R

Shawn Higbee gets down to business on the Kawasaki at Willow Springs: "To keep up with Graves when he was cruising on the Suzuki," Higbee tells us, "I had to ride the wheels off the Kawasaki, power-sliding it out of turns."
A pressurized air box fed by two large "ram-air" scoops helps the ZX-6R's already impressive top-end power.
Chuck "I'm going to smoke all you clowns" Graves on his way to an incredible 10.79 second run at 126.78 mph. We only made 11 passes before the clutch fried -- Chuck felt the little ZX could've done better.
When these four sportbikes of the apocalypse began assembling for our shootout, early predictions rated Kawasaki's ZX-6R as a likely victor. We had all enjoyed the ZX6 tested last month, so the 6R's shorter wheelbase, fully adjustable suspension and 29 fewer pounds promised to make for an even better ride. So how did the Kawasaki come to find itself relegated to fourth place?

The answer lies in the vague feedback offered by the 6R's front end, a problem that is compounded by the low-profile stock Bridgestone tire that gives poor traction at full lean. The cumulative result is a front end that "pushes" and "tucks" in corners. Having a poor connection with the front destroys confidence, which in turn slows lap times and canyon cornering speeds. How bad is the feedback from the 6R's front forks? "I knew that the front was there," quipped Graves after his first track session on the 6R, "because at the end of the straight you pop up and hit the brakes, and something slows you down." Higbee also found the ZX-6R's front lacking: "Even at a moderate street pace I had trouble keeping the front tire from sliding out under me, which isn't my idea of fun." This lack of front end feel was responsible for five of our seven testers (Graphic Artist Billy Bartels and Guest Commentator John Slezak also participated in this test) picking the 6R last in this comparison.

Handling manners improved after the Metzeler MEZ1 race-compound tires replaced the stock Bridgestones for testing at The Streets of Willow. Now we had more confidence that the tire would stick, but feedback and turn-in manners remained poor. This led Higbee to question the 6R's geometry: "The front end feedback told me that it was turning in too much, a sign that it needs more trail. I also noticed that the triple clamps are narrow, which might explain why the 6R refused to turn properly -- there's not a lot of leverage there."

The nail in Kawasaki's coffin comes from the price tag. At $8299 it's $500 more than the second most-expensive bike, Honda's CBR600F3 -- and a whopping $900 more than Yamaha's YZF600R.


In the 6R's defense it did post the quickest quarter-mile time of 10.79 at a smoking 126.78 mph -- and at 92 bhp its engine swings the biggest stick. It sounds better than its challengers too, with a deep and throaty howl that belies its displacement. Comfort was excellent with a fairing that directs wind past the rider's shoulders and creates a calm pocket of air behind the screen. Seat quality is also very good for a sportbike with a wide, flat platform that allows several hours to pass in comfort.

There is always some poor kid who is the last to get picked for baseball, and that kid is the ZX-6R. It is a great bike with bad front geometry. Unfortunately in this tough crowd that is enough to relegate a bike to last place.
3. Suzuki GSX-R600

Associate Editor Gord Mounce posted his best time at the racetrack on the race-ready GSX-R600.
The Suzuki's radical riding position starts to make sense at the track. On the street? It's painful.

We've been anxiously waiting for Suzuki's new GSX-R600 ever since we all fell in love with the GSX-R750 last year. Would the 600 be the same knockout combination of awesome power and light weight, or would it be a sleeved-down, overweight dud like the last GSX-R600? Speculation and rumors abounded.

Last month, when Pascal Picotte topped the SuperSport field during tire testing at Daytona on a GSX-R600, we knew that Suzuki had done their homework. But after finally getting our greedy mitts on a GSX-R we were initially disappointed. Midrange power was terrible, and excessive driveline lash made street riding a chore, both made worse by excessively lean low- and mid-range carburetion that "lean surges" the bike at cruising speed. Further limiting the fun was a riding position that folded the Suzuki's pilot into a pretzel to fit the uncompromising riding position.

At the dragstrip the Suzuki's wimpy midrange power and vague clutch dropped it to last in the rankings with an 11.31 pass at 123.1 mph. Dyno testing shows the problem -- at 8,000 rpm the Suzuki trails the Honda by a staggering 12 bhp. Even at the top end it fails to top its competition with a peak of 88.7 bhp.

Four-piston calipers and a conventional fork are fitted. The GSX-R750 uses upside-down forks and six-piston brakes, costing about $1300 more.
With its full-on race approach, we thought the GSX-R would rule in the canyons. But a full day spent reducing the world's supply of knee-sliders left us questioning the Suzuki's purpose in life. An F3 is a match for the GSX-R when things turn twisty, but it won't beat you like a rented mule on the ride home. And at $7,799, the Honda is only $100 more than a GSX-R.

So why put up with all of the Suzuki's shortcomings? Because on the seventh day, MO raced (MO is what we call Motorcycle Online). And for once, we all agreed: it is the best track weapon. A faster circuit would have allowed the Suzuki to press home an advantage more than the tight and twisty Streets of Willow. Its light weight (435lbs full of gas), lets it carry the highest cornering velocity and greatest turn-in speed. Graves described the Suzuki as "feeling like the front was directly beneath your shoulders." Higbee was even more kind: "It felt like I was coming near the limits of the Honda but the Suzuki had lots left. Add some new tires, a Yoshimura pipe for more power, have Race Tech do the forks, Fox rear shock and watch out Miguel Duhamel. If you can ride the Suzuki to its limits, you'll win national races."

2. Honda CBR600F3


Editor-in-Chief Plummer (on the CBR600) queries Managing Editor Fortune: "Where's the first turn, and what's the lap record?"
Plush, well-damped suspension and sticky stock tires make Honda's F3 an excellent all-around street bike.
What can we say about Honda's CBR600F3 that hasn't already been said? With its unbeatable combination of great speed, comfort and reliability, the F3 has ruled the 600 class for years. Honda is smart enough not to mess with the defending AMA 600 Supersport champion, and therefore their strategy for improving the F3 has always been one of refinement, rather than redesign.

Honda has continued this trend in 1997, as a host of minor changes have brought the F3 to an even higher level. Power is up slightly over last year with a peak output of 90 bhp at 11,500 rpm. But what makes the Honda's engine special isn't its impressive peak horsepower, but the way it pulls strongly from idle to redline with no dips or flat-spots. That linear powerband helped the F3 post the second-quickest drags trip time of 11.00 at 124.61 mph.

In the canyons the F3's wide spread of power made fast cornering easier than on the Suzuki because the F3 pilot doesn't need to do a gearbox tap-dance to stay in the powerband. Even more important was that the F3 could get to and from the canyons without hurting its rider. "There's no reason for the GSX-R on the street because I can go just as fast on the F3 in comfort," Higbee remarked after a day in the canyons.

Changes for 1997 include a redesigned tail section that still pops loose.
Honda's F3 posted the second-fastest lap time during our tire-shredding stint at The Streets of Willow, trailing the GSX-R by just eleven hundreths of a second. While it was almost quickest that day, Honda's F3 did scrape more than its competition: "Just when I was getting serious about going fast on the racetrack the footpegs and exhaust canister started scuffing the asphalt," said Higbee. However, both Higbee and Graves agreed that the F3 was the easiest to hop on and ride quickly. "It is the most user-friendly bike and most forgiving when pushing it to its limits," Higbee said. Graves described the Honda as "rider-friendly and easy to slide and feel comfortable on."

Honda came into this shootout as the reigning class champion. With subtle updates for 1997, the F3 looked like it might spend another year at the top. But Yamaha had other ideas...

1. Yamaha YZF600R

Chuck Graves lookin' good on the YZF.
Editor-in-Chief Plummer went fastest at the racetrack on the YZF: "The YZF's excellent binders allow you to one-finger the front brakes and the torquey motor produces killer drives off corners."
Surprised? We were downright shocked. Yamaha's YZF600R came quietly into this shootout with no one predicting it would win. At $7,399, we knew the price was right -- but we doubted the bike's ability to match the competition. Billy Bartels was first to heap praise on the YZF, as he lauded its comfort after a ninety-mile ride from Yamaha's headquarters. Soon others began to take a shine to the bike. We all raved about the awesome front brakes and superior bottom end on the YZF.

In the canyons Yamaha's YZF was a capable, if not extraordinary performer. Front suspension rates were on the soft side and the stock Bridgestone tires behaved poorly at steeper lean angles (they're the exact same ones that Kawasaki uses on the 6R). Also, at 482lbs full of gas the Yamaha is the class porker. That's almost 50lbs more than the Suzuki, and was responsible for its slightly slower mid-corner speeds. To its credit the YZF's torquey motor pulled strongly on corner exits, allowing a good rush to the next corner. Originally, we felt the engine lacked a real top-end punch, but at 88.5 bhp, it was only 0.2 off our Suzuki. The bike pulls so cleanly and strong from down low, it just feels slower -- the top end hit, in relative terms, is less of a percent gain.

Dragstrip testing wasn't the YZF's forte either as its weight and grabby clutch left it struggling to keep up. Graves eventually clicked off an 11.21 pass at 123.02 mph, over four-tenths and three miles an hour slower than the Kawasaki. Not exactly the stuff that champions are made of. The Yamaha was, however, the only bike that didn't fry it's clutch at the drag strip. (Many thanks to Barnett for providing clutches for the other three on one hour's notice.)

The stock Nissin calipers, pads and rotors on the YZF are the best OEM four-piston brakes we've ever tested.
Racetrack testing threatened to drop the YZF to the bottom of everyone's list, but here the Yamaha surprised us. Despite its weight, soft suspension and lack of top-end, the YZF proved to be a competent track weapon. Editor-in-Chief Brent Plummer actually turned his best time of the day on the Yamaha. Although it isn't as precise as a GSX-R, all of our testers posted good times on the YZF.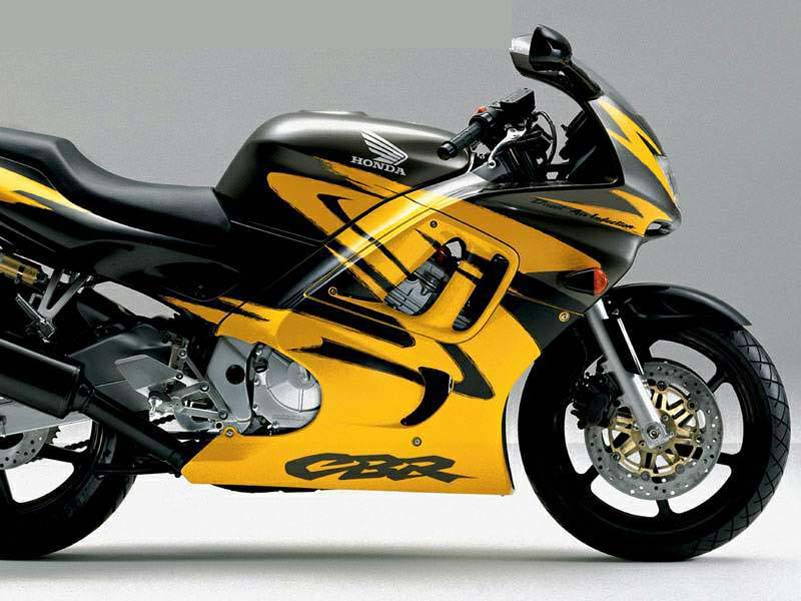 Supersport shootout
Highly anticipated and hard fought, it is an annual event with weighty social, political and economic implications. Sort of like Chelsea Clinton's coming-out party with knee pucks and Z-rated rubber. Inked with the same blood-red Sharpie(R) we use to mark Pamplona's running of the bulls, Indy's 500 and Eddie Lawson's birthday, it is Motorcyclist's annual 600cc supersport skirmish. And it is time.
Unlike the near-three-mile-per-minute proclivities of Honda's CBR1100XX or the focused, hormonal purity of Ducati's 916, the archetypical 600 sporty bike shines brightest not from any single facet. Instead, following the wonderfully (if you're Honda) frustrating (if you're not) tire tracks of the CBR600 series, the conventional middleweight paradigm aims at that elusive point where the marketeer's price and performance curves cross. That's why the reigning 600cc champion, Honda's F3, spreads its broadband brilliance over most any sort of riding the Great Unwashed Sporting Hordes can think up. It is the proverbial jack-of-all-trades, and master of some. >
Thus, traditionally, middleweight warfare is a game of inches--millimeters even. But watching Honda kick the can a bit farther than everybody else every year was becoming an exercise in predictability--predictably monotonous.
Then, Suzuki shrunk its 750cc GSX-R track-scalpel to 600cc scale and blew the game wide open. It is the first real deal--a no-apologies, no-regrets, take-no-prisoners 600cc racer replica. The 1997 GSX-R600, odds-on wild card in this year's deck, provokes a new question: Does unadulterated sporting brilliance beat all-around aptitude? Is the latest F3 strong enough to keep Honda's middleweight CBR dynasty alive? Can the revamped YZF600R hold its own? Will Sister Ruby overcome brucellosis and a bad NyQuil habit to rejoin the roller derby? Oops, wrong story. What about Kawasaki's highly rapid ZX-6R, then? Keep your shoes and socks on, boys and girls. The answers are just around the corner.
The path to conclusive answers starts with knowing where to look. On the advice of Feature Editor Burns's parole officer, we began with a Track Flog at Willow Springs International Raceway. Otherwise, exploring all four corners of a current 600-classer's performance envelope can land you in solitary confinement or intensive care in an L.A.P.D. minute. From there, we hammered the middleweight Class of '97 over the surface streets, interstates, back alleys and Taco Bell drive-thrus of Los Angeles, which led to perfect Sunday morning rides straightening out serpentine blacktop. But first, take a few seconds to get your mind straight.
Look closely. Move beyond the obvious similarities in engine size and mission statements. After a few days and miles, each combatant will assert its own distinct character. As the once and future king of seamless, digital refinement, Honda's latest F3 feels small, tight, narrow, agile and ergonomically correct. At 459 pounds soaking wet, it is seven pounds heavier than Kawasaki's more compact ZX-6R. The Ninja's rider and passenger accommodations are less capacious than the Honda's as well, making the Kawasaki a more comfortable ride for the sub-six-foot set. Adjustable brake and clutch levers are exclusive to the Ninja, as is the idiot-resistant neutral finder.
On to the Suzuki. Everything from the steep, rakish windscreen and low clip-ons to the high-mount aluminum footpegs and slippery tail section, peg the 440-pound GSX-R as a narrow-focus, no-apologies sporting weapon. Planted on its wide, flat seat, you're further from the pavement than on any of the others. The Suzuki is a track spike among training shoes. Neither short of leg nor faint of heart need apply.
Next door, the 485-pound YZF-R is a roomier, more comfortable, everyday fit for most riders--especially tall ones. Along with the extra mass and room comes more faring protection and real space for two. Call it the GT of the bunch.
Now start the engines. Blip the throttles. The practiced ear can tell one 600 from another with no help from the practiced eye. The CBR's familiar, veiled gear whine dominates its aural signature. Then there's the throaty, ram-air bark of the otherwise eerily quiet Ninja engine. The GSX-R is a cold-blooded warrior, only settling into a loping, cammy, metallic-raspy idle after it warms up a bit. In contrast, the calm precise-idling YZF four recalls nothing more than a 16-valve Rolex.
Once clear of the driveway, all our contestants happily suffer the necessary indignities of urban commuter duty with the sort of athletic moves you'd expect. Still, some suffer more happily than others. Blessed with the lightest steering, bump-erasing suspension, roomiest rider accommodations and marvelously accessible midrange horses, the YZF wins the war between 8:00 a.m. Monday and 6:00 p.m. Friday. The Yamaha's only glitch (and a minor one) is a fragile-feeling clutch with a narrow, sometimes grabby, engagement band.
A much-improved transmission cleans up the '97 CBR's urban report card. The Honda's carburetion and driveability are dead-on perfect. Still, this year's more sporting HMAS suspension is a bit less compliant over the post-apocalyptic moonscape of L.A. city "streets." Even less-compliant suspension bits conspire with an exasperating off-idle lean stumble to drop the quicker-steering ZX-6R behind the F3 in urban warfare. In traffic, the GSX-R is a Navy Seal at High Tea: uncomfortable.
Despite more humane ergos than its '92-spec predecessor, the GSX-R's warlike riding posture overloads tired wrists around town, enforcing a tuck that, for anybody over 5 foot 9 inches, is too near fetal for comfort. Factor in a nasty 4200-rpm lean spot, a lashy driveline and you have a bike that's (much) happier beyond the stop lights and city limits. No surprise there.
Once traffic lights give way to the appropriate on-ramp, the YZF wins again. Plying rain-grooved freeway at a silky-smooth 75 mph, scanning crystal-clear mirrors for Officer Speed, the Yamaha's artfully sculpted one-piece saddle and sport-touring-size fairing let you drain well over 200 miles from every 4.9-gallon tankful. No other 600 comes with a longer leash. With those comfy suspension bits along for the ride, the YZF is the 600cc solution for interstate twisty-road exploration.
Second place in the interstate battle is a tie you can settle for yourself. Choose less wind protection and more vibration on the CBR, or the less roomy, slightly better-protected cockpit of Kawasaki's smoother, more powerful ZX-6R. At or around legal freeway speeds, a handful of Kawasaki throttle delivers the most convincing forward thrust of the foursome. Most sub-six-footers will go with the smooth and fast Kawi every time.
Despite the least wind protection of the foursome and relatively cruel ergos, the Suzuki's reasonably smooth engine and humane seat make it a survivable freeway ride for the sub-six-foot set. Relatively unforgiving suspension and precious little wind protection make it our port of last resort for high-mileage, straight-line missions. Again, no surprise.
But if touring is your central joy in life, try the Gold Wing aisle. All those "practical," comfortable, commuter considerations serve only to begrease, beguile and otherwise mollify the significant-other/live-in loan officer. It takes horsepower to open the doors of your dirty little weekend kingdom. Lots of it. But more, as Pamela Anderson Lee's plastic surgeon has proven, is not necessarily better.
Judged on dyno curves alone, the GSX-R and ZX-6R rise to the top with identical outputs of 96 rear-wheel horses apiece. The Suzuki's arrive at 12,000 rpm; the Kawasaki's 250 revs earlier. Differences end there. The GSX-R's steeper trace concentrates the real muscle above the 9000-rpm point, whereas the torquier Kawasaki delivers potent thrust from 7500 rpm, followed by another surge of Green Meanness at 10,000.
Source Motorcyclist 1997