| | |
| --- | --- |
| Make Model | Honda CBR 1000F |
| Year | 1989 |
| Engine | Four stroke, transverse four cylinder, DOHC, 4 valve per cylinder. |
| Capacity | 998 cc / 60.9 cu-in |
| Bore x Stroke | 77 x 53.6 mm |
| Cooling System | Liquid cooled, |
| Compression Ratio | 10.5:1 |
| Induction | 4x 38mm Keihin carbs. |
| Ignition | CDI |
| Starting | Electric |
| Max Power | 132 hp / 96.2 kW @ 9500 rpm |
| Max Torque | 104 Nm / 76.7 lb-ft @ 8500 rpm |
| Clutch | Wet, multiple discs, cable operated |
| Transmission | 6 Speed |
| Final Drive | Chain |
| Frame | Steel, Single cradle frame |
| Front Suspension | Telescopic air assisted and ant-dive. |
| Rear Suspension | Pro-link monoshock. 6-way preload. 3-way rebound damping adjust |
| Front Brakes | 2x 296mm discs 2 piston calipers |
| Rear Brakes | Single 276mm disc 2 piston caliper |
| Front Tyre | 120/70-17 |
| Rear Tyre | 170/60-17 |
| Rake | 28° |
| Trail | 110 mm / 4.3 in |
| Wheelbase | 1512 mm / 59.6 in |
| Seat Height | 780 mm / 30.7 in |
| Dry Weight | 232 kg / 511.5 lbs |
| Fuel Capacity | 21 Litres / 5.5 gal |
| Consumption average | 15.6 km/lit |
| Braking 60 - 0 / 100 - 0 | 13.0 m / 35.6 m |
| Standing Ό Mile | 10.7 sec / 206 km/h |
| Top Speed | 264.2 km/h |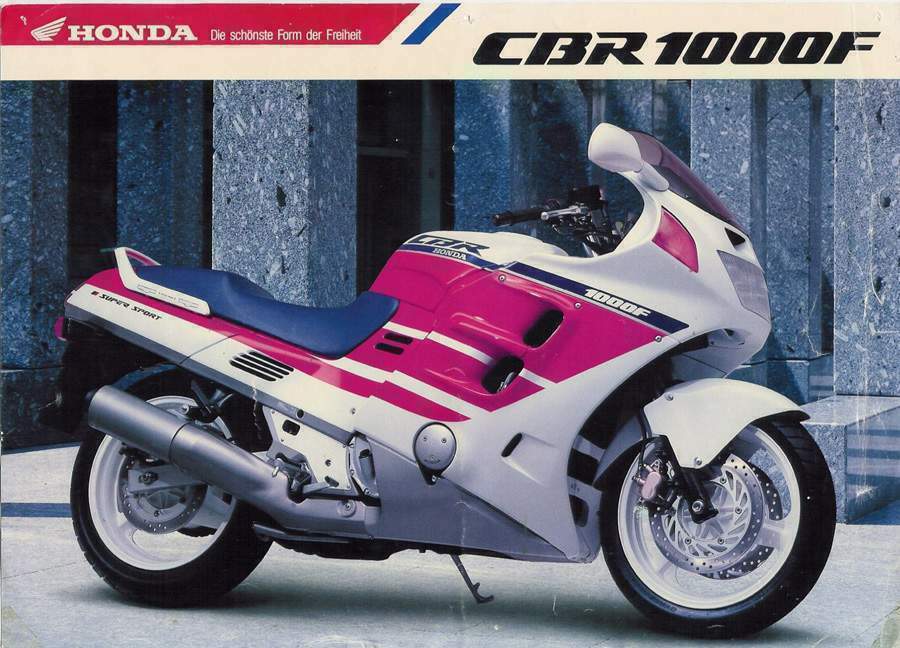 The first time you ride this bike the experience is so pure it is almost religious. Fast roads just get eaten. So relaxed is the riding position, and so limitless the engine, that 115mph cruising feels like nothing. The torque and power are everywhere — smooth and devastating. You can feel the rear tyre spinning desperately for grip in the first few gears as the needle heads for the redline but the stability is guaranteed. Five seconds later you can be stooging through a village at 2,000rpm in top — quiet, relaxed and offending nobody.
At the appearance of the ZX-10 last year, Honda were marketing the CBR1000F as a big brother to the CBR600. Unfortunately, big brother had outgrown junior's clothing and the excellent engine was not matched with a perfect body: not enough wind protection for a 120bhp motorcycle, not enough feedback from the tyres of same, not enough luggage carrying capacity and a monster bill when 4891b of aerodynamic sculpture fell over outside the chip shop in Yaxley High Street. Fortunately for us and themselves, Honda have taken notes on Joe Public's grievances and given the bike a major workout in all areas.
The most obvious change is the long, angular fairing with its two ducts below the bottom of the screen. Honda say these ducts 'direct air flow up inside the windscreen to help lift air passing over the screen upwards and over the rider's upper torso'. Boy, does it work. Such was the deflection of air over my five foot ten carcass that any rain collecting on my visor stayed there. The top speed runs, with a difference of just 3mph in 160 between flat out (175 on the clock, incidentally) and sat upright, are the proof.
The fairing contains other goodies besides — two 60/55W halogen bulbs inside a flush mounted headlight. They're exceptional on main beam — as good as a car and enough for a safe 80mph on unlit country lanes — but requiring homework on dip. Along the fairing side is a raised strip of colour matched fibreglass (not ABS) which, upon removal, shows a metal support bolted to the frame. Yes, a factory fitted crash bar designed to absorb impact when the bike falls over. It was originally named 'Bamper Damper' at the Cologne show, but such were the sniggers that the term has now disappeared from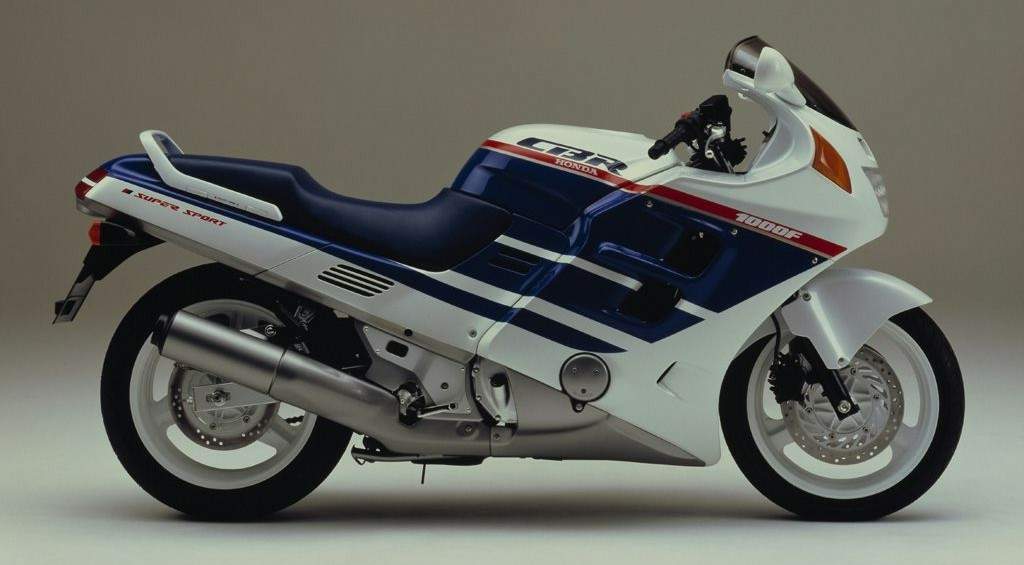 At more than 500 pounds dry the CBR is a bit much to fling about, but you can still go fairly loopy should the fancy take you. Pillions won't be amused unless they're mad.
sales speak. Throw in cheapo dummy crankcase covers and exhaust shields and the cost of dropping the bike may be less than some people's insurance excess. (Ed's note: grateful thanks to T. Franklin and M. Forsyth, both of whom performed practical demonstrations of this on the CBR whilst attempting U-turns. The accumulated damage of two right side flop-overs, for a 5071b bike, was £16.56 plus a scratch on a silencer).
The seat is what I've been waiting for all my life: no aches or numbness for as long as the petrol lasts. With the superb fairing you could ride this bike fast all day. Passengers will share the comfort, at least up to 80mph. The pegs are in such a position that you can take all the braking force in your legs; you hardly slide forward at all. The only gripe is that the pillion perches several inches above the rider, receiving severe buffeting at ton-plus speeds. Getting a Japanese girlfriend would cut the nag factor. If this is not possible, go solo.
The extended grab rail now contains two superb bungee hooks each side that swivel away when not in use, and while this doesn't make the CBR a tourer, Honda's optional 45 litre panniers (£299) do. Not bad value for a made to measure system methinks.
Where the exhaust is concerned it's goodbye black chrome, hello aluminium finish, except for the steel balance pipe which collects all the crud the road can fling at it. Clean regularly and warranty claims will remain a pleasantly remote notion. The rest of the cosmetic finish is unfaultable; the warning lights are in a row above the clock so that only the barest flicker of an eye is needed to check them. The fuel tap is accessible and easy to negotiate onto reserve. Sidepanel removal is a doddle with quick release screws that even normal people will find difficult to round off, but herein lies a problem. With all-enclosing bodywork and fair-ed-in exhausts, will anybody be bothered to remove it all and clean up underneath when it rains every 48 hours? I wasn't.
The choke is perfect — unlike the ZX-10's hit-and-miss, instant 5,000rpm affair you simply slide the lever down, fuel on, ignition on, press et voila — l,600-l,800rpm and a neighbour-friendly exhaust note.
At really low speeds the CBR is clumsy and threatens to overbalance. There's a slight, almost imperceptible wag of the bars round town and the front wheel will flop in on mini roundabouts if the throttle's shut. It's a big bike, and you'd expect to have to suffer for that in the wet.
But it's such fun. If you want, you can wheelspin the whole way up to 80 or 90 and it just doesn't snake or move about. Those huge tyres are a bit more prone than most to following ridges or being thrown by adverse cambers on soaking tarmac but they shift the water. You can brake, accelerate and lean harder than you might expect as long as you keep it smooth. Get it right and it's like riding on a tidal wave, mile after mile.
The fairing doesn't offer much more than minimal rain protection — feet, knees and tops of the thighs catch most of it but at least the tank/seat area stays fairly dry. The wind turned out to be far nastier than the rain. If it's coming at you at right angles then sudden gusts really try to whip the front wheel in.
In the dry the steel chassis lets you ride right up to the ultimate madness of jumping the whole thing over bumps, at respectable angles of lean, and that's not easy to do. Under full thrust the front wheel sometimes pops up a few inches but there's never any drama.
Steering is very neutral, going on slight understeer at really high speed, when it doesn't quite go where you want it to. But really it's pretty damn good. Yes, the frame can handle 120bhp.
The 'Super Sport' logo is defined in the brochure as the ability to scratch but in fact the revised position of the front pegs is such that contact with tarmac is extremely difficult. Ground clearance just is not a problem on this bike. Even mounting kerbs fails to sound out the scrape of ABS.
The Bridgestone radials, wider and lower for '89, grip hard wet or dry and keep perfect stability during loony cornering and flat out runs. The rear will eventually let go; exit a bend at 8,000rpm, twist the throttle and you'll get slight wheelspin what might be termed a quarter freddie. Even then, the CBR is so stable it's not always apparent what is happening until a close look at the edge of the tread reveals small, circumferential lacerations all the way round the tyre. Wow. None of the PB staff had ever seen these curious markings before.
The wheels accommodating these tyres are huge: 3'/2 inch front and 5 Vi inch rear. They're now hollow spoke jobbies, finished off with several layers of paint. No casting dimples show therefore, and it's easy to clean them up.
The Pro-Link suspension functions as nature intended. The only adjustment I made was to give the preload an extra turn on the remote adjuster unit. With damping on standard this was a perfect compromise between single and dual purposes. Full touring regalia will necessitate further turns; not that difficult as both adjusters are easily accessible through inconspicuous holes in the bodywork. The forks are pretty well perfect. They haven't got anti-dive, and they don't need it.
Fuel gauge inaccuracy is inherited from the '88 model; the needle swings past the red zone 20 miles before the big switch — no big deal considering 157 miles was the furthest before the turning of the tap.
Having owned several large multis (GSIOOO, CBX-6, GSX 750, GPz750 and currently a 900R) and ridden most of the latest test bikes, I have to say the Honda is a revelation. It is my personal view that CBR1000 sales will rise inexorably unless (a) Honda salesmen fail in their duties en masse or (b) thorough demonstration rides become extinct. It's my machine of the year.
Source Trevor Franklin