Honda CB 750 KZ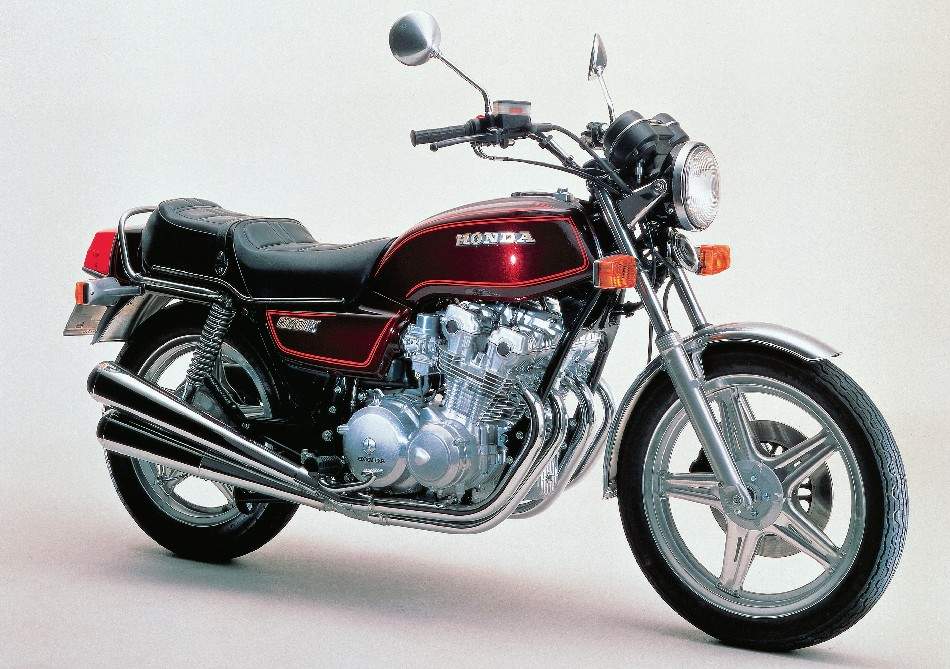 Make Model

Honda CB 750 K

Z

Year

1978 - 79

Engine

Four stroke, transverse four cylinder, DOHC

, 4 valve per cylinder

Capacity

748 cc / 45.6 cub in.

Bore x Stroke

62 х 62 mm

Compression Ratio

9.2:1
Cooling System
Air cooled

Induction

4 x 30 mm Keihin carb

Ignition

Electronic

Starting

Electric

Max Power

57 kW / 77 hp @ 9000 rpm

Max Torque

65 Nm / 6.6 kgf-m / 48 ft-lb @ 7000 rpm

Transmission

6 Speed

Final Drive

Chain

Front Suspension

Telescopic forks

Front Wheel Travel

160 mm / 6.3 in.

Rear Suspension

Dual shocks, swinging arm

Rear Wheel Travel

101.5 mm / 4.0 in.

Front Brakes

Single 275 mm disc

Rear Brakes

180 mm drum

Front Tyre

3.25-19

Rear Tyre

4.00-18

Seat Height

798 mm / 31.4 in.

Dry Weight

236 kg / 520 lbs

Wet Weight

255 kg / 562 lbs

Fuel Capacity

20 L / 5.3 US gal

Reserve

4.9 L / 1.3 US gal

Fuel Consumption

6.0 L/100km / 16.6 km/l / 39 US mpg

Oil Capacity

4.4 L / 4.7 US quarts

Standing ¼ Mile

12.4 sec

Top Speed

200 km/h / 125 mph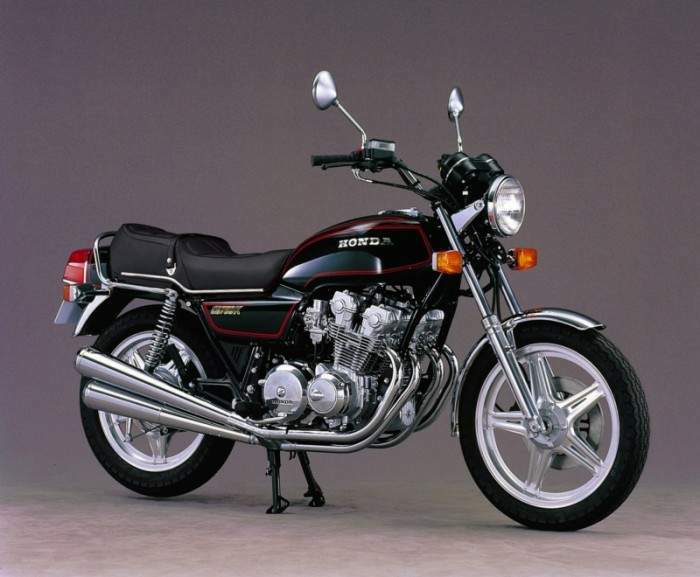 After the F2 launch, Honda decided there was scope for further development of the 750 in touring form. The result was the K7, first seen in 1977, in which the original layout of four separate exhaust pipes and silencers was retained, smartened a little with restyled muffling.
The tank was unchanged, but appeared to be different because of new paintwork and lining: in fact the only positive change was to the positioning of the ignition switch and choke controls, now in front of the steering head, and to the array of 'idiot' lights, in K7 form arranged between the speedometer and rev-counter instead of being in a horizontal bank below them.
One or two other subtle alterations, such as re-siting of the front direction-indicators and removal of the fork shrouds, helped convince potential customers of Honda's ongoing research and development and gave a useful fillip to 750 sales.
The CB750K'78 Four K was sold in 1978 and was available in one of two colors: Candy Alpha Red or Excel Black. The gas tank stripe was gold with a gold and red pinstripe. The "750 FOUR" side cover emblem was a graphic design. There was a "K" side cover decal and stripe. The seat is contoured in a two-stage design. There was a two-throttle cable system (pull open and pull closed). The exhaust system was a 4-into-4. The engine was a 736cc SOHC 2-valve dry sump inline 4 cylinder linked to a 5-speed transmission and chain drive. The serial number began CB750-2800001.
The CB750K'79 Four K was sold in 1979 and was available in one of three colors: Candy Muse Red, Candy Bayard Brown, or Black. The taillight lens was a wraparound unit with a painted cowling. The exhaust system was a 4-into-4. The speedometer had a 150 mph (240 kph) limit. The engine was a 749cc DOHC 4-valve inline four cylinder linked to a 5-speed transmission. The serial number began RC01-2000001.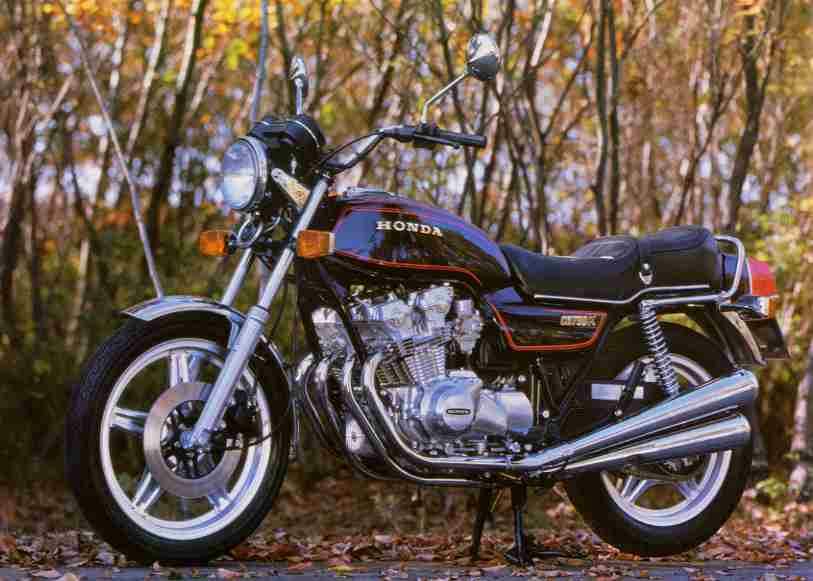 Road Test
Honda's 1980 CB750K is a blend of the old and the new, the ordinary and the exotic. It has a relatively orthodox chassis and a truly sophisticated engine, making it practical to own and just plain fun to ride.
It's company, especially Honda, holding tradition and progress in balance. If you think casually about the last decade or so in motorcycling, you might have a different impression. It might be easy to believe that Honda has thrust itself forward with a creative energy that leaves a sparkling trail of innovations at every milepost. year after year. But a harder and more systematic examination of history would suggest that Honda has been willing to build on the past as well as ignore it.
Tradition dictates that Honda would produce a 750cc road bike with wire wheels, a drum brake, four exhaust pipes and steel fenders. Progress would point toward dual overhead cams, four valves per cylinder, triple-disc brakes and a drive shaft. Since the introduction of Honda's first 750 in 1969, each of these "progressive" features has been added lo one model or another.
Not all of these items have appeared on the 1980 CB750K, for this motorcycle is a blend of Honda's old and new production successes. Competition for the 750cc-and-up consumer dollar is fierce because few manufacturers are ignoring these over-750cc road burners which have the greatest dazzle and highest profit margins in motorcycling.
To meet the sensibilities of those riders who don't want trick wheels, or the cafe- or low-rider look—and don't want the opportunity to pay for such parts and appearances-Honda offers the relatively modest four-pipe K-model. It shares more than a passing resemblance to the 1979 and 1980 750Fs. Providing the only flash-image on the otherwise conservative 750K are four mufflers and a swoopy F-siyie tank/side panel set Few differences distinguish the 1980 from its 79 counterpart. Instead of employing plain bushings at the swing-arm pivot, Honda has pressed needle bearings Into service. Other changes are as slight, the most visible being a switch from the twin-bulb CX-style tail lamp assembly to a more traditional Honda unit.
Federal law requires that all US-bound 1980 vehicles (CBX included) have speedometers reading a maximum of 80 mph with one increment (in the 750K's case: five mph) allowable beyond 80. Perhaps this federal requirement has given Honda engineers the opportunity to calibrate the speedometer more accurately; it reads 60 20 mph at an actual 60.00. and 30.16 mph for 30.00. The 1980 K's speedometer is the most accurate we've seen.
Cradling the aluminum engine cases is a dual-downtube mild-steel frame, reinforced with gussets at the vital steering head and swing-arm areas. Both swing-arm needle bearings can be lubed through one grease fitting located on the bottom of the swing arm. A center-axle fork offering 6.3 inches of travel controls front wheel movement, and shocks with five preload settings handle 4.4 inches of rear-wheel motion. Four mounting bolts secure the engine in the chassis and all attach to the crankcase. There's enough room between the engine and the frame backbones to permit the removal of the cam cover; this facilitates changing valve shims The head also can be taken off when the engine bolts are removed and the engine settles into the frame cradle. If the whole engine needs to be taken out, a removable lower frame member makes the job easier.
Engine vibration is never aggravating, and although a few isolated buzzes are present, they are practically unnoticeable. Little engine vibration finds its way to your hands, feet or seat. The 6.5-inch-rise steel handlebar is mounted solidly—without rubber cushions—and its handgrips are extremely comfortable. The rider's foot-pegs are rubber-mounted and covered with thick rubber, but the passenger's are solidly mounted and more spartan, so some vibration finds its way to your passenger's feet Your own derriere's comfort is attended to by a deep, soft foam filled saddle.
The low (31.4-inch) seat is slightly stepped—too much for Cycle's testers—and its "back" limits the area the rider can occupy comfortably. Since the seat slopes downward (back to front), you constantly slide toward the tank. During short around-town hops this is no great problem, but on extended trips the slide-down gets annoying. In most cases passengers, though they would cling to a rear grab rail if not the rider, found the added back seat height unsettling. We liked the K-bike's comfortable seat; we just think it should be flatter.
Four 30mm constant-vacuum Keihin carburetors provide mixture for the 16-vafve engine after drawing air through a replaceable paper titter, quiet-air intake and mixing it with gasoline from the 5.3-gallon steel fuel tank. A single accelerator pump, as on the 750F. helps feed the EPA-lean carbs during those difficult transitional throttle periods. The pump allows the overall mixture to be lean for lower pollution emissions and good fuel economy. Our 559-pound K-model returned an average fuel consumption figure of 39.0 miles per US gallon, enough to take us 156 miles before its 1.3-gallon reserve was needed, and 51 more until the tank was bone-dry.
Each carburetor is rubber-mounted, feeding its own intake port, which in turn branches into two separate valve ports for each cylinder Two single-row Hy-Vo-type chains control the cams: One. a long vertical loop, runs from the crankshaft to the exhaust cam; the second and shorter loop turns the intake cam by connecting directly with the exhaust cam. By shortening the effective length of the vertical chain, the Honda design results in more accurate cam timing and greater chain stretch-resistance. Due to the four-valve cylinder head design, the 12mm x M-inch reach spark plugs are located centrally-concentric with each combustion chamber. Removing and installing them with the gas tank in place is fairly easy.
Both camshafts turn inside journals machined in the cylinder head material. This is fine - so long as the head does not become scored by oil-circulated grit or heat buildup resulting from a severe lack of the suggested 4.7 quarts of oil. Sixty-two-millimeter three-ring pistons attach to plain-bearing connecting rods, which in turn bolt to a forged-steel, 62mm-stroke crankshaft using two-bolt rod caps. A 9.0:1 compression ratio enables the K to use any grade of gasoline-unleaded works fine.
The five-main-bearing crank uses a third, larger Hy-Vo-type chain to drive a jackshaft situated behind the crank; its shaft houses a CB500/550-like cush-drive mechanism and spins the Honda's trochoidal oil pump. This cush-drive works like the rubber cush-drive assembly at the rear of many chain-driven bikes; flanges turn against rubber bumpers. which pressure a second set of Hence, rotation is "passed along" through rubber dampers that absorb drive-line jolts.
On the left side of the main cases is a multi-plate wet clutch; its ring gear is turned by way of straight-cut gears. The clutch, of course, spins backwards relative to the crankshaft and wheels. Its action, smooth with a wide engagement span, is basically unaffected by abuse. No kickstarter gears, typically engaged to the clutch hub, are present since a starter motor and 14 AH battery get the engine going reliably. All of the transmission's support bearings are caged needle or ball-types. They receive splash as well as oil pump-fed lubrication before the common engine/transmission oil is picked up and recirculated.
In the Oriental tradition, the final chain drive is on the left, and for the 1980 its roller pitch has been reduced. Exhaust system technology and efficiency has progressed to the point that manufacturers must pursue noise reduction in other areas. One source at American Honda indicated that with proper care the smaller chains will last as long as the larger chains do. An ample plastic guard, by the way. keeps your passenger's feet and cuffs and yours off the chain, while reasonably containing spin-off lubrication. Chain adjustment access is fouled somewhat by the exhaust pipes, but with a little practice the owner can learn to cope with this.
This year's F-model Super Sport boasts a few more brake horsepower than the four-pipe K, primarily because of the F's better-breathing exhaust system. There is no disputing dyno figures, drag strip clocks or seat-of-the-pants impressions— in direct comparison, the K is slightly slower than the F-model in both low- and high-speed circumstances. Our K, on a blistering-hot summer morning, could only manage a 13.01 -second quarter-mile run at 102.50 mph; the 1979 F we tested in February ran a 12.59 at 107.39.
The 750K's exhaust, intake, and engine noise are extremely low; you can prowl through quiet neighborhoods or pass proverbial hospital zones without turning a single head, yet the twin-cam engine genuinely shrieks at its easily attainable 9500 rpm redline. Quietly. Despite having a similar overall makeup to the CB750F, the K maintains its own character, and K/F differences become quite apparent when a straight road goes snaky. The K-model's handling and cornering clearances are remarkably inferior to the F-bike.
The four-piper has noticeably limited ground clearance, restricted by its exhaust pipes and. subsequently, the center and sidestands. But cornering clearance need not be a pivotal consideration for a touring-type motorcycle, and in this case, Honda has elected to sacrifice ground clearance, knowing that the real scratchers will be drawn to the F-model. Ridden at a prudent clip, the 750K won't get you into hot water, and its firm-compound tubeIess 3.50 H 19 Bridge-tone Mag Mopus front and 4.50 H 17 Super Speed rear are every bit as good as its chassis.
The K-model's handlebar-effort requirements are minimal, so it steers lightly at low and high speeds—with no surprises. But as a four-cylinder, the four-piper's center of gravity is relatively high, and at slow speeds it does tend to fall into corners. Once moving faster than 20 or 25 mph the 750 is predictable and it goes where you point it. without "falling." Thanks mostly to its tires, the K never washes out its front end or skids the rear unless, of course, the wheels are levered* up by the undercarriage dragging. The Honda's standard-issue suspension holds it in good stead in comers and on the highway, where it suggests a nice tautness coupled with a pleasing luxury ride. While arcing through high-speed sweepers the 750K, should it traverse bumps, wobbles. These oscillations are low-frequency and apparently non-lethal, yet they serve notice that Honda has not held high-speed cornering performance in the strictest regard when selecting wheels and tire profiles.
Brakes, as expected, can be quickly overworked in full-speed-ahead racer-type situations. Until they're hot. the one single-piston caliper front disc and a single-leading shoe drum rear brake handle the 700-plus pounds of bike and payload with ease. Once heated to the fade-stage, however, the brakes are unimpressive. A few heavy-duty slow-downs from the far side of 55 mph will leave the brakes limp, and if you persist, the ultra-light stainless steel disc rotor will turn brush-color from the heat. Once the front rotor is simmering, its hand lever can be pulled all the way against the twist grip without locking the tire.
The rear brake can always lock its wheel, but to do so, we found it necessary to practically stand on the foot pedal. Even so, oddly enough, the rear brake always provided good feel and control, if not much in the way of G-forces. The front brake required more hand pressure than most dual-disc setups, and when hot it was not acceptably strong. Also, it squeaked slightly when Its rotor or pucks were dusty. The front hub and fork are designed to handle only one rotor and caliper; no "parts-cook" components are available to add a second disc brake. Maintenance on the CB750K is with the infrequent exception of changing camshaft shims (Honda recommends the clearances be checked every 4000 miles), an easy proposition.
The carbs and cam chains are fiddle-free except for an occasional single-screw-each adjustment. Engine oil and the paper cartridge filter can be changed easily, and ignition service happily, is limited to spark plugs. Final drive-chain adjustment remains the only semi-messy chore, and the chain will not seriously complicate removing the rear wheel when tire or brake service becomes necessary. Honda's 750K is an effective package; its road-sports qualities leave something to be desired, but manners matched to energetic riders can be found close to home—in the 750F. As a general around-town cycle, short-hop tooter or long-distance tourer, the K is hard to fault. It's extremely smooth, delivers a good cruising range and high load capacity (462 pounds-thanks in part to the wide 17-inch rear tire), and it is roomy enough tor one or two full-sized people. Its seat, although somewhat awkwardly shaped, is pillowy enough (or the most sensitive Monarch.
As a cost-effective package, the CB750K succeeds. At $2648 it's priced in the same general neighborhood as the Suzuki GS750N and Yamaha XS750F-or the Triumph T140E Bonneville. For S200 less, it is a better choice than Honda's dazzling CB750F—only if you're not going to use the F. When you're more interested in purring through the afternoon sunlight than tearing down a spiraling road, or gliding along the back highways than Saturday-night profiling, the K is more for you. That revolutionary Honda, with no effective competition for a long period of time, could be all things to most people Today's 16-varve CB750K must light for its place in a very competitive market that offers a wide range of models, each with slightly different blend and bias in its "sports-touring" mix. In the 750K.
Honda has brought together an interesting set of past and current trends, created a motorcycle with a studied blend of sports-touring characteristics and wrapped all these considerations into a worthwhile, price-competitive package. The 1980 K-model deserves, and we think it will find, as enduring a place in American motorcycling as the original package did 11 years ago.
Source Cycle 1980