Honda's 750-four was the original superbike; the machine that redefined the limits of motorcycle performance almost overnight. Actually born in the Sixties it was unveiled at the Tokyo Show in October 1968, and released in limited numbers the following year - the CB750 dominated the early Seventies and had a huge influence on the machines that followed it. Until the arrival of the Honda, with its broad bank of aircooled cylinders and four shining mufflers, mass-produced fours simply did not exist.
The CB750 changed all that and went further, combining its basic appeal with a competitive price that included refinements such as a disc front brake and electric starter. It was the Honda's engine that created all the impact. The angled-forward 736cc unit's design used many lessons learnt during Honda's days of racing multi-cylinder machines in the Sixties, although the roadster relied on a single overhead camshaft and two valves per cylinder, in contrast to the racers with their twin cams and four valves per pot.
The CB750's output of 67bhp was mighty impressive at the time, though, as were the smoothness and reliability with which it was delivered. The CB was designed as an all-rounder, with a view to sales in the important American market, but was good for over 120mph despite its high, wide handlebars. Handling, however, was only adequate, with the flex-prone steel frame and harsh suspension later coming in for criticism. But in the excitement of the CB's arrival few riders were put off by that - especially after veteran Dick Mann had proved the four's sporting potential by winning at Daytona in 1970.
Honda sat on their laurels a little, barely updating the 750 even when Kawasaki launched the faster 900cc Z1 four years later. In fact, the CB was detuned slightly over the years to reduce emissions. When Honda finally revamped it in 1976 with the so-called Super Sports CB750F - complete with flat handlebars, bright yellow paint and a four-into-one exhaust — the new bike's top speed was only 115mph.
The single-cam CB750 soldiered on for a full decade, finally being replaced by the 16-valve CB750K-a disastrous bike that combined poor handling with a series of mechanical problems. Bui the memory of that first great superbike remains with the faithful.
Source of review: Roland Brown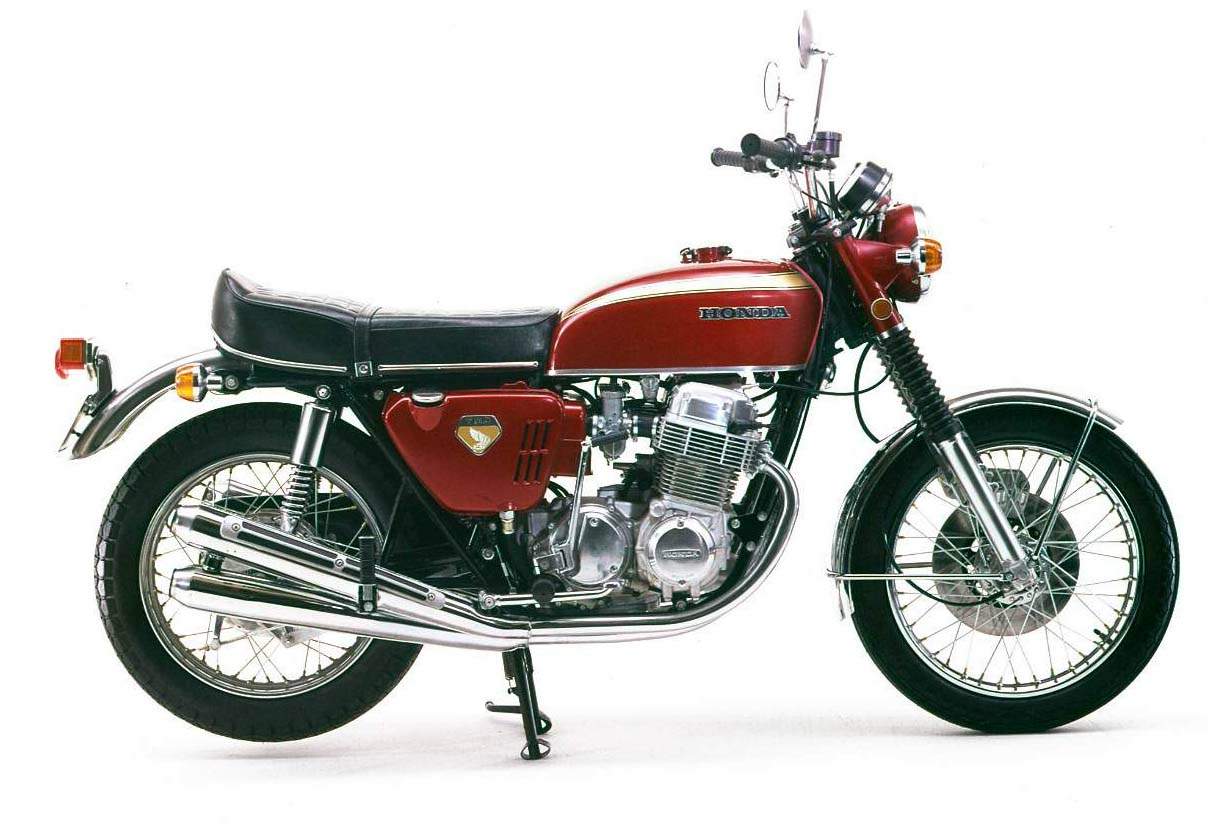 One of the most significant machines in recent motorcycling history, the CB750 Four featured a 4-cylinder engine reminiscent of the Honda RC racers. The 750 Four had a terrific exhaust note resonating from four exhausts and, in a first for a production motorcycle, a top speed of over 200 km/h (~125mph). The incredible 750cc 4-cylinder engine featured a wealth of technology developed from sixties era GP racers.

Features included Honda's first one-piece crankshaft, a dry sump design and a level of reliability never before seen. Like the RC racers, the CB750 was a high-rpm, high-power machine kicking out an un-heard of 67 HP at 8,000rpm. Harnessing this impressive power was an RC-type double-cradle frame and, in another breakthrough, a front disc brake.

Other components, like tires and chains, were also of especially high quality. The CB750 brought a new level of performance and sophistication to the world of motorcycles, making it an instant top seller. Truly, this was a machine that changed the history of motorcycling.

It is so clear as to be beyond argument. Some will say that it is too heavy, or the suspension is too stiff, or it is too quiet, or that four cylinders is too many for a motorcycle. But the total is greater than the sum of its parts. If the Four didn't run faster than 120 mph, if it didn't turn a 100-mph standing quarter-mile. Most people take it for granted that you can't lean a 500-lb. behemoth around turns like you can a good Single or Twin, Fact: it is nearly impossible to ground the 750. which allows as much, or more, banking than the Superhawk. Further, the weight seems to provide little handicap to proper handling. The springing is stiff, so the chassis is traveling in the same direction as ihc rolling gear most of the time. Cornering at speeds from 60 to 100 mph, the Four shows very little tendency to "pogo" or shake its head.

It's easy to fawn over as a modern-day marvel, but it would be more appropriate to say that the motorcycle industry, in its present stage of development, deserves nothing less. What is surprising about the 750 is that development of the complete motorcycle took less than a year. Honda had not even decided the basic engine configuration by summer of 1968. The choice of the four cylinder design and its basic features was based, not upon pure drawing board theory, but upon Honda's experience with other racing and production engines. Even Honda's Grand Prix formula car plays a part in the heritage of the 750. That it would be a Multi was obvious - for greater efficiency. That it would be an inline Four was based on the firm's seven-year experience with four-cylinder racing motorcycles, as well as more recent experience with production car engines.

The 750 follows the classic four-in-line pattern, with the outer crankpins opposed to the inner two by 180 degrees. There is a spacer between the center cranks to allow room for twin single-row chain drive sprockets as well as the drive sprocket for the single overhead camshaft. The five-main-bearing crank is forged in one piece, turned on a lathe, heat treated and then finish ground. Firing order is 1-2-4-3 (cylinders numbered from left to right). Power is taken by chain from the center of the crankshaft to the clutch by way of the mainshaft. Center drive allows the clutch to be positioned inboard, reducing engine width. There is relatively little difference between crank speed and clutch speed, so the clutch size may be reduced, as it does not have to bear the brunt of a severe gear multiplication. This does, however, cause engagement to be rather sudden in relation to the amount of movement the rider makes with the clutch lever. Practice will overcome this one idiosyncrasy of the 750, so that smooth starts will be a matter of course.

Use of chain, rather than gears, for the primary drive has clear advantages. It simplifies crankshaft construction, for one thing. The chain transmits power more efficiently, and presents yet another way to reduce engine weight. While power transfer by chain offers the possibility of snatching. Honda seems to have eliminated it with the use of a spring-loaded rubber tensioner for the twin primary4 drive chains.

Unusual (or unexpected, we should say) is Honda's use of plain bearings in all major engine bearing surfaces including crankshaft mains, connecting rods and camshaft. The public has always associated Honda motorcycles with constant high rpm running, to which the use of rolling bearings is also associated. However, there is much argument in favor of the plain bearing, and Honda's departure from its "usual" practice docs not seem so radical if it is viewed in the light of the company's use of plain bearings in its production car engines-and even in its latest 12-cylindcr air-cooled Formula One car. Compared to a rolling bearing of equivalent load capacity, a plain bearing is lighter in weight, costs less to assemble, and is smaller in size-all important factors in a multi-cylinder engine that must be crammed into a roadable bike chassis. The plain bearing is also quieter. In a Mulli. where a greater number of bearings are required, they contribute greatly to Honda's desired goal of silent engine operation.

As for load capacity the arguments are also in favor of plain bearings. The maximum load capacity of a rolling bearing is at zero rpm. and decreases as rpm increases due to flexing of its components and fatigue.

The rolling bearing is commonly thought to be a friction-free bearing. This is a myth. Rolling bearing components roll, which creates friction, and the balls or rollers also have a tendency to throw oil from their path. When properly lubricated, a plain bearing tends to retain its cushion of oil and the cushion becomes more effective with engine speed, a factor which produces less friction.

Naturally, lubrication must be optimal with plain bearings, so oil in the new Four is pressure-fed at 60 psi (ii never drops below 30 psi even at low engine speed). It is worth noting thai Honda didn't "mix" rolling bearings in with plain bearings; Honda engineers reason that, as long as a high pressure system has been created to lubricate plain bearings somewhere in the engine, it makes sense to unify the system as much as possible. This explains the presence of plain bearings throughout camshaft, connecting rods and crankshaft.

Yet another reason for a unified pressure system is the heat factor. Oil carries away heal, and flow must be optimal in these critical engine areas. For the converse reason, the transmission, which shares engine oil. is on the scavenge side of the system: heat is less critical there. Naturally, rolling bearings arc used for the main transmission components, as they work best under lower pressure conditions. Both the engine and transmission are dry-sump, for minimal oil drag. For the first time, Honda has employed a separate oil reservoir, the main reason being to make the engine package tidier and slimmer.

Another departure for Honda is the CB7S0's "undersquare" bore/stroke ratio (63 by 67 mm. to give a displacement of 736 cc). No other bike in the Honda line has a long-stroke configuration, and. at first glance, there seems to be no advantage to engine efficiency in going undcrsquare. But. the CB750's 8500-rpm redlinc acid power peak isn't all that high (compare this to the 10,500-rpm redline of the CB350). So, evidently, Honda has eschewed being at the top of fashion in favor of narrowing the bore, to ultimately reduce engine width. At 8500 rpm in a production engine, the narrower bore nukes little difference in efficiency or piston speed: in fact, the engine seems capable of being turned at much higher speeds, with appropriate valve irain modifications.

The 750 is in an extremely mild state of tune, with intake/exhaust valve overlap being not much more than that of a good touring car. One of the reasons for this mild tuning is to achieve tractability. Honda was successful in this tack, as the 750 may be pottered around town between 2000 to 3000 rpm. The other reason for mild overlap is to achieve good gasoline mileage, which was one of the three most important criteria set up for the 750 before the engineers went to their drawing boards. In one of our testing sessions, we subjected the 750 to a six-hour "70 percent run." which would correspond to a combination of fast touring and frequent sporting bursts from 65 to 110 mph through the swervcry. We achieved a figure of 29.9 mpg. which was extremely impressive under such agitated throttle conditions. In steady freeway touring, the CB750 rider could expect 25 to 30 percent better mileage, which would net about 150 to 180 miles on a tank of gasoline.

There is nothing unusual about the CB750's valve gear layout, The valves arc operated by rockers, and paired inner/outer valve springs. The tappets are easily accessible for adjustment through rocker box caps, although the fuel lank must be removed to reach them. There is one innovation in that the intake and exhaust valves are offset slightly to minimize the possibility of collision. While it may seem curious that Honda didn't go all-out with a double overhead cam layout, it must be remembered that the benefit from the extra cam would be doubtful for a large-bore touring engine. Honda considers the reduced head size of an SOHC engine to be of greater advantage, as it may fit more compactly into the frame. There is also the consideration of a DOHC engine's greater weight; the CB750 head, being sohc. weighs hardly more tlian the dohc head of the smaller CB450.

The cylinder block is, in effect, split into two halves-two left-side cylinders and two right, with a gap in the middle for the cam drive. The finning is generous and each cylinder is separated from the others by large air passages for optimum cooling. The great flexibility of shaping is made possible by shell mold casting. Honda engineers found that air cooling the Four presented no problems al all. In testing of early production models in high speed runs on the open-limit Nevada roadways, cylinder head temperature was (he same on the inside cylinders as it was on the outside.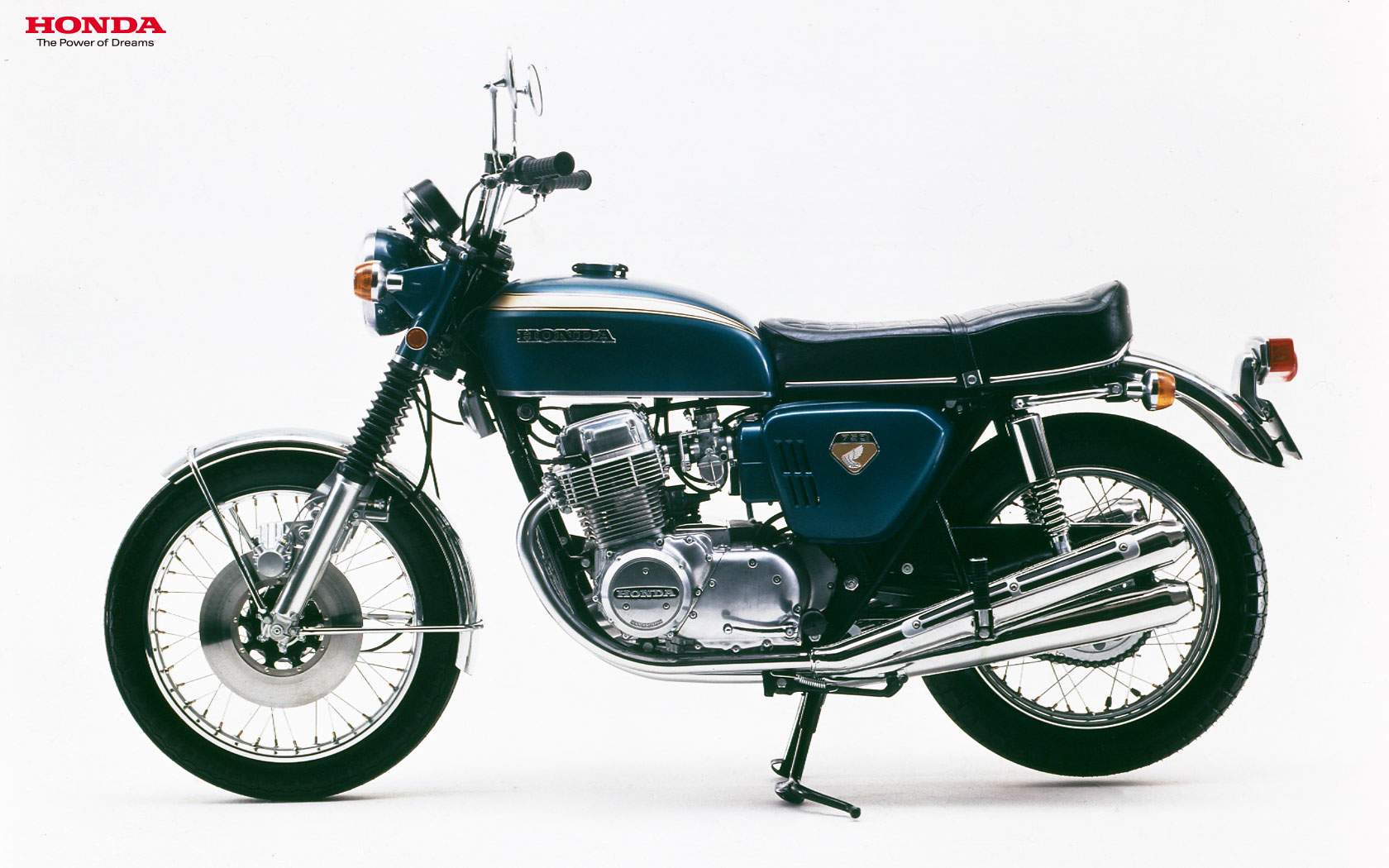 Of most interest in the effective, but mostly conventional chassis/rolling gear assembly is the hydraulically operated singlc-caliper disc front brake. One of its most welcome features is that the disc is cast stainless steel, which does not rust, as do the non-stainless discs on other disc brakes preponderantly available. As the disc is exposed to view, it is nice to know that it will look as nice after a few years use as when it came off the showroom floor. There is a chance of more brake noise due to the use of stainless, which has mediocre sound dampening quality. To counter this. Honda has made the puck, or brake pad. slightly spherical over its gripping surface. The puck is self centering.

Unlike several other double and single disc brakes we have sampled, the Honda unit is not at all touchy. It is reasonably fade-free for a 120-plus-mph machine and possesses enough stopping power to break the front wheel loose at any speed. However, the lever action must be firm to do so and there is a responsive, broad zone of gradation between full-off and full-on a decisive safety factor. This excellent feel and broad gradation may be a by-product of rounding the brake puck friction surface. When the brake is applied mildly, only part of the puck may come into full contact with the disc. Full contact and full stopping force is achieved gradually because the puck must be highly compressed before the entire surface of its face comes into full-pressure contact with the disc.

The CB750 frame is hefty, consisting of a full double cradle and main tube, bolstered by two smaller auxiliary top rails. These rails, joined to the maintube by triangulating struts, extend straight back from the front downtubes to function as the top rails of the rear subframc assembly. The swinging arm assembly is mounted inboard of the cradle. The swinging arms arc two-piece welded stampings, rather than the usual tubing; due to the wall thickness and overall size of the arms, they should do the job properly. Hard power-on cornering gave no evidence of weakness.

As mentioned before, the suspension gives a comfortable, but decidedly firm ride. Evidently the rear spring/damper units (nitrogen-sealed non-serviceable De Carbon shock absorbers) are at the peak of stiffness for a single rider weighing 160 lb.