Honda CB 250RS-Z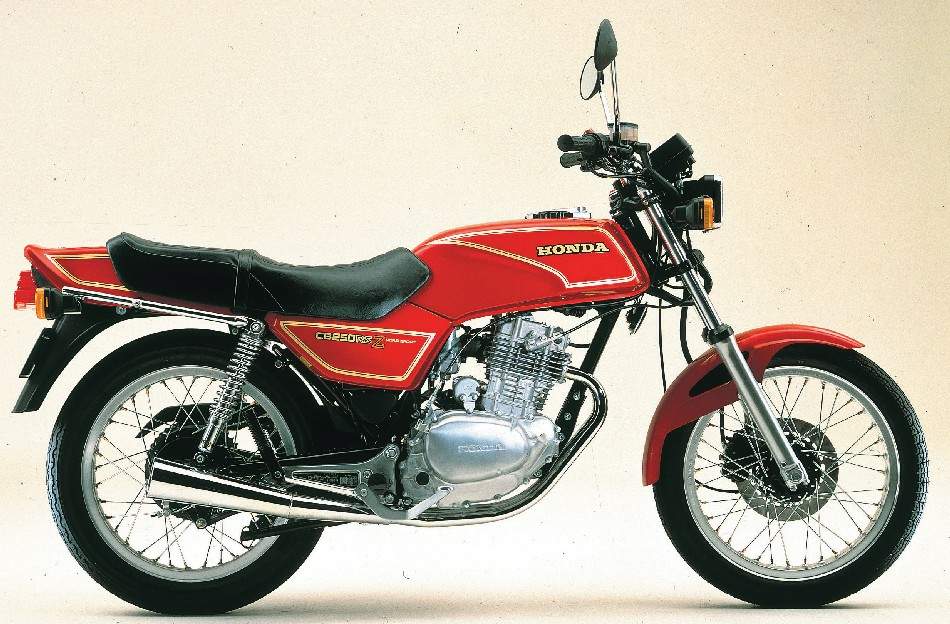 | | |
| --- | --- |
| Make Model | Honda CB 250RS-Z |
| Year | 1982-84 |
| Engine | Air cooled, four stroke, single cylinder, SOHC, 4 valve |
| Capacity | 249 |
| Bore x Stroke | 74 x 57.8 mm |
| Compression Ratio | 9.3:1 |
| Induction | 30mm Keihin |
| Ignition / Starting | / electric |
| Max Power | 11.6 hp @ 8500 rpm |
| Max Torque | 12.6 Nm @ 8000 rpm |
| Transmission / Drive | 5 Speed / chain |
| Front Suspension | Telescopic forks, 120mm wheel travel |
| Rear Suspension | Dual shock with adjustable preload, 90mm wheel travel |
| Front Brakes | Single 250mm disc |
| Rear Brakes | 140 drum |
| Front Tyre | 3.00-18 |
| Rear Tyre | 4.10-19 |
| Dry Weight | 136 kg |
| Fuel Capacity | 14 Litres |
| Consumption average | 25 km/lit |
| Standing ¼ Mile | 16.3 sec |
| Top Speed | 136 km/h |
Every now and then Honda hit it right on the button, producing a bike that is remarkable for its blend of abilities. In the same way that the 400/4 of the '70s was a tasteful, restrained balance of qualities, the CB250RS is the demon the '80s.
light at 2761b, fast at around 90mph (which is more than some of the singles twice the size can realistically manage), the slim and nimble RS became the dispatch rider's delight Even after the 125cc learner laws knocked the stuffing out of 250 sales, the RS continued to sell well
It brakes superbly, returns around 60m pg and seems to respond well to being thrashed to within an inch of its bottom end. Maintenance is usually minimal if there is any at all, but with ignition that never needs touching, an automatic camchain adjuster and valves that keep to themselves you can simply get on and ride it hard.
In keeping with its restrained looks, with an absence of twidly bits, the suspension can only be adjusted for preload on the rear two shocks, but handling is none the less pin-sharp.
Naturally it is not a favourite for intercontinental cruising, although it has been done, but is instead a hot-shot for town riders and roundabout specialists. It's about as close as Honda have got to a four-stroke LC.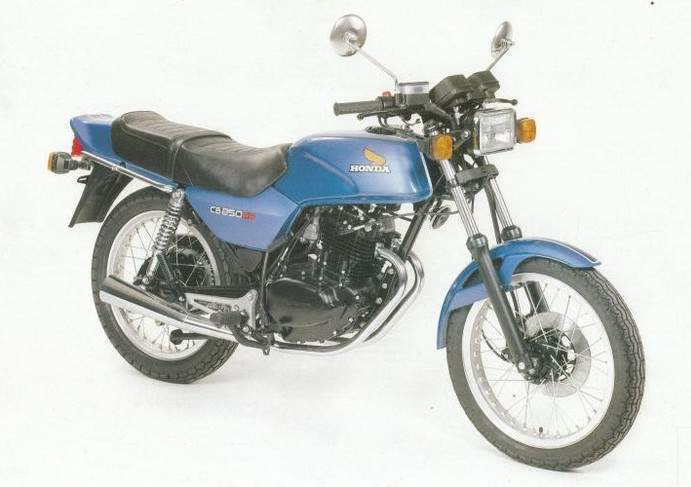 Models and Years
the CB250RSA that came out in 1980 was apparently a new bike, but its pedigree goes back further. The XL250S of the late 70s was itself
based on the earlier XL250, but had CDI ignition, twin exhaust ports, a balance shaft and more power and torque as well as the original four valves and 74mm x 57.8mm bore and stroke.
The CB250RS had all this plus a black paint job, bigger accelerator - pumped carb, bigger valves and ports, higher compression ratio and a claimed 26bhp at 8500rpm.
Everything was restrained, with only black, red or a metallic blue to choose from and very few stripes.
It ran virtually unchanged until the CBX250RS of 1984, which had the twin cams and radial head, although a DX (De Luxe) edition came out in '83 with electric start a lockable seat hump and O-ring chain. The DX cost £150 more than the RS, at around £800 but didn't sell so well -its garish pinstriping also counted against it
The CBX250RS was even more of a flop since you could still buy RSs at the same time for much less money. The RS was, and is, the one to have.
Faults aid Quirks
As you have read, the RS thrives on heartless owners, but don't take it for granted if you are buying one.
The two areas to watch are the oil and the chain. Four-stroke singles tend to be hard on transmissions due to their uneven torque delivery, and Honda haven't really helped. The original chain is only % x Win and the rear hub shock absorber basically doesn't
To make matters worse the front sprocket has only 14 teeth due to rapidly spinning gearboxes so chain wear is a major problem.
It may only be a 250cc, but it will eat a chain every 6-8000 miles even if you look after and use top-quality chains and lube.
You will have to replace chain and both sprockets often and lube them maybe every day. You can get a % x %in conversion, but there is no room for an O-ring version.
Look at the oil level as often as you look at the chain and alt should be well. The engines only hold 1.7 liters of oil and filtering is minimal so change the oil every 1000 miles if you don't want the camshaft and head to become one piece. Use top-quality oil, and top it up if necessary between changes — it will be necessary if you ride them hard, which appears to be the only way they get ridden.
like most Hondas the front brake needs regular maintenance in the winter to avoid seized pistons, and the choke cable also tends to seize
listen for the balancer shaft chain, since if it is slack will make the bike vibrate badly. It is under the right-hand engine cover, but approach with caution since you can damage a lug belonging to the automatic decompressor.
Finally, check for loose spokes, since people tend to forget that they need maintenance like everything else.