Honda CB 1100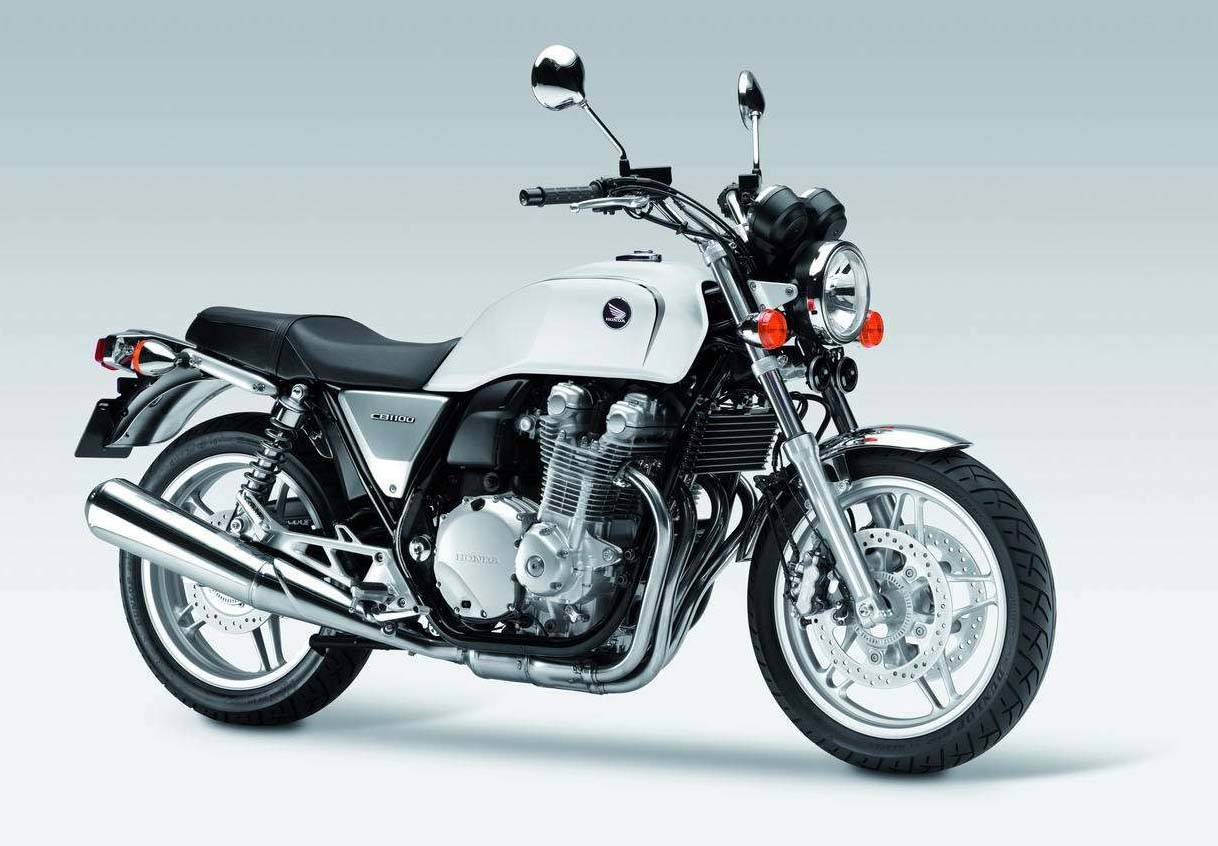 Make Model

Honda CB 1100

Year

2013-14

Engine

Four stroke, transverse four cylinder, DOHC, 4 valve per cylinder.

Capacity

1140 cc/ 69.5 cu-in

Bore x Stroke

73.5 x 67.2 mm
Cooling System
Air cooled

Compression Ratio

9.5:1

Induction

PGM-FI electronic fuel injection Throttle Bore 32mm
Lubrication
Wet sump
Oil capacity
4.9 Litres

Ignition

Full-transistor battery ignition / electric
Spark Plug
NGK LMAR8A - 9S
Battery
YTZ14S WET 12V-11.2Ah
Starting
Electric

Max Power

66 kW / 88.5 hp @ 7500 rpm

Max Torque

93 Nm / 68.5 lb/ft @ 5000 rpm
Clutch
Multi-plate wet clutch

Transmission

5 Speed
Final Drive
Chain 2.166 (39/18)
Frame
Type Double steel cradle
Turning Radius
2.7m

Front Suspension

41mm conventional fork
Front Wheel Travel
106 mm / 4.2 in

Rear Suspension

Spring preload adjustable, Dual shocks
Rear Wheel Travel
114.3 mm / 4.5 in

Front Brakes

2x 296mm discs 4 piston calipers

Rear Brakes

Single 256mm disc

Front Tyre

110/80 R18

Rear Tyre

140/70 -R18
Trail
114 mm / 4.4 in
Caster
27°
Dimensions

Length 2195 mm / 86.4

Width 835 mm / 32.8 in

Height 1130 mm / 44.4 in

Wheelbase
1490 mm / 58.7 in
Seat Height
795 mm / 31.2 in

Wet Weight

247 kg / 544 lbs

Fuel Capacity

14.5 Litres / 3.2 gal
Reserve

3.5 Litres
Mixing naked and classic Honda style with thoroughly modern and engaging performance, the exquisitely built four-cylinder CB1100 has a presence, and personality, all of its own.
The Honda CB1100 mixes originality with a timeless sense of design, and substantial character. It represents a finely balanced blend of performance, with broad capacity, ability and adaptability.
Unmistakably Honda, the CB1100's clean lines elegantly echo the past. The large round headlight, scalloped fuel tank (proudly detailed with the Honda Wing) and silver painted sidepanels add style and substance, while familiar analog dials, slim seat, side-swept 4-2-1 exhaust pipe and chromed front and rear mudguards provide the finishing touches, gently stirring memories of how motorcycles used to look and, as importantly, feel.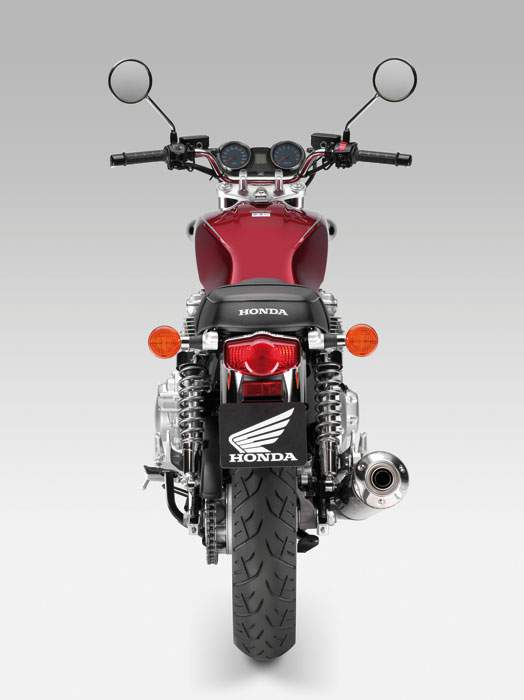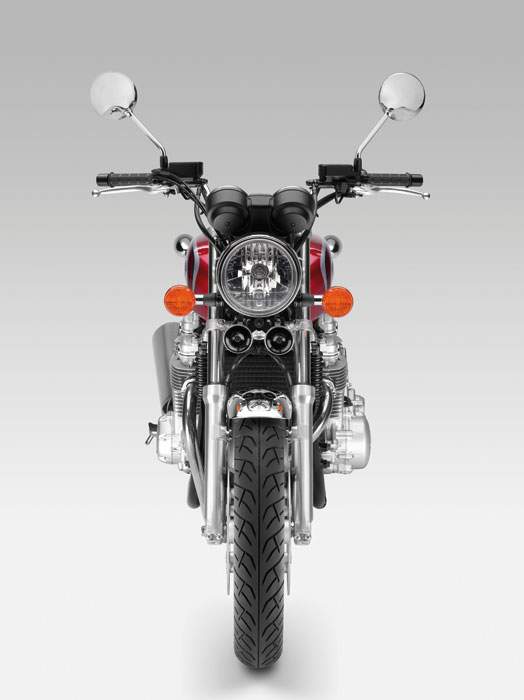 Perhaps it's what you don't see that matters more with the CB1100; this is the motorcycle at its most elemental. A steel double cradle frame houses the engine, with 41mm conventional telescopic forks and twin rear shocks providing compliant and finely tuned suspension. The CB1100's riding position is upright and relaxed, a perfect platform from which to watch the world slide by.
From the outset of the project, the CB1100's development engineers decided to use the word 'design' rather than 'styling' for their new bike. Utilising the characteristics of many materials - metal, plastic, leather and rubber - they created individual parts that are both beautiful and functional, and bought them together to stunning effect.
Honda, as a company, looks to the future; yet always with one eye on, and great respect, for the past. To that end, the Honda CB1100 mixes originality with a timeless sense of design, and substantial character. It represents a finely balanced blend of performance, with broad capacity, ability and adaptability.
But it also has something else, almost an intangible - a small part of the soul of a true original: the Honda CB750 Four.
The CB750 Four has cast a long and influential shadow over motorcycling since its debut in 1969. Soichiro Honda, ever the engineer, leading an engineering company, wanted to prove that there was more to the two-wheeled formula than small and medium capacity twin-cylinder motorcycles, and did just that with the ground-breaking 749cc, 67bhp air-cooled, SOHC four-cylinder four-stroke power unit.
A competent chassis - with another first, a single disc brake up front - provided handling and stopping power to match the engine, and the CB750 Four was an instant success. The mass-production superbike had been born, the blueprint drawn for the future.
Motorcycling has changed a great deal over the last 5 decades since the very first CB - the Benly CB92 - was introduced. Motorcyclists themselves have changed too: while many still aspire to the ultimate performance available, just as many today perhaps have other reasons to own a motorcycle.
Some are looking back, at the bike they wanted when they were young but simply couldn't afford. Others want something that performs like a new machine, but with a certain, classic look that lends retro-heritage to a contemporary lifestyle.
And some riders just want an exquisitely engineered motorcycle that blends real-world usability with an honest sense of history. The common factor is fun.

Honda believes motorcycles are very personal things, much more than mere transport. And none more so than the CB1100, as the following insight from the man that created it, shows: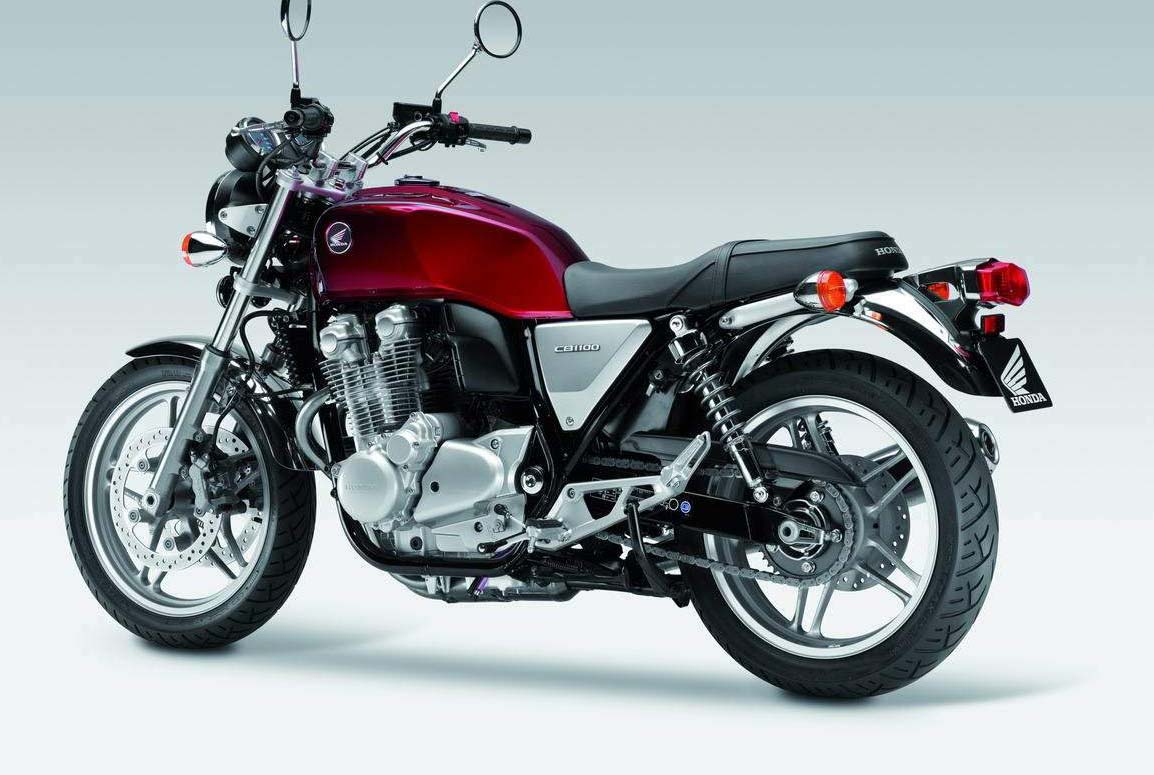 Mr Mitsuyoshi Kohama, Chief Designer, CB1100
"It just had to be an air-cooled engine…"
Instant acceleration has its appeal, as does modern styling that conveys the swiftness of the bike. But there's a lot more to the path of motorcycle evolution. I found myself thinking along these lines for the first time when I returned to Japan, after several years in Europe. It was also at this time that I grabbed a pencil and quickly started sketching.

Tyres. Engine. Frame. Tank. Seat. I thought about how to craft all the necessary elements beautifully and combine them in a perfect whole. I wanted to create a beautiful motorcycle with artisan-level handiwork that's also approachable and easy to ride.

"Why are you giving that new engine air-cooling when you know its performance won't be as good? You had better have a pretty convincing explanation!"

That's the kind of thing people said when we began the development process. And I could understand that thinking. Going with an air-cooled engine was bound to seem 'retro' to people at Honda, which had long favored liquid-cooled systems in the pursuit of maximum performance.

When asked to explain my choice, I could only say: "My only reason is that a lot of customers like air-cooled engines." I like the metallic sound the engine makes as it cools… A motorcycle's engine should have oil in it, not water… Just looking at the cooling fins inspires me…
There is something about an air-cooled engine - a feeling you simply can't get from the liquid-cooled engine in a high-performance bike. To me, a bike rider and a bike fan, a future without air-cooled engines just didn't seem right. And I was certain I wasn't the only one who felt this way!
Based on my sketch, this 'bike that defies logic and just demands to be ridden' became a reality. We displayed the CB Four concept model at the Tokyo Motor Show in 1999, and I was extremely thankful for the enthusiastic response it received there. In 2007, aiming to create a bike that fulfilled fans' vision even more fully, we displayed a new concept model at the Tokyo Motor Show, the CB1100F. Eventually, this concept model became the production model known as the CB1100.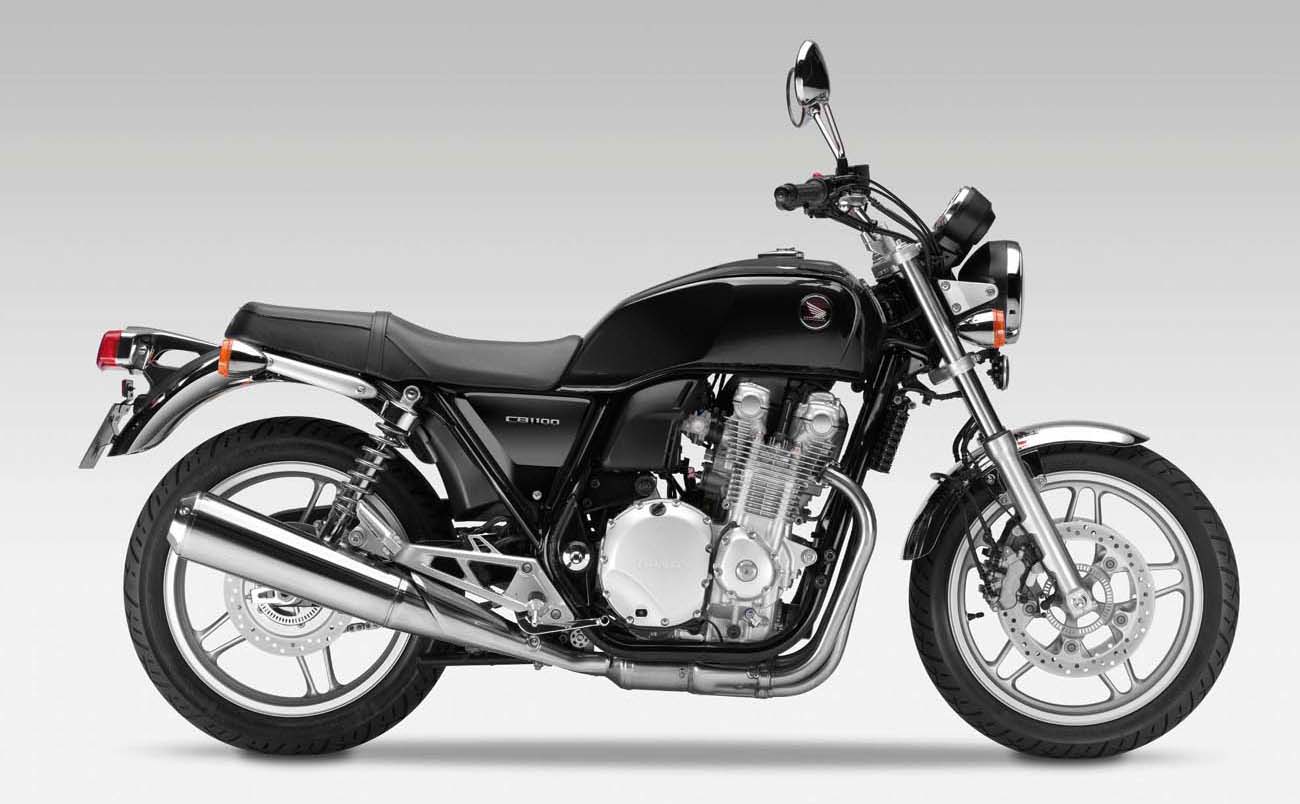 Review
That period from the late 1960s through the '70s was the golden age of motorcycling in America, an era characterized by simpler bikes and a market far less fragmented and specialized. Modern motorcycles are categorized into so many different niches—and have become so tailored to a singular purpose—that it makes you wonder what happened to the good ol' Universal Japanese Motorcycle, like Honda's CB550-1100s of yesteryear.

Well, Honda's new-to-the-U.S. CB1100 might just be that nostalgic new UJM we need. True to the original, this retro CB was first shown at the Tokyo Motor Show in 2007 as a concept, and then displayed in production form at the same show two years later. Unfortunately, when I saw it there in 2009, I was told it would be sold only in Japan, Australia and New Zealand due to the expense of U.S. certification. End of story.

Or so I thought.

Secrets are harder to conceal these days thanks to the www. Nevertheless, when I was invited to American Honda in October for a clandestine two-hour ride on an undisclosed bike, it was a pleasant surprise to see the CB1100 roll out from behind the locked doors of the press-fleet garage. I wasn't totally shocked, though, because the CB1100 does fall right in line with the direction Honda has been pointed at lately.

Every ride is too short when the bike is really good, right? Well, I can't complain, because my small taste of the 1100 left me with a very positive first impression. Very few bikes have felt as instantly familiar as the CB did after just a couple of short blocks.

A perfectly neutral and upright seating position places hands on the bars right where they naturally want to fall, and the footpegs keep knees (for my 5-foot-11 frame) at a relaxed yet not-too-lazy bend. The comfortable seat isn't too high (or too low) for my 30-inch inseam, allowing my boots to be firmly planted at stops. The mirrors offer an excellent rear view, while the simple dash provides just the pertinent information via a pair of analog gauges and a small LCD display.

2013 Honda CB1100

A few minutes into my 50-mile ride, I had already developed a great appreciation for the CB's air-cooled, 1140cc engine. The 16-valve dohc inline-Four is extremely smooth yet tractable, with usable low-end grunt from as low as 2000 rpm—even in a tall gear at slower speeds. Power builds in a progressive, step-free manner all the way up to the 8500-rpm redline, which gives the engine great flexibility for any type of riding.

Modern touches include the excellent PGM-FI injection system with four 32mm throttle bodies. Nowhere in the rev range did I find a hint of hesitation or sign of a stumble, just precise fueling.

Another aspect worth mentioning is the wonderful five-speed gearbox. Not many motorcycle transmissions make you want to shift simply for the sake of shifting, but this is one of them. The light clutch and slick shift action had me short-shifting around town just so I could downshift through all those gears again.

"Simplistic" describes the CB1100's chassis to a T. The twin-cradle steel frame is bookended by a conventional 41mm fork and a pair of chromed Showa shocks, with adjustable preload front and rear. The 18-in. cast aluminum wheels, with black spokes and contrast-polished outer rims, wear narrow Bridgestone radials that have a period-correct look, size 110/80-18 front and 140/70-18 rear. Twin 296mm front brake discs are pinched by four-piston Nissin calipers.

Around town, the CB carries its claimed 545-pound curb weight well, providing agile handling. Once the pace is picked up on a twisty road, the narrow tire choices make sense. Turn-in is light and predictable, while midcorner stability is good right up to the point when footpeg feelers start digging into asphalt. The power of the front brakes, as well as the feel, is excellent for this application.

As we went to press, details were very limited. Honda's press officer said he was hopeful the MSRP would be under $10,000. That's just about right for this bike considering its high level of refinement, features and excellent fit and finish.

Although our time together was short, I was impressed with the CB1100. When all you want to do is go on a ride, what better bike than a fully modern but totally authentic blast from the past? Honda has delivered. The classic UJM is back
Source Cycle World